Disclaimer
This weather site is operated as an amateur weather station site and should not be used as official data. I make every effort to ensure my data is as accurate as possible but I cannot guarantee that the data meets the requirements of the Meteorological Office or other professional weather monitoring organisations.













Monday 15 June 2015
Veggie Gap is Over
Monday was a much better day, pleasantly mild with only a gentle breeze and some decent sunny spells.
So far this season we've harvested rhubarb and a few bits and pieces to go towards salads but nothing very meaty if you get my drift. Well Monday put an end to the veggie gap when we harvested our first cabbage of the season.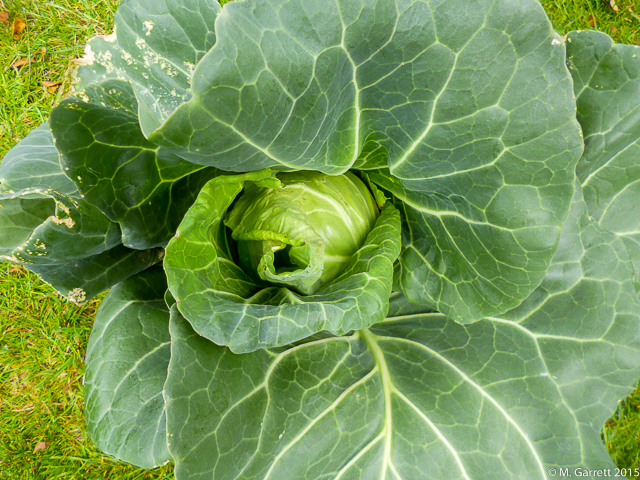 As you can see from its brief history above it's from Marshalls Early Brassica Collection which I received as plug plants on 20 March 2015. The calabrese, Marathon is also doing well and is just beginning to form small heads. The third variety supplied was cauliflower Mayflower which has grown into excellent plants but so far there are no signs of any heads which is probably a good thing as I don't want all the collection ready to harvest at the same time.
Tuesday 16 June 2015
To Pick or Not to Pick That Is the Question?
Tuesday was another decent day after a bit of a dull start the afternoon turned out bright and warm when the sun came out.
If you've been following our blogs you'll know that this year we have kept our apricot, peach and nectarine trees in the greenhouse in an attempt to avoid peach leaf curl. Over the last couple of years we've been lucky to have leaves on the trees let alone any fruit.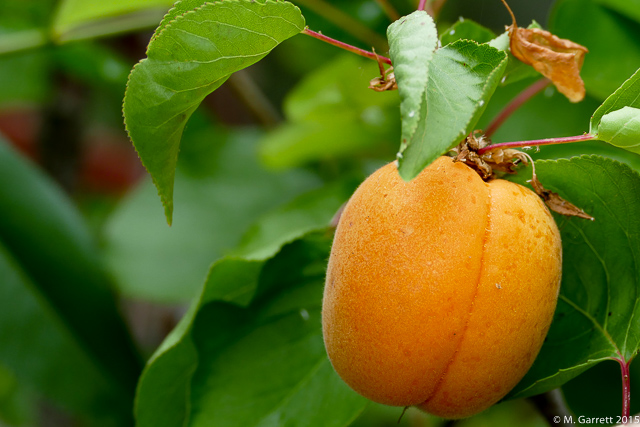 Keeping the trees under cover seems to have worked and not only do we still have leaves but fruit as well. In the case of our apricot Flavourcot that amounts to only two fruits but we're not going to start complaining. They both look ready to eat but are they? We don't want to pick the fruit too early as these are our first ever apricots we want to pick them at their very best. If grown outside the fruit should be ready for August.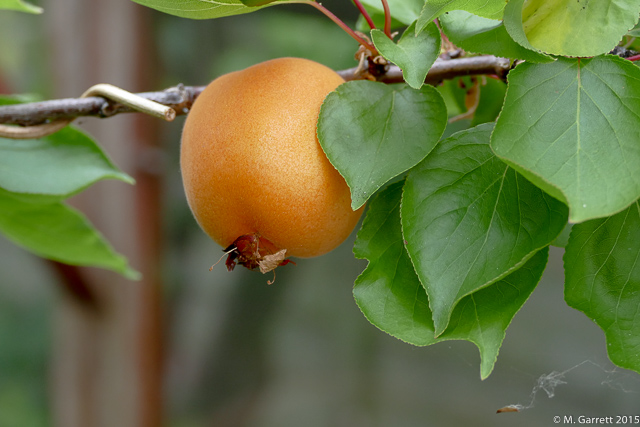 With that in mind mid June seems a little early even though they're growing in the greenhouse. The apricots are still very firm to the touch so we've decided to wait a little longer before picking them. But how long will we manage to wait?
Wednesday 17 June 2015
Will It Ever Go Away?
Wednesday was mostly dull although fairly mild. In the afternoon it tried to drizzle for what seemed like most of the afternoon but it never amounted to a measurable amount of rainfall. After a few calmer days a strong breeze was back.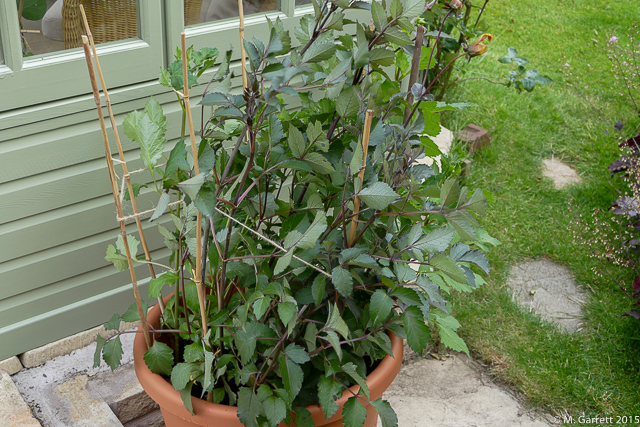 We painted the outside of the summerhouse this week and the few calm days tempted us to move this large tub of dahlias out of the greenhouse to stand outside the summerhouse. After a couple of days they already look like they are missing the shelter the greenhouse gave them.
Thursday 18 June 2015
Not a Good June Is It
Thursday was cool and windy. The temperature only made it up to 14.9°C (58.8°F) making it the lowest high temperature this far into June in the last six years.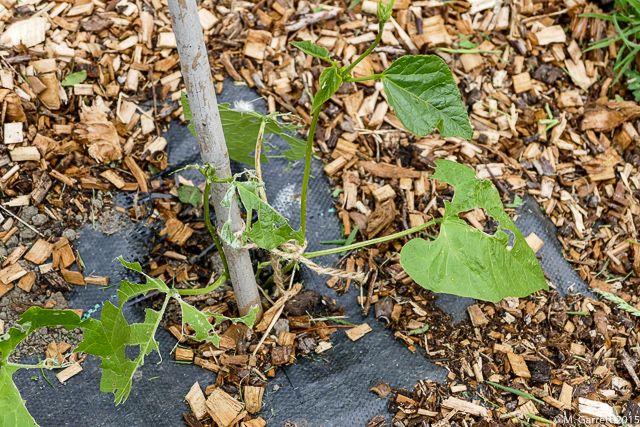 On the plot more tender plants refuse to grow. Our second sowing of carrots has germinated very poorly and we're thinking of trying another sowing on another part of the plot. Our outdoor tomato plants aren't showing any signs of growing and to make matters even worse our climbing French beans and runner beans have been devastated by slugs.

Fortunately it wasn't all bad news on the plot as we had a our first little harvest of strawberries from our newly planted bed.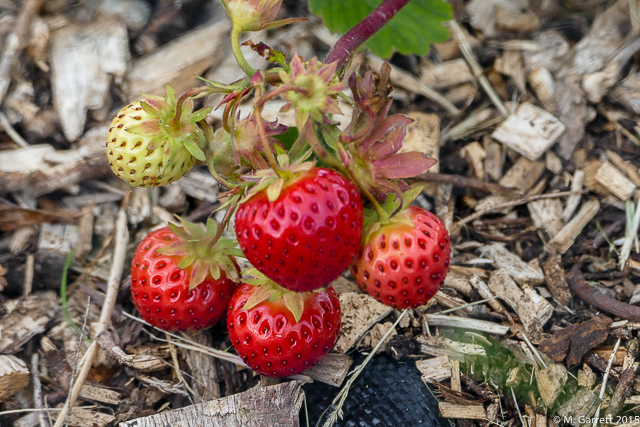 The ones above are Fenella and we also picked a few Vibrant as well. How did they do in the taste test - well both were delicious but perhaps Fenella took the honours by a short taste bud.
Friday 19 June 2015
Rhubarb
Friday continued our cool spell of weather for June. Friday's high was fractionally lower than Thursday's, pushing yesterday's record a little bit further into June. Today's high was 14.8°C or 58.6°F.
As if we hadn't enough rhubarb growing on the plot we received a variety called Poulton's Pride from DT Brown today.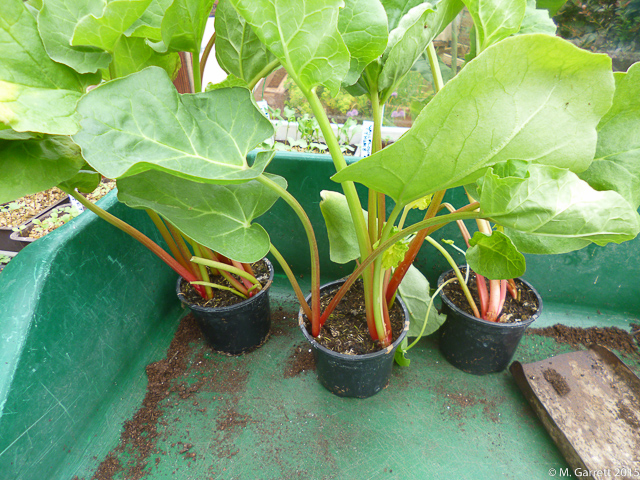 I've potted each root into a larger pot to allow it to grow on a bit before planting it out on the plot. I don't suppose rhubarb will mind this spell of cool June weather.
Saturday & Sunday 20/21 June 2015
Mowing the Grape Vine
What an odd weekend weather we've had. As you can see from the chart Friday was cool and cloudy and very poor for June. Saturday morning started off even worse with some very light drizzle through the morning. It took until lunchtime for the rainfall to amount up to 0.2mm (0.01") and tip the measuring device in my rain gauge which measures in 0.2mm increments.
By mid afternoon the sun was doing its best to break through the clouds and the temperature started to lift reaching a high of 20.0°C (68.0°F) at 18:30. I thought that might be an end to the cool weather but it wasn't to be as the temperature fell back to 11.5°C (52.7°F) during the night and didn't get an awful lot higher all day on Sunday.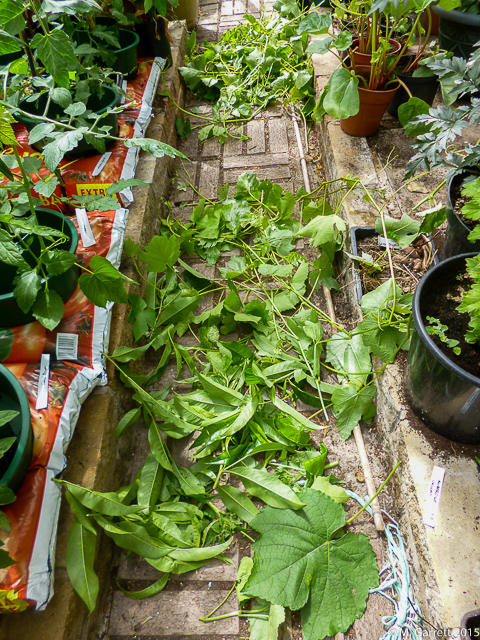 During the decent spell on Saturday afternoon I did a little bit of pruning to our Himrod grapevine. Left to its own devices it would completely take over the greenhouse. Through summer it becomes a weekly task a bit like mowing the lawn. I have to be careful not to cut off any young bunches of grapes which is very easily done amid all the vine stems vying for the best growing position along the greenhouse ridge.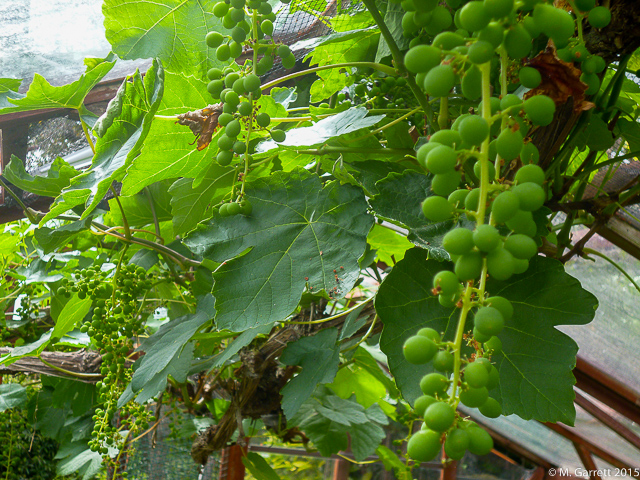 Once again this year we've lots of bunches of grapes. Each year I entertain the idea of cutting a few bunches off, hence increasing the size of the grapes on the remaining bunches but each year that's as far as I get and all the bunches are left on the vine. I can't bring myself to deliberately cut off some bunches. Who knows what might happen between now and the end of August when the grapes are usually lovely and sweet and ready to pick.
It's possible that in one of the many pruning sessions required before then that one or two bunches may accidentally get the chop much to my annoyance. They have to be quickly hidden in the wheelie bin before my mistake is spotted.


Temperature and Rainfall Friday - Sunday 19 - 21 June 2015