Disclaimer
This weather site is operated as an amateur weather station site and should not be used as official data. I make every effort to ensure my data is as accurate as possible but I cannot guarantee that the data meets the requirements of the Meteorological Office or other professional weather monitoring organisations.













Thursday 15 January 2015
Pumpkin Madness
Wednesday and Thursday were once again very windy. Both days were mild with highs of 9.1°C and 10.4°C respectively. January 2015 has taken over the unwanted record of windiest month since 2011 when I started keeping records of wind speeds.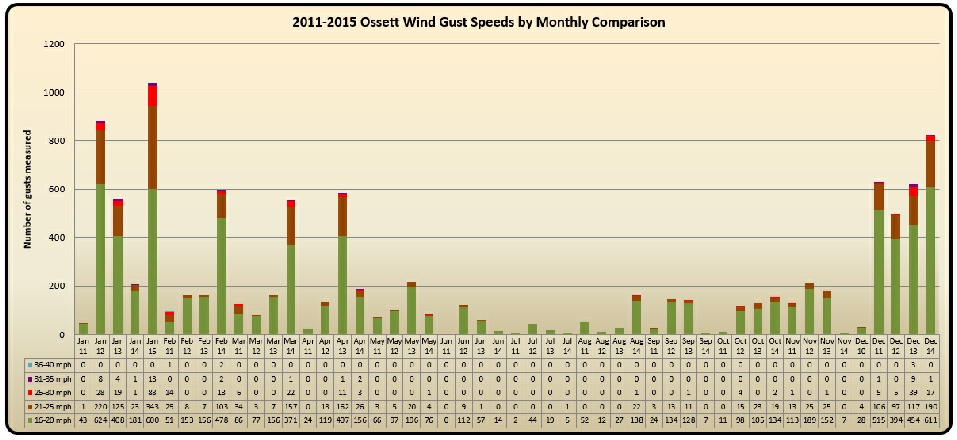 Thankfully the forecasts for the next week suggest that we've seen the back of the gales and that colder weather with daytime high temperatures only just above freezing are heading our way over the weekend and into next week.
I finally got round to making a pumpkin pie using one of our Crown Prince squashes. Pumpkin pie somehow has a much nicer ring to it than squash pie which doesn't sound very appetising to me.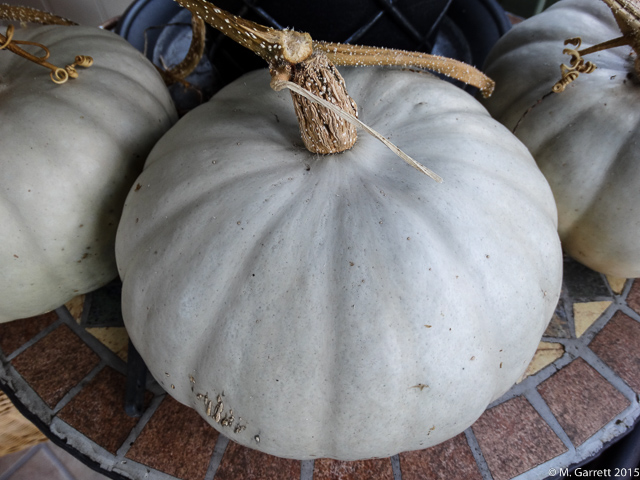 This was the chosen squash. It was washed and cut up ready for cooking when I started thinking about all those precious squash seeds I was about to discard to the compost heap. Our squash seeds for this year have arrived, six seeds from Kings Seeds cost £1.30. It appears a bit expensive when you look at all those seeds a single fruit provides. Those six seeds normally provide us with enough squashes to see us through winter or alternatively 10 squashes at 13.0p each.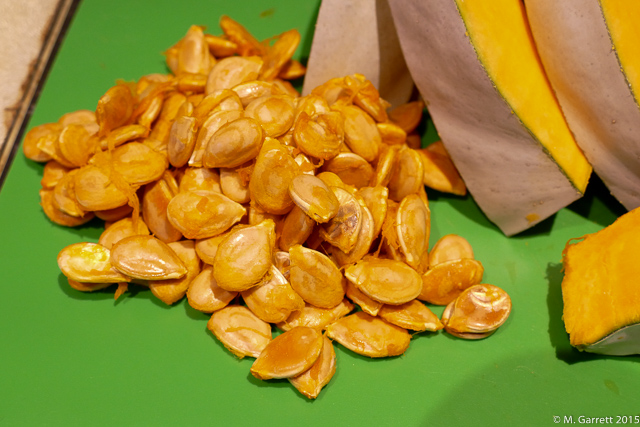 The seeds above aren't all the seeds from the squash only the easiest to select. Now I have to confess that I'm not a seed saving sort of a gardener. I do it now and again but it's not often but I couldn't overlook this opportunity to save a handful of seeds. As Crown Prince is an F1 seed variety, common garden parlance would suggest it won't come true from saved seed but I suppose unless I experiment I won't know for sure. I'm jumping the gun a little bit as the first task will be to get some seeds to germinate.
As for the rest of the squash the cooked flesh produced enough cooked pumpkin for two pies.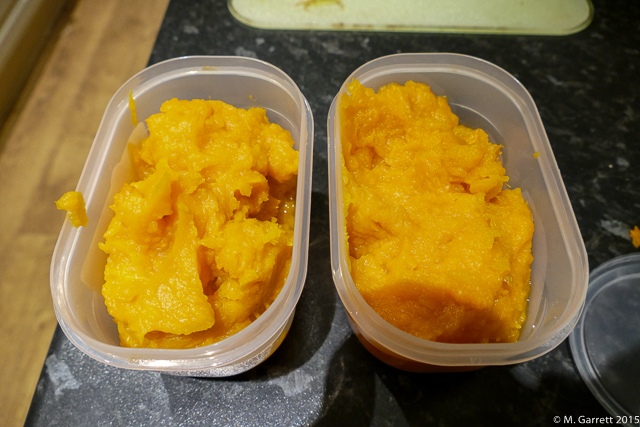 One container full has gone into the freezer. The pumpkin pie itself tastes good but wasn't a "looker". For some reason a ring around where the filling and the pastry met burnt slightly. I'm not sure why as this hasn't happened before. Still I remembered to add some sugar this time. You can't have everything. I'd be no good in a Bake Off tent!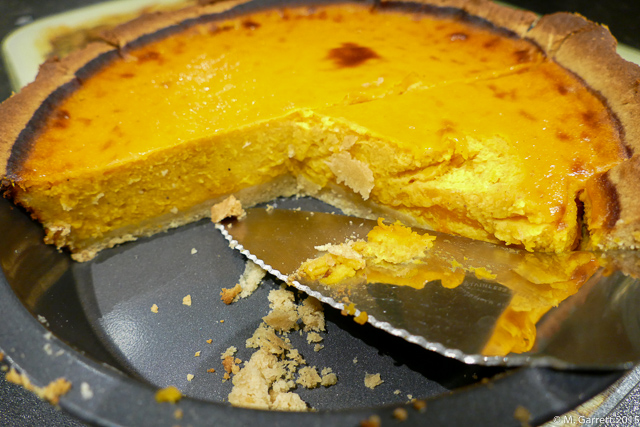 Friday 16 January 2015
Onion Dilemma
Friday saw a definite change in the weather as the mild windy weather was replaced with much colder conditions with a few rain, hail, sleety snow showers. The day's high temperature was 5.8°C in the early hours of the morning. It fell through the day and was 3.7°C at lunchtime.
You'll have noticed if you follow Sue's blog that our seeds arrived from Kings Seeds this week.
We didn't have the box full all to ourselves as some of the orders were for other plot-holders on our site. The arrivals included our onion and shallot sets. I'm not sure what the best way of looking after these sets is over the next few cold winter months. Last year some of the sets were planted up into cells in the middle of February and they grew well last year but last February was very mild. There are some very cold nights forecast for next week so I'm a little undecided what to do.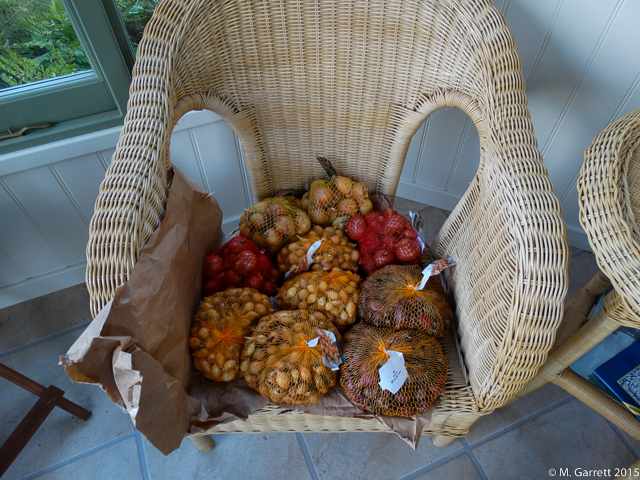 They're taking it easy in the summerhouse for now. It doesn't get too warm by day and if it threatens to be extremely cold next week I might move them into the garage or even into the house to protect them from any very keen frosts.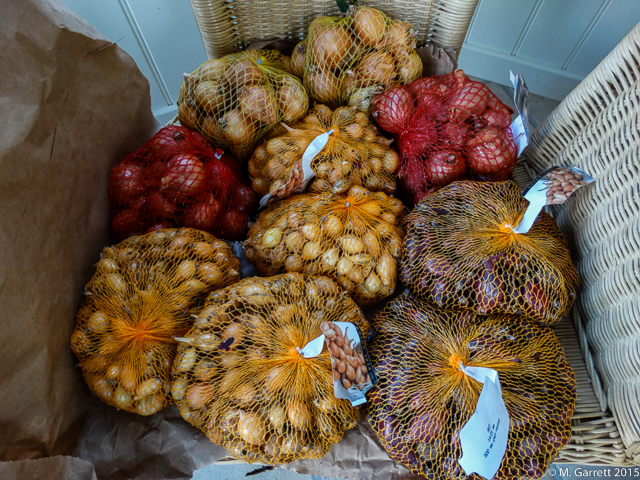 I'll need to keep a close check on the sets to make sure they're not deteriorating in their net bags but I'm leaving them in their own little bags so that each variety can be identified at planting time.
Saturday 17 January 2015
It's January
The forecast cold spell arrived on Saturday. It wasn't a particularly nice day, a mixture of sunny spells and sleety rainy showers throughout the day. The temperature managed a high of 4.4°C but didn't fall below freezing all day.

By early evening wet surfaces had turned to ice and untreated paths and roads were converted into sheets of ice.
Sunday morning is lovely and sunny with the temperature hovering around the 0°C mark.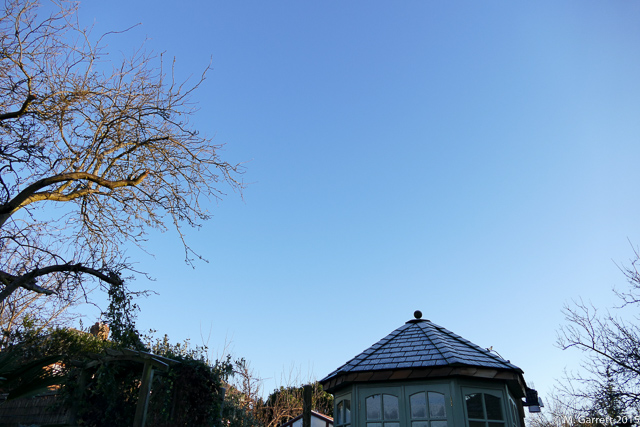 Sunday 18 January 2015
Getting Colder
Sunday morning's sunshine didn't last all that long and by mid morning it had turned cloudy. Sunday's average temperature for the day turned out to be the lowest for January at only 1.6°C. Our coldest average for winter was on 28 December 2014 with 1.5°C.

Although this cold spell has plenty of newspaper and TV coverage it hasn't yet been as cold as the spell at the end of December when the temperature fell to -3.3°C on the 31 December 2014.
Whilst we haven't had an enormous amount of rainfall this month it's worth a mention that we've only managed two dry days on the 5th and 6th of the month.
Monday 19 January 2015
A Cold Visit to Old Moor
Monday replaced Sunday as the coldest day of winter so far with an average daily temperature of 1.4°C. It wasn't particularly cold overnight it just remained cold all day with little variation in the temperature.

The forecast for Monday had been for a cold but sunny day and we'd decided on a visit to RSPB Old Moor. As it turned out it wasn't sunny, anything but, it was a cold grey day but we decided to visit anyhow. The plan was to have lunch at Old Moor and a walk around the reserve if the weather wasn't too bad in the afternoon.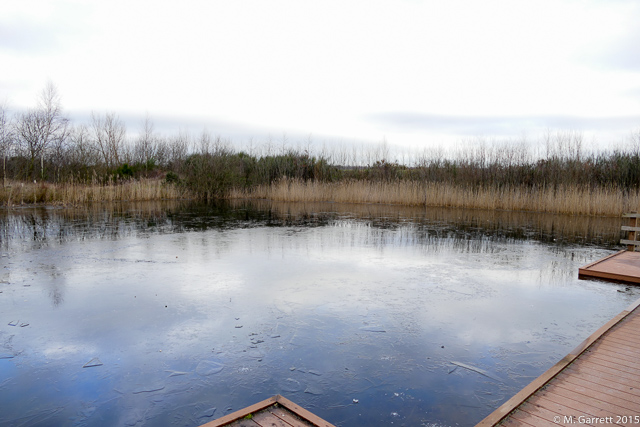 As you can see despite the fact that the weather didn't improve we decided on a walk. The smaller lakes remained covered by thin ice into the afternoon. The ducks, geese and waders seemed to have found better places to be on a cold, dull, Monday afternoon but the garden hide and tree sparrow farm had plenty of action to make up for the lack of birds elsewhere.
At home we often see a wren flitting about in the garden but I haven't managed to get a decent photo as it moves along the fence and into the shrubs almost like a mouse might move but impossible to follow with a camera let alone get it in focus as it occasionally rests for a few milliseconds.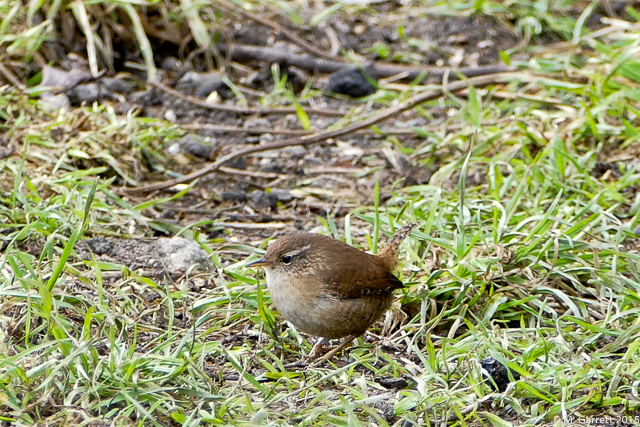 At Old Moor this little wren kept still long enough for me to get the camera trained and focused. There were another couple of firsts too but I've still to finish sorting out my photos.
Although we've seen woodpeckers before at Old Moor I thought I'd post these of a male and female great spotted woodpecker.
Tuesday 20 January 2015
Weather Station Problems and More from Old Moor
Tuesday was another cold day although we had a little more sunshine than on Monday. Even though the temperature didn't fall below freezing it became our coldest day of winter with an average temperature of 1.3°C
My weather station has now been operating since the middle of 2009. It doesn't seem to need much maintenance touch wood. So I was a little bit surprised Tuesday morning when a message appeared on my console stating that the battery power to station 1 was running low.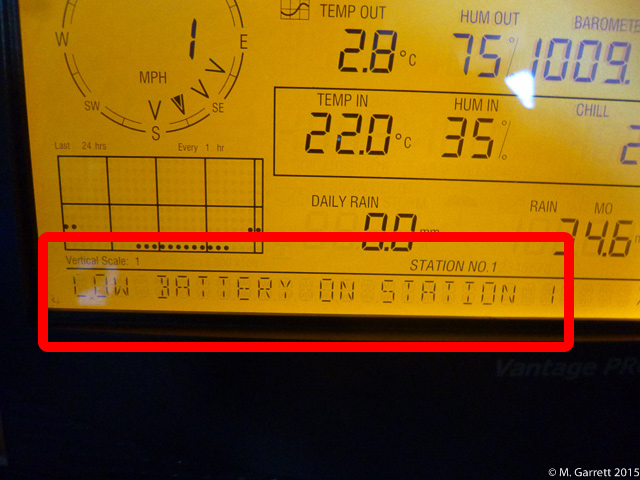 I couldn't remember whether the station was totally solar powered with a backup rechargeable battery. Trust something to go wrong when the temperature outside is only just above freezing. How long could I leave it without doing anything? We'd had some pretty dull days so maybe the recharging hadn't been going too well.
A bit of Internet research confirmed that my weather station operated on solar power when possible with a normal battery as backup in hours of darkness. It was a case off to the shops for a new battery.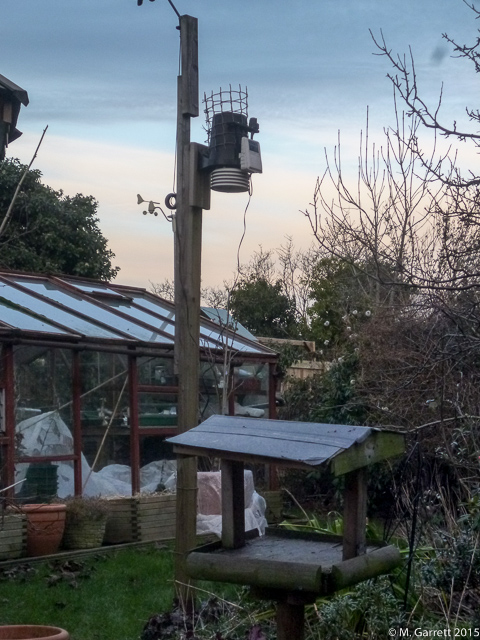 Ladders out it was just a case of swapping over old for new. A pity the failing battery is located in the little white housing well out of easy reach. I had a few concerns about the condition of the old battery after being five years installed outside.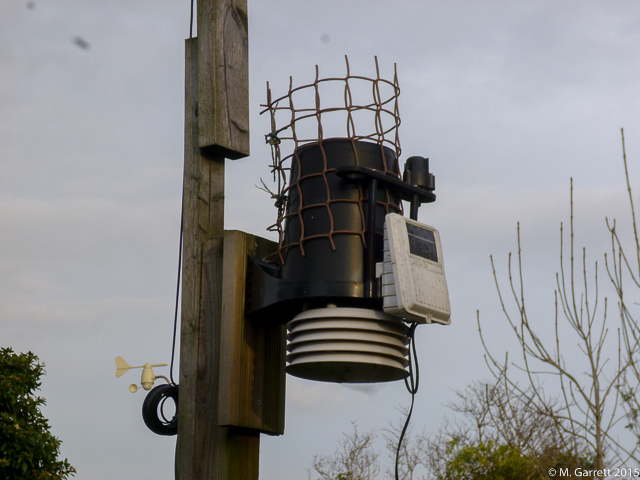 Once the cover was released I was pleasantly surprised as the insides looked like new. The new battery installed and the front cover replaced after reconnecting the solar power cable it was a question of checking that data was transferring back to the station console and computer. Despite the interruption in power supply everything appeared satisfactory. The job turned out easier than I had anticipated.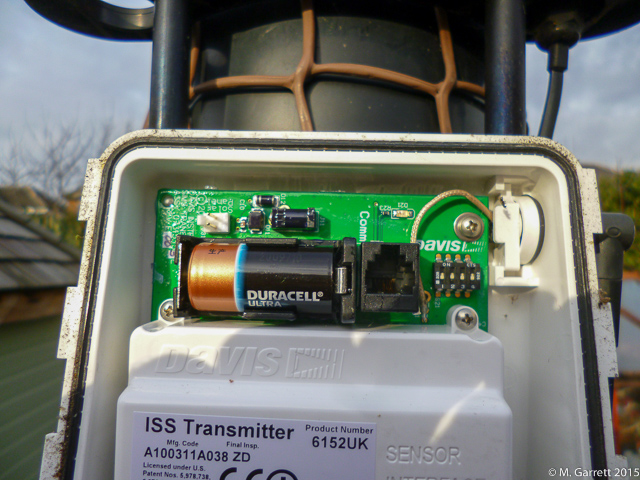 Old battery after 5 years (solar power cable unattached)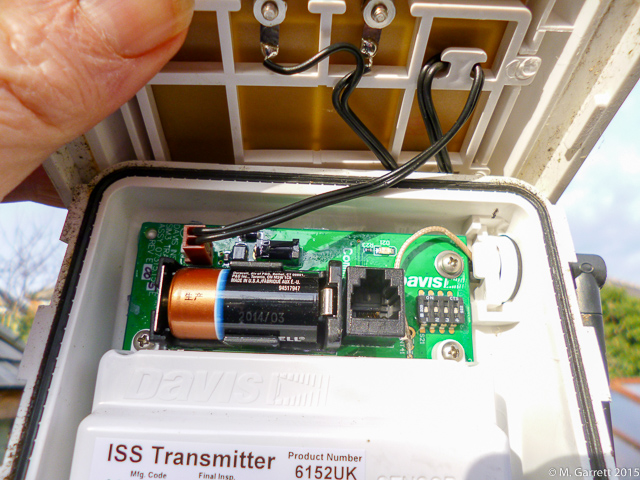 New battery installed and solar power cable re-attached
I mentioned that on our visit to RSPB Old Moor I'd managed a couple of photographic firsts. I posted some pictures of a wren on Monday so today I'm adding a photo of a yellowhammer. It was almost out of reach of my camera lens but the photo didn't turn out to be too bad.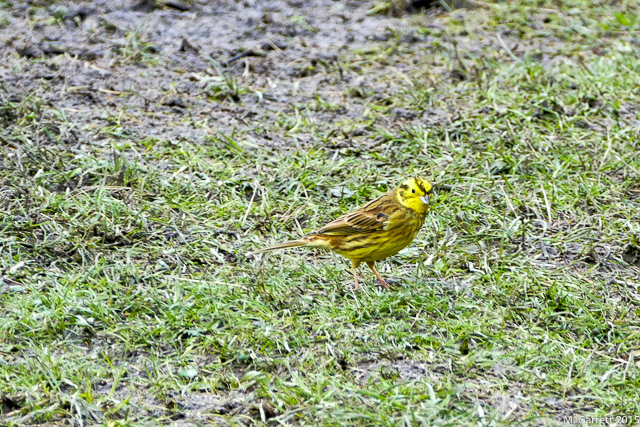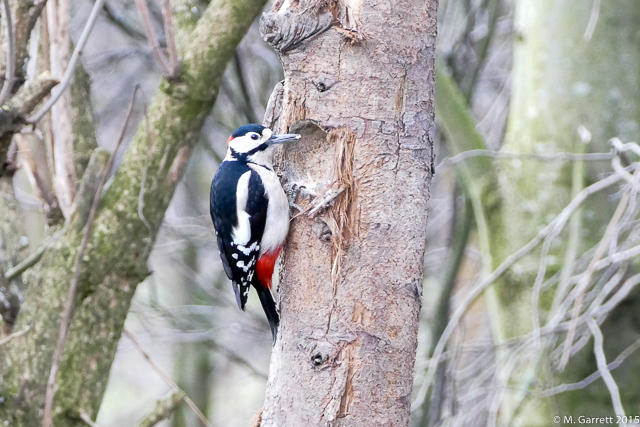 Male Great Spotted Woodpecker
Identified by red patch at the back of his head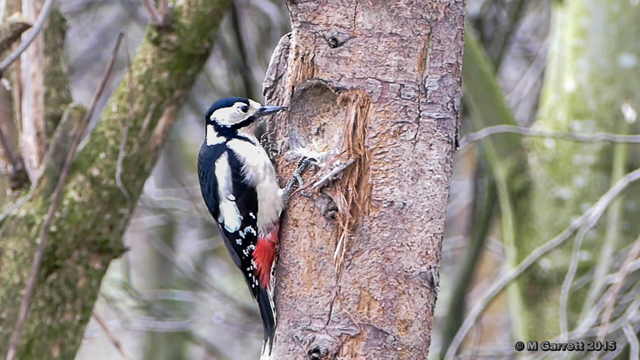 Female Great Spotted Woodpecker
The male went off to do a spot of proper woodpeckering in a tree close by. I managed to get a bit of video of him doing his stuff looking for food. The video is included below.
To finish off with a note about Wednesday morning which has started off with wet snow falling. The forecast is for snow showers all day dying out this evening and with a predicted high temperature of 2°C.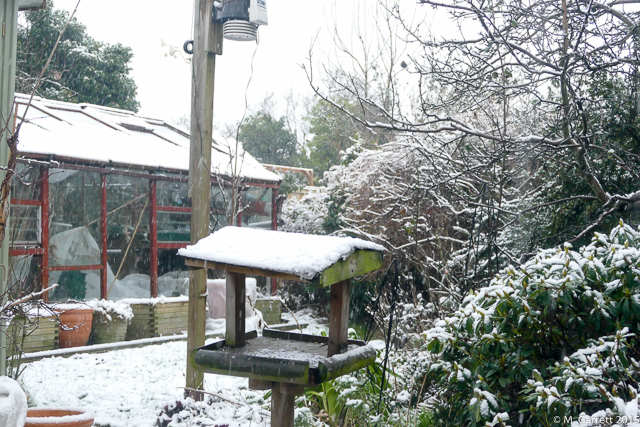 Wednesday 21 January 2015
Snowy Day
It snowed lightly virtually from first light through to the early evening but even though the temperature never got above 1°C through the daytime the snow didn't build up to any great depth.
The birds had their food supplies replenished in the morning a short while after it had started snowing.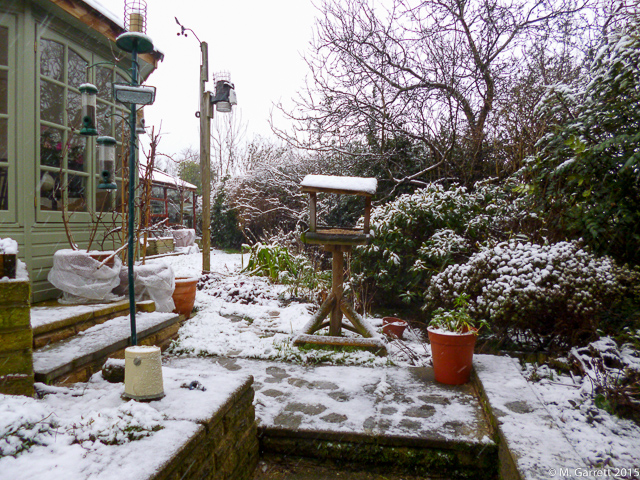 Our flock of resident blackbirds did a good begging job from their perches in our magnolia tree as their supply of buggy nibbles ran out. We had half a dozen blackbirds perched in the tree just far enough apart so that they tolerated one another. Now and again the spacing got a bit too close and a quick squabble broke out until a suitable spacing distance was re-established. They had their supplies replenished a couple of times through the day. I'm not expecting them to appear all together on Saturday or Sunday when we take part in the RSPB's Big Garden Birdwatch.
Above is how it looked around 15:30 as the birds got a final topping up of buggy nibbles and after it had been snowing since 09:00. The snow was wet and melting despite the fact the thermometer was stuck around the 1°C mark.
The weather is forecast to be a bit milder over the weekend so the remnants of the snow shouldn't hang about for too long.