Disclaimer
This weather site is operated as an amateur weather station site and should not be used as official data. I make every effort to ensure my data is as accurate as possible but I cannot guarantee that the data meets the requirements of the Meteorological Office or other professional weather monitoring organisations.













Sunday 08 February 2015
In from the Cold
Sunday became our mildest day of the month as the temperature managed 8.0°C around lunchtime. With some decent sunny spells it wasn't too bad a day although a bit of a breeze developed in the afternoon.
As our freshly arrived seed potatoes went into the cold of the garage, some of last year's crop swapped places with them as they came out of their winter storage for use in the kitchen.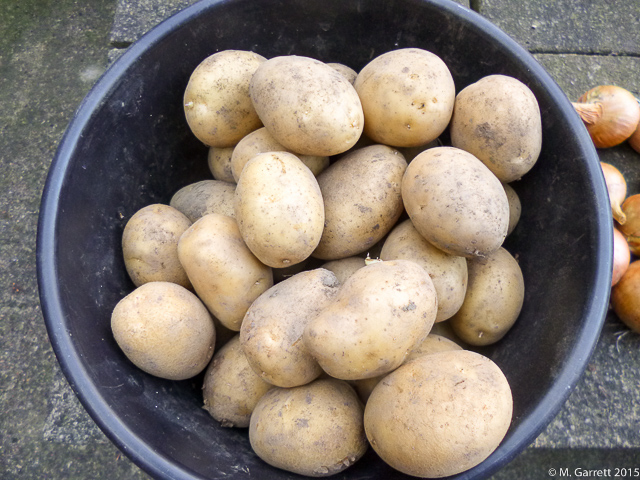 These are Nadine a second early variety which we lifted on the 12 August 2014. They've been stored in the garage in supermarket boxes since lifting. They're still in good condition but a close inspection shows that they're just starting to sprout.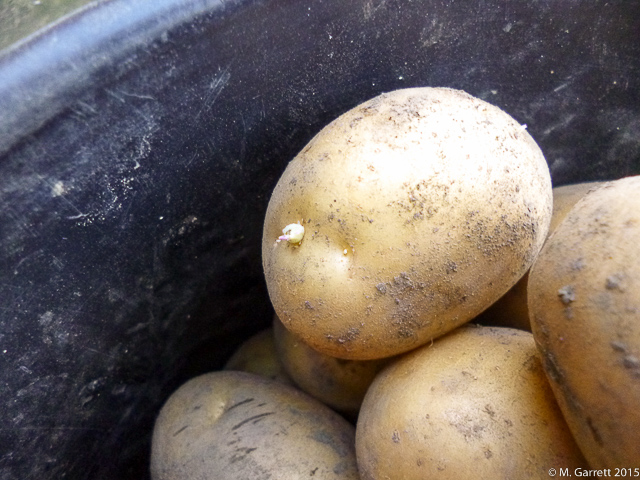 It's a warning that those seed potatoes won't be able to stay in the garage for long and space will need to be found in the greenhouse to start them chitting.
Whilst I was rootling around in the boxes of stored vegetables in the garage I brought out a few remaining onions from last summer's crop too.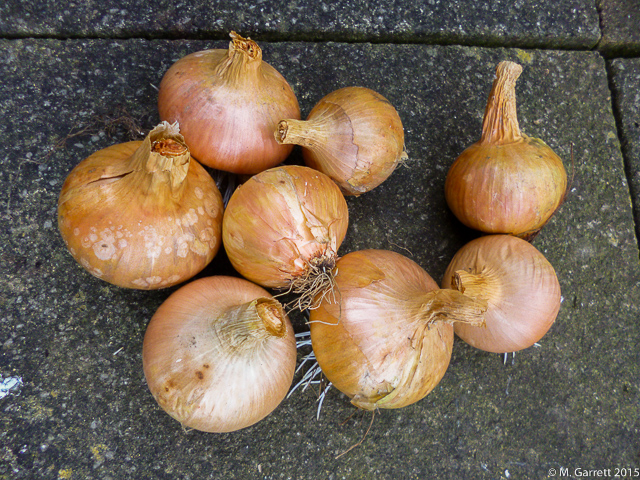 These are still very firm and should be satisfactory for use in the kitchen but there are obvious signs that these are starting to grow as well as the potatoes. When the onions went into storage the onion roots were dry and brown but now they are starting to produce new white roots.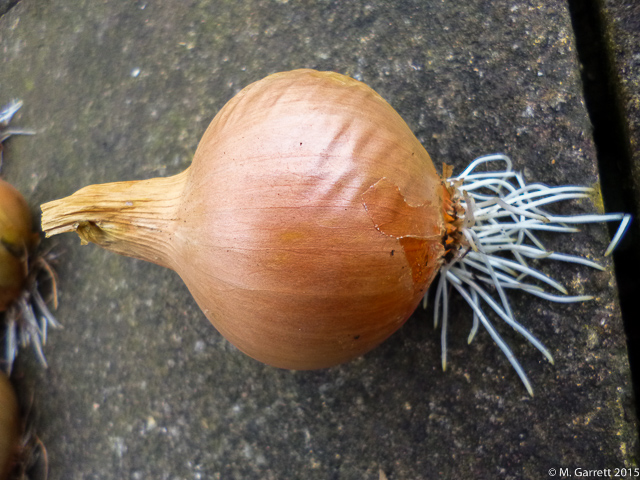 Whilst it's bad news in one way that our stored crops are starting to grow and will need to be used up fairly quickly the good news is that all this new growth is a sure sign that spring is just around the corner.
Whilst I was in the garage, I had a quick delve into the freezer and thought we'd try some of our quince preserve made from our Meeches Prolific last autumn.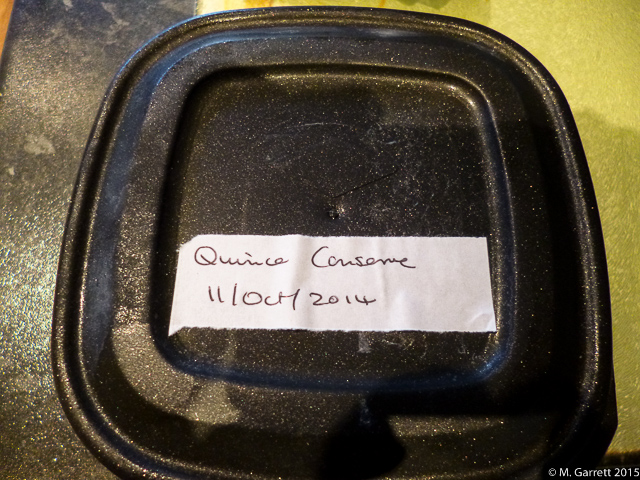 We've certainly arrived at that time again where fresh vegetables from the allotment are in short supply and our frozen produce will come into its own.

Monday 09 February 2015
Tempted
Monday was the best day of the month so far. Dawn till dusk sunshine with the afternoon temperature making it up to 9.1°C (48.4°F) it was a bit spring like. We didn't even have to pay a penalty through the night as the clear skies didn't result in an overnight frost.
The excellent weather tempted me into the greenhouse. It was 16°C (61°F) in there and the combination of lovely sunshine and mild temperatures tempted me into setting out some of our seed potatoes for chitting.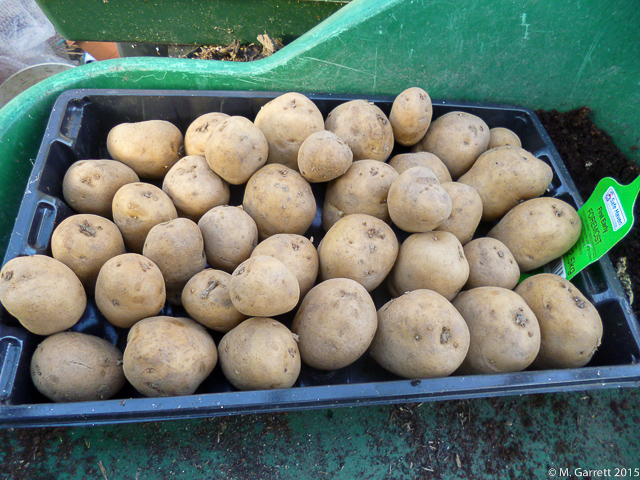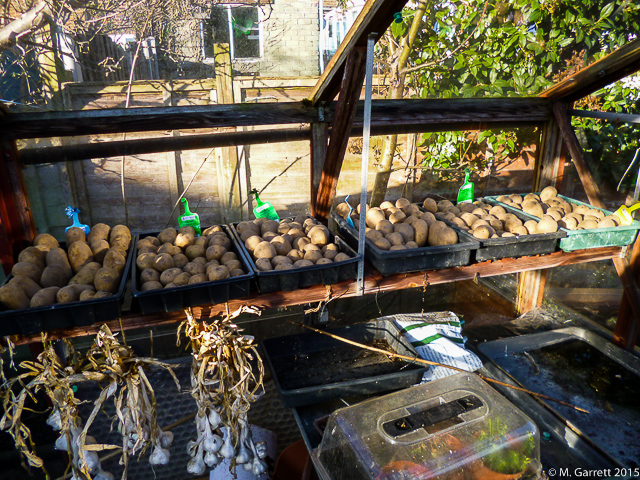 I did cover them with some fleece as I've no doubt that between now and planting time we'll have a few cold nights when they'll appreciate a bit of protection.
I also "sowed" our first seeds of the season except that rather than protect them from frost with some fleece they went straight into the fridge for a bit of stratification.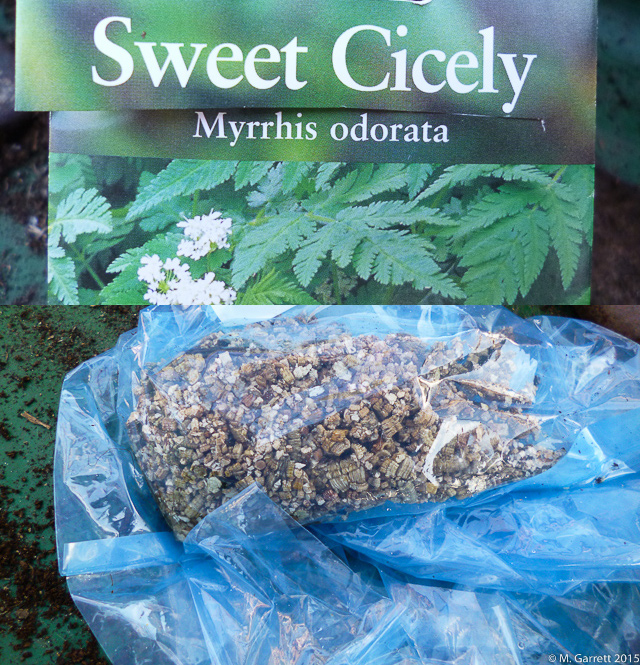 Sweet Cicely should be sown in the autumn and left outside over winter as it needs a cold spell to break the seed's dormancy. So the seeds have gone into the fridge in a bag with some damp vermiculite for 4 weeks.
I've just got to resist the temptation to sow any more "normal" seeds if this decent spell of weather continues.
Tuesday 10 February 2015
More Tempting Weather
After a lovely sunny day on Monday we were promised more of the same on Tuesday. It didn't quite work out that way. After some sunshine first thing it soon clouded over and the sun disappeared until early afternoon.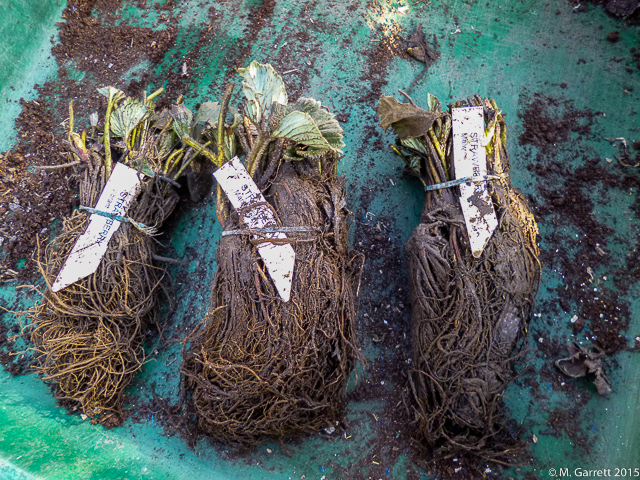 In the morning our final selection of strawberry plants for our new bed were delivered from Marshalls seeds. The little bit of afternoon sunshine gave me the chance to get them potted up. All our new strawberry plants are now potted up in the greenhouse where they will be able to grow on a little whilst their new home is prepared down on the plot.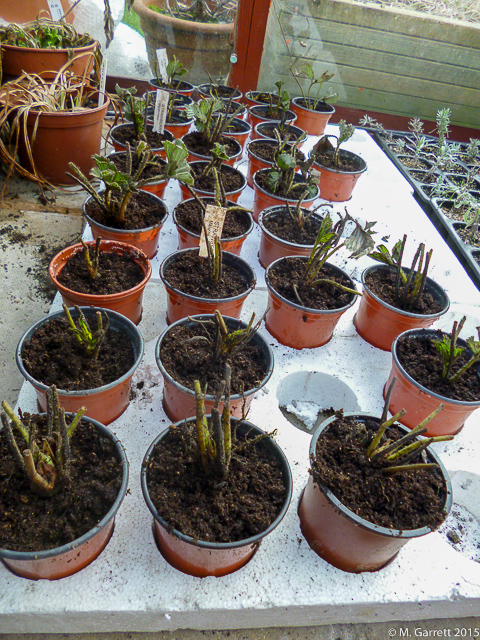 These are our plants from Marshalls potted on and ready to grow on before planting in the plot. Our list of new strawberry varieties is as follows:
Cambridge Favourite, Cupid, Elsanta, Fenella, Malwina, Marshmallo, Royal Sovereign, and Vibrant.
As it was so pleasant in the greenhouse I decided to finish off setting our seed potatoes to chit. Then Sue gave me a bit of help to get the first of our onion sets into modules. We like to get some of our onion sets off to the best possible start and they won't be ruined by any frosty weather. We're now limited by space in the greenhouse so until I get some more tidying up done our shallots will have to wait a while.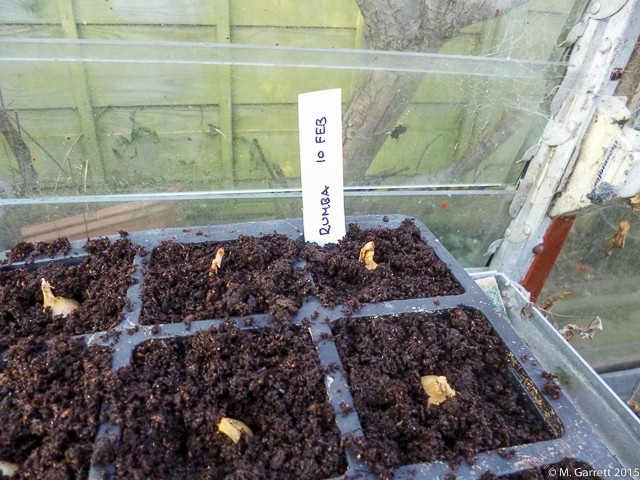 Once they've started to shoot our onions will be moved into the cold frame to grow on in cooler conditions before they're finally planted out in the plot.
Wednesday 11 February 2015
February Reboot
After a few lovely February days Wednesday saw a return to more typical weather for the time of year. It was cloudy all day and the temperature didn't make it to much more than 4°C (39°F).
There wasn't any wind so there wasn't a wind chill factor but it still felt cold outside.
So far we've had virtually no rain this month with only 0.6mm (0.02") which is the lowest over the last five years by this time of the month.

Monday 09 February - Wednesday 11 February 2015 (Wind Chill shown in Purple)

However the forecast is for some rain on Friday and the early part of next week so by this time next week things might be very different.
Thursday 12 February 2015
Dull, Cold and Dreary - Time for the Archives
Not much to say about Thursday's weather as the title of my post says it all.
I thought another delve into the archive was required comparing our plots today with how they looked 10 years ago this month. These few shots show that some parts of the plot haven't changed too much with time.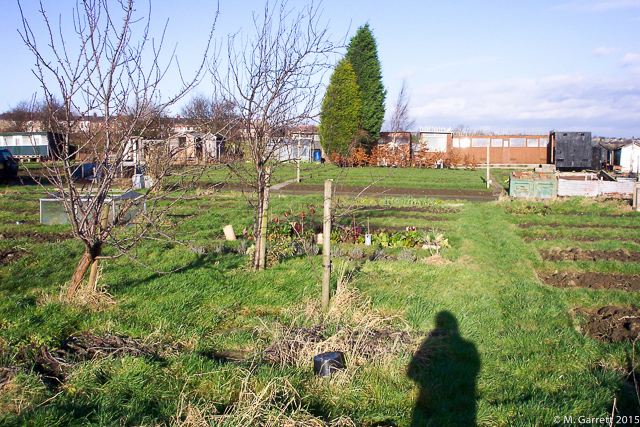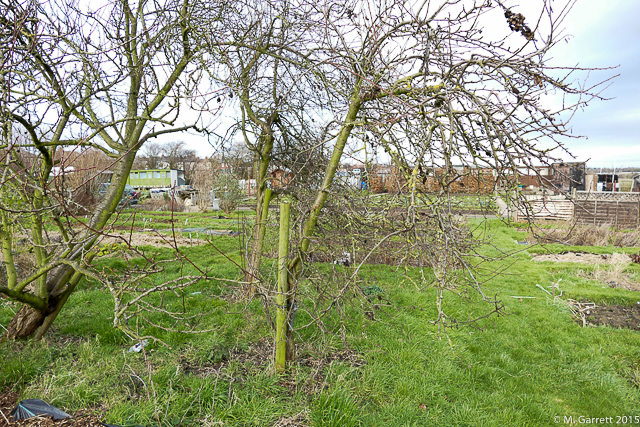 Aerial view of plots circa 2005 showing location of photos
February 2005 looking down path between plot 29 & 30 (Direction of arrow 1 on plan)
February 2015 looking down path between plot 29 & 30 (Direction of arrow 1 on plan)
Our plum trees have grown over the last 10 years but everything else is much the same apart from the 2 large conifers which were only cut down last year. Most of the plots in this view have remained with the same plot holders over the last 10 years.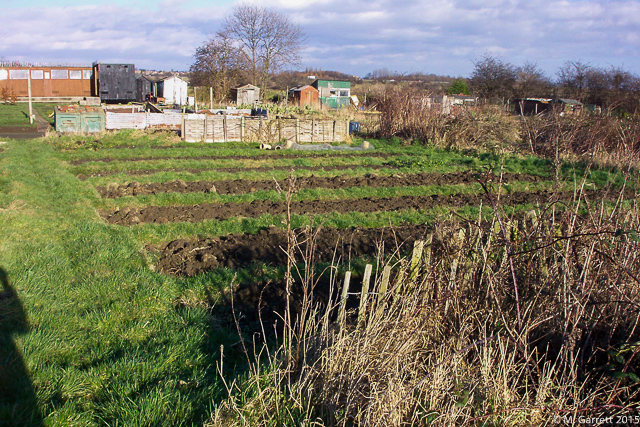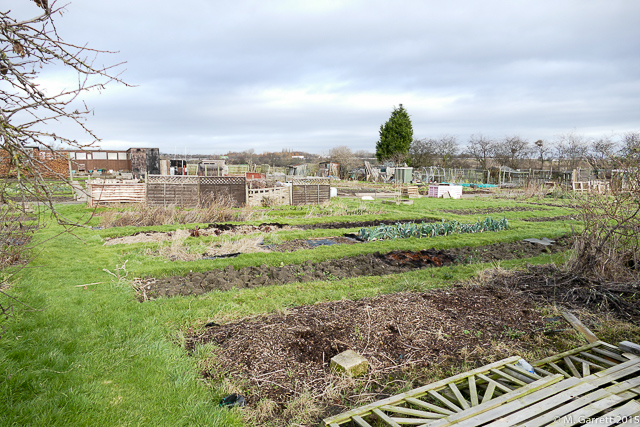 February 2005 looking across plot 30 (Direction of arrow 2 on plan)
February 2015 looking across plot 30 (Direction of arrow 2 on plan)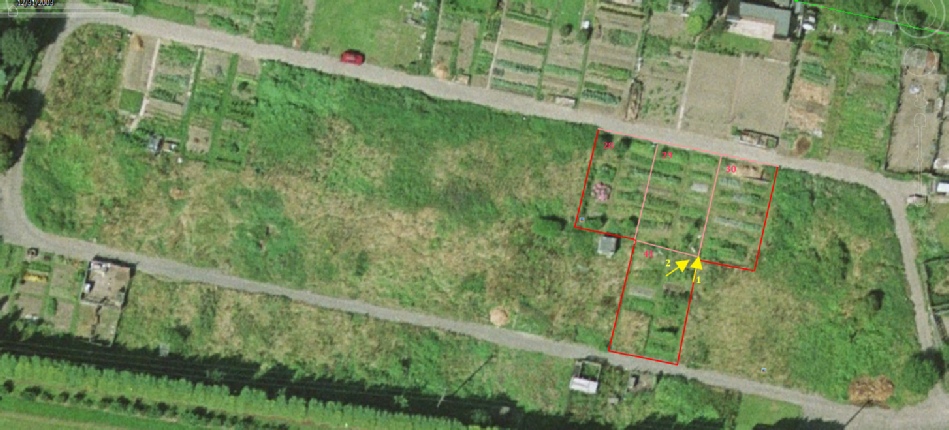 Again not too much of a change over the years although plot 31 has been cleared on the right of the photo. Plot 30 is one of our main productive areas. This plot contains the composting area for all our plots and six beds each 10.0m long by 2.0m (33' by 6.0') wide surrounded by grass paths. It's often filled with over wintering crops, such as the leeks in the above photo, and as a result isn't the most photogenic area of our plots.
Although we practice crop rotation with all the beds, one bed on this plot is badly affected by club root and it's our intention to convert this into our new strawberry bed once it can be prepared over the next few weeks.
It's part of a tried and tested system hence the reason for little change over the years.
Friday 13 February 2015
Another Cold Dull Dreary Day
After that little hint of spring early on in the week the weather over the last couple of days has been a reminder that it's still winter. It only just about managed to get light yesterday as we had our dullest day of the month. It was a tad less cold but I'm not sure I agree when the forecasters have used the term mild to describe the weather. Temperatures at best have been about average for the month.