Disclaimer
This weather site is operated as an amateur weather station site and should not be used as official data. I make every effort to ensure my data is as accurate as possible but I cannot guarantee that the data meets the requirements of the Meteorological Office or other professional weather monitoring organisations.













Wednesday 22 July 2015
Odd Weather Continues
Wednesday was another poor day for late July. The temperature struggled up to 17.2°C (63.0°F) well short of where it should be at the moment. It was cloudy for most of the day and from late morning through to the middle of the afternoon the cloud was thick enough for it to try to rain. It only wet leaves not the ground and it didn't record anything on my rain gauge.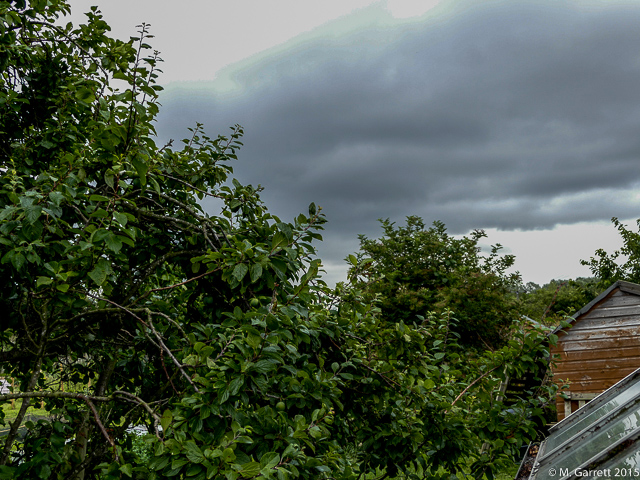 With a few days of cool dull weather it's easy to forget to water outdoor plants. When it's dull and cool I know the tomatoes in the greenhouse will go a couple of days without watering but it's so easy to forget outdoor plants thinking they'll be alright and manage on the small amounts of rainfall we've had.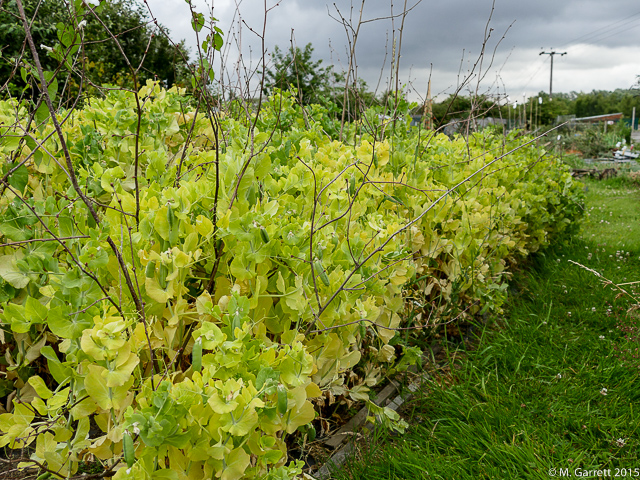 Clearly our peas have suffered over the last few days and have turned from a healthy dark green to almost yellow. There's a few pods left to harvest but the haulms can then be cleared away.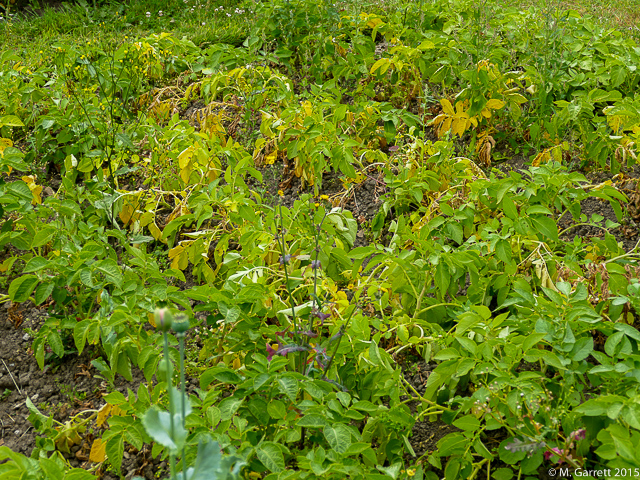 Our main crop potatoes look like they're urgently in need of a good drink. I'm not really into watering potatoes so it will be a case of finding out how they've performed when they're lifted after the tops have died down. By the look of them that's not going to be very long.
We'll need to keep watering our sweet pea plants if we want to prolong their flowering period. All the flowers were cut today and I'll give them a good watering on my next visit.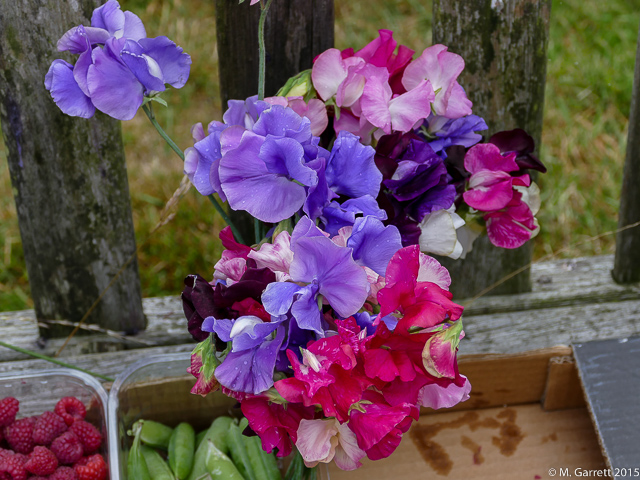 A drop of water from the sky would be very welcome especially if it fell at night.
Thursday 23 July 2015
Chilly Nights
Thursday morning was chilly with the temperature falling to 8.7°C (47.7°F) in the early hours of the morning, the coolest night of the month. It took most of the day for the cloud to break before we had a little late afternoon sunshine. That chilliest night time record only lasted for one day as in the early hours of Friday morning the temperature got down to 7.4°C (45.3°F).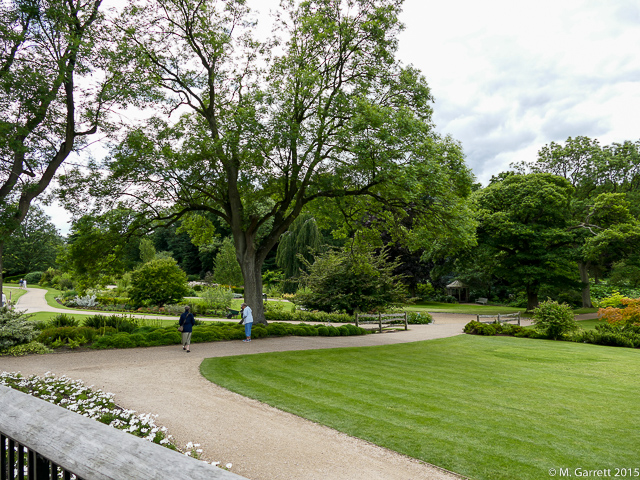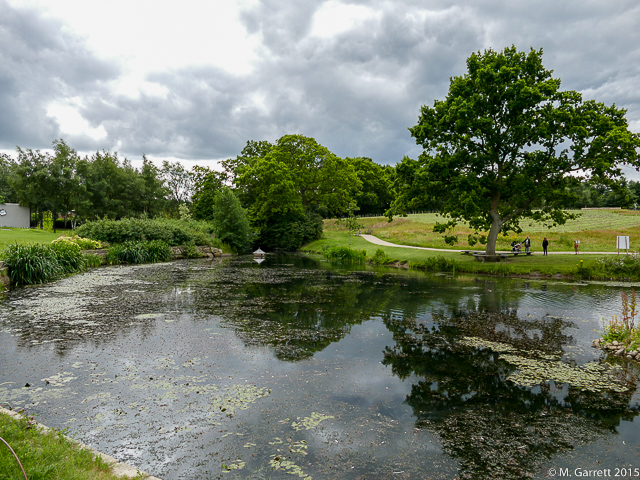 We've got plenty of photos and video to edit of our visit.
We had a Thursday afternoon visit to the RHS Gardens at Harlow Carr.

Temperature Record for Wednesday 22 July to Friday 24 July 2015
Friday 24 July 2015
Tasty Volunteers
Friday was another cool July day. The average temperature for the day was 13.6°C (56.5°F) the coolest of the month.
On the plot we decided it was time to try to sort out a bed for our winter brassicas which long ago outgrew their spot in the cold frame but now they can't be held back any longer and a bed needed to be cleared.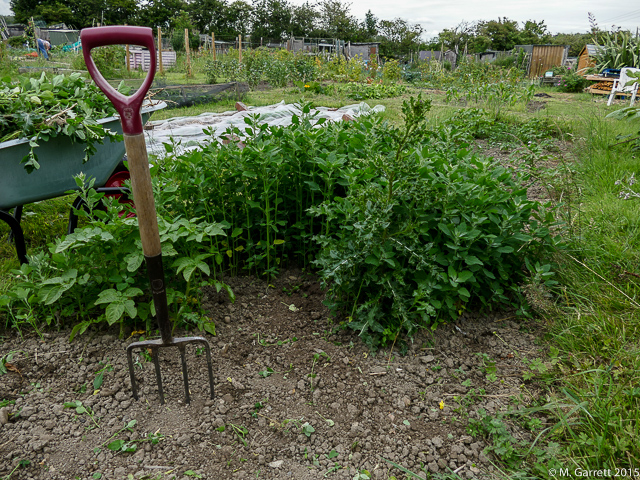 Despite the dry conditions which seem to have slowed down the growth of our vegetables the weeds are unaffected. The fat hen in this bed has grown extremely well. Fortunately it pulled up easily out of the dry ground which was a bit of a surprise. The last thing I wanted to do was dig over the bed and bring any damp soil to the surface making the dry conditions even worse.
Growing along with the fat hen and thistles were some volunteer potatoes, presumably a main crop variety called Harmony, which grew in this bed last year. They hadn't made what I would call decent sized plants but as I dug them out there were some small to medium sized potatoes on the plants. I didn't see the point in wasting them and so they were brought home and tested for eating qualities. They tasted really nice certainly as good as if not better than the early potatoes we've been digging for a couple of weeks. They're in the photo of Friday's harvest and came to 1.3kg in weight.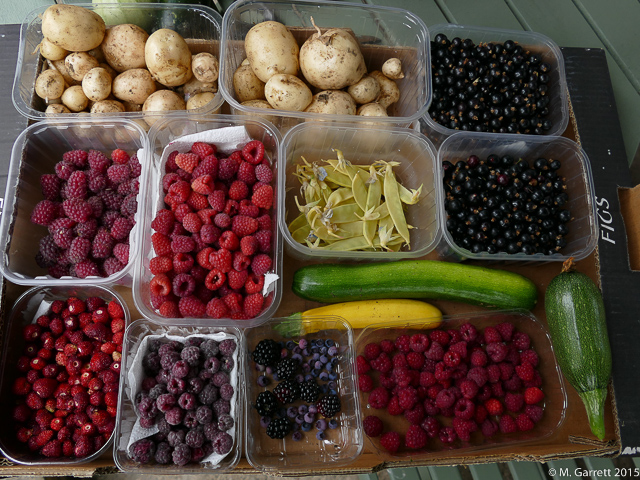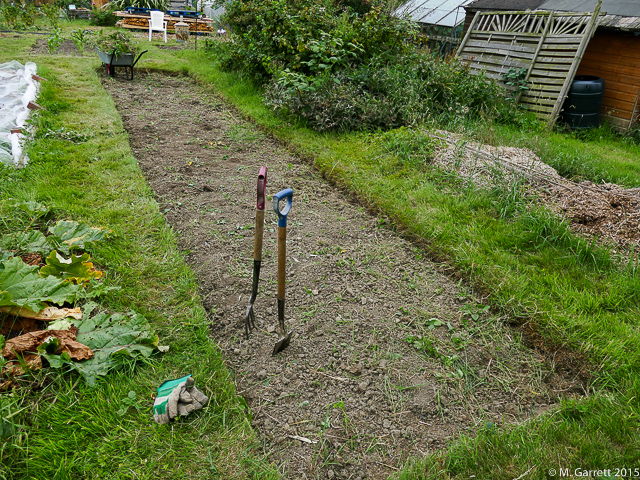 I did manage to get the bed cleared of weeds.
I'm now hoping that the rain forecast for Sunday arrives and gives the bed a good watering which will make planting our winter brassicas so much easier.
Saturday 25 July 2015
Is It Autumn Already?
Not too bad a day on Saturday. We had some decent sunny periods but it remained on the cool side for July. Over night into Sunday I recorded our lowest July temperature of 6.1°C (43.0°F). That follows on from June also having the coldest night time temperature in six years too. Perhaps that's why some more warmth loving plants like runner beans are struggling this year.

On the plot harvesting soft fruit, peas and broad beans continued. I thought it was about time we lifted some of our autumn planted onions.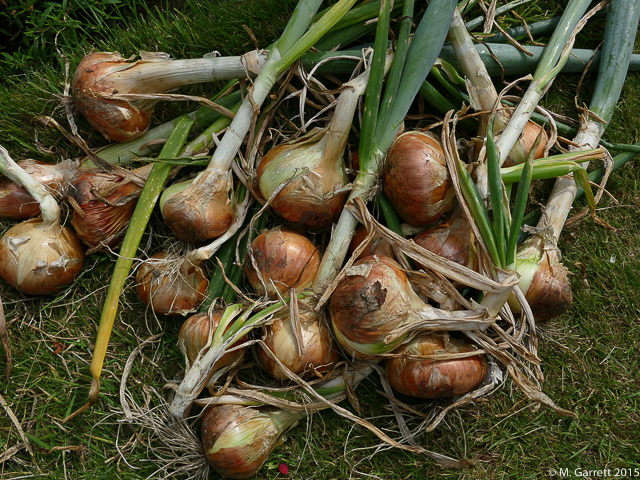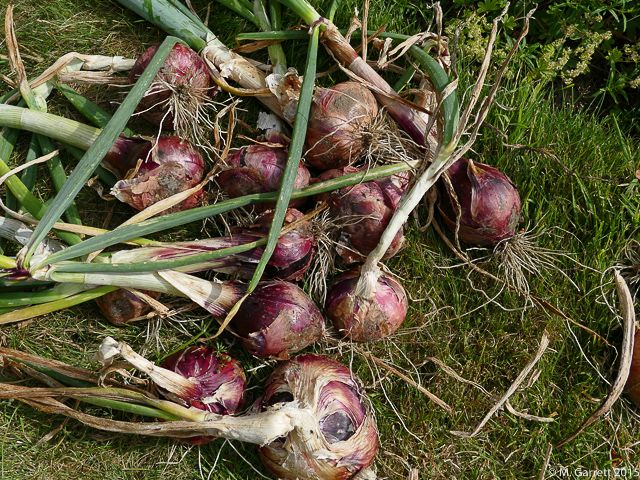 We've certainly got a good crop of onions it's just a pity they don't store for that long but kept dry they usually keep for a couple of months.
I weighed up the onions on Sunday morning before the temperature had recovered from that cold start to the day and it felt very autumnal with a chill in the air and sorting out our onion crop.
Now I wonder if that rain that's forecast is on its way?
Sunday 26 July 2015
Finally Got Some Rain - But!
Some rain finally arrived by lunch time on Sunday but I wouldn't exactly term it heavy rain as forecast by the Met Office. It certainly was dull enough for heavy rain but all it managed was not much more than a steady drizzle. By early evening we'd managed only 3.4mm (0.13") of rain which isn't going to solve our dry ground issues. A little bit more in the evening brought the day's total to 4.4mm or 0.17".
I thought my rain gauge might be blocked after all it's a while since it has seen any serious action and our woodpigeons have a nasty habit of doing the dirty on it causing a bit of a blockage. The easy way is to check on Weather Underground first and see how much other weather stations around have recorded.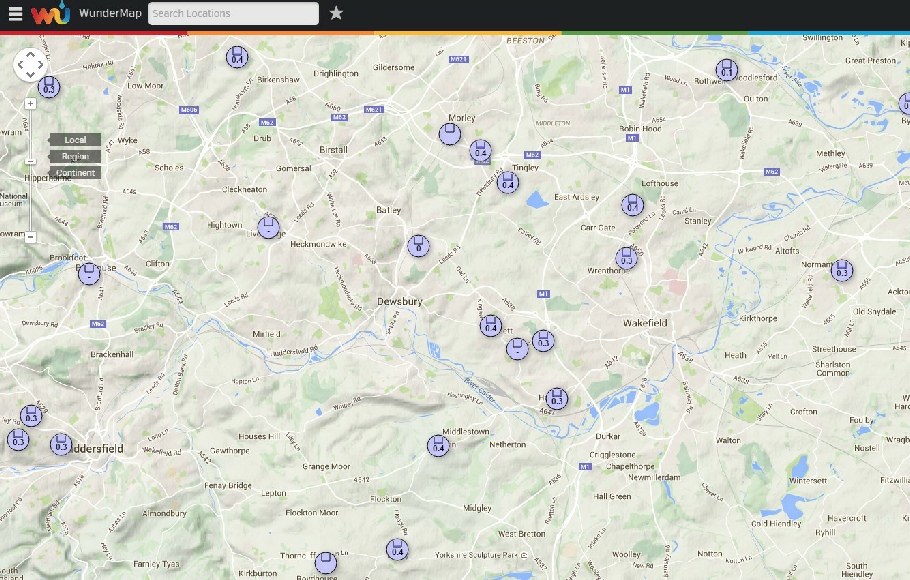 Most of the stations have recorded more or less the same so I'm assuming my rainfall measurement is accurate and doesn't have a woodpigeon problem.
After the chilly start to the day and because the afternoon rain brought with it some cooler temperatures Sunday finished up with the lowest average temperature of the month of 12.1°C (53.8°F). It seems a far cry from that scorching hot day on the first of the month when the thermometer hit 33.1°C (91.6°F).
It's been downhill ever since.
Monday 27 July 2015
Had Plenty Now Thank You
Monday turned out very dull with light rain on and off throughout the day. Like yesterday we didn't have any spectacular rainfall but the steady rainfall continued into the evening and through the night and is still falling steadily on Tuesday morning. So far the last three days has amounted to 25.2mm (0.99") of good steady rainfall.

Temperature and Rainfall Records for Sunday 26 July to Tuesday 28 July 2015
Hopefully the allotment will have soaked up the rainfall like a giant sponge and once the rain stops we can get on and plant up our winter brassica bed.
You may have noticed that when I posted some photos of our brassica bed preparation it included one of our untidy plot areas that for most of the year I think needs a good sort out. But it doesn't pay to be too hasty about these things. Growing in this corner of the plot where all the stones and rubbish were dumped when clearing our other plots grow wild elder, a jostaberry bush, nettles, and a blackberry bush. I'd half a mind in spring to make some elderflower cordial but didn't get myself organised before the flowers went over. Is there anything I can make with elderberries?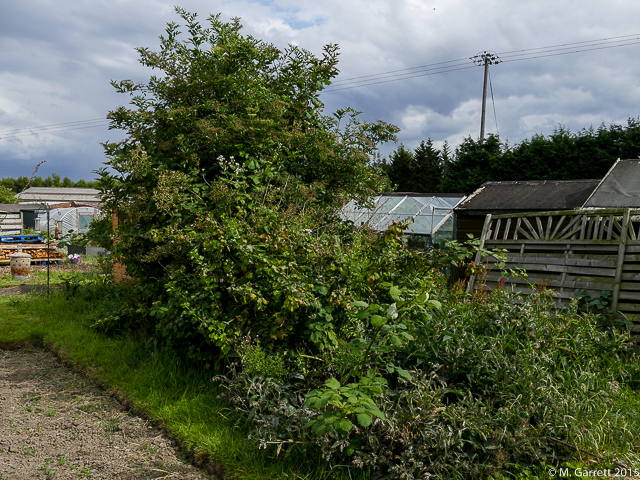 The wild blackberry has been covered in blossom and the vast majority of it has set fruit. The bush is ladened with small green immature blackberries. Last year this bush was very productive and besides us we supplied some plot neighbours with blackberries too. It looks like this might be the case again this year.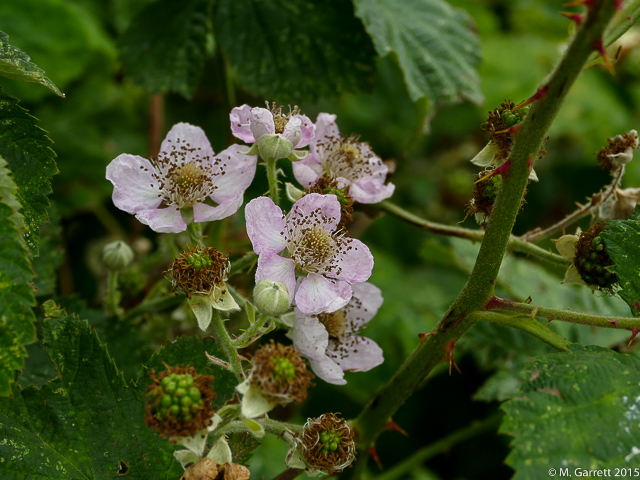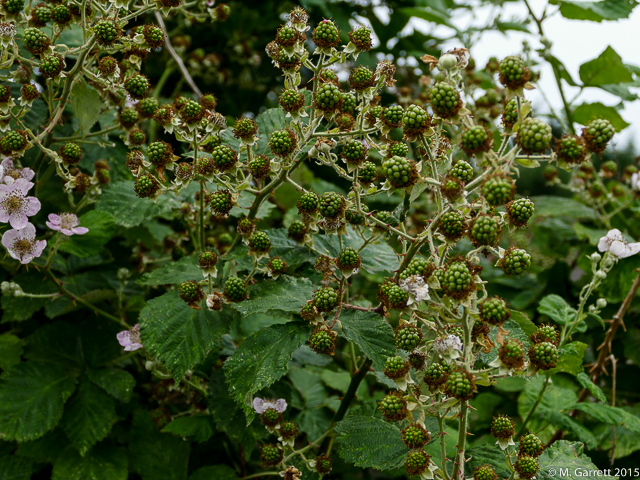 There's also some comfrey growing in this corner too which the bees love when it's in flower. Most of the flowers have died off now so it's time to cut it down to ground level, add all the leaves to the compost heap, and with a bit of good luck we should get another cutting from it this year.
Added to this the area produces a few daffodils and bluebells in spring.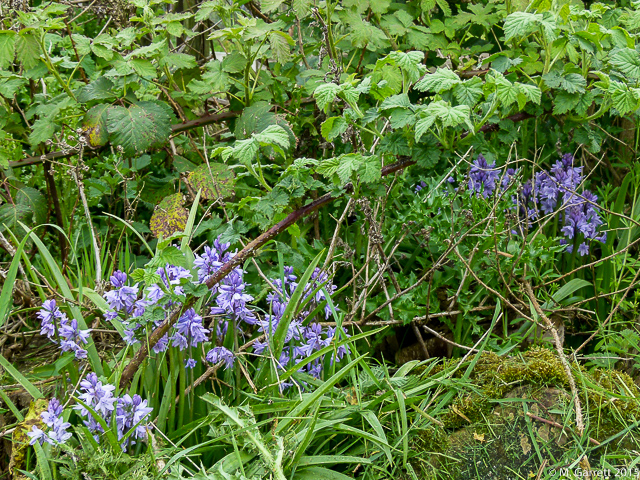 Our plot neighbour asked if it was okay to put a hedgehog home hidden away in this area which we thought was a great idea.
So what looks like a pretty tatty part of the plot doesn't do too badly all things considered. Perhaps I should leave the area well alone and let nature take its course on this small part of the plot.
Tuesday 28 July 2015
Disappearing Lettuces
More rain on Tuesday will hopefully have put an end to our dry soil conditions on the plot and we can at last get on planting out our winter brassicas.
Above are my planting notes for my latest successional sowings of lettuce seeds. The tiny seedlings became rather leggy before they were transplanted despite my best efforts not to let this happen. I hadn't any more lettuce seedlings to grow on so I decided to give them a go and see if they recovered.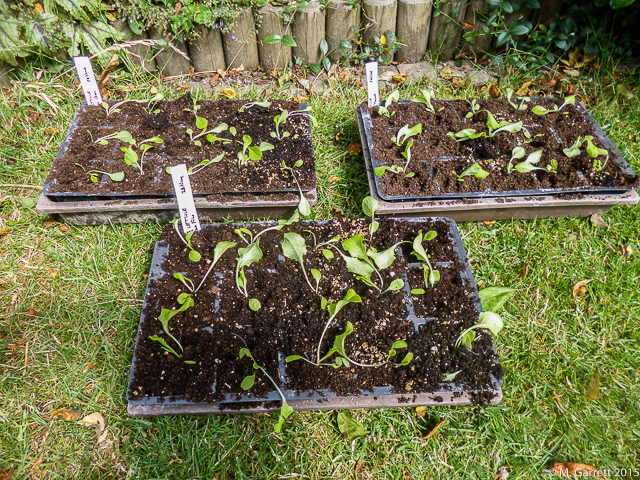 As you can see they didn't look brilliant when planted out. My next problem was I'd no coldframe space to put them in so I needed to find somewhere else for the three trays. Fortunately I found space for a couple of trays under the veggie mesh that is protecting our raised bed at home. One unfortunate tray had to remain unprotected. I thought I'd make it a bit tricky for the slugs to get to this tray and placed it on an upturned plant pot. This is how that tray looks now.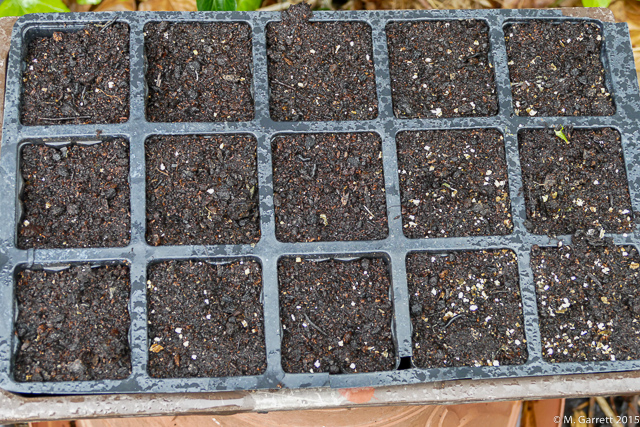 Whatever had our lettuce seedlings they made a superb job of it and there's not a trace of green to be seen. They've even had the nerve to remove my label. I think it's bird damage rather than slugs as there's no sign of any slug trails up the plant pot sides.
What of the other two trays under the protection of the veggie mesh. Despite my doubts they've gone on to produce some decent plants ready to go out into the plot.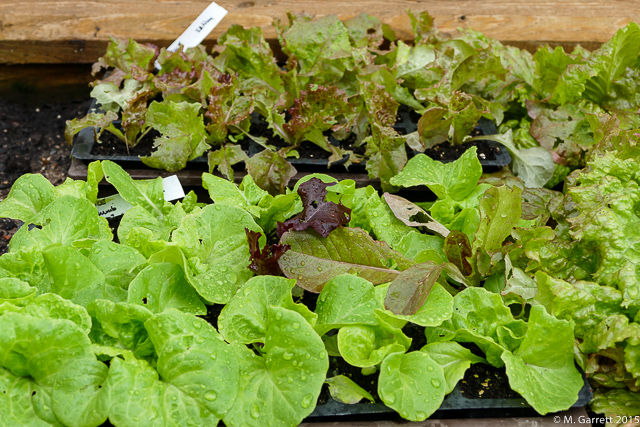 Once down on the plot they'll need some protection from the birds. It's also time for me to sow another batch of lettuce seeds.
Just how far apart were the three trays of seedlings. I've circled in red on the photo below the location of the lettuces.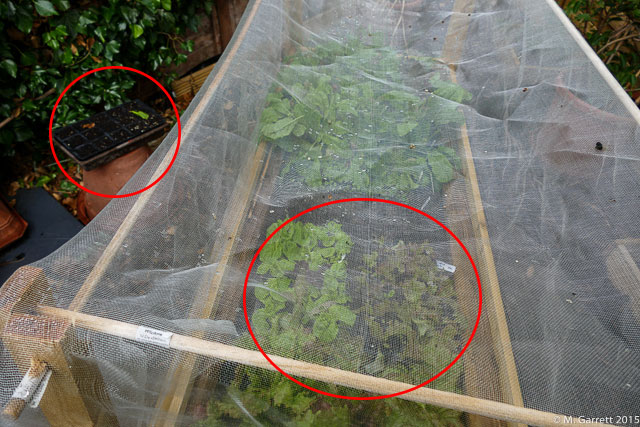 You can never take anything for granted where gardening pests are involved.
Just in case you're wondering it was the tray of Little Gem lettuces that were left in the open.


Wednesday & Thursday 29/30 July 2015
Puzzling Soil Conditions
Both days were rather similar in that they were both cool and showery. We managed to get to the plot on Wednesday afternoon but some heavy showers over lunch time on Thursday were enough to put us off.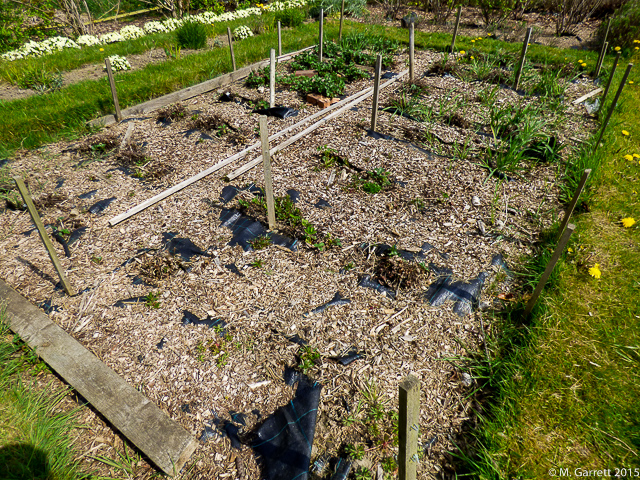 This is how our old strawberry bed looked back in April this year. We've replaced the plants this year and planted up a new bed. We started to clear away these old strawberry plants in April but decided to leave the plants in the top left hand corner of the bed as they put on some new growth and we thought they might give us a crop of strawberries this year. Some of the other plants were removed and the bed dug over as the plants were cleared away. These parts of the bed didn't dig very well and before we had chance to finish sorting out the bed we had more pressing jobs to get on with like planting out and more recently harvesting our produce.
Eventually the dry spell of weather converted the ground to something resembling concrete and it became impossible to dig over. After this weeks rain I decided to see how the soil conditions had changed.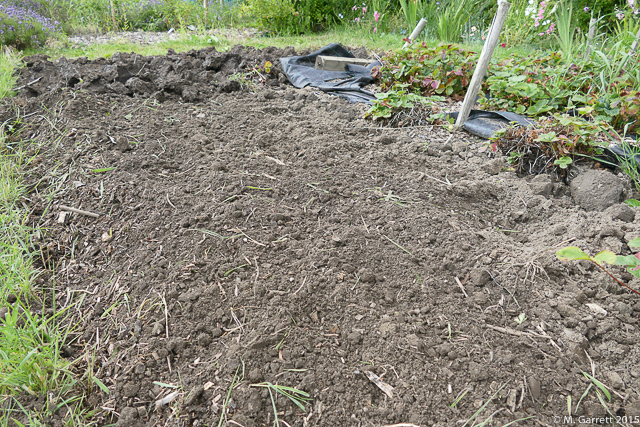 That patch that was roughly dug over back in April dug really well and I'll be able to plant some lettuces in this part of the bed. The remainder was a totally different proposition.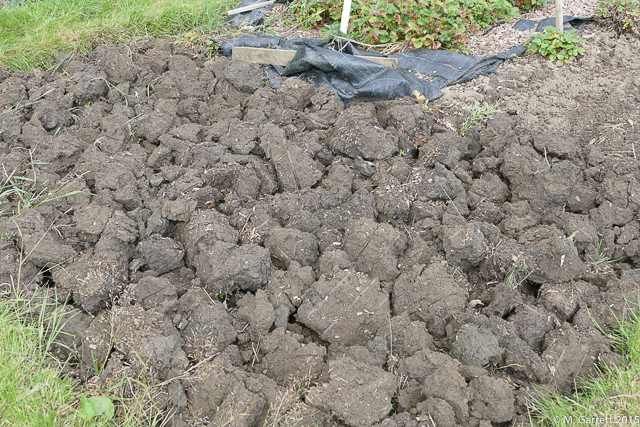 I don't think I'll be planting this part of the bed up for a while. It's turned over in large clods which don't want to break up so I'm going to leave them to weather a little bit and then see how they break up. Hopefully I'll have the bed ready to plant up with potatoes next spring.