Disclaimer
This weather site is operated as an amateur weather station site and should not be used as official data. I make every effort to ensure my data is as accurate as possible but I cannot guarantee that the data meets the requirements of the Meteorological Office or other professional weather monitoring organisations.













Sunday 08 March 2015
Disappearing Mildness
Saturday's mild weather didn't last long and Sunday brought us down to earth with a bit of a bump as a mostly cloudy day with a little drizzle at times resulted in a high of 12.4°C (54.3°F).

Temperature and Sunshine Record Saturday 07 to Monday 09 March 2015
In the space of a couple of days Ossett's had it mildest and coldest temperatures of the month. Early on Monday morning we had a low of -2.2°C (28.0°F) as a reminder that we've not finished with cold nights just yet.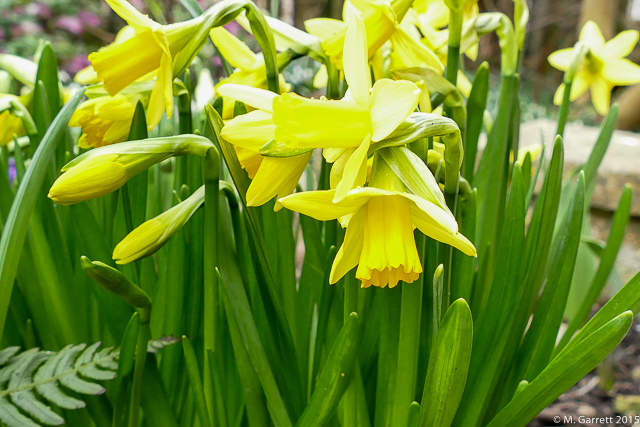 Monday and Tuesday 09/10 March 2015
Bird Box Reshuffle
Tuesday was the better of the two days with much more sunshine than Monday which was a pretty dull day. Daytime temperature were around average for the time of year but early morning temperatures fell to around or below freezing on both days.
I'd been planning to move our bird boxes around for some time and as it was such a nice afternoon the ladders came out. I've usually cleaned out our nest boxes earlier in the year but it has been left a little bit late this year.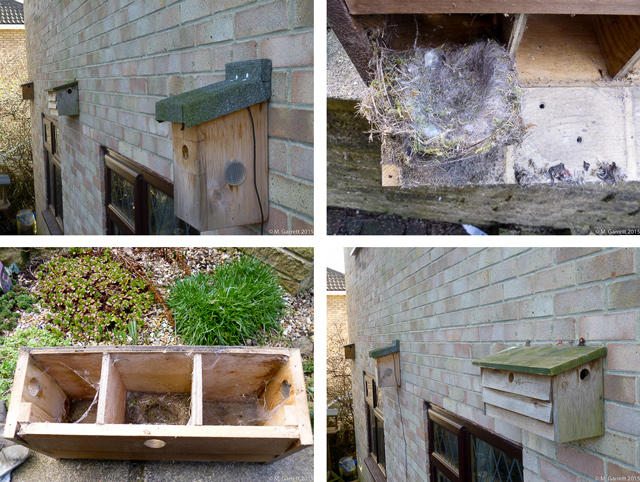 For the last couple of years our nest boxes without cameras have been used by blue tits or great tits to raise a family but so far no one has taken a liking to our bird box with a camera linked up. You can see the camera lead trailing out of the box in the first photo. We'd decided that maybe the birds preferred the other two boxes as they were in easier hopping distance from the branches of our magnolia tree. So besides removing last year's nests from our sparrow terrace boxes the plan was to swap locations of a sparrow terrace and camera box as the last photo shows. I didn't bother looking inside the camera box to see if it needed cleaning out as we'd checked several times through winter to see if anything was roosting in the box. It wasn't.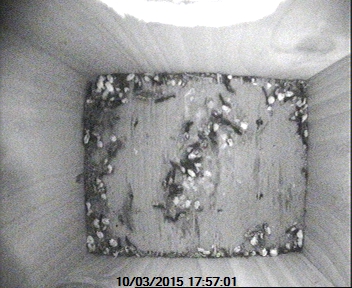 I decided to check out if our camera was working. I had a few computer issues as the software that captures any movement on the camera had been deleted from our laptop. Fortunately I found the downloaded file of the software and reinstalled it. Up popped a picture of the inside of the box. I was a little bit dismayed as it looked like it needed a bit of a clean out and I'd only just fixed it into position. I was annoyed I hadn't thought of cleaning it out.
Then this happened.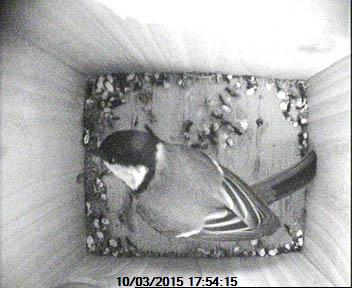 I thought at first I was looking at some old images but the date confirmed that it was indeed Tuesday 10 March 2015 at 17:54. What looked like a great tit was having a look around inside. I was a little worried that my pictures weren't in colour but then realised that it was getting dark outside and the images would switch from colour to black and white. We watched for a while as the bird inspected the bottom of the nest box. What would it make of the "rubbish" inside.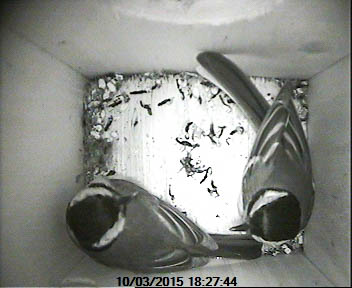 At times our lone bird was joined by its partner and the two birds inspected the nest box together. Might we be in luck this year? As the light faded altogether one of the birds left the nest whilst one remained on guard so to speak and settled down to roost for the night.
Now we're hoping that the pair will take a liking to a detached nesting box just a hop away from a mature magnolia tree in a highly desirable location with plenty of excellent takeaways around.
Wednesday 11 March 2015
Where's Spring Gone?
Wednesday morning was nice and sunny. It didn't last all day and by lunchtime clouds had gathered and we had some drizzly rain. That's how it stayed for the remainder of the day.
We've had just enough sunshine and a hint of warmth to make us think that spring has arrived and then we're back to winter.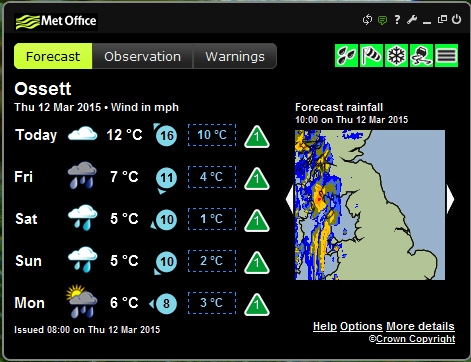 The forecast for the next few days doesn't hold out much promise of spring arriving.
We've been checking out nest box cam awaiting developments.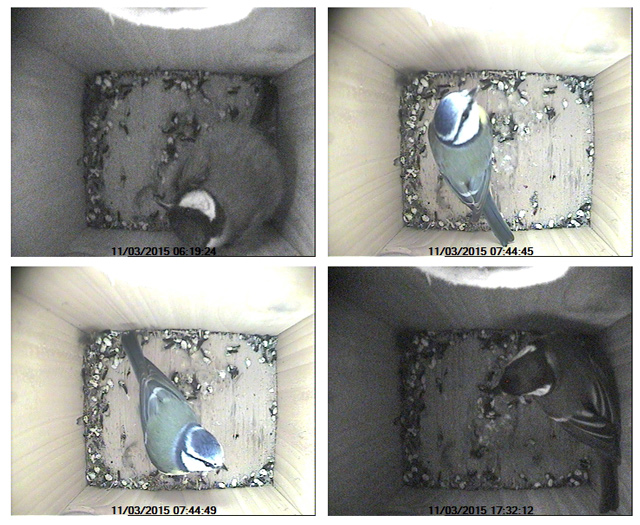 What we know so far is that our great tit was up and out of the nest box at around 06:20 in the morning. The only action through the day was a blue tit carrying out a quick inspection later in the morning. At least it was light enough to confirm that the camera was still operating in colour when there is sufficient light. Then we're presuming that the same great tit returned at 17:32 and once again roosted in the box overnight.
Sadly no sign of any nest building going on yet but it's early days.
Thursday 12 March 2015
The Trains the Star - Isn't It?
After a dull, damp and misty start to the day Thursday didn't turn out too badly with some hazy sunny spells at times and a little bit milder than we might expect for the middle of March.
We had the afternoon out and about locally. First call was Colton Junction to catch a steam locomotive 61306 Mayflower bringing the Cathedrals Express from London Kings Cross to York.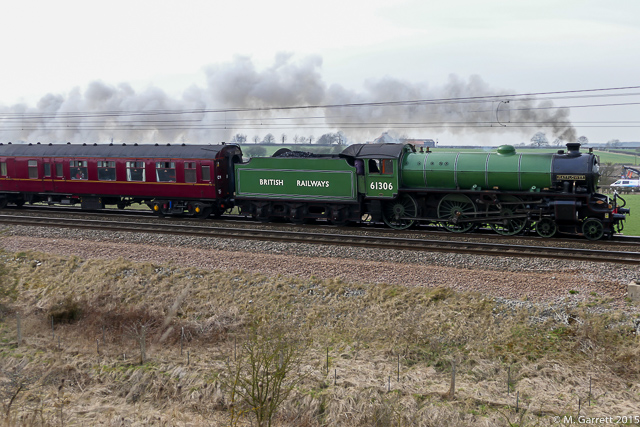 Next it was off for lunch at a local farm shop. As we were leaving after lunch Sue spotted some lambs and managed to take one or two photos.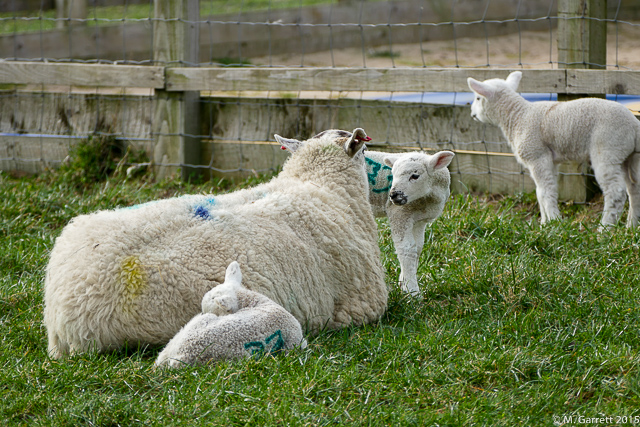 It was then a visit to a couple of garden centres where we bought a Trachelospermum Jasminoides Wilsonii a white, summer flowered climber and a couple more Anemone Blanda to add to the two that were looking a little bit lonely beneath our small Acer.
I've no more news of nest box cam activity. Thanks to a Windows update we didn't have any images of our great tit leaving the nest box early in the morning but a great tit did visit the box around lunchtime.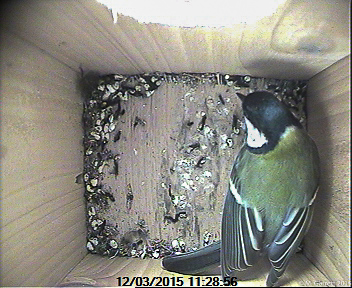 Of course we don't know whether or not it's the one who is using our box to roost in overnight. I don't know what you think but it looks like it would be a little bit cramped for space with two adult birds and a family of youngsters. I suppose the birds know what they're doing.
Friday 13 March 2015
Wettest of the Year
After some overnight rain Friday turned out to be our wettest day of the year so far with 9.6mm (0.38") of rainfall which fell mainly in the early hours of the morning. The previous wettest day had been 07 January 2015 with 7.0mm (0.28").

Judging from my blog posting of 04 March 2015 I reckon our bed of spring bulbs planted under the bird bath are a couple of weeks later into full bloom than they were in 2012.
Saturday 14 March 2015
Dull and Cold
After the wet weather of Friday, Saturday produced the dullest day of the month. It wasn't quite the coldest day of the month as the thermometer only managed a high of 6.9°C (44.4°F) but there was only fractions of a degree in it.
I know lots of bloggers have already sown their tomato seeds but I'm always a little bit cautious. I can usually get good germination sowing seeds under our indoor grow light. For a couple of weeks they can remain under the light, growing into sturdy little seedlings. Then comes my problem. Where do I move them to next? It's far too cold to move them into the cold greenhouse where they'll just freeze. So I'm experimenting with a few seeds hoping for a couple of early plants.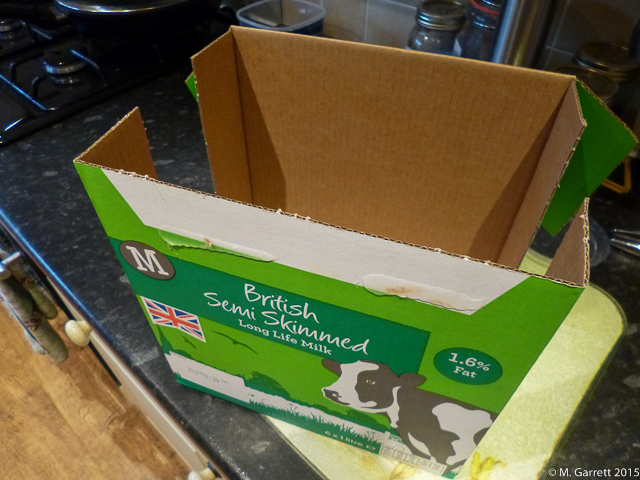 I've converted this into this…..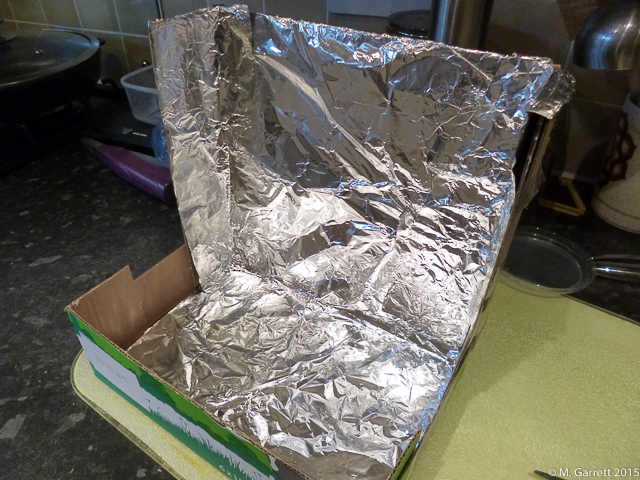 Hopefully I'll have enough space for four small tomato plants to grow on a window-ledge. The foil will hopefully reflect back as much light as possible stopping the seedlings from becoming too leggy.
Now I've got to decide which varieties of tomato seeds to try.