Disclaimer
This weather site is operated as an amateur weather station site and should not be used as official data. I make every effort to ensure my data is as accurate as possible but I cannot guarantee that the data meets the requirements of the Meteorological Office or other professional weather monitoring organisations.













Friday 15 May 2015
Growing Pea Sticks
Friday was a decent day with plenty of sunshine and a high of 18.6°C (65.5°F). With just a light breeze it was just the sort of day for spreading our some weed control fabric and getting our sweet peas planted.
Back on the 25 February this year I cut back one of our hazel bushes to provide us with some pea sticks for this year.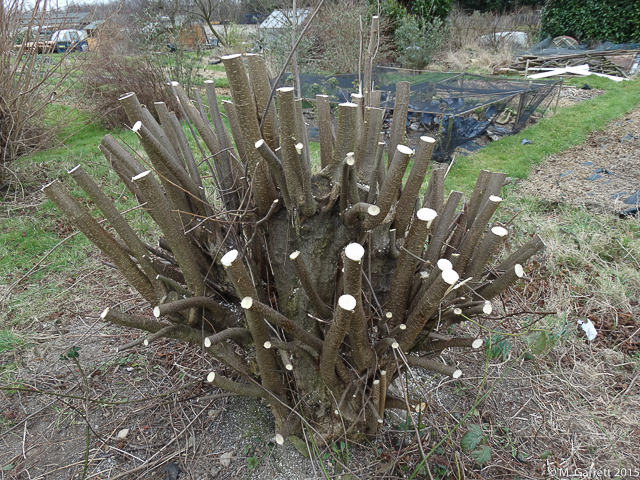 All the branches cut back were left in an enormous heap on a spare patch of allotment ready to be trimmed down into pea sticks and some longer sturdier branches for supports.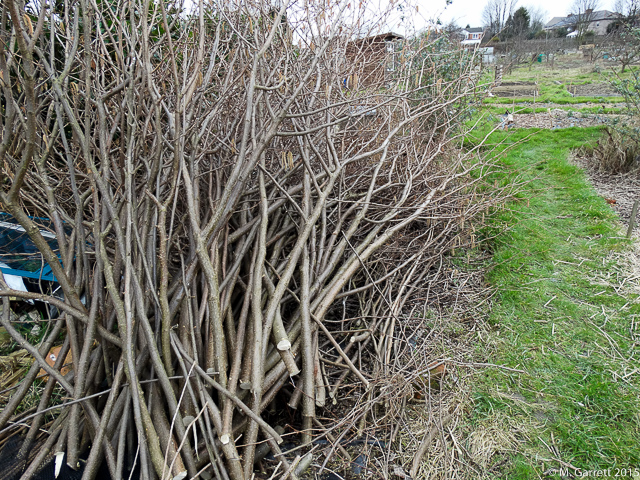 Like many jobs planned on the plot nothing gets done until its critical and that applied to the hazel branches which were left in their heap until some pea sticks were needed at the end of April. A suitable number were cut and used to support our first row of Onward peas.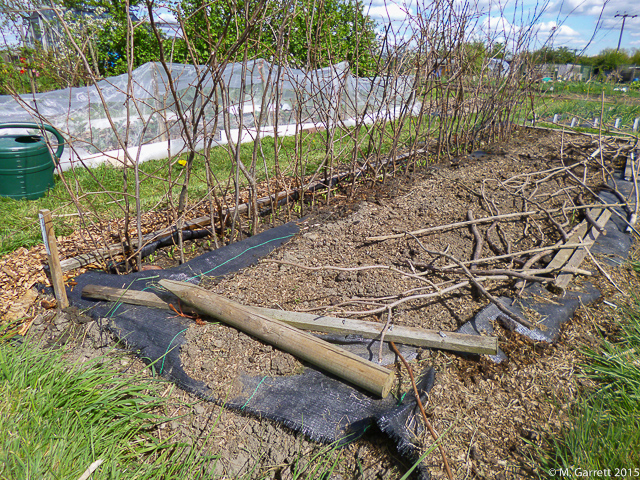 That was on the 26 April and the peas are not the only thing to have grown a little bit. Our hazel twigs are starting to grow too.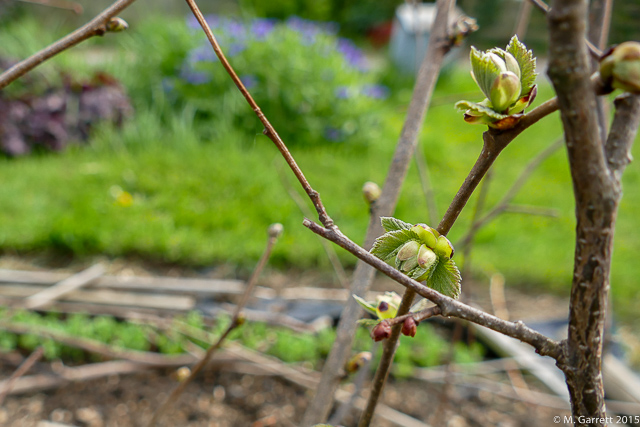 It looks like a few twigs are growing although I've no idea if they'll go on to form any roots through summer. So I reckon that's 60 days from when they were cut back and left in a pile to being pushed into the ground as pea sticks and then only a few days before they started to shoot.
Saturday & Sunday 16/17 May 2015
Poor Weekend Weather
It was a poor weekend weather wise as the strong winds returned on Saturday and abated only slightly on Sunday. It was on the cool side too with only a few sunny spells on Saturday.
More progress was made on sorting out the Cold Frame Courtyard.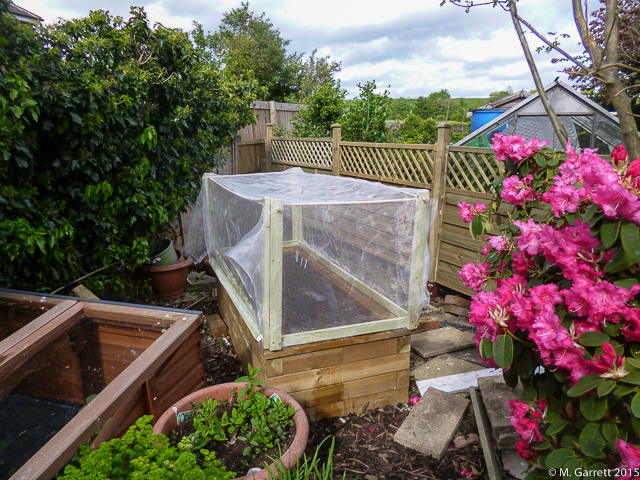 Our raised bed now has a veggie mesh covering to protect our precious salad crops from as many pests as possible. Last year lots of our salad leaves had nibbled edges and this year we're hoping to prevent that.
On Sunday the border next to our new fence was dug so that we can plant a couple of climbing roses to train along the fence.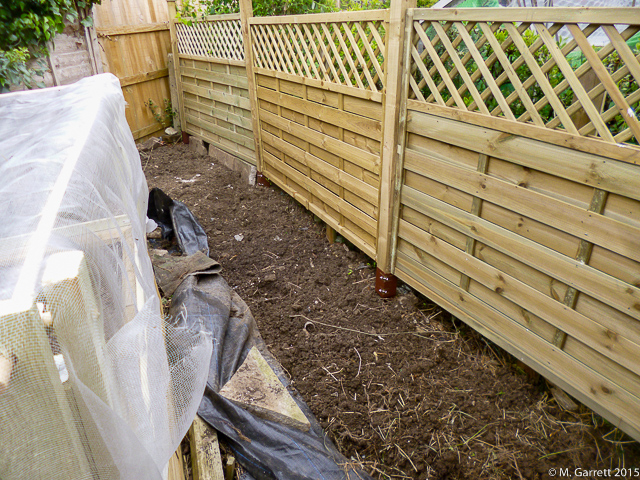 The ground dug pretty well but it was slow hard work as the soil had been infiltrated by snowberry which had spread its roots, from under an adjoining fence, well and truly into this area. We finished up with a wheelie bin full of root dug out from just this small area.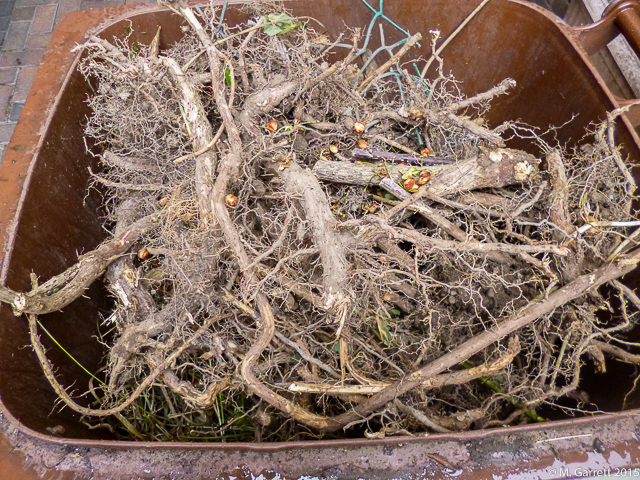 We're using weed control fabric to try to prevent any more problems from the snowberry. My plan is to fasten the fabric to the back of some decking boards which will then be fixed to the bottom of our new fence panels. This will all be covered with bark chipping and our roses will be planted in pockets through the fabric.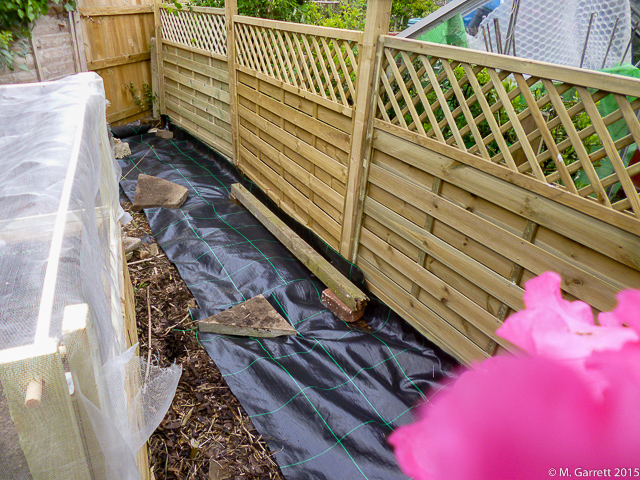 By the end of Sunday the area was starting to look a bit tidier and looking a bit nearer completion.
Now if only the weather would improve!
Monday 18 May 2015
Getting There
There wasn't much improvement in the weather on Monday. It was a showery and blustery day with temperatures below average for mid May with a high of only 13.2°C (55.8°F).
A little bit more progress was made in the Cold Frame Courtyard. The weed control fabric was fixed to the bottom of the fence and the decking boards were fixed in place.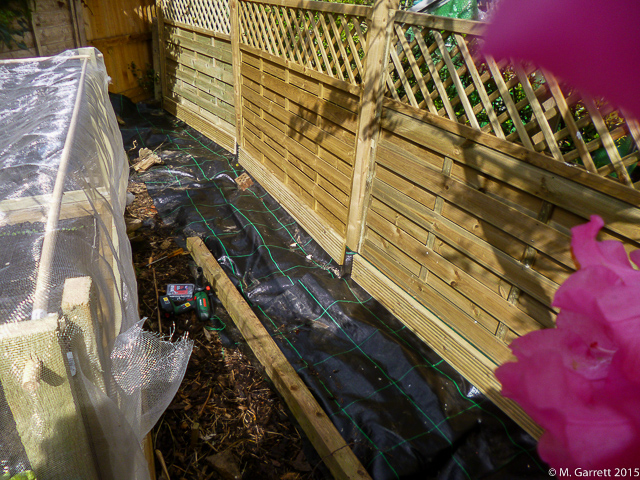 With the addition of a couple of bags of bark chippings the border looked to be finally nearing completion.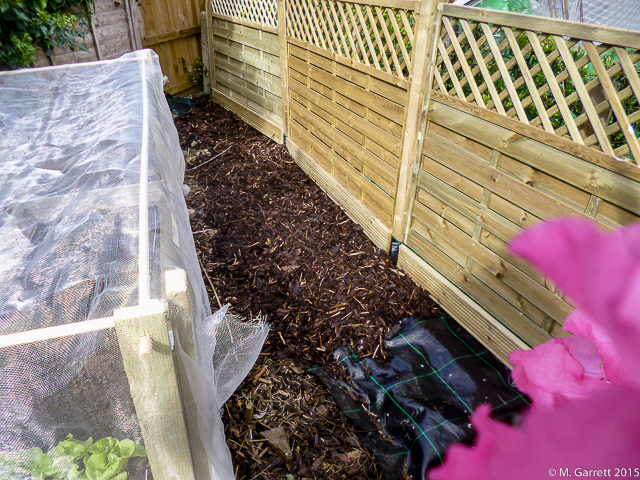 I'll be needing a few more bags of bark chippings to cover the remaining fabric then we can get our two climbing roses planted.
We thought it was a good time to do another video tour of the plot so here's a spring tour of the plot.
Tuesday 19 May 2015
At Least April's Arrived!
Tuesday was much more like April than mid to late May. It was cold and breezy with showers interspersed with some sunny spells.

In that heavy shower around 11:00 in the morning the temperature fell to 7.6°C (45.7°F)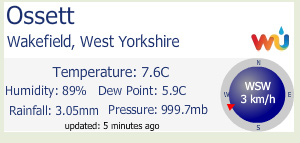 Once again the day's high temperature was disappointing reaching only 13.4°C or 56.1°F. I decided to look back over the last five years of records to see if it was particularly unusual to have a cold spell at this time of year. It turns out it's not even our coldest May 19th as in 2012 the high temperature was a very cold 8.7°C (47.7°F) making Tuesday pretty balmy in comparison.
Lets hope it starts to get a little bit milder soon.

Wednesday 20 May 2015
Tomato Trials
Wednesday was another day of blustery winds and although it was warmer than Tuesday the temperature remained lower than normal.
I've now got two tomato trials on the go. The first started some time ago which was to try to get some early tomatoes by growing on some plants on a sunny window ledge indoors compared to growing the same varieties in the greenhouse. The time has arrived for all the plants to grow on together in the greenhouse. Hopefully any cold and frosty nights are behind us now.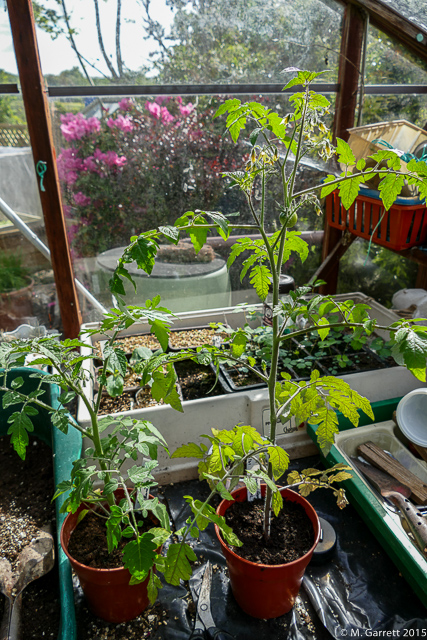 I'm guessing you won't have any problems deciding which plant of Baby Boomer was grown in the greenhouse and which wasn't. Indoors the plants has reached a rather leggy height of 550mm (22") whilst the greenhouse tomato has produced a much more stocky plant about half the height. But the purpose isn't to produce the best plant but some early tomatoes.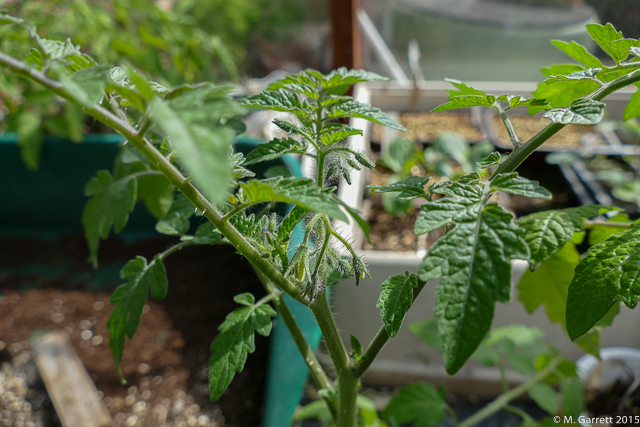 The greenhouse plant is starting to produce some flowers but the indoor plant already has a small tomato set from the first truss of flowers.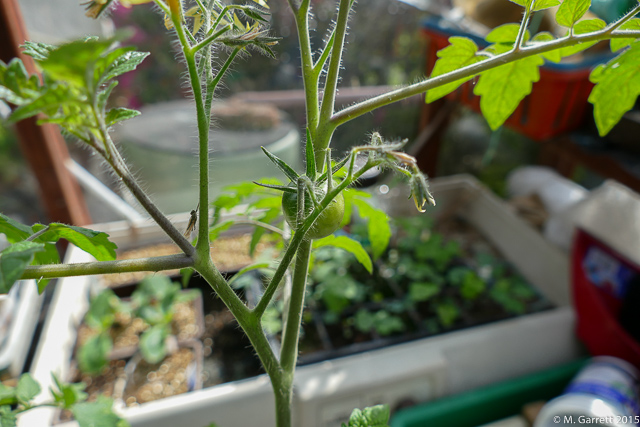 I'm now going to try to concentrate all the efforts of this plant into producing fruit and leave only a couple of flower trusses as well as keeping all the side shoots removed. For comparison purposes I'll do the same with the plant grown in the greenhouse.
The second tomato trial has only really just started. I've been given a seedling of a new tomato from Suttons Seeds called Crimson Crush. Its main claim to fame is that it's completely blight resistant as well as producing slightly larger than average tomatoes which taste good too.
I have to admit that at the moment it doesn't look the same as a normal tomato plant. The leaves look like you'd expect but it doesn't yet seem to be growing a main stem. We shall see how it grows on. To give it a test it will be planted outside on the plot next to a few other varieties to check its blight resistance should the dreaded disease attack this year. It normally does and it the reason we've stopped trying to grow tomatoes outside on the plot. Will this variety prove to be a solution to our problem?