Disclaimer
This weather site is operated as an amateur weather station site and should not be used as official data. I make every effort to ensure my data is as accurate as possible but I cannot guarantee that the data meets the requirements of the Meteorological Office or other professional weather monitoring organisations.













Thursday & Friday 21/22 May 2015
Calm Down!
Thursday and Friday weren't anything special weather wise for late May. Thursday was sunnier but Friday was milder reaching around average temperature.
If you've read many of my posts over the last six months you'll no doubt have noted that many of my weather summaries include descriptions of windy weather including gale force, strong breeze, gusty winds and so on. So here's a couple of charts showing how windy it's been over the last six months.
This shows each month side by side so it's easy to see which have been the windiest Decembers for example. It turns out that December 2014 was the windiest December I've recorded and it's the same story for January, March and May this year. February and April haven't been a great deal better as they've turned out to be the second windiest on a month by month comparison.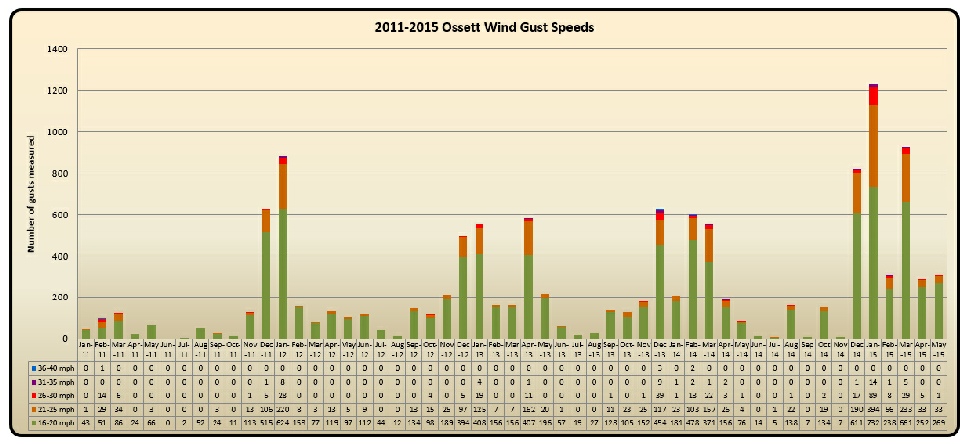 The second chart shows the wind speeds in chronological order from January 2011 and it's easy to spot the windiest times of the year. It also shows how we've had consistently windy weather for the last six months. Unless we're in for something very unusual the months of June through to October aren't particularly windy months. Let's hope this year doesn't turn out to be the exception.
Saturday 23 May 2015
A Matinee Performance
After a fairly cloudy start on Saturday morning most of the clouds dispersed for the afternoon giving us a lovely warm sunny afternoon with just a gentle breeze. The temperature reached 20.3°C (68.5°F) in the afternoon only the second time this month we've reached the dizzy heights of 20°C or more. Surprising our warmest day of the year is still the 10 April with 21.3°C (70.3°F)some 43 days ago.
On the plot things are at last starting to grow away a little bit. I think we might have a few plums although most seem to be at the top of the tree.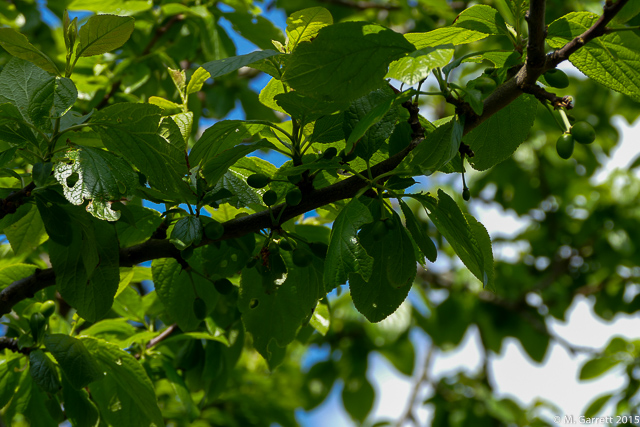 A zoom lens helps to see our plumlets but it won't be much help when it comes to picking them. Our greengages have also set a small amount of fruitlets at a much more reachable height than the plums.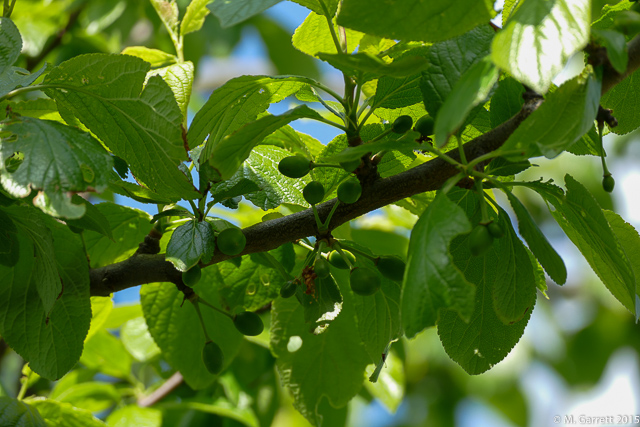 Our main flower border on the plot which is in desperate need of some attention due to the amount of couch grass growing in it still manages to produce some lovely flowers. You just don't have to look at the grass amongst them.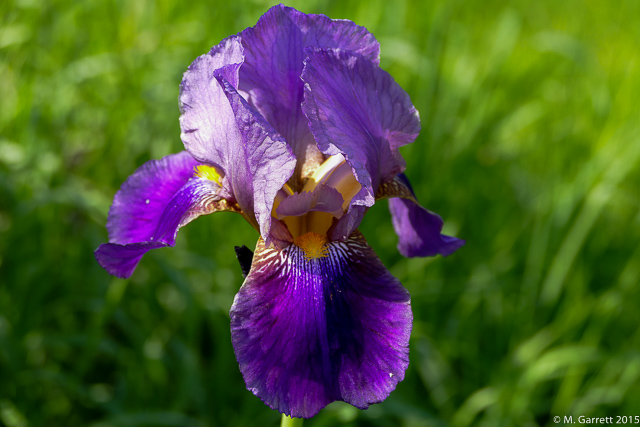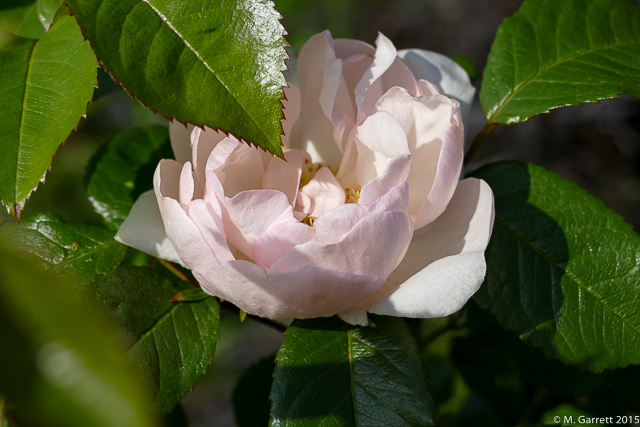 It will be a challenge to sort out this bed without loosing some of the mature plants growing in it.
Sunday & Bank Holiday Monday 24/25 May 2015
Making Space
Disappointingly Saturday afternoon's fine weather didn't last for the holiday weekend which turned out to be a cloudy cool affair. On both days we had a little bit of sunshine late into the afternoon. Sunday felt especially chilly and it wasn't until around 18:00 that the temperature suddenly rose to 16.3°C (61.3°F) and it became the warmest it had been over the two days.

Temperature and Sunshine Saturday 23 - Monday 25 May 2015
On Monday I decided it was time to make some space in the home greenhouse for our main crop tomato plants. These have been growing quickly now and need to be moved into some grow bags before they become pot bound.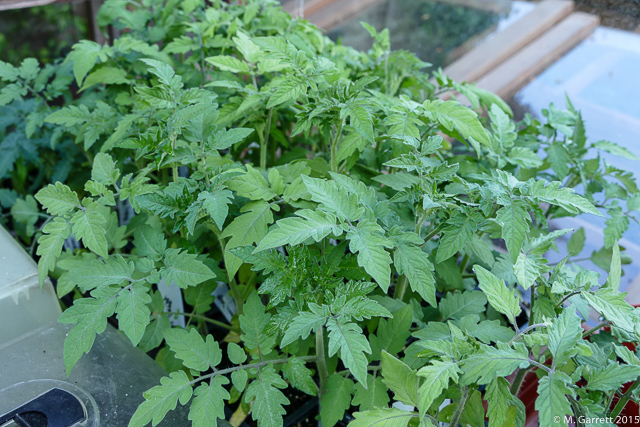 This meant that lots of things had to be planted out in the garden or moved into one of our two cold frames. These are now full to bursting.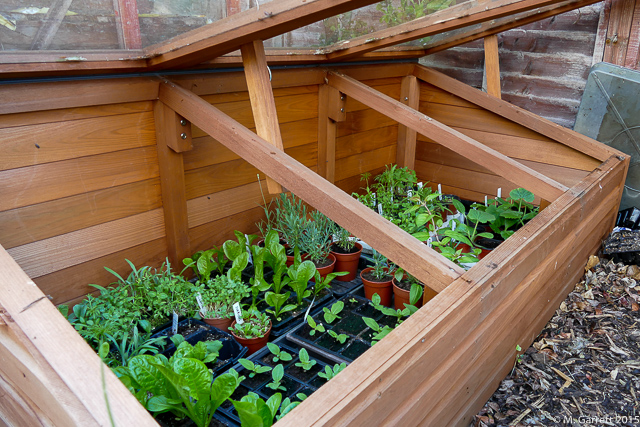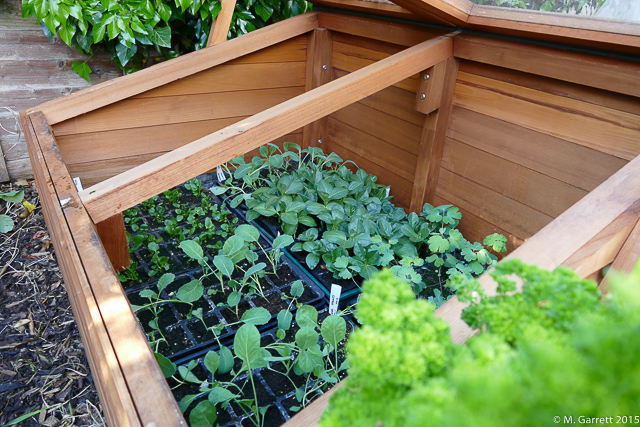 With just a little bit more sorting out I'll have space for three growbags of tomatoes in the greenhouse. Somehow I want to incorporate some mini cucumbers in this space too. I've still to decide which varieties of tomatoes to plant in our home greenhouse and which will grown in our plot greenhouse.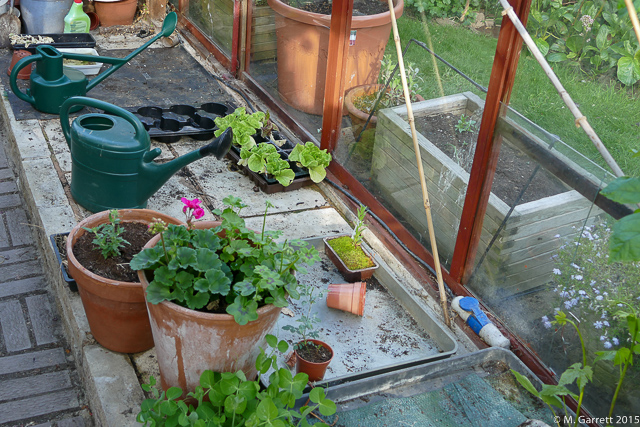 All I need to do now is find some suitable growbags. I might try a different "variety" this year after problems with my plants for the last couple of years.
Tuesday 26 May 2015
Starting Again
We had a decent amount of sunshine on Tuesday but it didn't do a great deal for the temperature which managed 17.4°C (63.3°F).
We sowed our carrot seeds on 21 April and by the middle of May germination had been good and our seedlings were doing well.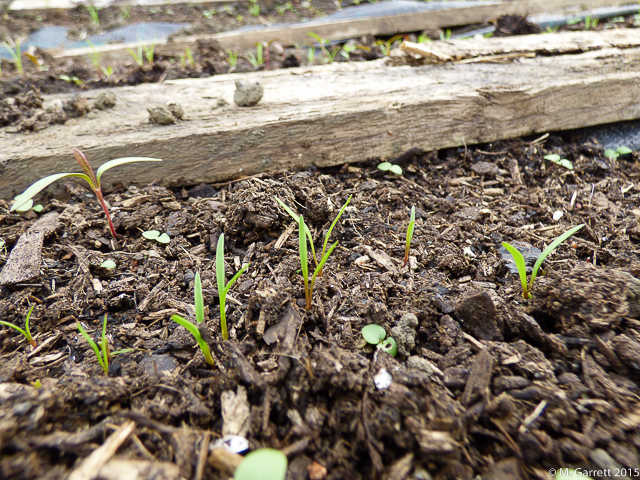 Rather dangerously we thought that everything was fine but then a few days ago we noticed that all our lovely carrot seedlings had disappeared between visits.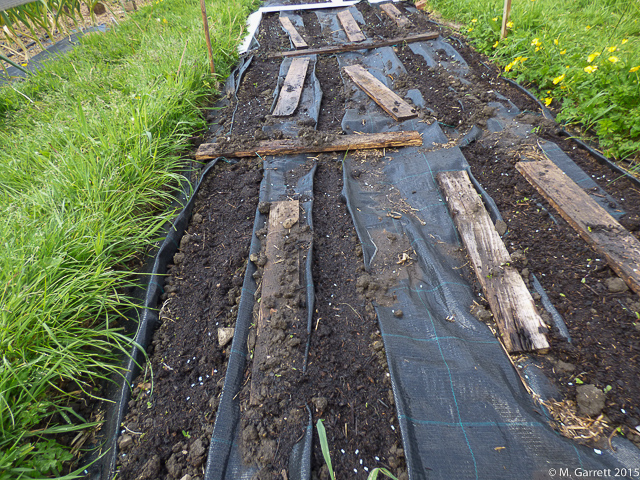 Nothing remained apart from a couple of seedlings and even these had been nibbled showing the tell-tale damaged caused by slugs. There was no other option but to re-sow another batch of carrots.
This time the ground has been treated with Nemaslug in an attempt to control this pest.
Slug nematodes are microscopic transparent worms which feed and multiply inside the slug, not visible with a hand lens. Just dilute with water and water on.
An infected slug stops feeding within 3 to 5 days and then displays a typical swelling of the mantle. The nematodes multiply inside the slug and when it starts to decompose, a new generation of nematodes emerges.
http://www.gardening-naturally.com/
I'm hoping that by the time our new seedlings emerge the nematodes will be doing their job and reducing the slug population.
Wednesday 27 May 2015
Wettest Month This Year
Wednesday was a dull, cool day with a little light rain around teatime. Although we didn't have a great deal of rain, a few more showers early on Thursday morning have brought May's total up to 62.2mm (2.45") making it the wettest month of 2015.

There doesn't seem to be much of an improvement in the forecast for the remainder of the month so May looks like finishing up a bit wetter, cooler and windier than we might expect. Let's hope that June brings an improvement.
Thursday 28 May 2015
Gales Just Keep On Coming
Thursday turned out to be another windy day. It doesn't seem to be enough for this May to become the windiest I've got on record, which it did a week ago now, but the wind just keeps on blowing.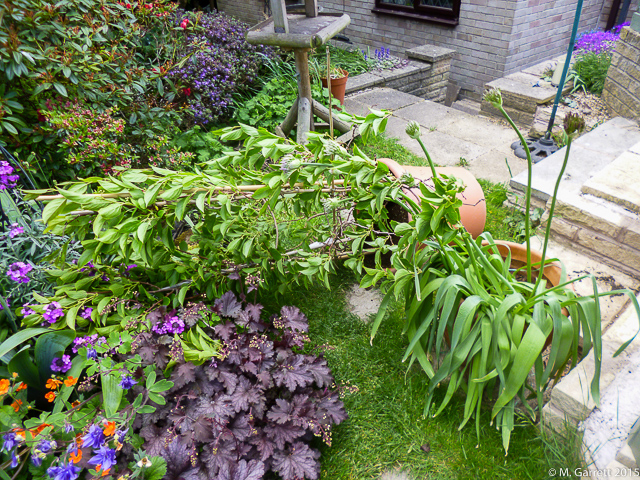 A gust in the middle of the afternoon blew over our potted kiwi Issai. It stands in this pot in the same position all through the winter gales but now it's in leaf it takes much less of a gust to blow it over.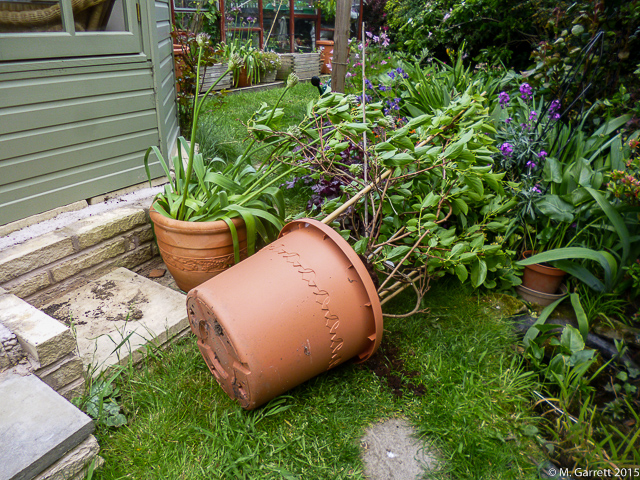 It's not as though it's in a small pot. For the time being it's been moved behind the summerhouse out of the strong westerly winds. It will be replaced into its normal sunnier position once the winds abate. I'm not at all sure when that will be.
Weather forecasting models are known to be fairly unreliable at getting the weather correct for more than a few days in advance. The forecast is for a wet and windy weekend and not all that good for the first few days of June.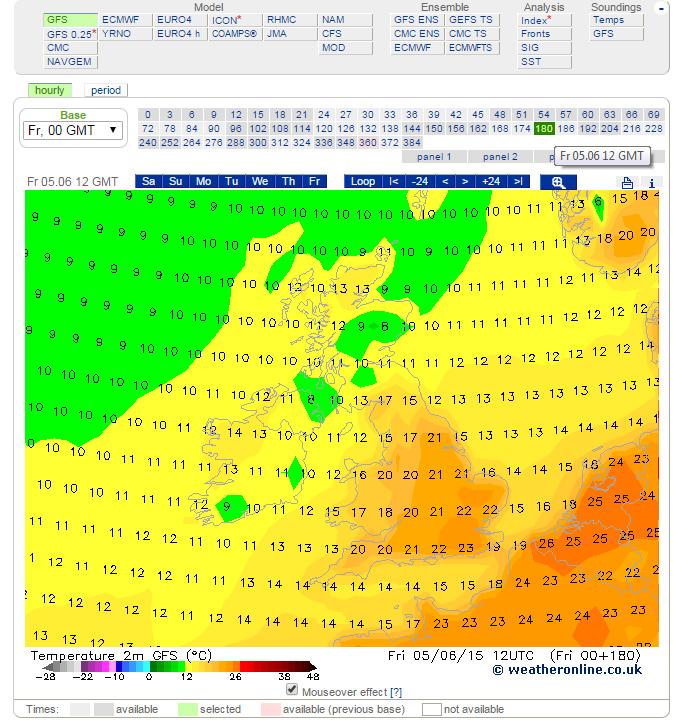 This is the GFS forecast for Friday 06 June 2015 showing some much warmer temperatures for most of the UK taken from http://www.weatheronline.co.uk/. Of course that's a whole week away so there's plenty of time for the forecast to change but just maybe it will be correct.
Friday 29 May 2015
Something Different
I'm sure I hardly need to write it down as once again Friday was cool and windy. We had some rain through the morning which cleared away to leave sunny spells and scattered showers for the afternoon.
The last time we visited the plot we found that our new wheelbarrow had developed a puncture. We don't normally have enough space in the car to fit in a wheelbarrow so the wheel was removed and brought home for a repair.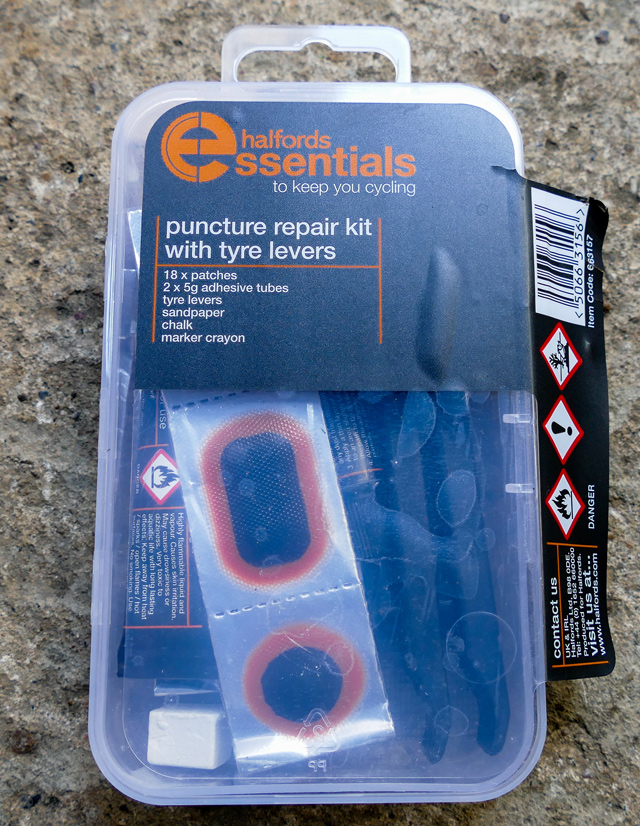 I can't remember doing a puncture repair since I had a bike many years ago which once was my main mode of travel. A trip to Halfords to buy a puncture repair kit reminded me of all those different little items you need. Some levers to get the tyre off the wheel rim then there's the chalk dust, marker crayon, a bit of sandpaper to roughen the area, adhesive and last but not least some patches. There's the fun of finding the hole in the inner tube. Our greenhouse water butt came in handy for dipping the inner tube in to find the leak. The leak was found the patch stuck on and after a lots of messing about the inner tube and tyre were put back onto the wheel rim and the tyre inflated.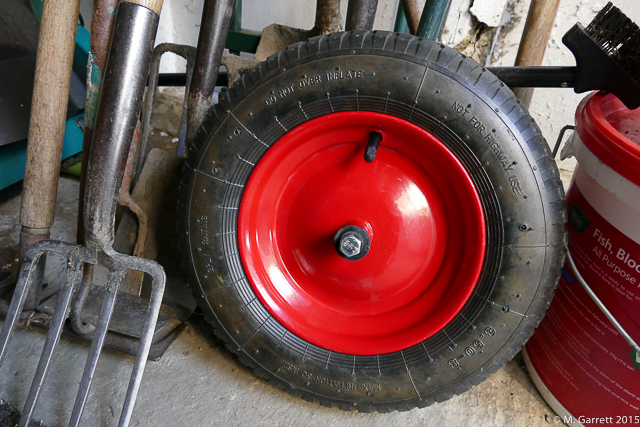 Having checked the tyre this morning the pressure hasn't gone down so hopefully my efforts have worked.
Saturday & Sunday 30/31 May 2015
Supporting Role
Saturday wasn't too bad by recent standards but after overnight rain Sunday turned into another windy and disappointing day to end the month.
Saturday was a day of erecting supports on the plot for our sweet peas, runner beans and climbing french beans. Our sweet peas will be supported using the hazel poles cut down in winter. These have been used to support our early peas and mangetout too.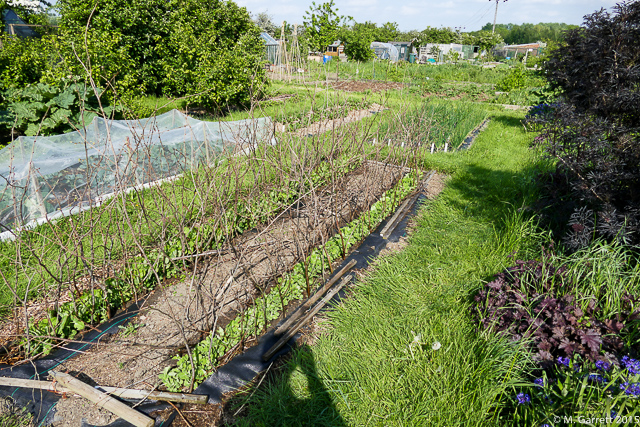 It's made quite a dent in our supply of hazel poles but I think we've enough for another couple of rows of peas. The hazel cutting aren't long enough to use as supports for our runner beans or climbing French beans so we use bamboo canes to support these. This year we're reducing the number of runner beans and incorporating more climbing French beans.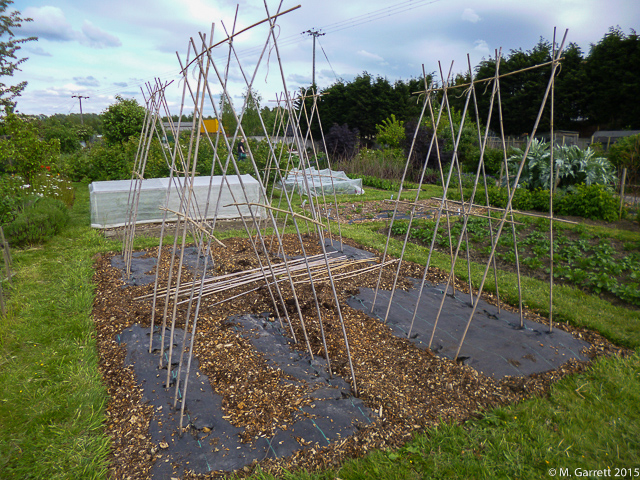 Normally our dwarf French beans come under attack from slugs. Last year we tried Cobra (recommended by Mark's Veg Plot) as a climbing French bean with excellent results so this year we've decided to try our luck with three different varieties Cobra, Corona D'Oro, and Cosse Violette. It does mean a few extra supports and some extra bamboo canes will be required but our crop will only take up the same amount of ground as the runner beans did last year.