Disclaimer
This weather site is operated as an amateur weather station site and should not be used as official data. I make every effort to ensure my data is as accurate as possible but I cannot guarantee that the data meets the requirements of the Meteorological Office or other professional weather monitoring organisations.













Wednesday & Thursday 15/16 July 2015
Some Decent Rainfall Required
Another couple of decent July days although it was a bit cool on Thursday morning as the over night temperature fell to 9.0°C (48.2°F) the coldest of the month.
A week ago the forecast was for some decent rainfall on Thursday but that forecast went by the wayside and now we really do need some rain to help some of our crops along.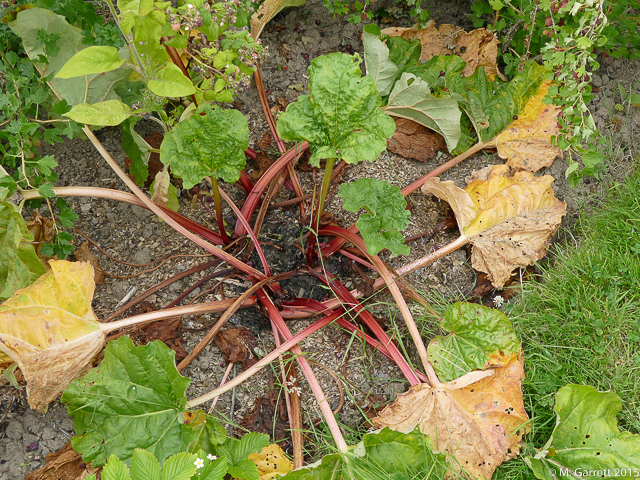 This clump of rhubarb looks in need of a good drink. This is looking pretty good compared with our row of primroses.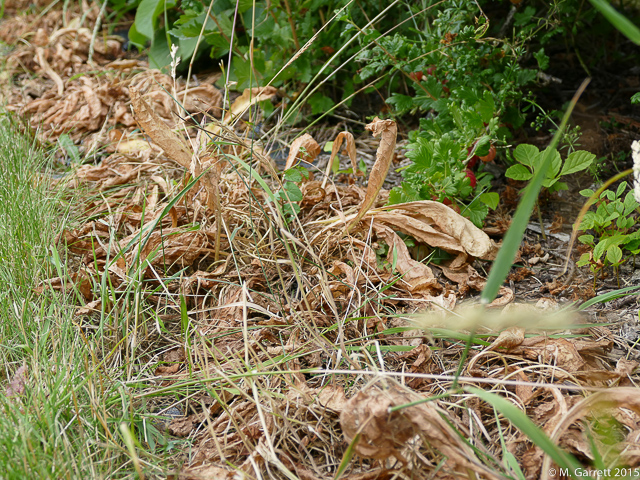 All that remains now is brown dried up leaves. Perhaps the plants will recover when we eventually get a good downpour.
Planting up any new crops has become a bit tricky unless the ground was already prepared some time ago ready for planting. We've a couple of areas that needed digging over following on from the removal of last year's crops. They didn't get dug earlier in the season and it's not going to happen right now.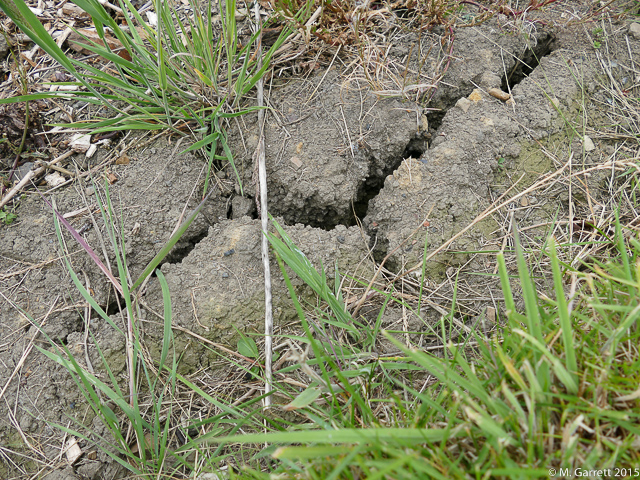 The ground is rock hard. Maybe we should just drop our baby leek plants into the cracks and water them in. I think we might have to find an alternative patch of ground for our leeks and winter brassicas if we can.
Friday & Saturday 17/18 July 2015
And for the Fourth Time of Trying!
Friday and Saturday weren't anything special for the middle of July. On both days were had a fairly cool strong breeze blowing which took the edge of the temperature which was around average for July.
We decided that we had to get our leeks planted out as they were beginning to struggle in the large pots they had been raised from seed in. We decided to plant them in this year's carrot bed. This bed has a bit of a history this year. So far we've sown two lots of carrots seeds which germinated but were then munched by slugs. Following these failures we decided to try some lettuce plants. I can't show you how they got on as there isn't anything to show as once again the slugs completely devastated the young plants.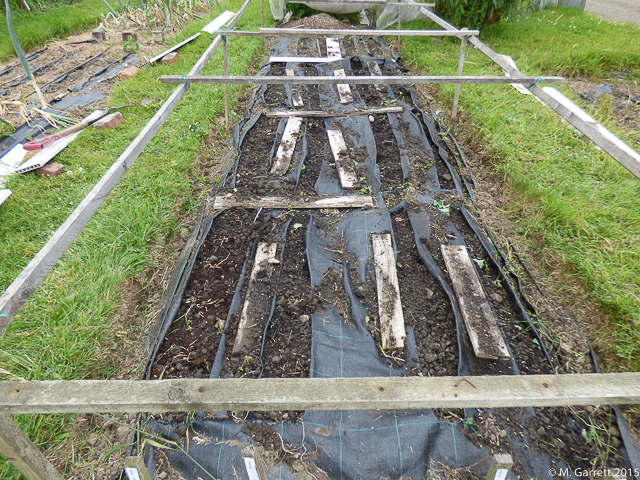 So this was how the bed looked after a few weeds had been removed. All we have left to show from our two carrot sowing and a dozen lettuce plants is one solitary carrot.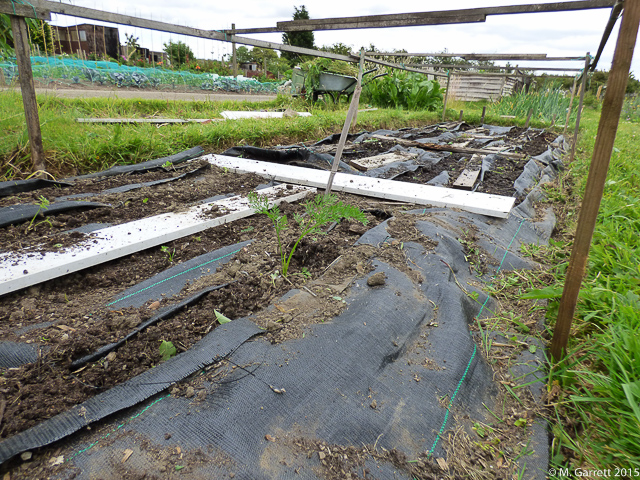 The soil was very dry so it was necessary to add copious amounts of water to the soil so that we could dibble some holes for our leeks to be planted in. The ground was well watered and we settled down to an afternoon coffee to give the water a chance to percolate into the soil. It seemed to work and we were able to dibble holes without the soil falling back in and our leeks were soon dropped into their planting holes.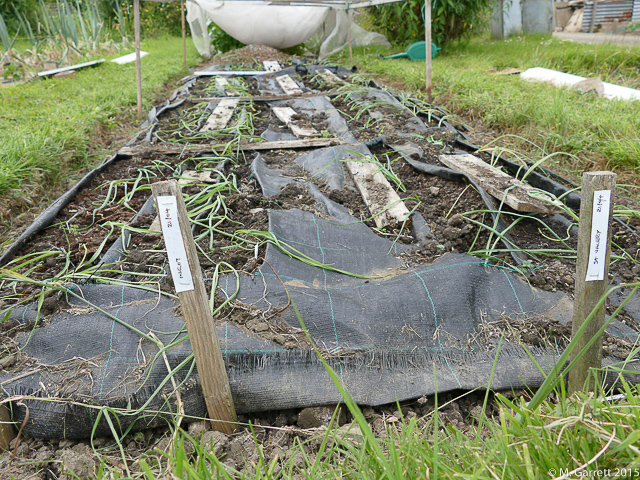 The leeks were given a good watering in and the environmesh was replaced over the top. Now we'll have to see if the slugs have a liking for our Blue Solaise, Giant Winter and Below Zero leeks.
Sunday 19 July 2015
A Second Unwanted Record for July
Sunday was cool and windy not at all what July is supposed to be like.

In July it's not often we have any gusts of wind of more than 20mph but we had a few on Sunday with a maximum gust of 23.0mph the highest I've recorded in July. July started off with a hot few days with the first of the month producing a record high temperature of 33.1°C (91.6°F) but since then it's been a bit disappointing.
It didn't stop us visiting the plot. We aimed to pick and freeze some peas so we didn't intend a long visit. However, we couldn't resist picking a few more bits and pieces while we were there.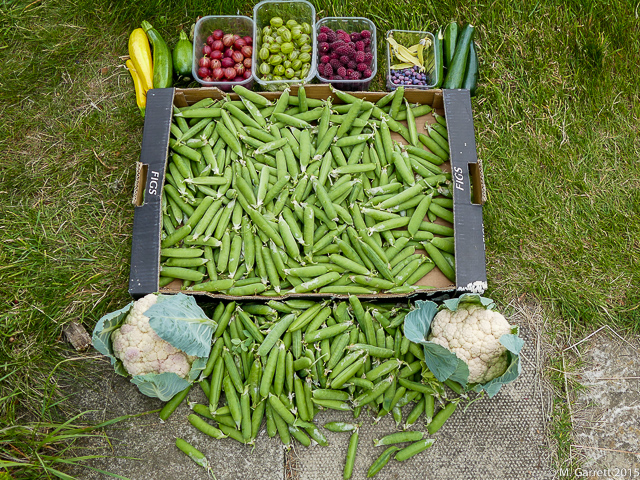 Monday 20 July 2015
Wings on the Plot
Monday was a little disappointing once again. At least Sunday's gale force winds had died down. Some bright early morning sunshine gave a hint of a decent day but it soon clouded over. A little bit of light rain around lunchtime didn't help and it wasn't enough do any more than wet a few leaves. It certainly didn't get down to soil level.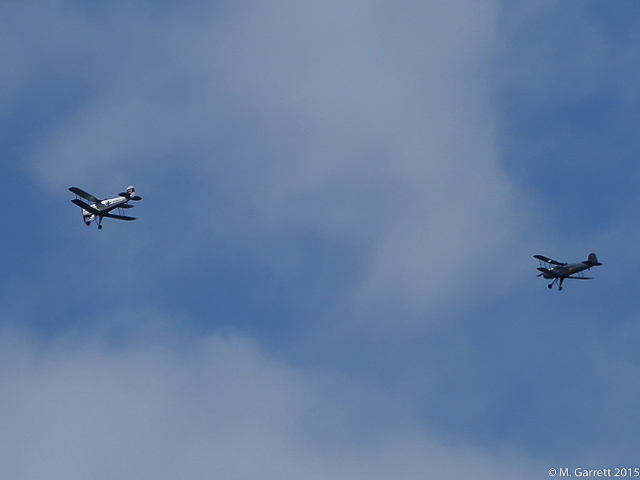 We had wings of very different sorts on the plot the other day. A couple of old bi-planes flew over the plot presumably on their way to a display. I should have taken a picture of one of the many holiday jets heading into Leeds and Bradford airport to add a third sort of wings.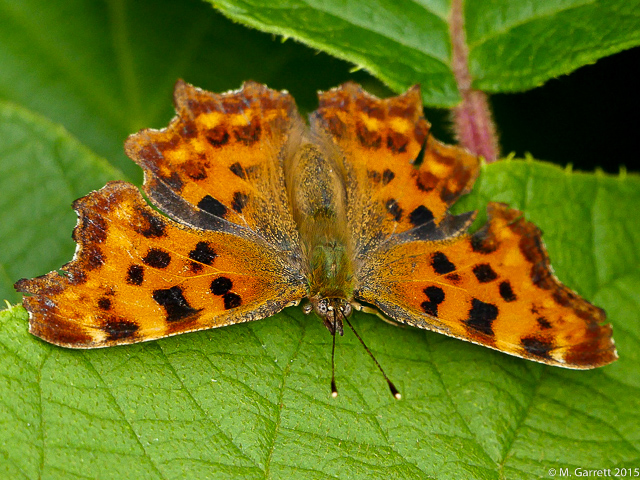 The other pair of wings belonged to a comma butterfly which settled on a tayberry bush leaf to get a little bit of shelter from the wind.
Tuesday 21 July 2015
No Entry
Summer seems to have got itself into some sort of a rut and is in need of a reboot to get it up and running again. Tuesday was cloudy and dry with a bit of a breeze but the temperature was around average for late July.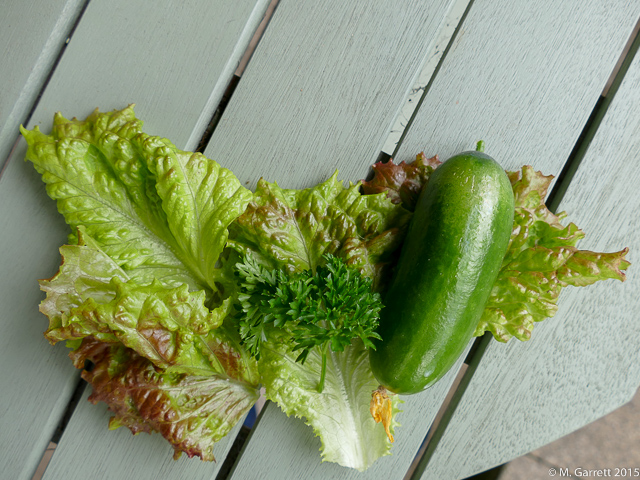 Our raised bed at home is doing what we hoped it would and providing us with freshly picked salad leaves rather than having to bring a bunch ready chopped from the allotment and trying to keep them fresh – assuming we remember to cut them when we visit. The cucumber is our first of the season from a mini variety called Cucino. It was very tasty, finished in one go in our lunchtime sandwiches.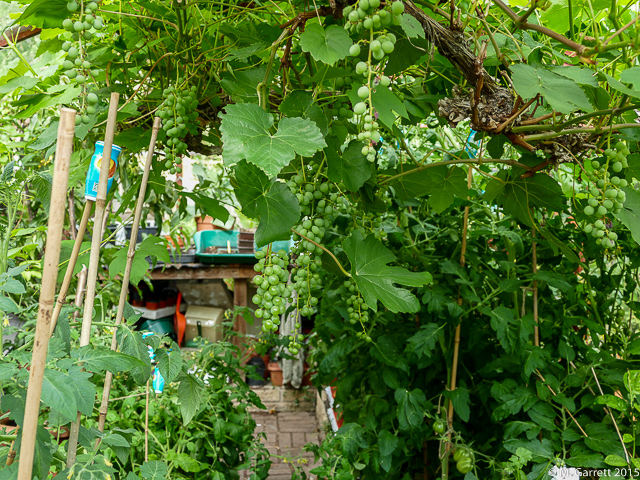 It's now getting tricky for me to walk down the greenhouse path. I've done my best to keep our Himrod grapevine under control but this year as an added difficulty it's decided to have the best bunches of grapes growing directly over the greenhouse path doing its best to prevent entry. It's a case of bending down rather low and squeezing between bunches of grapes and tomato plants growing on the other side of the greenhouse path.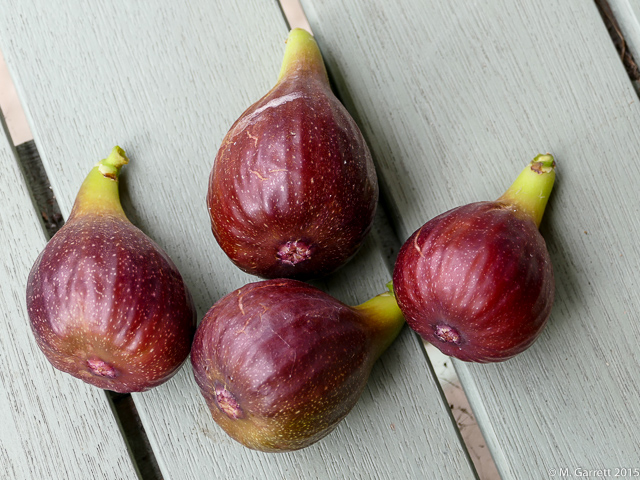 We had another exotic crop to pick in the greenhouse today. Following on from our earlier success with a couple of apricots a few weeks ago we were able to pick a few figs today. Then of course if we're very luck we've still got nectarines and peaches to ripen.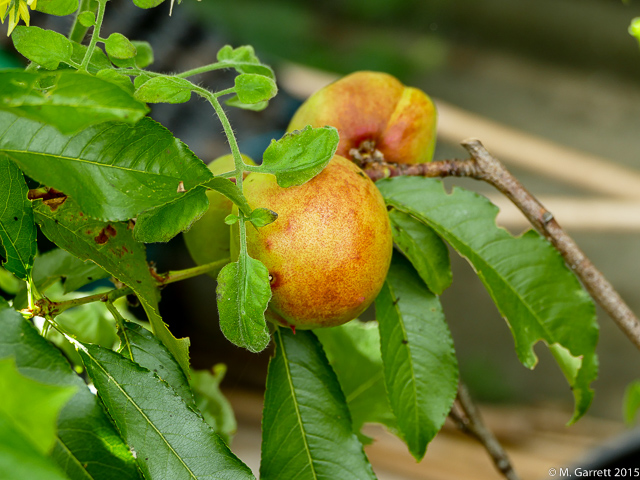 It looks like our nectarines will be the first to ripen as they seem to have stopped increasing in size and have started to change colour.