Disclaimer
This weather site is operated as an amateur weather station site and should not be used as official data. I make every effort to ensure my data is as accurate as possible but I cannot guarantee that the data meets the requirements of the Meteorological Office or other professional weather monitoring organisations.













Sunday 23 August 2015
Rained Off Big Time!
The muggy, humid weather continued into Sunday with the afternoon temperature heading into the mid twenties Celsius. The forecast was for heavy rain again starting late afternoon.
We decided on heading down to the plot in the middle of the afternoon which probably wasn't a good decision. I had some young lettuce plants that I wanted to plant out and I felt if they were left in their seed trays any longer they would probably spoil. We also wanted to harvest some vegetables and to give the greenhouse tomatoes a drink.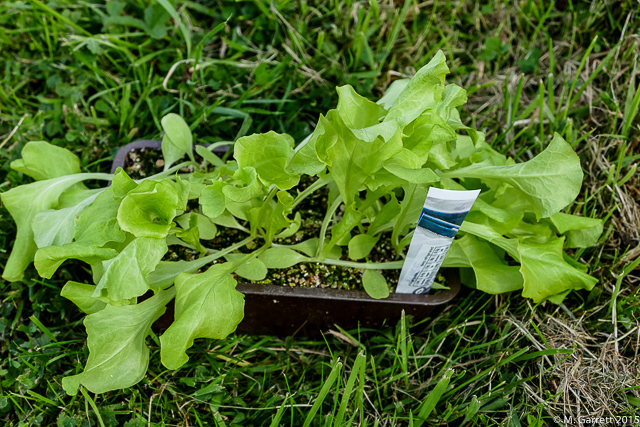 I had three small trays of lettuce seedlings Tom Thumb, Little Gem and Red Fire. I'd decided to see what happens to them if I transferred them directly into the plot rather than transplanting them into modules to grow on into larger seedlings. They were planted out in the bed cleared of our early peas. After the rain of last week the soil turned over really well not at all like that concrete we had a few weeks ago when the ground was very dry.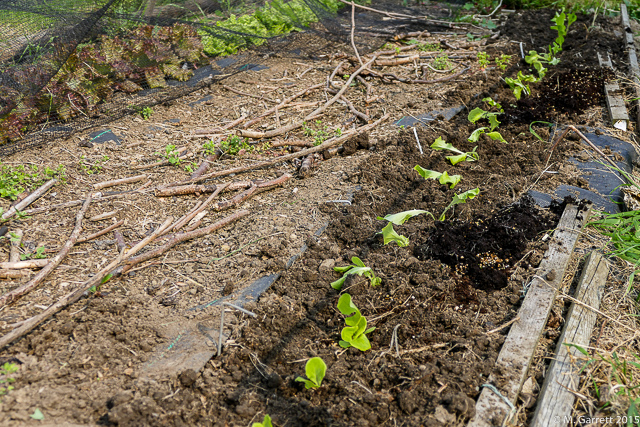 The newly planted seedlings were covered with netting as protection against wood pigeons.
Then Jan, our plot neighbour, invited us over to his plot for an afternoon coffee. It was an offer we didn't turn down but unfortunately by the time we'd finished our coffee and put the world to rights the first spots of rain were starting to fall. We headed for the shed as the large drops of rain turned into a downpour accompanied by thunder and lightening.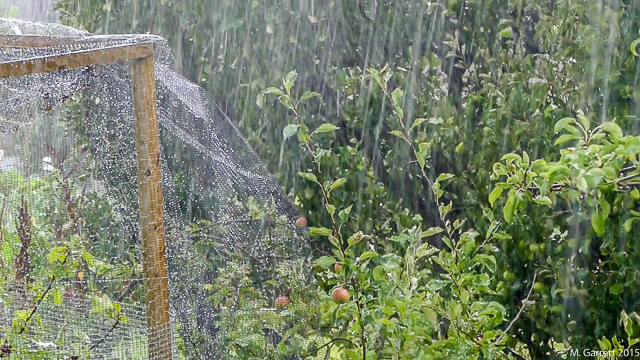 We decided to see if we could wait out the worst of the storm in the shed before heading home. The tomatoes never did get any water but there's always another day.
Monday 24 August 2015
Grapevine Extension
Sunday's rain seemed to have cleared away the muggy conditions and Monday started off much cooler than the last few days and remained that way all day. Glimpses of the sun were rare.
In the afternoon we headed down to the plot to complete the jobs we intended to do on Sunday. One job was to extend the support for one of our outdoor grapevines Boskoop Glory. I'm not sure why we should extend it as we've not yet had any edible grapes from it in the 6 years it's been planted. However it seemed the right thing to do as two of its main stems are now wafting aimlessly past the shed which provides support for the first part of the stems.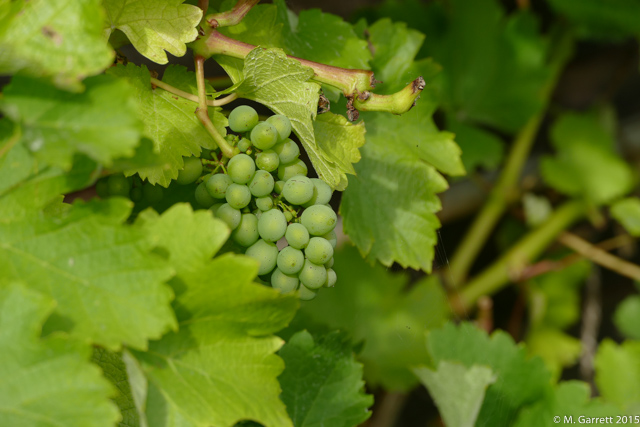 It does have some little bunches of grapes, and as hard as it is to believe we have reduced the number to around a half. I think we will need a good autumn for the grapes to ripen. So fruit production wise there seemed no reason to let the vine grow any bigger but we think it will look pretty good growing along the side of the path even if we don't get to eat the grapes.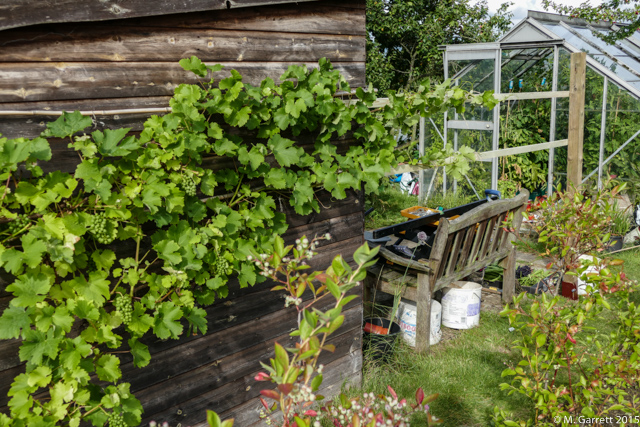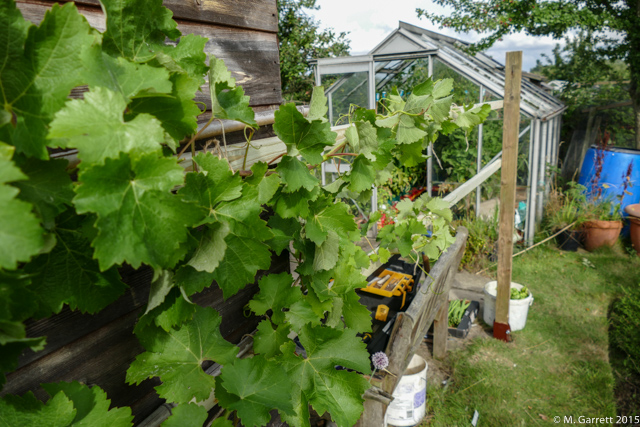 I might have to see if we can find another shoot to grow at a lower level to finish the job off. Then not only will we have an apple hedge but a grape hedge too.
Tuesday 25 August 2015
Bramleys
Tuesday wasn't anything special for August. We've now had 17.6 mm (0.69") of rainfall without a 24 hour dry spell. We didn't have much rain just a gentle shower around teatime.
At the back of our home greenhouse we have a row of cordon apple trees. Although they get cut back on a regular basis they still seem to grow out of control. This year it's the turn of our Bramley apple to produce a good crop. I've been expecting apples to drop through the greenhouse window at any time. The recent rain and breezy weather have already resulted in apples falling from the tree. These finish up cut and bruised meaning they need to be used very quickly.
I was pleasantly surprised by the weight harvested which amounted to 15.5 kg (34lbs). We've a few windfalls that we didn't box up which will need to be used straightaway in a crumble or apple pie.
Most of the other apples we picked were in good condition and some a decent size too.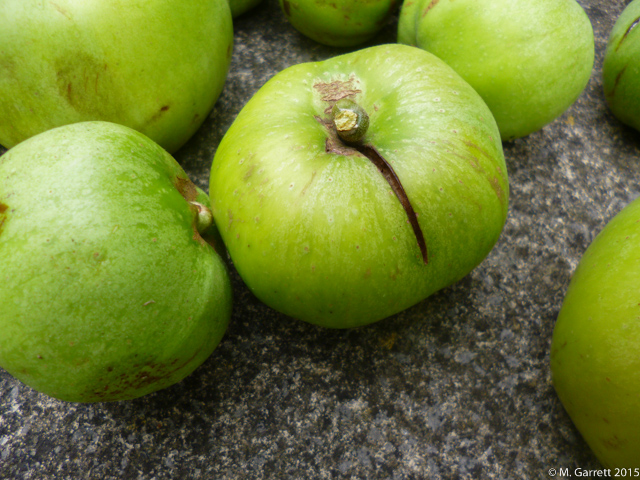 I don't think the apples are ripe because the pips are still white. I always assume once the pips turn brown the apples are ready to pick.
Still if left on the tree the apples will fall off and in a couple of days left on the ground they turn into a nasty horrible brown mush. We decided it might be better to pick them and see how long we could keep them in good condition. We haven't decided where to keep them yet.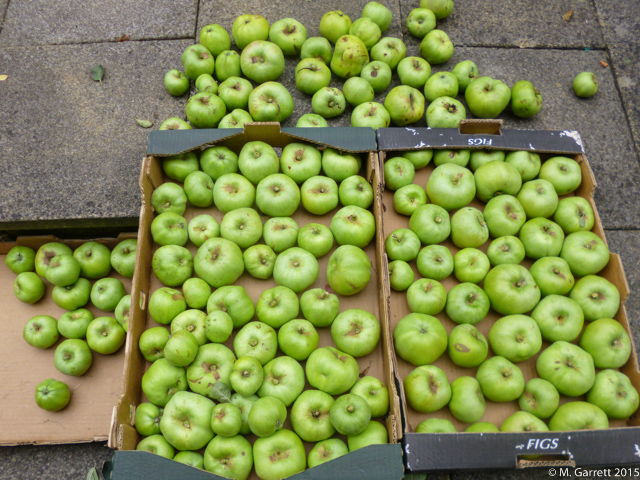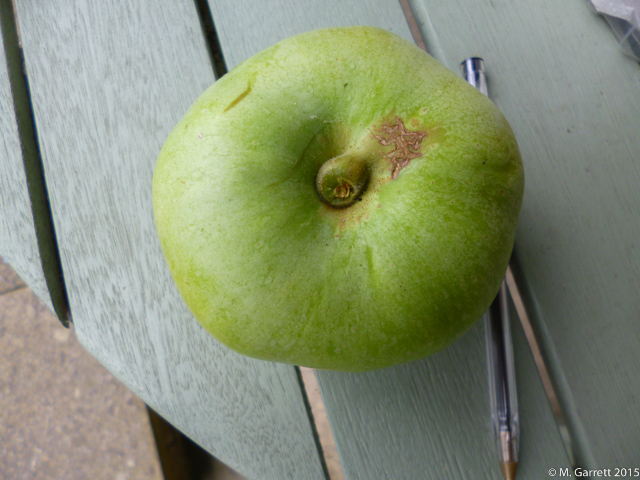 At least they won't fall through the greenhouse roof this year.
Wednesday 26 August 2015 to Sunday 30 August 2015
Days Out, Montyed Tomatoes and Calmest Day
The last few days haven't been too bad but nothing really special for August. At least the rain held off whilst we had a couple of days away.
On Friday we visited an owl and falconry centre in Rutland. As we made our way there we drove through a heavy shower but luckily by the time we arrived at the centre it had stopped raining. All the birds were housed in a woodland setting which made for some rather challenging photography settings. Rather poor light and lots of obstacles in front of the owls and falcons made focusing tricky too. I've never done so much manual focusing before. The end results didn't turn out too badly.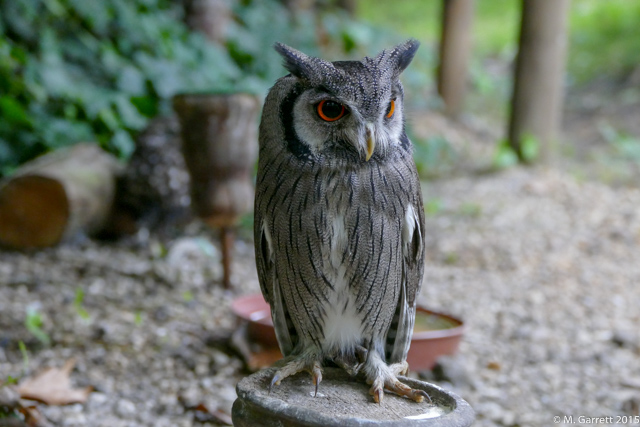 On Saturday we had lunch on The South Yorkshireman dining train travelling between Loughborough and Leicester on The Great Central Railway.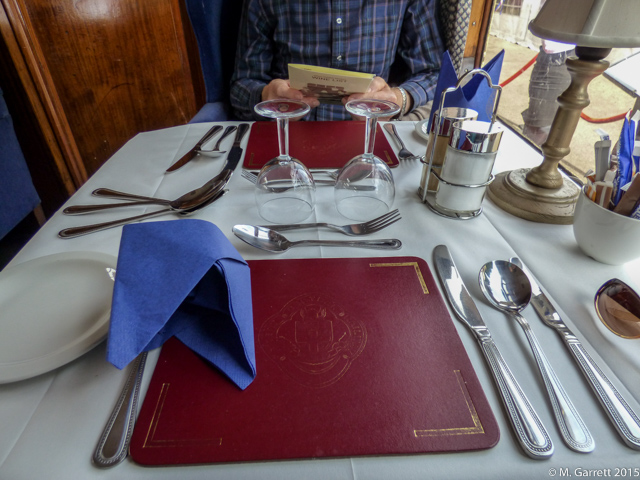 If you follow my blog you'll know I've complained about how we've had lots of windy weather this year. On Sunday we had one of the calmest days, if not the calmest day, of the last 6 years.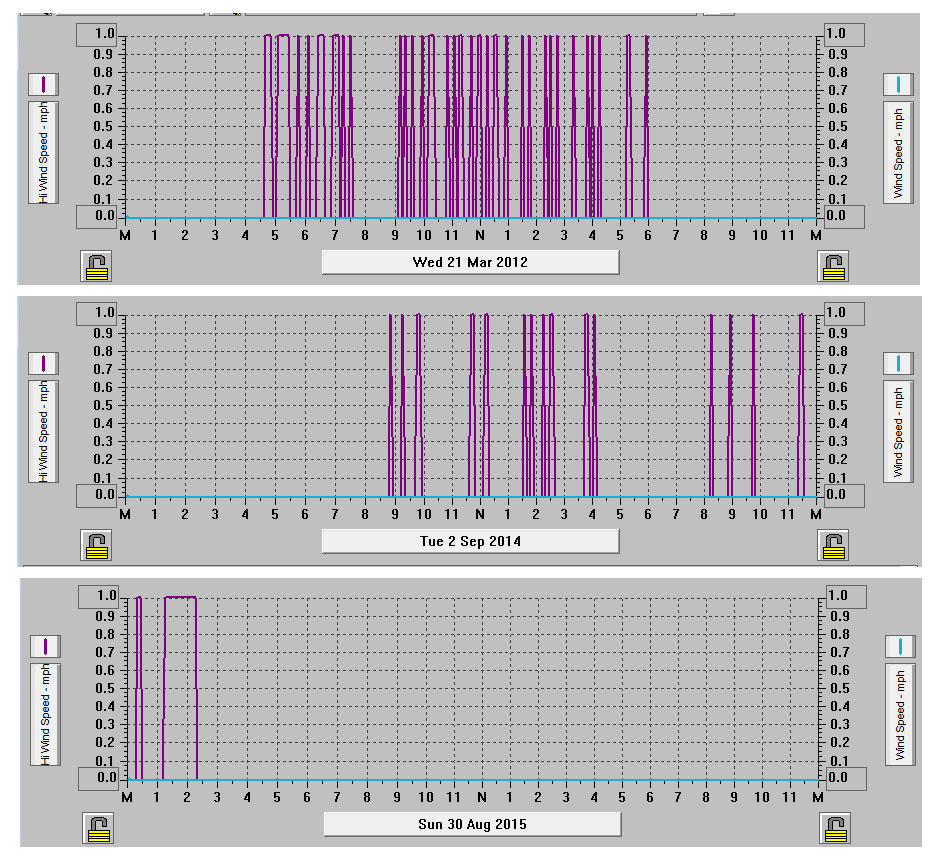 These are the wind speed records for the 3 days when the wind speed has been recorded as 0 mph and a maximum wind gust speed of 1.0mph. I think it's fair to say that Sunday was the calmest of the 3 days.
Having watched Gardeners' World on Friday evening I decided to do as Monty Don suggested and remove most of the leaves from our plot tomatoes growing in the greenhouse to let some light and hopefully a bit of sunshine to the fruits to give them a chance to ripen.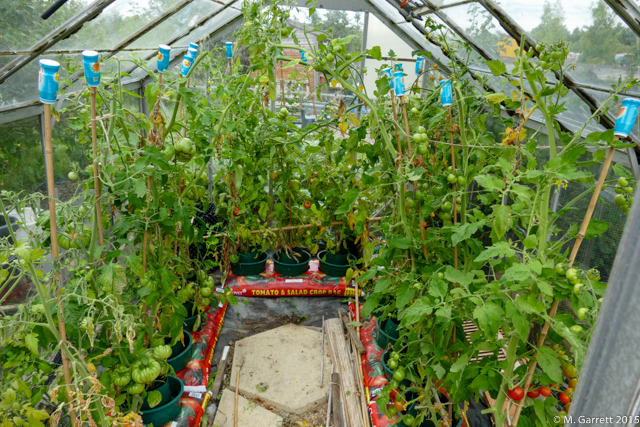 On the photograph there still looks to be plenty of greenery left on the plants but I did have a full barrow load of leaves to remove to the compost heap.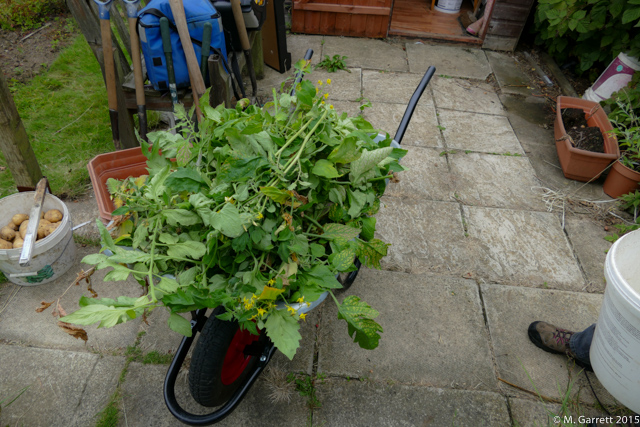 My plan is to give the plants in our home greenhouse the same treatment.
Bank Holiday Monday 31 August 2015
What a Surprise a Damp Bank Holiday Monday
I shouldn't be surprised that Bank Holiday Monday turned out to be wet. It's what we expect from a Bank Holiday but it's so much better when the weather turns out to be good. As it was it started raining in the early hours of the morning and continued into the early part of the afternoon. In the end we had 8.0mm (0.31") of rainfall bringing the monthly total up to 64.0mm (2.52") around average for the month.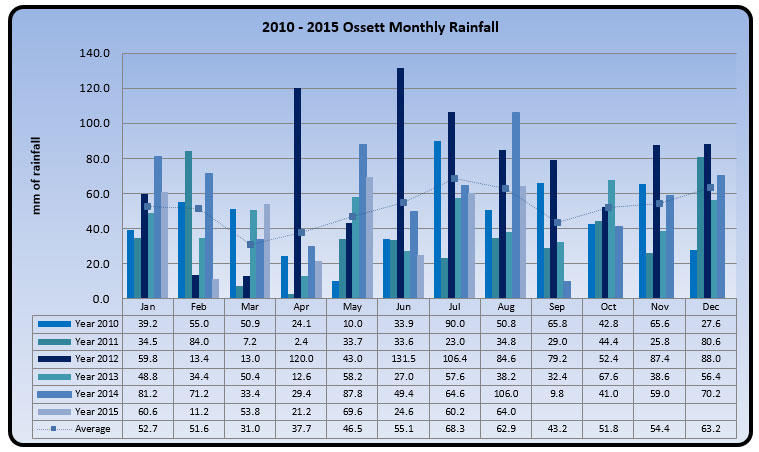 This year without us doing any planting we have a lovely little cyclamen growing happily next to the step where mortar was left over from building the steps.
Our outdoor cyclamens are now coming into flower. Some of the spots that these tough little plants survive in amazes me. We have one bunch flowering down on the plot under our Marjorie's Seedling plum tree. The grass under the tree gets strimmed every few weeks through the summer and I take no special precautions to avoid where the cyclamen corm survives in amongst the grass.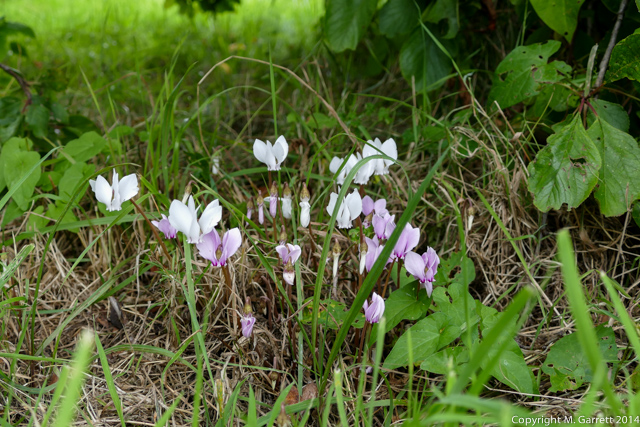 This year at home we have a little bunch of flowers at the bottom of the steps to the summer house. How this corm has arrived and grown I have no idea. In July 2014 I constructed the steps leading up to the summer house. This little spot where the cyclamen is growing was covered in mortar as you can see from the photo taken when the steps were under construction.