Disclaimer
This weather site is operated as an amateur weather station site and should not be used as official data. I make every effort to ensure my data is as accurate as possible but I cannot guarantee that the data meets the requirements of the Meteorological Office or other professional weather monitoring organisations.













Sunday 22 March 2015
Steam in the Esk Valley
Sunday was a much better day with some decent sunny periods and temperatures around normal for the time of year.
Our plan was for a trip to the Esk Valley in the North Yorkshire Moors National Park. My main reason for a visit was for a bit of steam train photography as the North Yorkshire Moors Railway were operating a steam hauled service along the Network Rail line from Whitby to Battersby through the Esk Valley line.
There's always so much to photograph visiting the North Yorkshire Moors.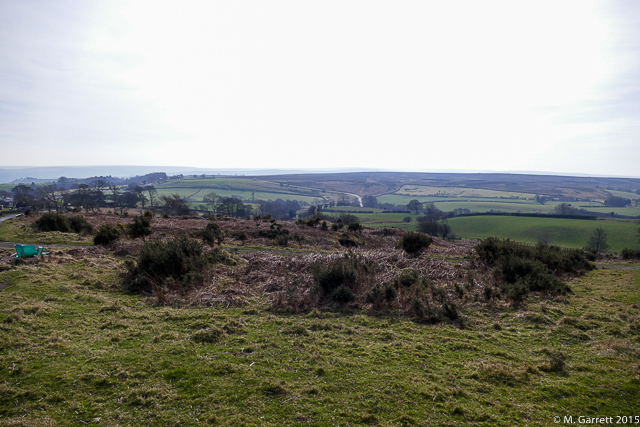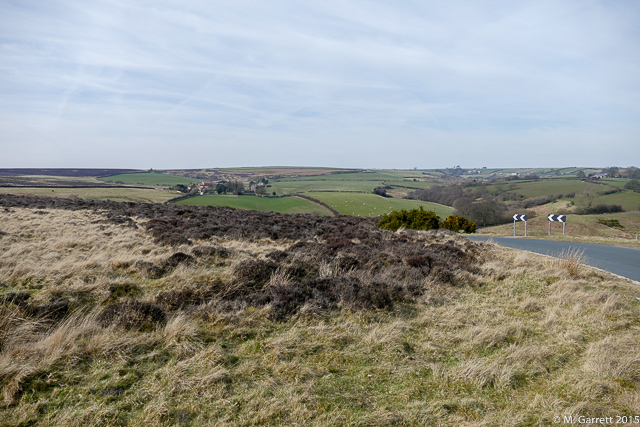 There was a stark contrast between the brown of the upland moors and greener fertile valleys.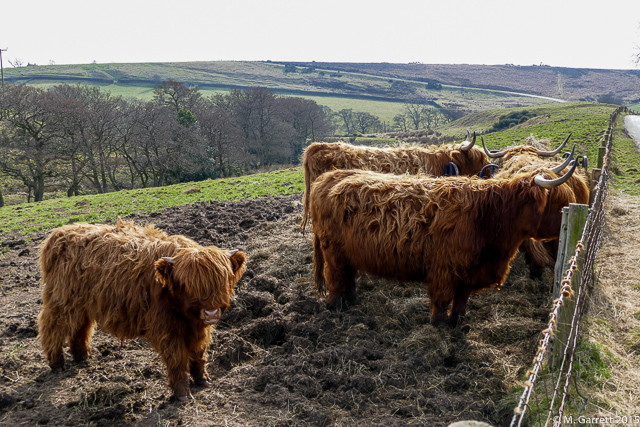 These Highland Cattle had a wonderful view of the countryside but were far more intent on tucking into some fresh silage. They didn't seem at all bothered when we stopped to take a few pictures.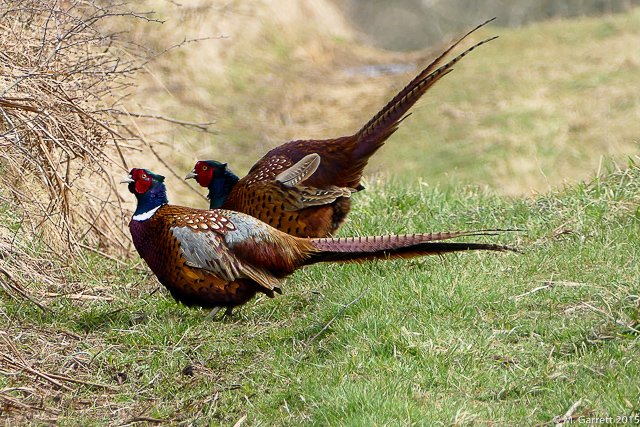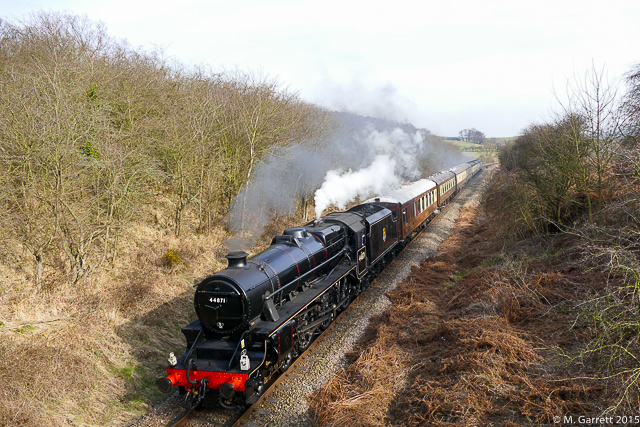 We eventually got some pictures of a steam train as it approached Lealholm station. On the return journey home we stopped in Great Ayton to take a couple of pictures.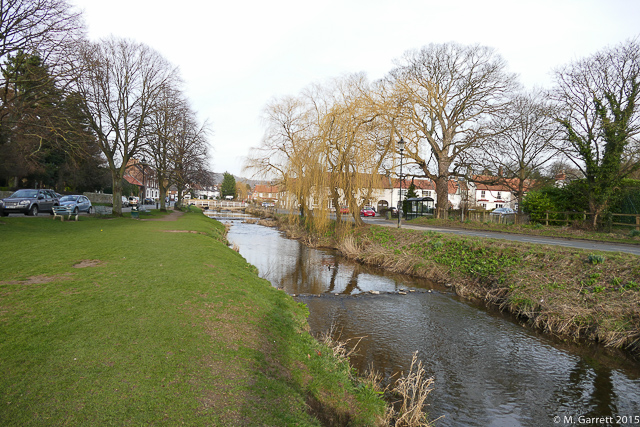 Great Ayton was where the famous explorer James Cook spent part of his childhood. His family moved into the village when he was eight years old and he lived in Great Ayton until he was 16 years old when he moved to Staithes near Whitby. He joined the Royal Navy when still in his teens and went on to be one of Britain's greatest explorers.
Monday 23 March 2015
Back to Some Gardening
Monday wasn't a bad day at all. It started off bright and sunny but clouded over a bit around lunchtime and then the sunshine returned mid afternoon.

Saturday 21 to Monday 23 March 2015 - Temperature, Solar radiation and Wind Chill
At times it felt pretty chilly on Monday due to the strong breeze which as you can see from the purple wind chill effect, indicated above, making the temperature feel a little cooler than it was.
I thought it was about time I made a little bit more space in the greenhouse ready for sowing more seeds at the beginning of next month. I moved a few of our new strawberry plants out of the greenhouse and into our cold-frame.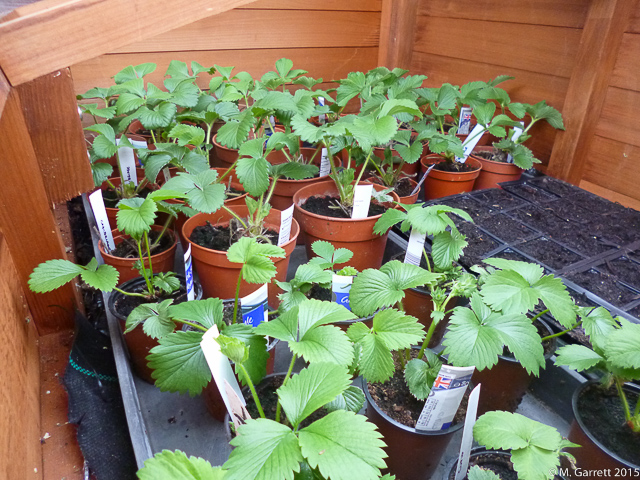 I like to think that I've moved them into the cold-frame to harden them off and to become more acclimatised to life outdoors. It's what's suggested on all the gardening programmes and in gardening magazines. I'm not too sure that there's much difference in coldest temperatures between our cold greenhouse, cold-frame and outdoors. I'm trying to collect a few temperatures to check this more accurately but so far I only have temperatures covering the last 3 nights so not much to report.
Our banana tree has had the luxury of spending the winter in the greenhouse this year. For the last couple of years it's been left outside with some straw over the root to protect against any severe frosts. After a winter in the greenhouse it looked like this.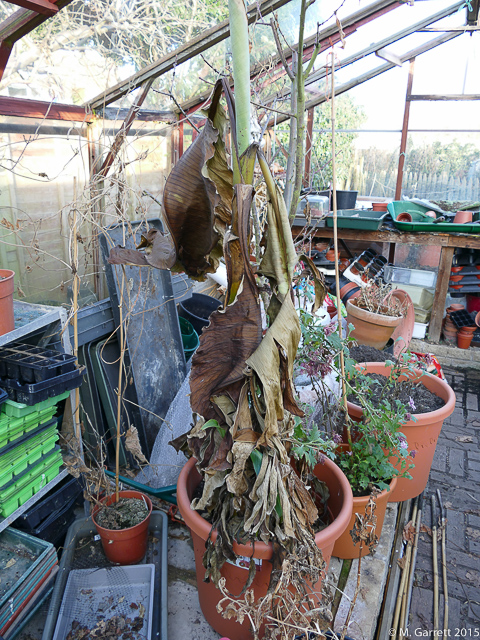 It was definitely looking a bit sorry for itself so I decided to give it a tidy up ready for it come back into life over the next few weeks. The dead leaves were removed and the thickish stem was cut back rather drastically.
Hopefully the new leaves will soon start to shoot from the centre of the cut back stem. We've still to decide where it's going to spend summer or indeed if it will remain in a large pot or be planted in the ground. Our main concern is to find it a spot out of the wind to avoid as much leaf damage as possible through the summer.
Tuesday 24 March 2015
Froggy Heaven
We had plenty of sunshine on Tuesday but it remained cold all day with the temperature only managing to make it up to a high of 9.6°C (49.3°F). That was after a cold start to the morning with a low of 0.4°C (32.7°F). The forecast was for some heavy showers but we avoided them all apart from a sprinkling in the middle of the afternoon.
It didn't tempt me out to do any gardening so I managed to get a little bit of photo and video editing done instead. Last week I posted about our frogs not making it to the pond before depositing their spawn in a plant saucer full of water. I can now confirm that several frogs have found their way into the pond and they haven't wasted any time producing large clumps of frogspawn.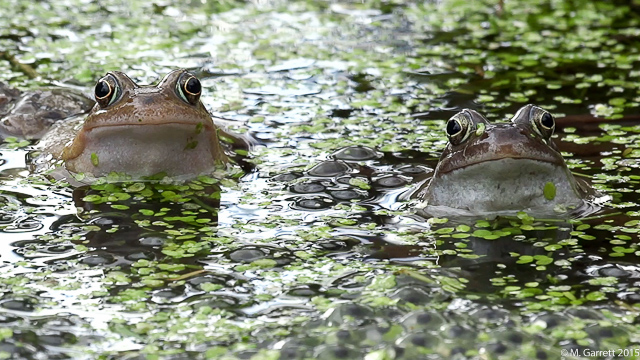 Now they've found their way into the pond they do seem to be having some "fun". With a pond full of frogspawn I'm now not quite so concerned about their initial attempt of depositing spawn in the plant saucer. We've some quite enormous clumps in the pond and they appear to have every intention of adding more to it. I've put together a little bit of video of them up to their antics.
I was busy editing the frog video when I noticed a couple of long tailed tits land in the medlar tree. We used to see them regularly in the garden but over the last couple of years they have become infrequent visitors. I quickly picked up the camera but it didn't help much as they flittered quickly from tree to tree and tested out a few feeders too.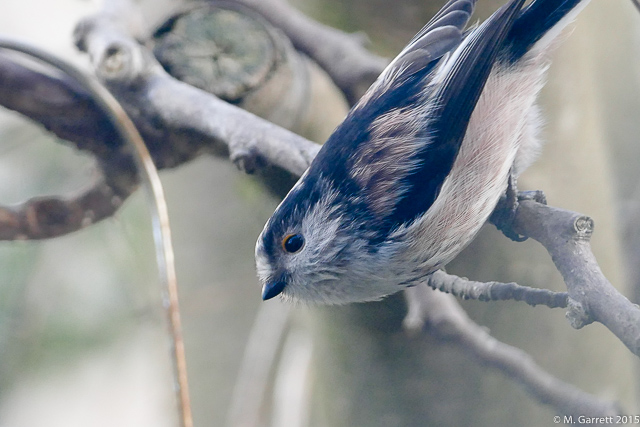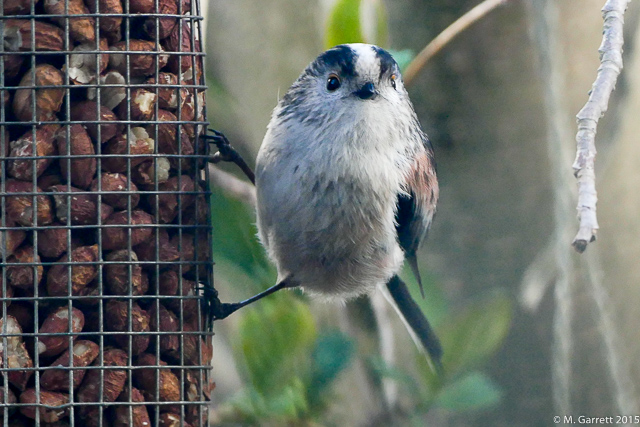 After a couple of minutes in the garden they were off over the fields. I suppose I should count myself lucky to have spotted them at all.
Wednesday 25 March 2015
A Behind
Wednesday was another day with plenty of sunshine and with only a slight breeze it felt very pleasant in the sunshine.
We are still keeping a check on our great tit hoping that it will soon start nest building. It is a bird of habit though and it tends to return to the box each evening around 18:00 to roost. As it was a nice sunny evening I decided to try and get some video of it arriving to roost. The camera was set up on a tripod a little before the expected arrival time and I went inside out of great tit view and watched the next box cam video feed.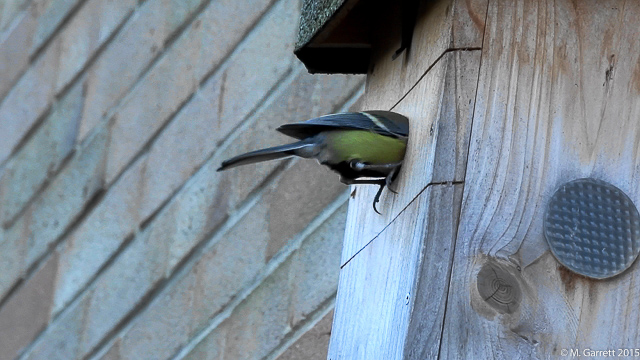 Our great tit didn't let me down flying in just after 18:00. I have to say the video was disappointing. There's about six frames of video ranging from a very fast and blurry arrival to the frame above where it is about to disappear into the nest box to roost for the night.
Before anyone suggests I'd get a better view of it when it leaves the box I'm not sure I want to get up before 06:00 in the morning to catch it doing that.
Thursday 26 March 2015
A Guided Tour
Early Thursday morning was wet with some early morning rain amounting to 3.2mm (0.13"). It cleared up quickly and the sun soon came out. As the day progressed though a strong to gale force wind got up making for a windy and rather unpleasant afternoon.

On my last visit to the plot on Wednesday I made a little video showing the state of our plots in late March. It's a joint venture. You'll have to watch and listen to the video to find out what I mean.
Friday 27 March 2015
The Rot Sets In
Friday turned out to be not too bad a day. It was a little bit on the cool side and as it was very cloudy and threatening rain at lunchtime so we decided not to visit the plot.
We took the opportunity to use up some of last year's vegetables. Our winter squashes, Crown Prince, that have been stored in the summerhouse are starting to show some serious signs of deterioration.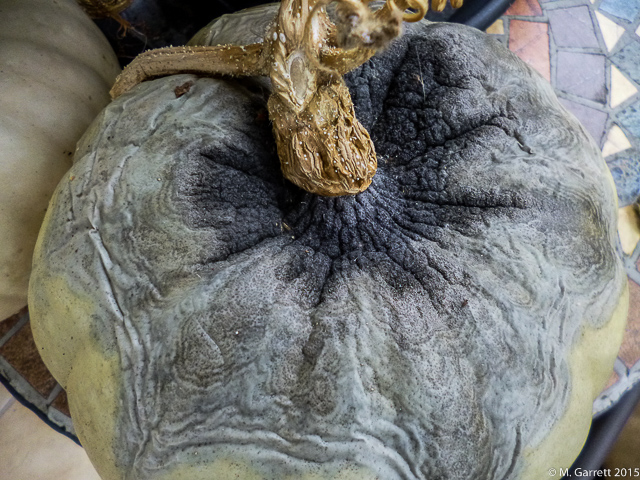 However, one very large squash in particular looked in excellent condition and we decided to cook, puree the flesh and freeze it. This way we would have some squash to use in pumpkin pie through the summer.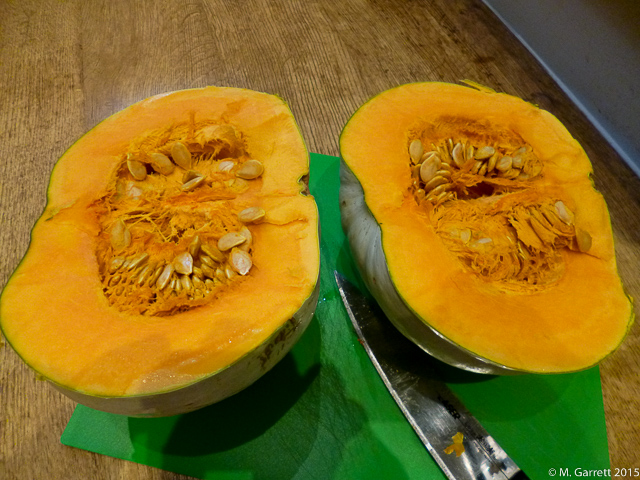 By the time the flesh had been cooked we had enough to make two pumpkin pies, two pumpkin loaves and two batches of pumpkin muffins amounting to 2.6kg of squash.
This got us into the mood and we decided to cook and freeze some of the potatoes we had left in store in the garage. These have kept well over winter but are now starting to grow new shoots and as a result they will soon be turning soft.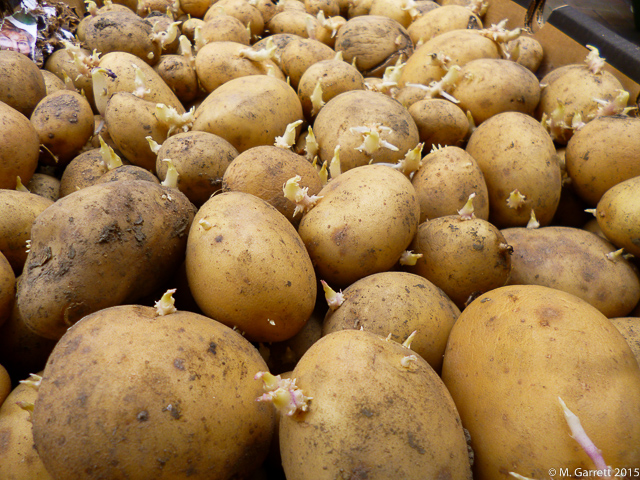 This box is full of a variety called Casablanca which is a first early variety and is grown for its new potato flavour rather than its keeping qualities. These potatoes were one of the first to be lifted last August and boxed up to go in the garage. Due to my lapse in organising skills the box was left at the bottom of the pile in the garage and as a result the last to be used. Nevertheless the potatoes had kept in remarkably good shape overwinter and weren't actually growing any more the any other of our remaining potatoes. These got the same treatment as the squash. They were cooked and will be frozen in suitable proportions.
We still have one or two small savoy cabbages on the plot to use, some red cabbages, a short row of leeks, possibly some carrots and some onions and shallots still stored in the garage. We're now entering the produce gap between the last of last year's crop and the wait for the first of this year's crop. We'll be very glad of our freezer supplies.
Saturday 28 March 2015
Meaningless Mildness
Saturday turned out to be the second mildest day of the month as the thermometer reached 15.9°C (60.6°F). That said the strong to gales force winds and frequent showers made the temperature rather irrelevant and we decided it wasn't a day for gardening.

As you can see Saturday's chart is a real mess.
I have been keeping a record of temperatures to check how much "hardening off" young plants have when they move from our greenhouse to cold frame.
From the values I have so far I'm not that convinced that temperature plays a large part in hardening off our plants. Usually there doesn't seem to be more than 1°C variation between outside, cold-frame and greenhouse.
I seem to remember on Gardener's World on TV the other week that Monty Don mentioned that he kept his cold greenhouse at a minimum temperature of 5°C. You'll notice that in our greenhouse the overnight temperature was below that value on eight of the nine nights I have records for. Perhaps under those heated greenhouse conditions hardening off plants is more important but I'm still not convinced that temperatures in a cold-frame are much different to those recorded outside as far as low temperatures are concerned.

Sunday 29 March 2015
Love at First Sight?
Sunday was another poor day weatherwise turning out to be wet and windy.
Over the last few weeks we've checked out our nestbox cam to see a lone great tit roost in it overnight. We've assume that it's the same one each evening.
Not fooled by the clocks changing to British Summer Time our bird arrived at its usual time. It does seem to roost up early well before it gets dark. Our blackbirds are about singing until it's almost dark.
But look what had happened when we checked in later on in the evening.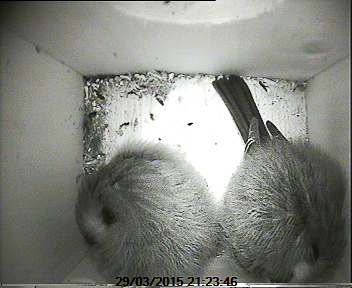 Was it love at first sight? You'll have to watch the video currently being prepared to see what happened.
Monday 30 March 2015
Battered
Monday was wet and windy. By the end of the day we'd had 15.2mm (0.6") of rain making it the wettest day of 2015.
As we moved into the early hours of Tuesday 31 March the wind got even stronger and we recorded the strongest gust for March at 32mph. The rain continued for a while at the heaviest rate of the year 51.4mm/hr or 2"/hr.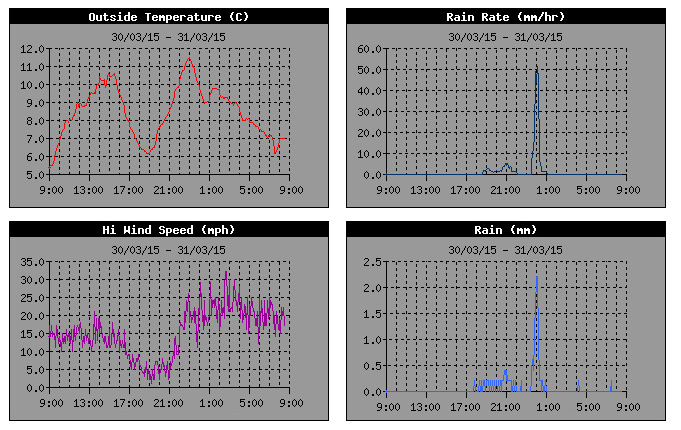 The gale force winds continued through the night although the rain eased off.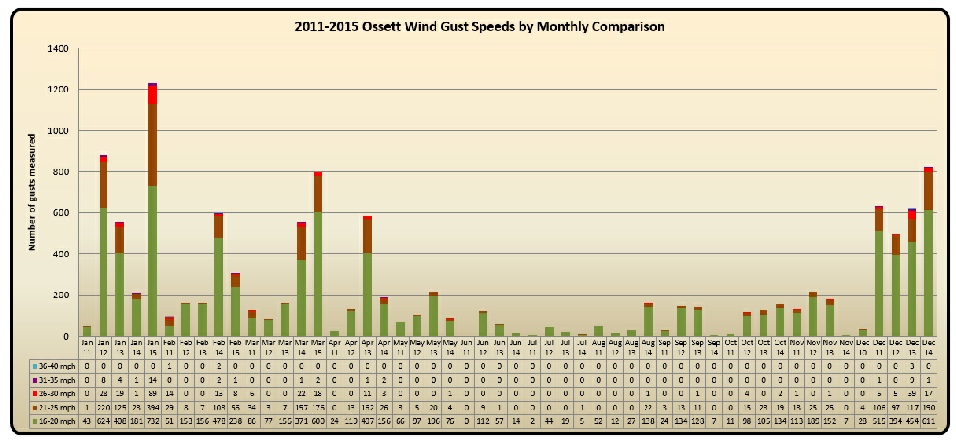 We're having a windy year as January 2015 was the windiest January in the last five years. After a reasonably calm February March has become the windiest March over the last five years.
The gales are forecast to continue into Tuesday evening so January and March 2015 have every chance of becoming the two outright windiest months of the last five years.
Tuesday 31 March 2015
Good Riddance
Tuesday was once again wet and windy with more wind than rain. The strongest gust was recorded at 40mph at 14:15. This is only the second time in five years of weather records than I've recorded a gust of 40 mph or above. The only other occasion was on 05 December 2013 when a gust of 42mph was registered which is the highest I've recorded.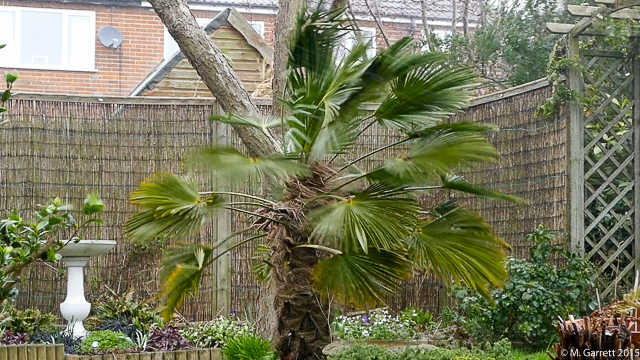 Throw in a little bit of sleet, snow, hail and rain and it makes for a thoroughly horrible day's weather. Strangely though Tuesday 31 March turned out to be the sunniest day of the month.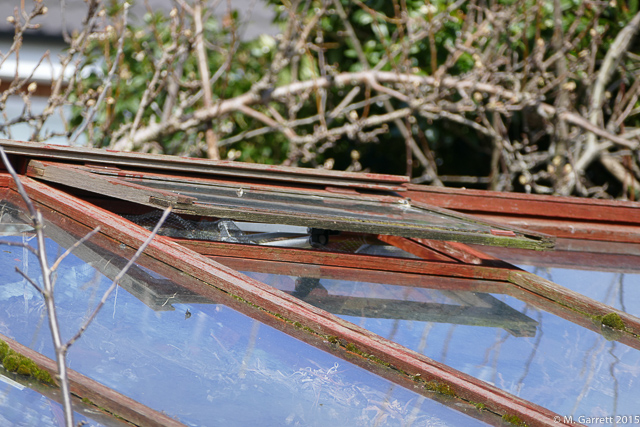 There was enough sunshine to warm up the greenhouse enough for the automatic vent to open the window. Not exactly what I wanted to see with a gale force wind blowing. Fortunately the greenhouse has survived intact.