Disclaimer
This weather site is operated as an amateur weather station site and should not be used as official data. I make every effort to ensure my data is as accurate as possible but I cannot guarantee that the data meets the requirements of the Meteorological Office or other professional weather monitoring organisations.













Sunday 15 March 2015
Gone and Done It
Sunday was another cold and miserable day. It was cloudy all day although it didn't rain.
After making my solar powered light box on Saturday I decided to sow a few tomato seeds to get my experiment started. The question was which tomato seeds to sow. As it's a bit of an experiment I decided to choose varieties which had the most seeds in the packet. The seed packet descriptions for the lucky tomato seeds to take part in my experiment are:
Cherry Fountain
Vigorous bush variety suited to large baskets or containers. Cherry red fruit crops over a very long harvesting period. One of the best tasting tomatoes of recent years.
Baby Boomer
Hundreds of 1 inch sweet cherry tomatoes smother the plant. Bush habit so fruit is always plentiful. 55 from days from transplanting. Bred for it superlative flavour.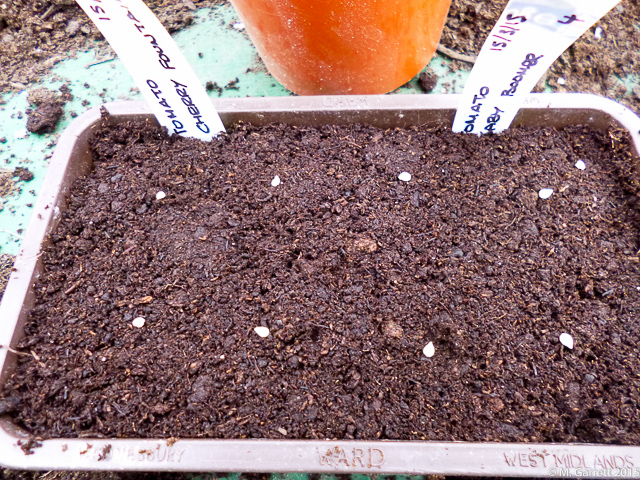 Four seeds of each variety spaced equally apart in a quarter size seed tray. The seeds were covered with vermiculite and placed under our indoor growlight to germinate. Once I've got some decent sized seedlings I'm going to transplant them into small sized pots and grow them on in my light box on a sunny south facing window ledge.
While I was sowing the tomato seeds in the greenhouse I couldn't help but notice all the flowers on our nectarine.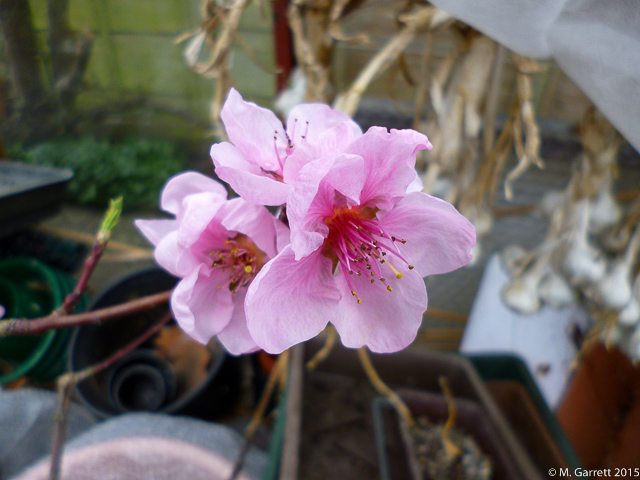 Our apricot, nectarine and peach are all coming into flower and keeping Sue busy with her bee on a stick. (No bees are harmed during this pollinating process). It's to be hoped that we get some fruit after all her efforts.
Monday 16 March 2015
A Cold Easterly
After a few nice days at the beginning of the month the weather has now reverted into winter mode rather than meteorological spring. Those westerly winds that blow in off the Atlantic do give us some changeable weather whereas with high pressure in charge and easterly winds blowing in off the North Sea we get settled conditions. It's just that the settled conditions aren't at all good.

The above chart is a bit messy. The purple shading clearly shows how the wind direction has moved out of the west and into the east. The yellow blocks show the amount of solar energy received each day and the considerable reduction over the last few days as a result of very cloudy conditions. The temperature hasn't fluctuated much either with no particularly cold nights but no mild days either.
Tuesday 17 March 2015
First Main Crop Sown
Tuesday was a little bit better than forecast with a few sunny spells developing. Temperatures were still a little bit disappointing for the middle of March but the sunshine lifted the temperature into the high teens in the greenhouse. The greenhouse door was left open for the afternoon just incase any insects cared to pop in and pollinate our nectarine flowers.
I made the most of the decent weather to get our first main crop seeds of the year sown. These were broad bean "Witkiem Manita".
They're supposed to be a very fast maturing crop which can be as early as an autumn sowing. The proviso is that to achieve this they have to be sown in February so obviously I'm a month or so out. In the past a March sowing in pots before transplanting into the plot has given us an excellent crop of beans. I'm planning on them being ready for picking by late June or early July given some good growing weather.
The seeds have been planted two to a cell in modules with 15 cells. That's used up my packet of seeds so no second attempts if germination fails. If both seeds germinate that won't be a problem as both plants will be planted out and left to grow on. I've done this in the past with no problems.
The broad beans are the first to move into the cold frame where they've been left to germinate. I'm wondering if I should give them some extra protection with a covering of fleece.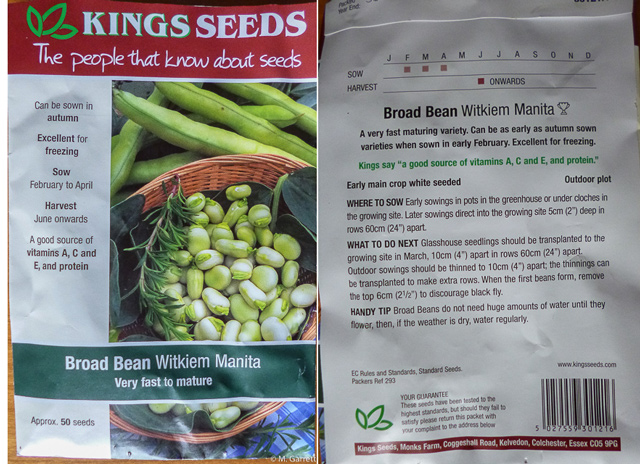 Wednesday 18 March 2015
Frogs Without Sat Nav
After a very chilly night we had some nice sunshine in the morning which sort of faded away by lunchtime. Once again temperatures were disappointing for the middle of March.
We've been keeping an almost daily watch on our pond waiting for the frogs to return and lay their frog spawn. We may have been a little bit lax in either noticing or hearing them but the frogs have arrived but not where you might expect.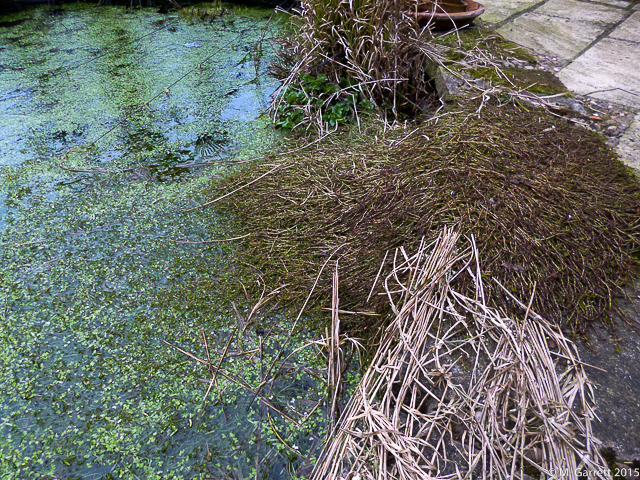 The photo above shows their normal territory. I assume they enter the pond using the marginal plants at the ponds edge. They usually lay their frog spawn in the shallow areas in the pond where the blackbirds have created little patches of water among the weeds which the birds use for taking a bath. So far nothing.
Then we thought that perhaps they'd decided to use what Sue likes to call our puddle pond. We've inspected that and there's no frog spawn in there either. We decided that this year the frogs must be late arriving or worse still they weren't going to arrive at all.
As it's the first week that the council will collect our recycled garden rubbish this year, I decided to give our lawn a bit of a trim. I could just about manage to get the grass clippings into the bin. I set the mower on virtually its highest setting and began mowing. That's when I noticed the frog spawn.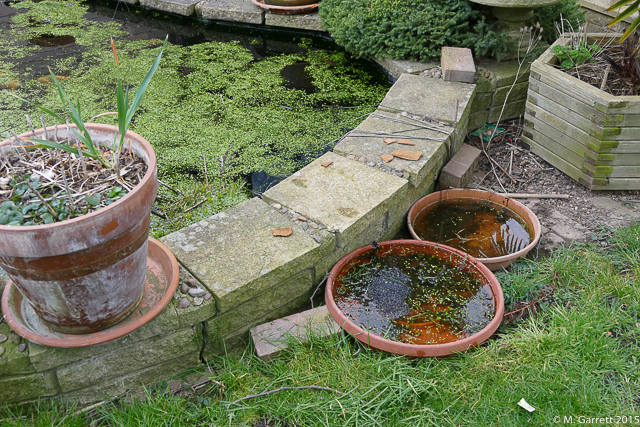 As I was mowing I was contemplating whether or not I was going to bother edging the lawn. As I mowed past the large plant pot saucers I had to have a second take. Was that really frog spawn I could see?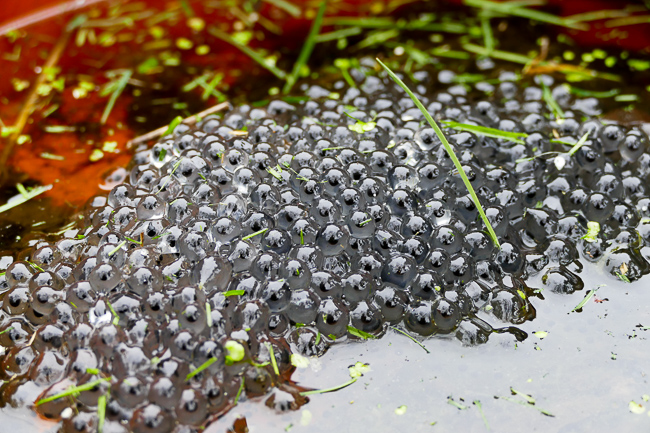 As you can see we've plenty of frog spawn in this saucer. Perhaps the frogs Sat Nav failed and they couldn't locate the main pond. There again maybe they're expecting me to tip out the frog spawn from the saucer into the pond. Perhaps the frogs know that there will be enough rain to keep the saucer topped up with water although if that's the case I don't know what several hundred tadpoles will find to eat in a saucer of water.
So we're trying to decide the best course of action for the survival of the frog spawn. I could simply add it to the pond but I know that will result in most of it been eaten by our fish. They treat it like free caviar. Alternatively I could keep the tray topped up with water, but should I use pond water or rainwater from our water butt. And what if they all turn into tadpoles. I'll cross that bridge if it happens!
Thursday 19 March 2015
Almost There
Thursday morning was rather dull and cloudy and once again a bit on the cold side. The afternoon brightened up with some hazy sunshine but it didn't do an awful lot for the temperature.
As we haven't had any really heavy rain for a good few weeks now, I thought it might be a good time to finally get our new strawberry bed cultivated ready for our plants to move in.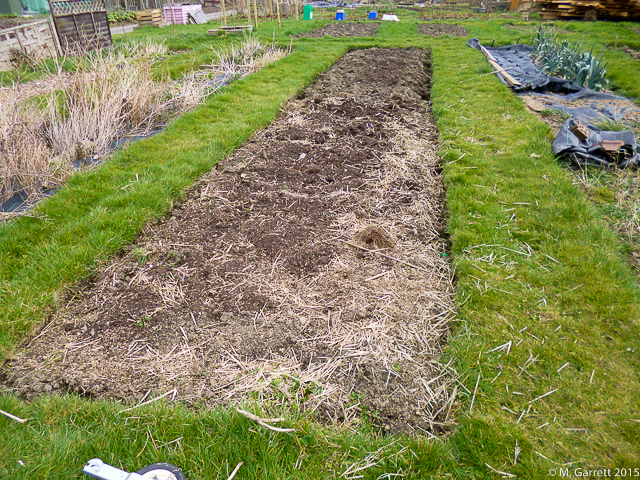 This how I'd left the bed a few weeks ago when I considered the part covered with straw too wet to dig. Rather than dig the bed over by hand I'd transported the cultivator to the plot so that if the soil condition was suitable the bed could be made ready for our strawberry plants.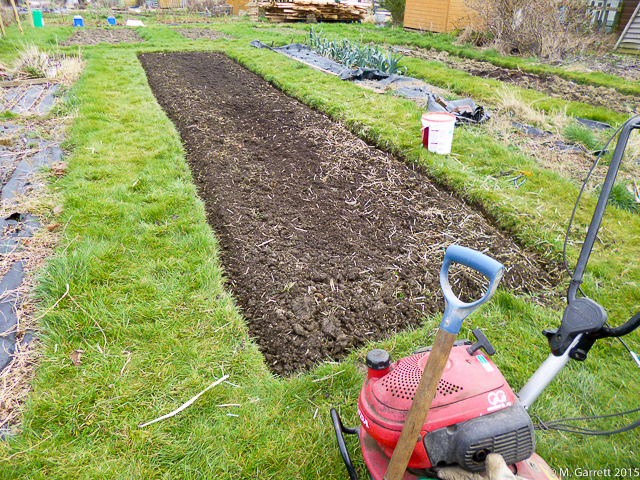 Luckily for me the soil was in good condition and cultivated well. The bed was dug over and some fish blood and bone fertiliser added. The bed is now ready for covering with some weed control fabric. It will be left to settle for a couple of weeks before our strawberries are planted.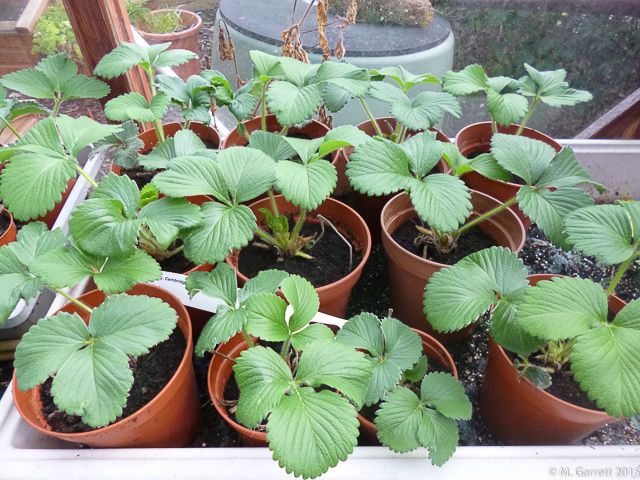 These are our new Cambridge Favourite strawberry plants. They've come on well in the greenhouse and I think it's time they had a couple of weeks out in the cold-frame hardening off before they are planted out on the plot.
Friday 20 March 2015
Was That It?
Friday was solar eclipse day. Viewed from home this wasn't a total eclipse but it was pretty close. Of course all the warnings were in force regarding photographing and viewing the event. The details and timing of the eclipse in Ossett were as shown in this screen grab below.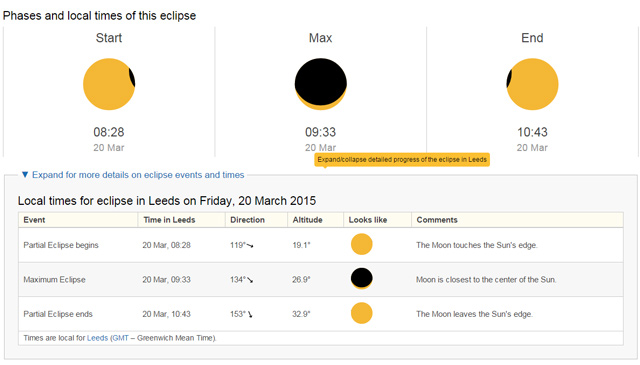 I've grabbed the details from this web site timeanddate.com which lists details of future solar and lunar eclipse for various UK locations. I've heard all sorts of dates mentioned about our next solar eclipse but this web site lists them all together with a little diagram of partiality.
So for the big event there was lots of cloud about in Ossett. We had a few very tiny patches of blue sky but these weren't anywhere near the position of the sun. As the eclipse started the sun was covered by light cloud and to be honest those casual glances upwards that we weren't suppose to make revealed very little appearing to take place.
We watched a bit of coverage on TV and had another forbidden look out of the window and there was no change. It still looked sunny behind the fairly light cloud. Darker clouds crossed the sun and surprisingly enough it got a little bit gloomier outside. At this point we decided to give up on the event. The TV was turned off and I headed outside and up to the greenhouse.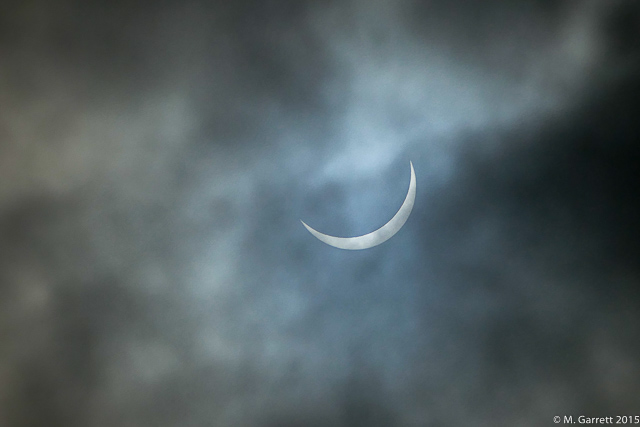 That was when I spotted it. The cloud cover was thick enough to allow a view of the sun but not thick enough to obscure the sun altogether. It was only a fleeting view before the sun disappeared behind the clouds.
Out of interest I've included my weather stations temperature and solar radiation reading below for Friday morning.

Intriguingly there's a dip in both temperature and solar radiation at about the time of the eclipse. I've no idea whether that's due to the eclipse or the vastly varying amounts of cloud we had through the morning.
The next solar eclipse in Wakefield will be visible on 21 August 2017 but will only cover a very small part of the sun. The next eclipse of similar coverage is 23 September 2090. I'm not adding it into my diary.
Saturday 21 March 2015
Looking Better
Saturday was cold and cloudy and not much like spring at all.
Down on the plot I managed to give most of our grass paths a first strimming of the year. Some bits off path had long straggly grass and in some areas the grass had hardly grown at all.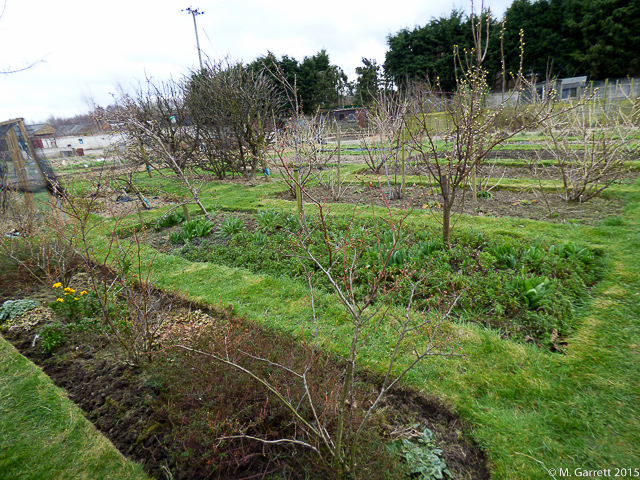 It did transform some parts of the plot especially around the fruit growing beds. I didn't get round to trimming all the edges I thought I'd better leave something to do for another day.
Although the weather wasn't particularly spring like most of our fruit trees are now showing the first sign of this year's buds breaking. So much to look forward to at this time of year.