Disclaimer
This weather site is operated as an amateur weather station site and should not be used as official data. I make every effort to ensure my data is as accurate as possible but I cannot guarantee that the data meets the requirements of the Meteorological Office or other professional weather monitoring organisations.













Saturday & Sunday 21/22 February 2015
Tempting Fate
Not too bad a weekend especially as the heavy rain forecast for Sunday never arrived. We did have some rain but nothing very much. So with less than a week left of February there is a possibility that this February could turn out to be the driest of the last six years. If that's not tempting fate then I don't know what is.

We do have some rain forecast in the last week of February so by the end of the week it might not be holding on to its record.
Yesterday we had a wren in the garden which we were both trying to photograph. Unfortunately all my photos were of a little blurred brown bird and they were all consigned to the recycle bin. I had some excellent photos of leaves and twigs as my camera focused on anything but the subject I wanted.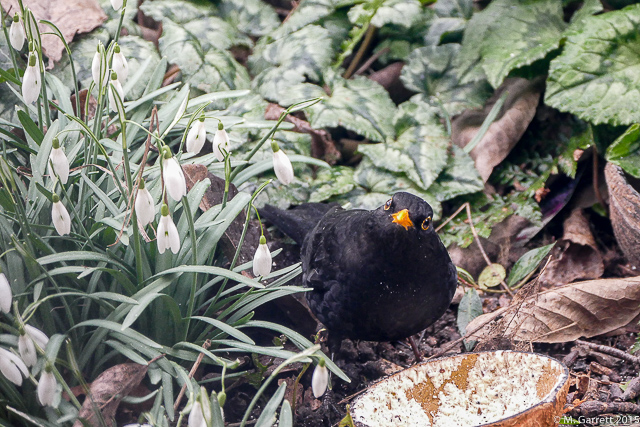 I didn't have any problems photographing this male blackbird finishing off the last of the fat from the coconut they've managed to unhook from its branch in the magnolia tree.
Monday 23 February 2015
Shalloting
Monday was a lovely sunny day it was just a pity about the strong to gale force wind that was blowing making it feel much colder than the temperature of 8.1°C (46.6°F) suggested.
By mid afternoon in the greenhouse the temperature was up to a very pleasant 18°C (64°F) and I decided to make the most of the conditions and get our shallots planted up into modules.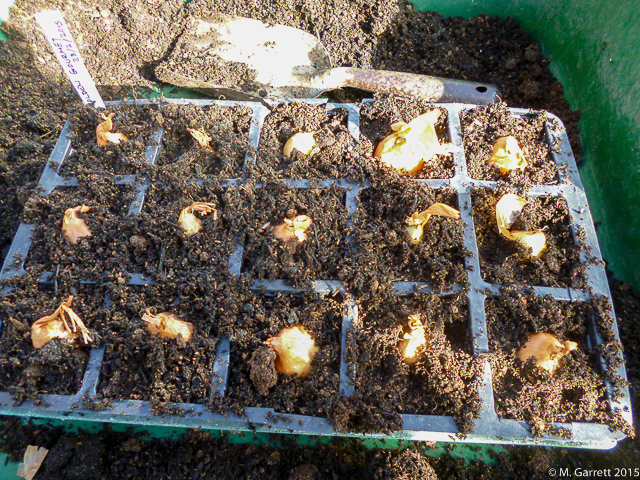 Our varieties this year are Red Sun and Golden Gourmet which performed well last year so we're sticking with them again this year. Last year our shallots remained in their modules until the beginning of April when they were planted out into the plot. This year I'm a few weeks later planting them into modules but none of the shallots had started to sprout so I don't think any harm has been done because of the delay.
Our bare rooted strawberry plants potted up a couple of weeks ago now are starting to produce some nice new leaves.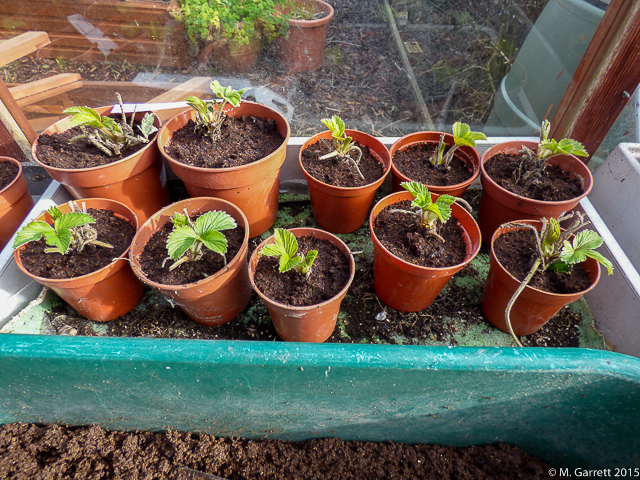 It's important now to keep an eye on plants in the greenhouse to ensure that they have the correct amount of water. When it's cold outside it's easy to forget that any sunshine can warm up the greenhouse quickly drying out compost. Of course it's equally important not to over water as on dull cold days as the greenhouse isn't any warmer than outside and plants don't want to sit in cold waterlogged conditions.
Tuesday 24 February 2015
Millimetring to a Driest February
Although we had plenty of sunshine it wasn't a particularly nice day as we had a strong, cold blustery wind blowing in wintry showers now and again.
The showers didn't add much to our monthly rainfall total which now stands at 9.2mm (0.36"). My record low February rainfall for the last six years was in 2012 when we had 13.4mm (0.53") so we might be breaking that record by the end of the month.
Out of interest I've added a couple of new tables to my All Time Records page listing the top ten driest and wettest months over the last six years.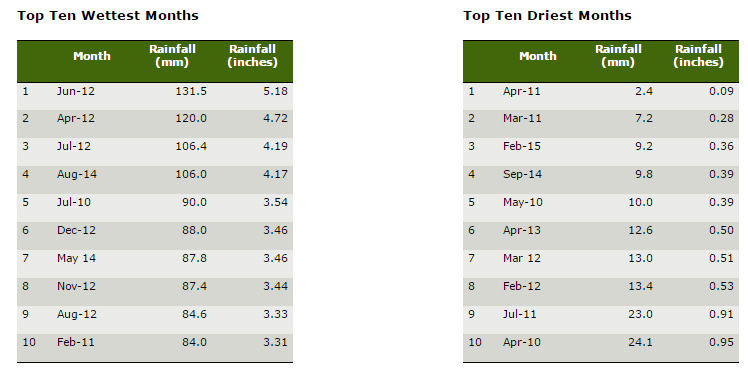 Odd isn't it that summer months do well in the wettest league table and very poorly in the driest.
Wednesday 25 February 2015
Digging Into the Archives
Last week I posted a photo taken of the Emley Moor Telecomunication tower. It's pretty tall, over 380m or a 1260', and can easily be seen from the M1 motorway as you pass through West Yorkshire. If we've been "down south" once we get the first sighting of the mast we know we are almost back home.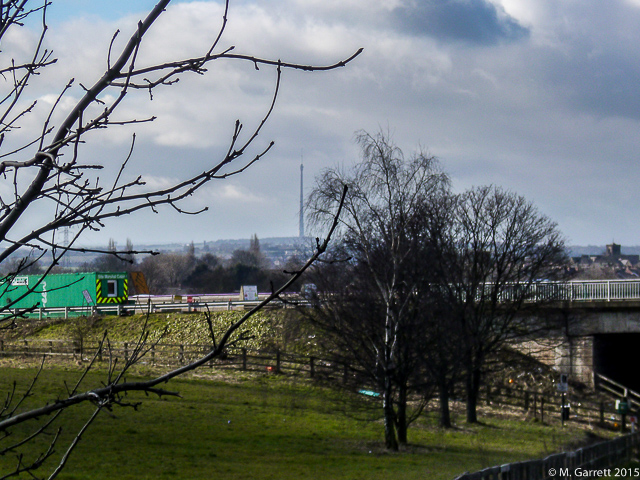 If you look carefully at the above photo you can make out Emley Moor mast. It's about 8 miles away. It was a little bit murky when I took the picture so the mast is a little difficult to make out. The bridge on the right carries the M1 motorway.
It was cold up on Emley Moor as we drove past the tower last week but it did set me thinking that I once took some some photos -when I was nowt but a lad - of its predecessor. These photos were taken in 1969 using old 35mm colour slides, which have since been scanned, and were taken a few days after its predecessor collapsed.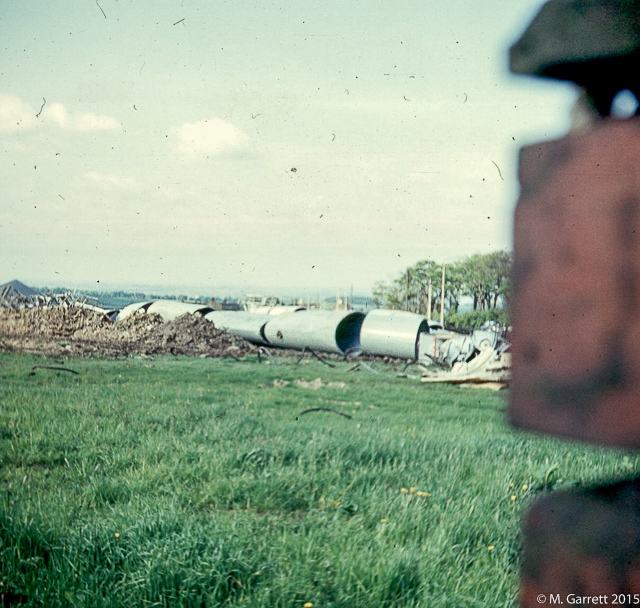 Above is one of my archive pictures taken back in March 1969. On that day, 19 March 1969, the weather on the Moors was cold, wet and windy resulting in ice forming on the mast and its supports. The structure collapsed at 17:00 that evening. At the time it was thought that the weight of ice caused the mast and its supports to collapse.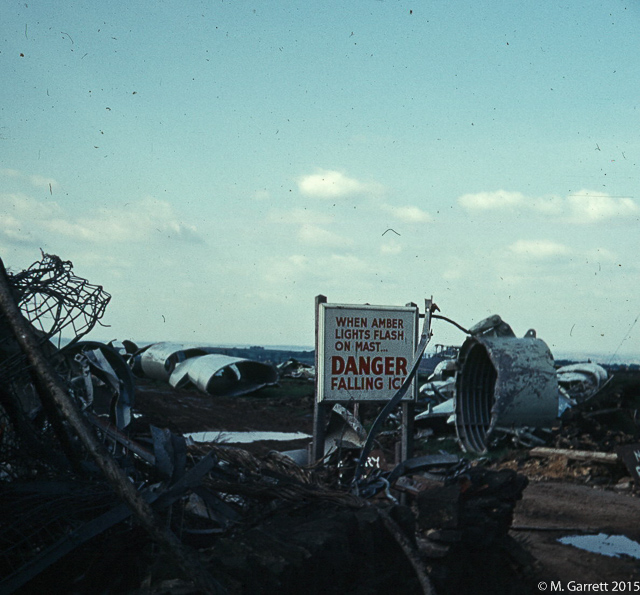 Some of the support cables cut through the local church roof but very fortunately no one was injured during the mast's demise.
As a result of the collapse millions of TV viewers in Yorkshire and other parts of northern England lost their television pictures. Within a few days temporary arrangements had been made to erect smaller temporary masts to continue transmitting TV and radio signals.
It was later concluded that it wasn't the weight of ice which brought the structure down but a form of oscillation which occurred at a low but steady wind speed that resulted in a failure of the structure. Other similar masts at Belmont and Winter Hill had modifications made to them to prevent them from also suffering this type of collapse.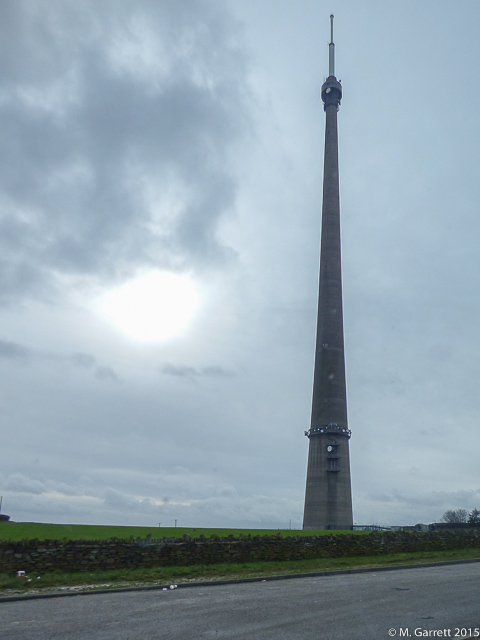 Construction of the new reinforced concrete tower was started in 1969 and the first transmissions from the tower commenced on 21 June 1971.
Thursday 26 February 2015
New Bean Poles and Pea Sticks
Thursday started of mild and damp with some rain through the morning. As the rain stopped the temperature fell and a rather chilly wind developed.

We used to have a corkscrew hazel (Corylus Contorta) growing in the garden but it never impressed us as although it produced some twisted stems for winter every summer it leaves were infested with whitefly and they became as contorted as the stems. It began to grow as many straight stems as twisted ones and as a result many years ago it was moved down to the plot. It now helps to produce our bean poles and pea sticks.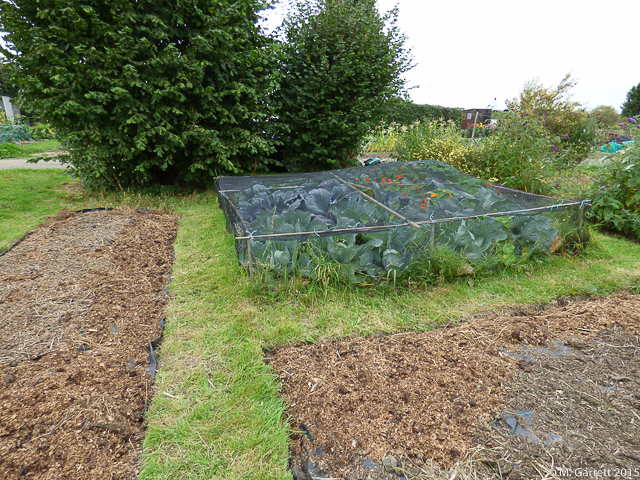 It was time to coppice it once again. The photo above shows our hazel trees last September. The smaller one on the right was coppiced at the beginning of 2013 and the one on the left is the one that I have just coppiced.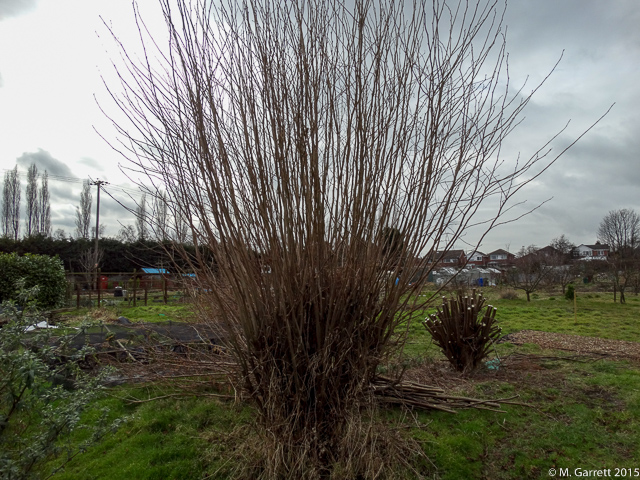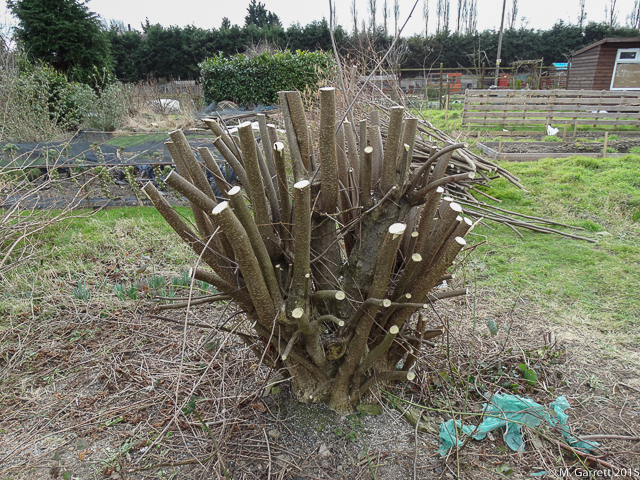 Most of the stems were far too thick for my garden loppers and needed sawing through. There's a little bit of tidying up to do around the base of the tree and then it can be left for a few years to reproduce some more bean poles.
Having given the tree a chop there's still plenty of work left to do to produce some decent bean poles.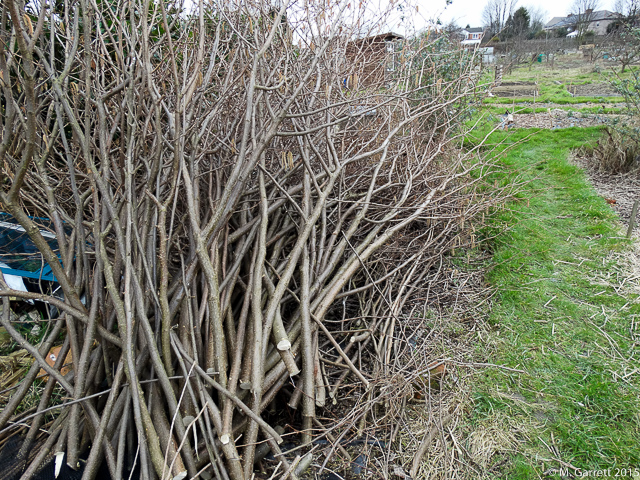 These are the coppiced branches which now need trimming up. The sturdy sections of stems need cutting into length of about 2.5m or about 8 feet. It's more about judging by eye how sturdy the stem will be rather than been too concerned about its final length. All the twiggy bits cut off the ends can be used as pea sticks.
Growing crops up naturally produced hazel poles looks much more attractive than using bamboo canes from the garden centre but there's a lot more work involved growing and then trimming up the stems to make into suitable poles.
Friday 27 February 2015
Digging's Off
It wasn't a bad day so we decided to have an afternoon down on the plot. I'd noticed a couple of clumps of snowdrops on my last visit. They seemed a little bit wasted on the plot as we don't visit that often at this time of year. We decided to dig them up and bring them back home to plant them in various spots in the garden. (You'll find more on our snowdrops move here.)
I thought I might do a bit more preparation work on our new strawberry bed before the weekend rain arrives. The first job was to pull up last season's beetroot, which had spent the winter under a straw blanket.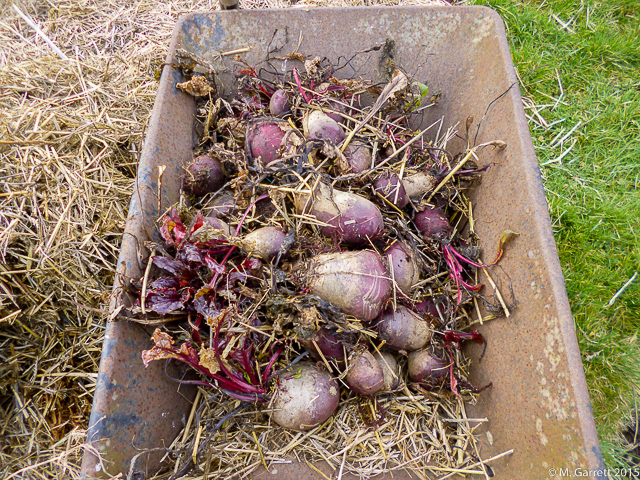 Most of the beetroot looked to have survived the winter but I'm a little unsure about its eating qualities. Rather than add these roots to the compost heap immediately I've re-covered them with straw alongside our straw covered carrots. We might test out a few of these roots but I think I'm just delaying their inevitable move to the compost heap. We shall see.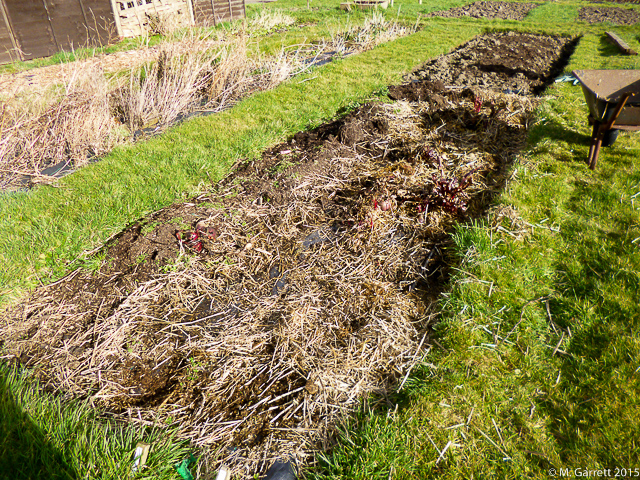 Most of the straw was removed to the carrot bed to re-cover the beetroot. Some weeds had started to grow in the compost left on the top of the weed control fabric. I'd left the compost from last autumn with the intention of incorporating it into the new strawberry bed as it's dug over. Once the fabric was removed the bed didn't look too bad especially after I had done a bit of tidying up of the edges.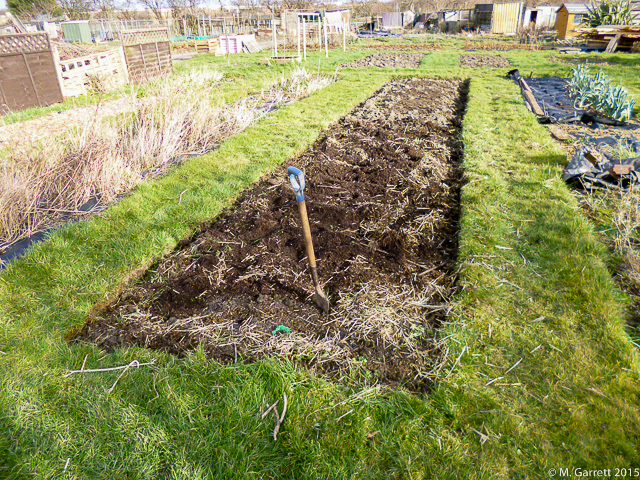 The far half of this bed had been dug over last autumn so my intention was to dig over the other half. My plan was to get this done before we had any heavy rain and then a few weeks before planting our strawberries I could run the cultivator over the bed and incorporate some fertiliser at the same time. The bed could then be covered with weed control fabric and our new strawberry plants planted as we saw fit. The far end of the bed looked quite dry as was the compost which had been left in a pile on the weed control fabric.
I only had to turn over a couple of fork of soil in order to realise that the ground was far too wet to dig. It wasn't that it couldn't be turned over but it wouldn't break down into a decent tilth and I know from past experience that digging our soil in this conditions makes for more difficult work and delay later in the year to break down the soil. Much better to leave it until its condition improves.
I was a little surprised how wet the ground was. After our dry February I expected it to be in much better condition. It's so easy to overlook that over the three winter months we've had 141.4mm (5.57") of rain whilst the estimated amount of evaporation loss over the same three months is only 35mm (1.38"). I'll just have be patient and give the ground a bit more time to dry out.

Saturday 28 February 2015
Far Too Popular
It was tricky to decide what the weather was going to do on Saturday as we had bright sunny spells one minute followed by dark cloud the next. In the end it was the mildest day of the month managing 12.2°C (54.0°F).
I decided by lunchtime that we'd have an afternoon visit to the Keighley and Worth Valley Railway as they were holding their Winter Steam Gala. It turned out to be a wasted trip as there was no parking to be had at Oxenhope or Haworth. Besides the lack of parking space it was starting to rain so we decided to head for home. We travelled back home over Oxenhope Moor to Hebden Bridge and on the tops the weather was a bit on the bleak side.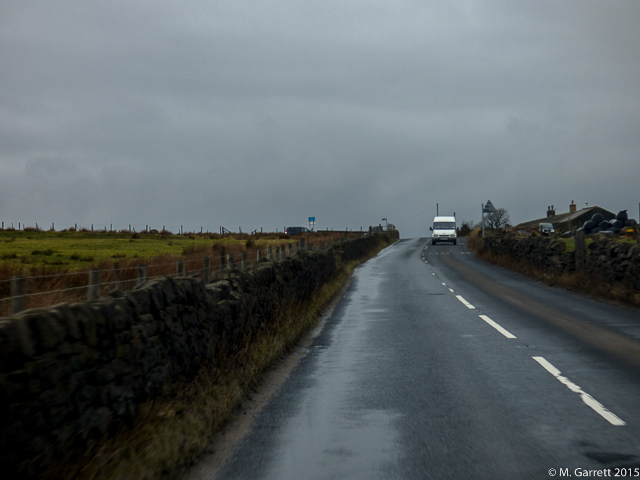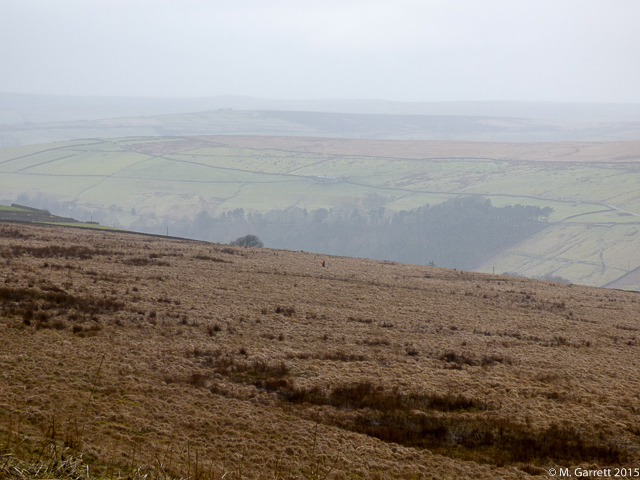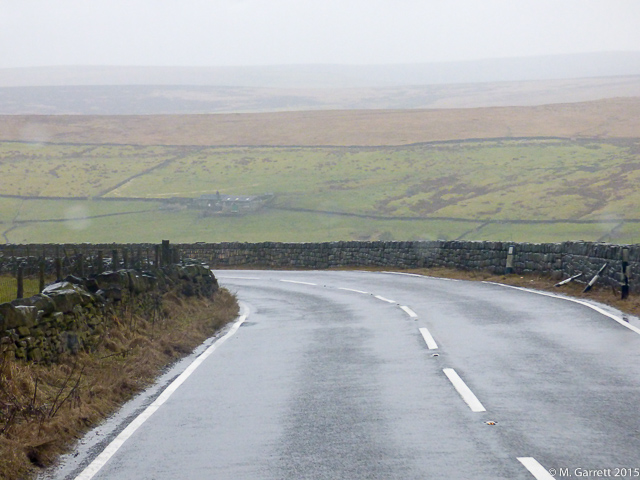 Sue managed a few photos between swishes of the windscreen wipers as we headed over the moors.
Back home it hadn't rained but we did start to get some light showery rain as evening fell and the wind started to pick up to gale force later into the night.

The rain wasn't enough to stop this February finishing up as the driest February I've recorded with only 11.2mm or 0.44" of rainfall.
It puts February 2015 in fifth places on Ossett's driest months since the start of 2010.