Disclaimer
This weather site is operated as an amateur weather station site and should not be used as official data. I make every effort to ensure my data is as accurate as possible but I cannot guarantee that the data meets the requirements of the Meteorological Office or other professional weather monitoring organisations.













Wednesday 15 April 2015
Alright For Some
Some parts of Britain had their warmest day of the year on Wednesday but that certainly wasn't the case in Ossett. It wasn't even close with the temperature below average for the time of year.

As you can see we only managed a high of 12.4°C (54.3°F) and we didn't manage that until the very late afternoon. With a cool breeze and no sunshine it felt even cooler.
I had a couple of hours on the plot doing a little bit more cultivating. Strangely the soil conditions over the plots vary enormously with some parts still pretty wet while other are in excellent condition to be cultivated.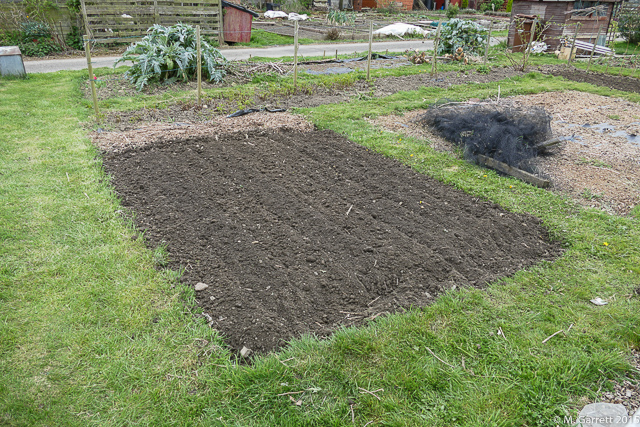 This bed cultivated easily. A couple of trips over it with the cultivator and it was done and ready to be planted up. The bed below though is a different matter.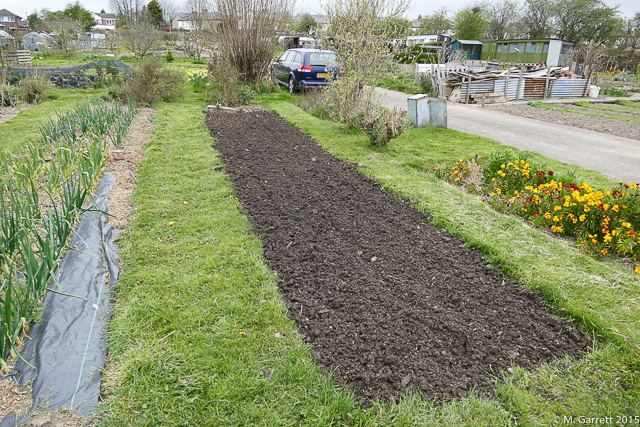 It doesn't look too bad in the photo but the soil hasn't broken down into a fine tilth. This will be our carrot bed this year and I'm hoping to get our carrots sown next week. Perhaps another cultivating session next week will get the soil into a suitable condition for sowing.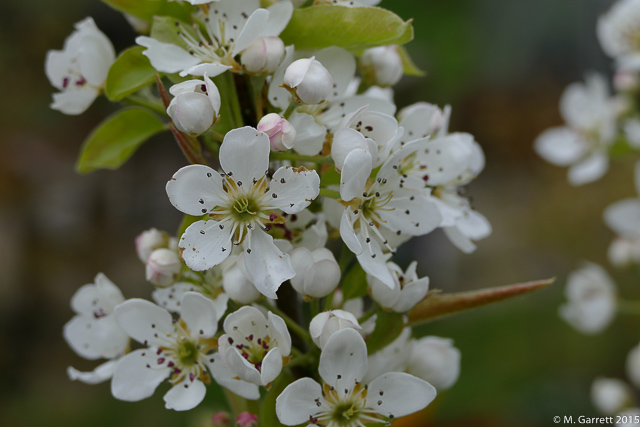 Our pear "Delsanne" is now in full flower but unfortunately our other pear trees are still only in bud. This pear is also known as Goldember and is supposed to be self fertile and crop from early in its life. If it is self fertile the fact it's flowering by itself shouldn't be a problem. Planted at the same time as "Red Williams" and "Invincible" it's the only one we haven't had a single fruit off. We thought this might be because it flowers early before our other varieties but as it's self fertile this shouldn't be an issue. Maybe this is going to be its year.
Thursday - Sunday 16/19 April 2015
Birds and Some Steam
I think that the mild weather at the beginning of April got me into thinking that was how April should be and now with temperatures returning to more normal values for the time of year it seems positively cool. High pressure has been in charge over the last few days bringing settled conditions. In any sunshine it has felt pleasant but out of the sunshine pretty chilly.
We'd decided on a couple of days away visiting the Anglian Bird Watching Centre situated on Rutland Water on Friday and then The Great Central Railway the following day.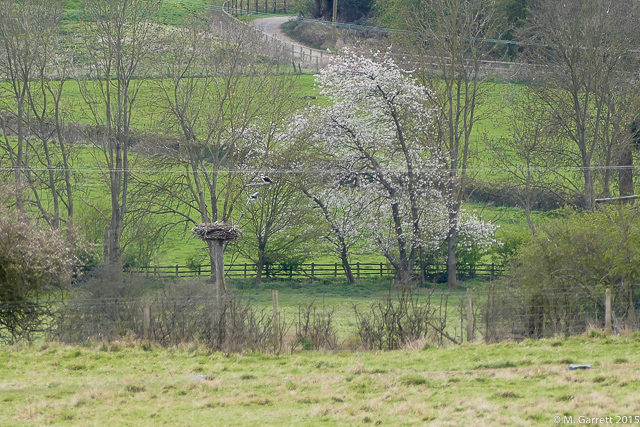 The Anglian Bird Watching centre is the largest reserve we've visited. It has so many hides that we didn't manage to get round them all on our visit. We had trouble finding our way around the reserve and at one time we weren't sure of our way back to the Visitors' Centre. A couple of regular visitors helped us out and suggested where we should go to get a possible sighting of the ospreys. In the photo above you can just make out the nest and the male osprey perched in the tree above. Apologies for the photo quality but the birds were a long way away.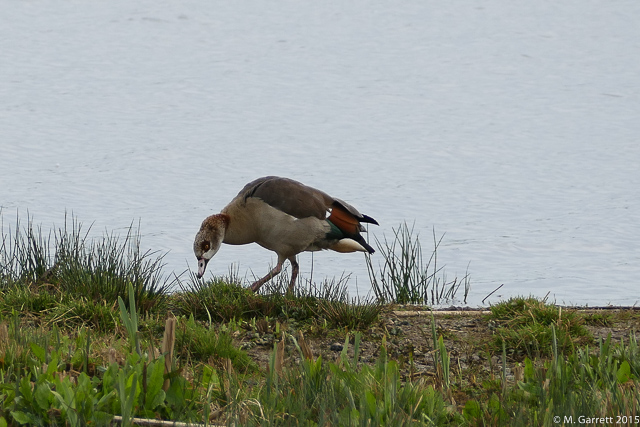 We also spotted an Egyptian Goose which we hadn't seen before. One pair had some goslings but they were too far away to get a good photo. Walking around the reserve involved crossing a few fields which we filled with lambs. Couldn't resist a few photos.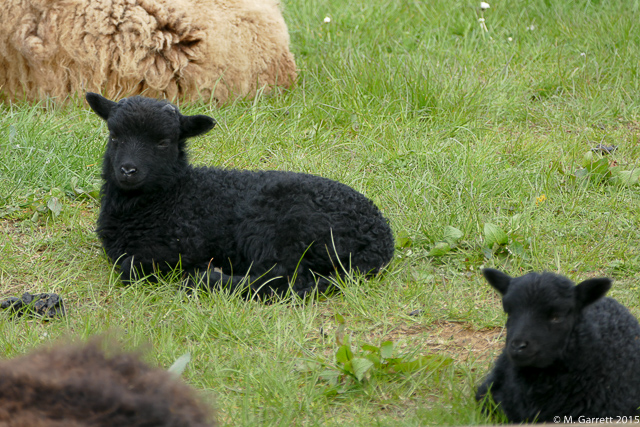 On Saturday the Great Central Railway were holding a gala called "Railways at Work Weekend" and Quorn and Woodhouse Station was converted to a replica station when the railway was the hub of the village.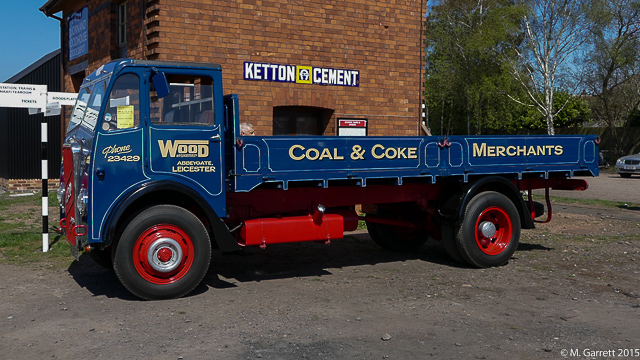 There were a few lovingly restored old vehicles in the station yard and some even older ones were making some repairs to the pot holes in the car park.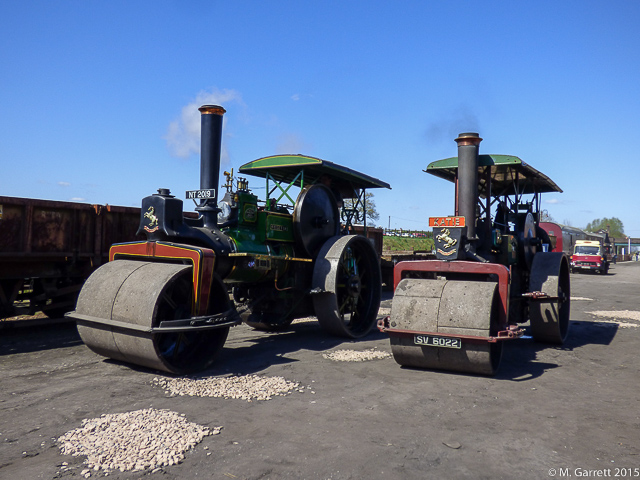 There were steam hauled trains making regular journeys from Loughborough to Leicester and the occasional freight train too.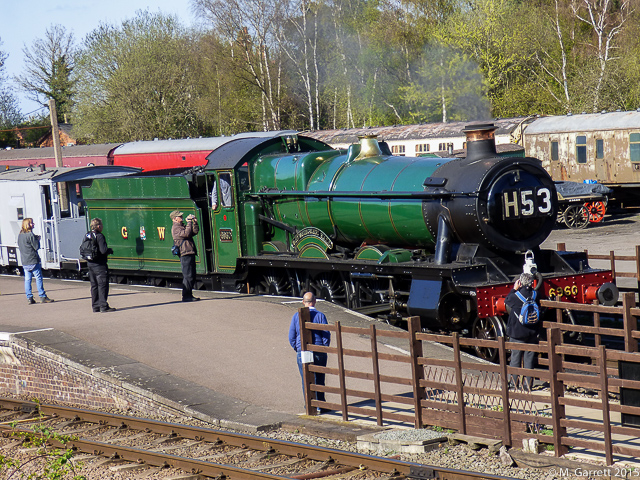 Now we probably need to catch up on a bit of gardening.
Monday 20 April 2015
Carrot Preparations
After a bit of a cloudy morning the sun came out before lunch time to give us a lovely sunny and mild afternoon.
On the plot it was a case of preparing a bed ready to sow our carrots and parsnips. Parsnip seed is especially good at blowing about in any sort of breeze so a reasonably calm day makes sowing so much easier.
Our carrot and parsnip bed is one of the untidiest looking beds on the plot with weed control fabric that's in something like its fourth year of use together with all the bits and pieces of timber required to hold it in place it looks a bit of a mess. I remember thinking the same last spring but we managed to harvest 35kg (77 lb) of carrots and 15kg (33 lb)of parsnips so I'm happy to put up with it looking a mess if we get the same results. Next job is to sow the seeds and erect our environmesh cage to keep our carrots free from carrot fly.
I blogged last week that our Delsanne pear tree was flowering before our other two varieties. That's not the case any more as Invincible and Red Williams have joined it in flower. There were plenty of bees doing their bit so hopefully we'll have some pears this year.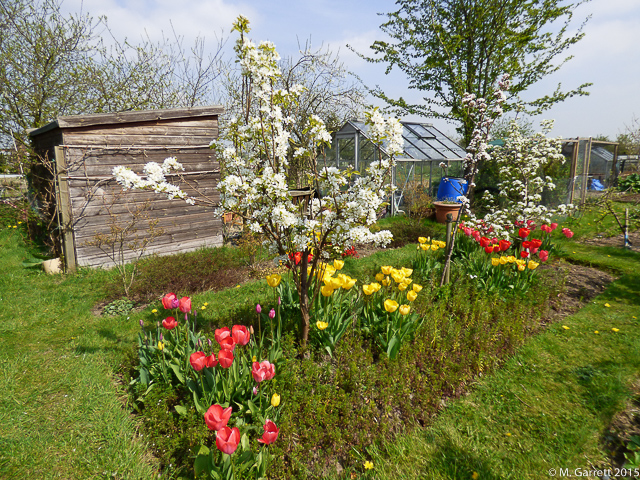 Our tulips are putting on a decent show too.
Tuesday 21 April 2015
Carroting and Parsniping
Tuesday was the sunniest day of the year according to my weather station with 9.5 hours of sunshine.

We had a little bit of cloud about in the morning but from just before midday through to evening time we had a spell of unbroken sunshine as can be seen from the smooth curve of the solar radiation trace on the above chart.
It turned out to be an excellent day for sowing carrots and parsnips as not only was it sunny but calm too.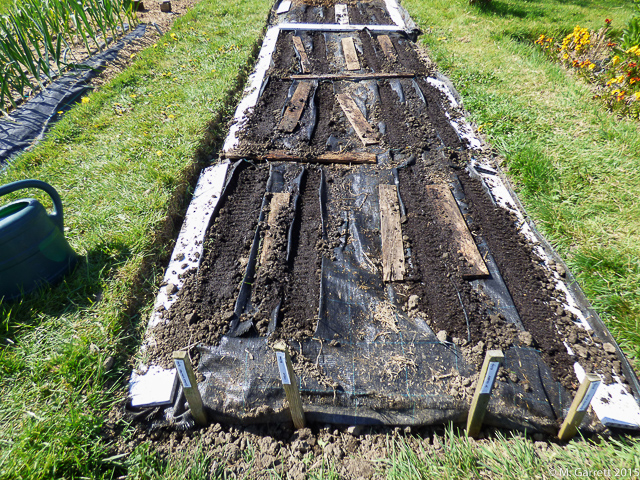 Once sown into their compost trenches our carrot and parsnip seeds were give a watering to settle them into their new surroundings. Then the tricky job of constructing our environmental mesh cage to protect the crops from carrot fly. On a lovely sunny day it seemed a bit like over kill holding down the mesh with lots of bricks but I've no doubt our construction techniques will be put to the test with some windy weather even in summer.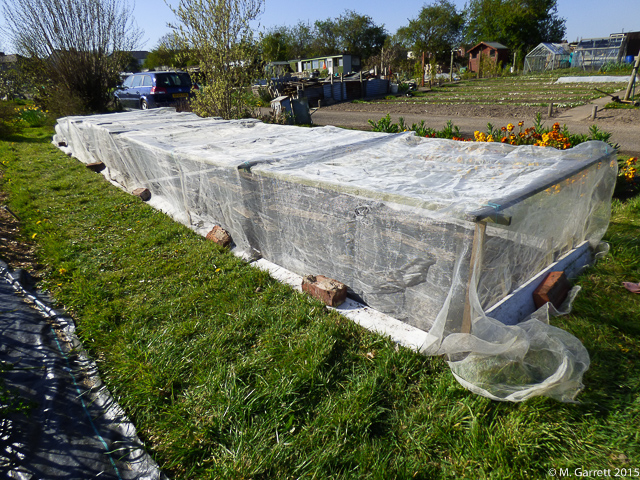 It's now a case of keeping them damp until they germinate and then attempting to keep the slugs at bay as they can devastate a row of carrot seedlings overnight.