Disclaimer
This weather site is operated as an amateur weather station site and should not be used as official data. I make every effort to ensure my data is as accurate as possible but I cannot guarantee that the data meets the requirements of the Meteorological Office or other professional weather monitoring organisations.













Thursday 06 August 2015 - Monday 10 August 2015
A Good Spell
The last few days have been good with the temperature slightly above average both by day and by night. We've avoided any windy weather and apart from a few light showers on Monday any wet weather.

Temperature and Sunshine Records for 06 to 10 August 2015
The warmer brighter weather might have helped to get some of our tomatoes into ripening mode. They've been very reluctant to to change colour this year remaining stubbornly green.
We've pottered around in the garden, done a little bit of harvesting on the plot and had a couple of days out or rather an afternoon at RSPB Fairburn Ings and a day trip into the Yorkshire Dales National Park.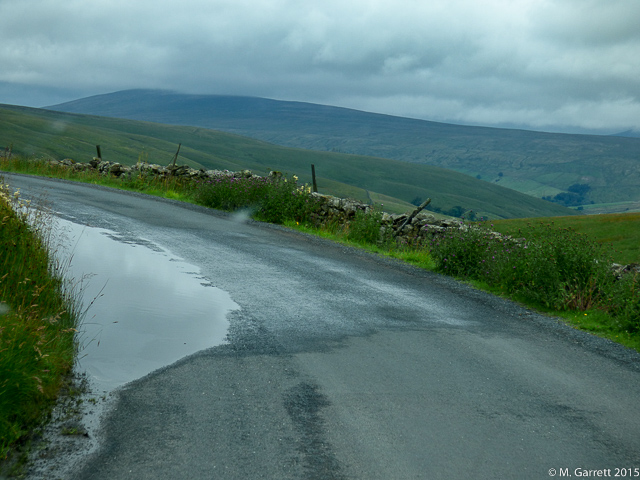 In the higher parts of the Dales on Sunday the clouds covered the tops of the peaks and there were a few showers about but in the valleys the weather was brighter and warmer.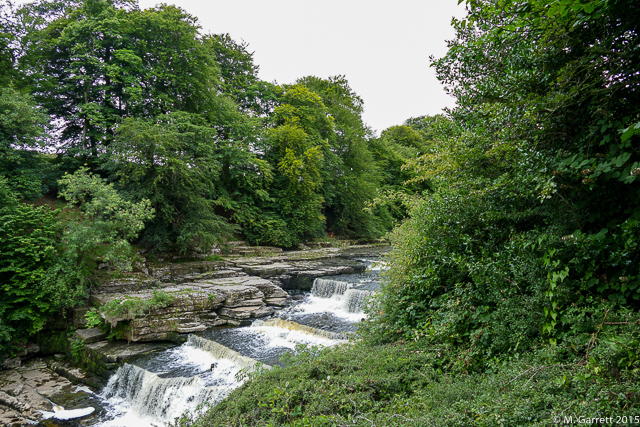 We had a walk to the lower, middle and upper falls at Aysgarth on the river Ure in Wensleydale. I'm sure the falls would look far more spectacular after a spell of wet weather.
Our forecast is for some rain late on Thursday or into Friday this week but I think our newly planted brassicas and peas will be wanting a drink to keep them happy until then.
Tuesday 11 August 2015
Unexpected Tomato Crop!
Tuesday was another nice August day with some long sunny spells and pleasantly warm. We've only had 8.6mm (0.34") of rainfall so far this month which makes it the driest start to August I've recorded. Although with Met Office warnings out for heavy rain on Thursday night into Friday morning the dry spell might not last too long.
I have a sort of pecking order for the tomato plants I grow. The choicest plants go in our home greenhouse, the next best in the plot greenhouse and the remaining stragglers usually get thrown away. These stragglers used to get planted in the plot but as they suffered from blight every year we gave up attempting to grow them outdoors. This year we decided to give the odds and ends a chance outdoors on the plot.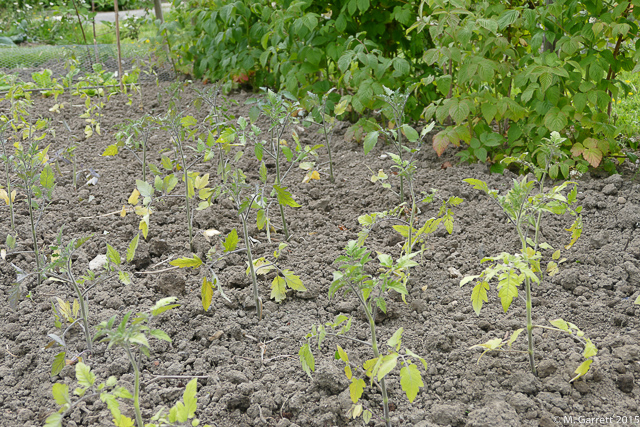 At times this summer it didn't look like a very good idea as the plants suffered through cool, dry and windy weather. They did manage to pick up after a couple of wet days and then it only seemed a matter of time before they were struck down by blight.
Meanwhile in both greenhouses our tomato plants have been watered and fed on a regular basis and have been protected from the worst of the weather. We've now, at long last, got some tomatoes ripening and as last year Sungold are the first. We had a first picking from the plot tomatoes on Tuesday and very surprisingly there were more Sungold ready on our outdoor plants than the ones in the greenhouse.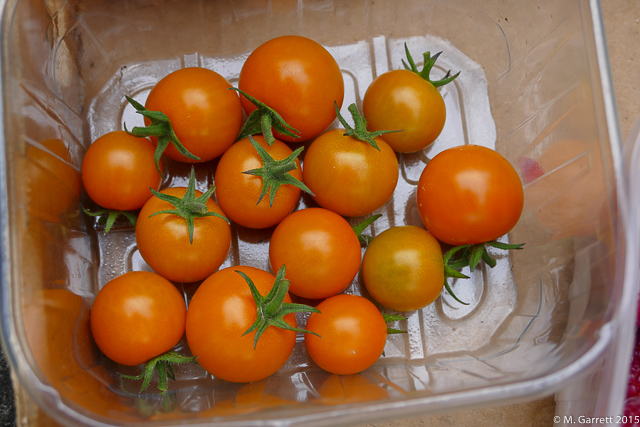 Sungold from outdoor plants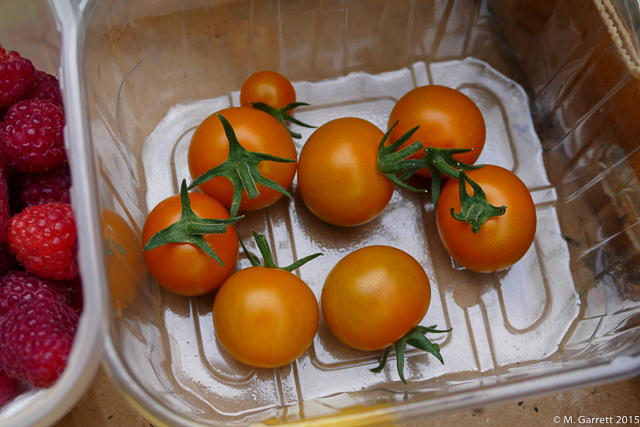 Sungold from greenhouse plants
To be fair there's lots more fruit on the greenhouse plants but nevertheless our outdoor crop is rather a bonus. After the start they had I'm amazed the plants are still growing. Maybe I should have looked after them a bit better or have they benefited from a bit of neglect?
Wednesday - Friday 12/14 August 2015
Not What I Expected
Three days that went rapidly downhill from a lovely sunny warm day on Wednesday, a cloudy but dry day on Thursday to a very wet and dull day on Friday. With 15.6mm (0.61") of rainfall, Friday became our third wettest day of the year and with my weather station recording only 2.0 MJ/m2 of energy for the whole day the lowest value I've recorded in August, it would be fair to consider it the dullest August day in the last six years. To give you an idea of scale I've recorded that sort of value in January when the daylight hours are much shorter so Friday was definitely dull.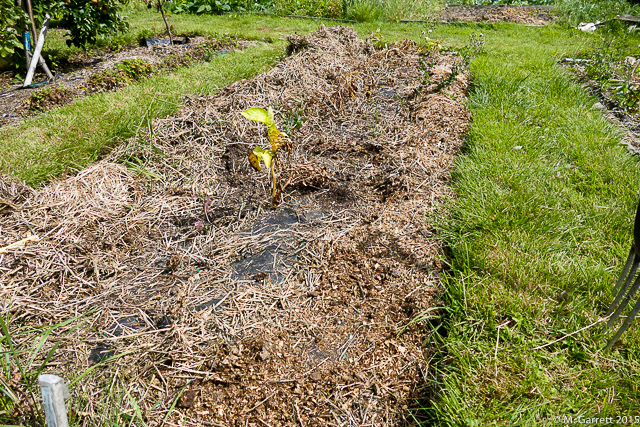 This week I lifted a row of Casablanca potatoes that had been growing under weed control fabric. I'd made up my mind that they were going to be badly damaged by slugs. If you follow our blogs you'll be aware that this year two of our carrot sowings, made using weed control fabric, have germinated well only to be decimated by slugs. As it's not been a particularly wet year I'd decided that the cause of this problem must have been that the fabric produced a perfect breeding ground for slugs although I'd no real evidence of this having used this method successfully for several years.
All the potato tops had died back so there seemed to be no point leaving them in the ground. I pulled one half of the fabric back and as expected lots of potatoes had grown directly under the fabric rather than in the soil.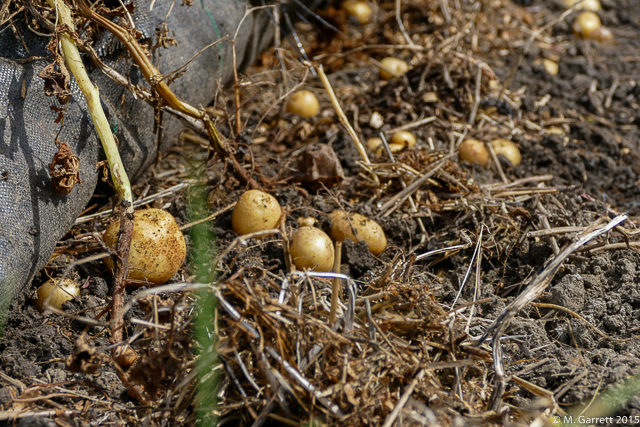 Surprising virtually all the potatoes were free of any damage which I wasn't expecting. Once these surface potatoes had been picked up it was time to investigate what the crop underneath was like.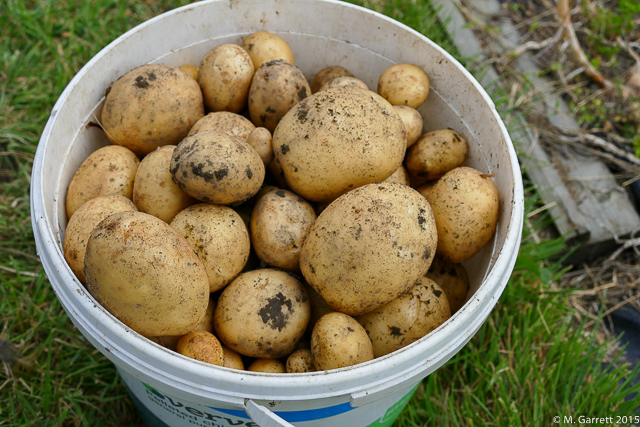 It turned out to be a decent harvest weighing in at 11.4kg (25.1lb) and surprisingly little slug damage.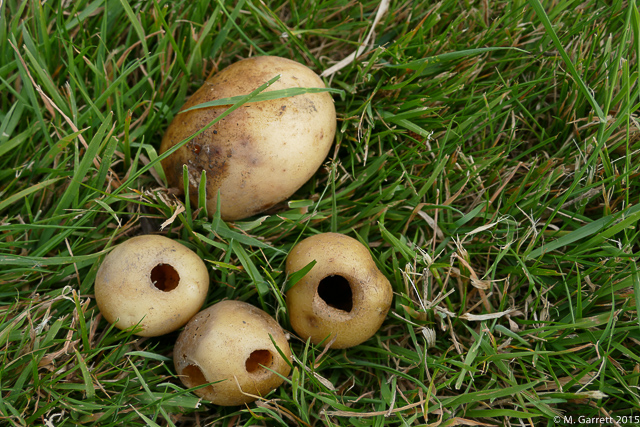 These were the only damaged potatoes I found in the whole row far less than I'd expected. This year I can compare the weights of a row grown under weed control fabric and one grown using our conventional method of planting with a trowel and earthing up. The conventional row produced 9.76kg (21.5lb) but I did harvest a few early so weight wise there's little to choose between the two methods.
All this though leaves me none the wiser as to why our carrot sowings suffered so badly from slug damage.