Disclaimer
This weather site is operated as an amateur weather station site and should not be used as official data. I make every effort to ensure my data is as accurate as possible but I cannot guarantee that the data meets the requirements of the Meteorological Office or other professional weather monitoring organisations.













Wednesday 22 April 2015
Heeding Advice
Wednesday was another gloriously sunny and mild April day. If the anticipated change in the weather for next week takes place it's going to be a shock to the system.
Meanwhile it was another good afternoon on the plot planting potatoes.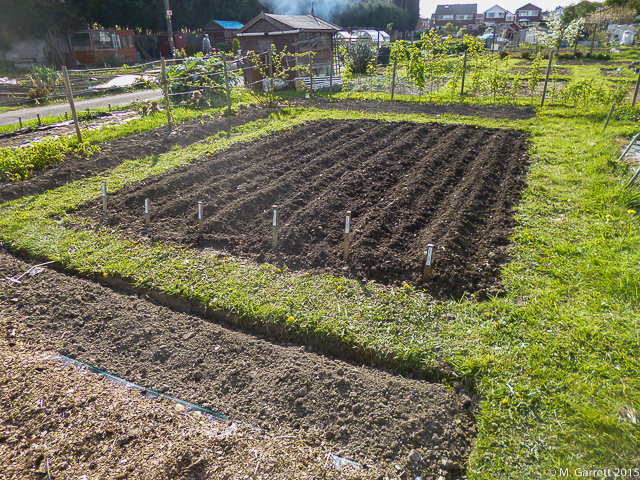 This bed was cultivated and I managed to fit in 6 rows of potatoes (1 row Winston, 2 rows of Nadine and Charlotte and 1 row of Nicola) although I didn't manage to get round to tidying up the edges of the bed.
Our first bed planted up with brassicas had lightweight mesh laid over the top of them to protect them from pests. I've decided that this might not have been the best course of action and have now supported the mesh on a few stakes to give the plants some headroom to grow.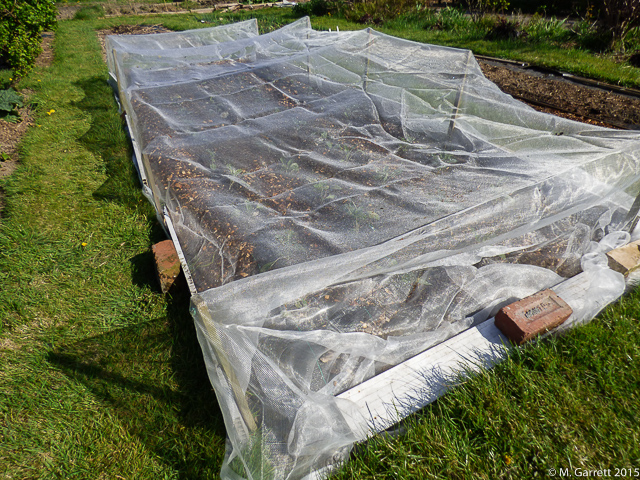 My reason for using a fine mesh instead of butterfly netting is to hopefully keep any whitefly and greenfly off the heads of our calabrese when they develop. Heads of calabrese covered in whitefly don't make for very appealing vegetables.
Thursday 23 April 2015
Long Term Labelling
After a bit of a cloudy and misty start to the day by mid morning the sun was out giving us another lovely sunny and mild April day.
On the plot we finished planting out our new strawberry plants.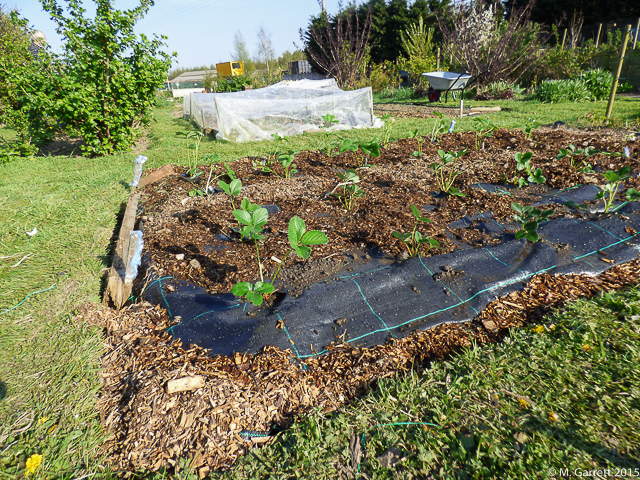 We want to keep a note of each of the varieties to see which performs and tastes the best. All the rows of plants have been labelled conventionally with a plastic label and written on using a permanent marker pen. In our case permanent normally means around 6 months in summer and even less in winter months. As a long term solution all the varieties have been marked up on our allotment plans using the Growveg.com garden planner. The plan will have the the crops grown in each bed marked up this year and the plan copied forward to the next and subsequent years.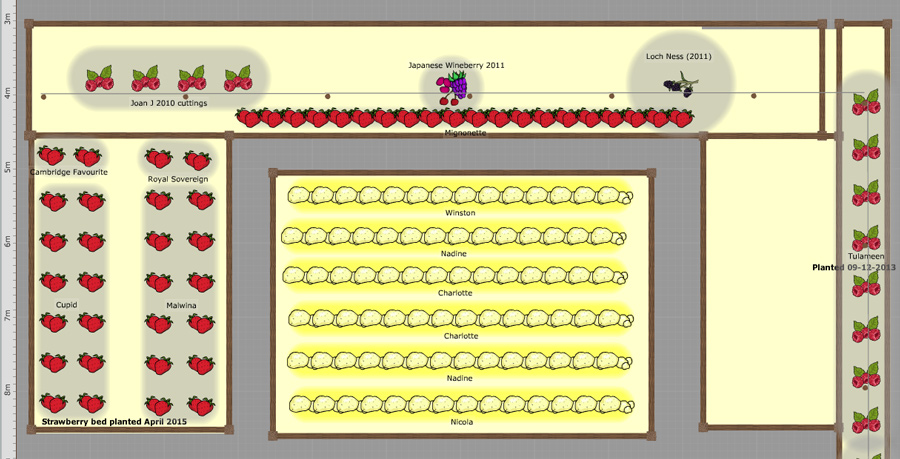 Part Plan of Plot 41 with Strawberry Varieties Listed

Part Plan of Plot 30 with Strawberry Varieties Listed
At least this way once the permanent marker ink has disappeared of the labels we will have a record of which strawberries are where stored safely in "the cloud".
Friday & Saturday 24/25 April 2015
Frosty Nights?
As forecast Friday saw the break up of the fine spell of weather as the cloud arrived in the late afternoon. It was Saturday afternoon though before we saw any fall in temperature when it fell from 16°C (60.8°F) to 6°C (42.8°F) in an hour or so. We had our first rainfall of any note for almost 2 weeks.

Temperature and Rainfall from Friday - Sunday April 24/26 2015
The forecast for next week suggests some pretty cold nights to come with a frost on any or every night next week. I think I'll take the precaution of covering our tomato plants in the greenhouse with fleece to give them a bit of extra protection against the cold.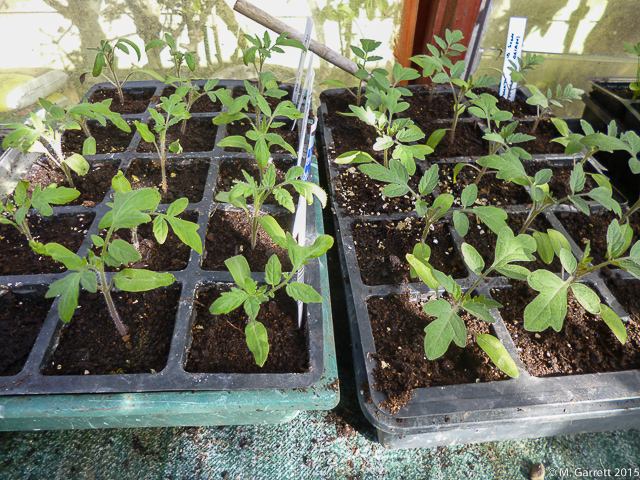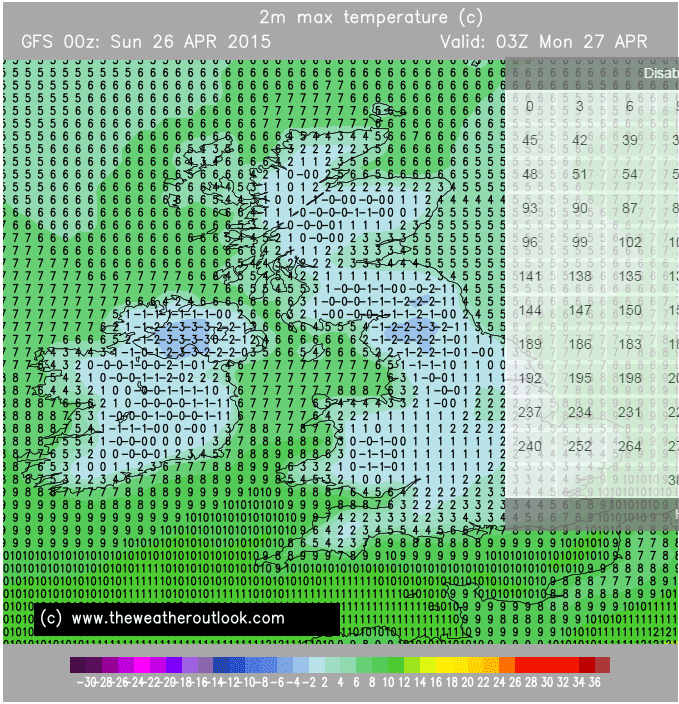 If we do get any keen frosts we may well get some damage to all the fruit blossom that is out on the plot at the moment. After the fine weather of the last couple of weeks we didn't really want a cold spell right now.
Monday 27 April 2015
Coldest Night of the Month
Monday was a lovely sunny day but it never felt very warm. In the sunshine it wasn't too bad but if the sun disappeared behind a cloud it felt cold. Overnight Monday into Tuesday the temperature fell to -0.5°C (31.1°F) our coldest night of the month and the coldest since 11 March 2015.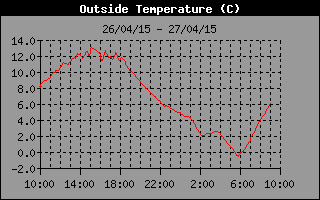 I was glad I'd covered any tender plants in the greenhouse with fleece as the temperature fell to -0.1°C (31.8°F) in there.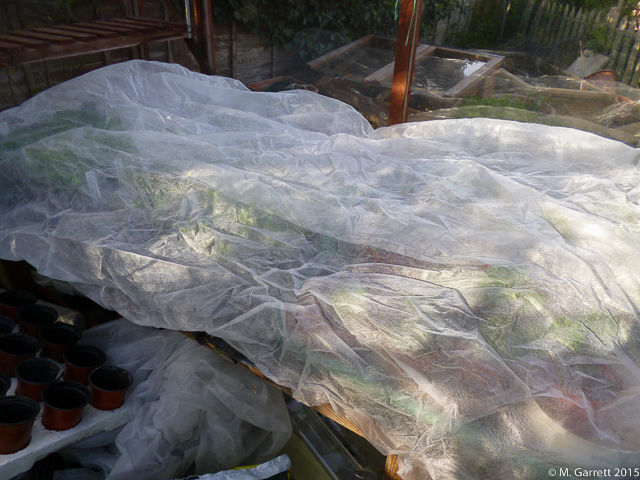 On the plot yesterday we had a couple of intruders who I'm told walked in through the allotment gates and onto our allotments.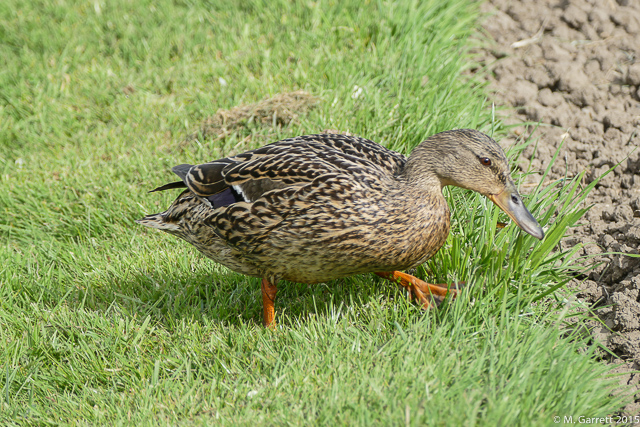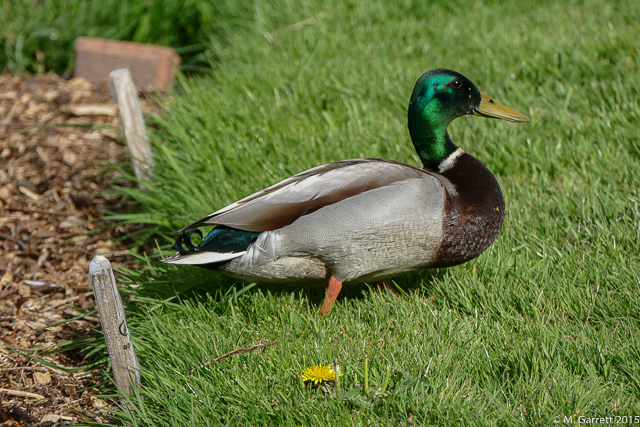 The female was far more inquisitive than the male. They both walked across our new strawberry bed a couple of times taking care not to walk on any of our new plants. They may well have been sent packing had they threatened any damage. After a few minutes they'd decided they'd seen enough and took off heading towards the Wakefield.
Tuesday 28 April 2015
A Strange Old Month
Tuesday produced the lowest average daily temperature since the first of the month. I guess we've had some of the good and not so good April weather this year. After a lovely spell of weather that made it feel like early summer it's now turned much colder putting gardening on a hold for a while in the hope that it will change back to something milder soon. Looking at average temperature figures for this month our average high temperatures for the month have been above average however to offset that our average low temperatures have been below average. At this time of the year our tender and not so tender plants are governed more by the cooler temperatures.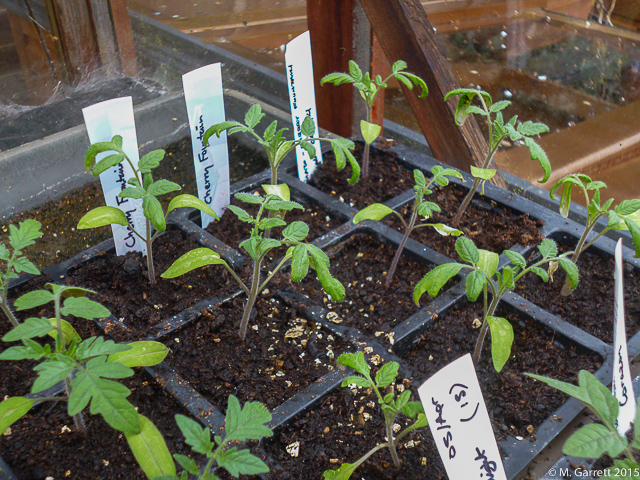 Plants in the greenhouse continue to be covered in fleece each night but some of our newly transplanted tomato seedlings look like they're missing indoor warmth.
As I've not been doing too much gardening I've managed to finish a little bit of video editing. If you didn't see our little video of the ducks on our plot which I posted on Facebook earlier in the week you can see it below.
I've also finished editing my video of our visit to the Great Central Railway's special event "Railways at Work Weekend".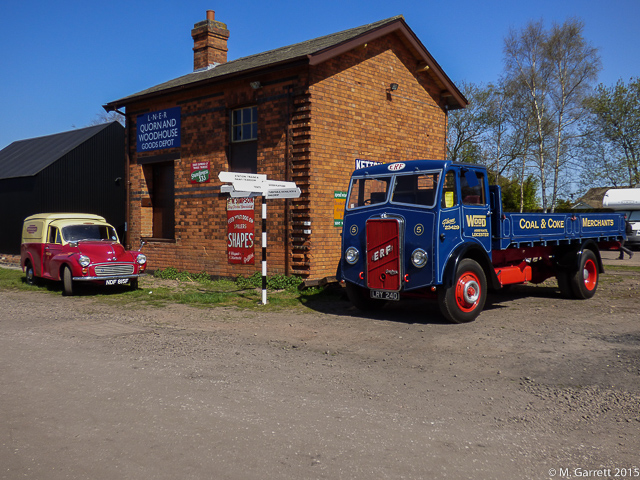 The video features steam locomotives, goods trains, passenger trains, steam rollers, the travelling post office, together with some old railway vehicles too.
Wednesday 29 April 2015
Sunniest April
Although the last few days have been a touch on the cold side in between the showers of hail and rain it's been sunny. Added to the lovely sunny days of the middle of the month it means that this April has turned out to be the sunniest of the last five years.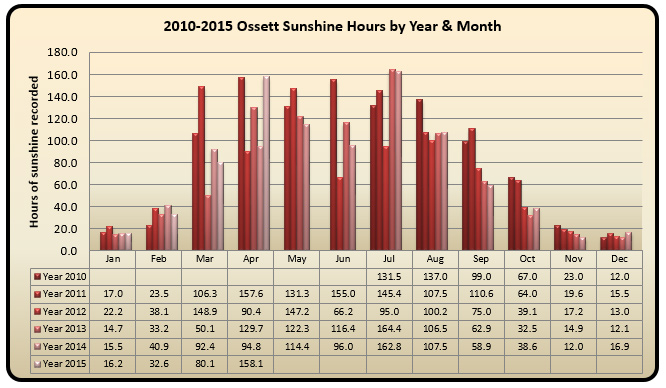 However it's not all good news as despite the record number of sunshine hours it's not going to turn out to be a particularly mild April. We've had plenty of cold nights with low temperatures which have held tender plants back in the greenhouse. The growing on information on my tomato seed packets say grow on and maintain a temperature of 15°C (59.0°F). My chart of greenhouse temperatures this month is shown below.

Almost every night this month the temperature has fallen below 7°C (44.6°F) so there is little wonder that my young seedlings aren't growing very quickly. By the way the high temperatures tend to be exaggerated somewhat as the thermometer isn't shaded from direct sunshine.
It seems we may have to wait a little bit longer before the temperatures start to pick up. It can't come soon enough for my tomato seedlings.
Thursday 30 April 2015
Early Tomato Experiment Continues
This year I'm trying to get a few early tomatoes before our main crop starts to ripen. The only way I could see this happening was by growing some plants in a sunny window inside as it's too cold in the greenhouse for tomato plants to grow on quickly. I described the first part of my experimental early tomatoes here.
The plants growing on inside probably needed potting on a week or so ago but I've been holding on hoping that the cold evenings would come to an end and the plants could be potted on and left in the greenhouse. I've now given up on that idea and decided to pot the plants on and move them back inside to their sunny window.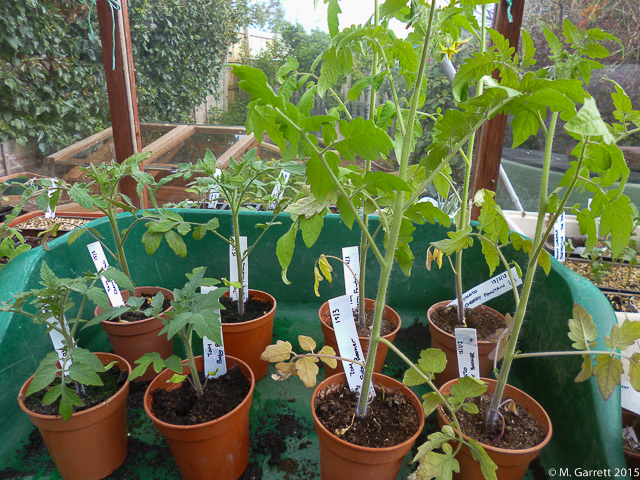 If you remember I left 4 plants in the greenhouse and moved 4 plants inside. These are the 8 plants now side by side for comparison purposes. The ones on the left are the 4 plants left in the greenhouse which look rather well considering they've had some nights down to freezing point. The indoor plants on the right have grown leggy which is what I expected. But the aim isn't to produce the best tomato plants but some with earlier fruit. I've potted all the plants up into bigger pots and the 4 leggy plants have gone back in a sunny window until the night time temperatures warm up a bit.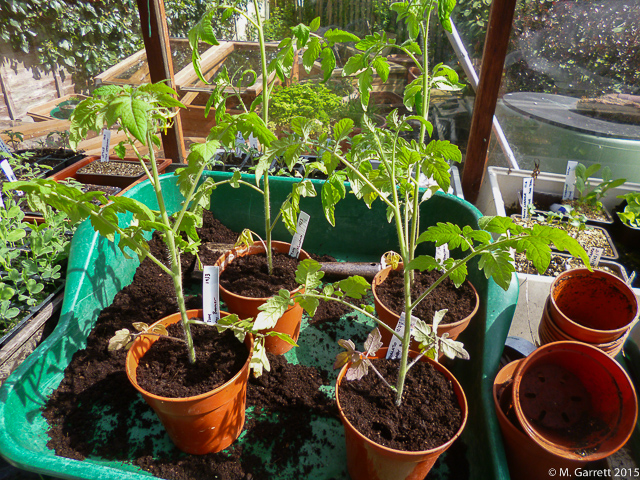 One plant already has a couple of flowers so with a bit of luck these might go on to produce some early tomatoes.
The remaining 4 plants have been repotted and left in the greenhouse to grow on until they are ready to move into a large final size pot or a growbag.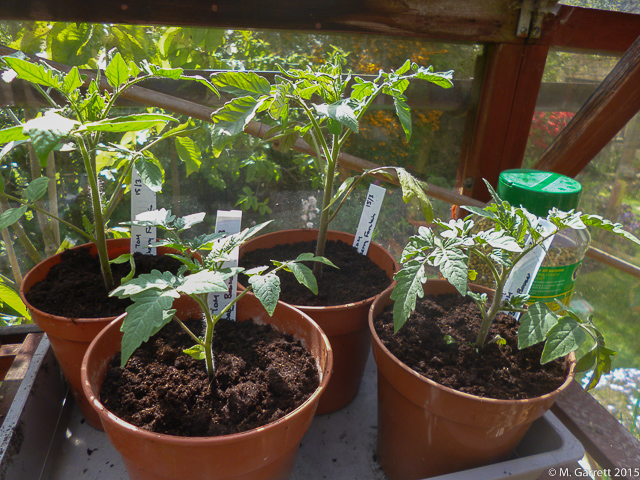 It's worth noting that the 4 plants left in the greenhouse made the most of some slightly milder nights at the beginning of April and put on some decent growth. These larger plants appear to have survived the recent cold nights better than my young tomato seedlings which haven't taken kindly to moving from indoor warmth to greenhouse cold.
I could now do with the cold nights to come to an end. I've seen forecasts suggesting it might be the middle of May before things start to warm up.