Disclaimer
This weather site is operated as an amateur weather station site and should not be used as official data. I make every effort to ensure my data is as accurate as possible but I cannot guarantee that the data meets the requirements of the Meteorological Office or other professional weather monitoring organisations.













Tuesday 15 December 2015
Return of an Old Friend
Tuesday was gloomy with mist and drizzle all day. It's now 6 days since my weather station recorded even a hint of any sunshine. After a brief colder snap the mild weather, in December terms, has returned with the forecast for it to be even milder towards the end of the week.
Producing today's blog was like having an old friend back. I normally like to write my blog in Google Chrome which seems to work quite well for me. Suddenly last week everything went wrong. Half way through writing my blog Chrome stopped working. I closed Chrome and re-opened it but still it didn't work. I decided the best thing to do was restart my computer. This had no effect in fact matters were even worse. Chrome opened up a tab and nothing happened the little blue circle went round and round and round. Chrome didn't want to work at all.
I decided to try Internet Explorer just to get my blog published. This seemed to go quite well until I previewed my blog and found all my text was a strange size. No amount of adjusting the size of the text had any effect on the published documents. I decided to try Microsoft Edge in Windows 10. I had a little more success. After a little bit of messing about I managed to publish my blog.
Not being able to use Chrome meant that all my favourite Internet sites suddenly took a lot more finding. All my favourites had suddenly disappeared. Importing them into Microsoft Edge or Internet Explorer just wasn't the same. Every click seemed to demand a username and password.
I've had a few issues with Google Chrome before. In the past uninstalling and reinstalling Google Chrome has solved my problems. So that was my next option but having done this Chrome still refused to work or even open a tab. A search on the Internet didn't seem to throw up any obvious solutions. So for the last week I've been using Microsoft Edge to produce my blogs.
I had almost given up on using Google Chrome but yesterday I decided to uninstall and then reinstall Google Chrome once again. This time like magic Google Chrome decided to work although I have no idea what I did differently this time. It did result in me losing all my favourite sites but it was like having an old friend return.
Aren't computers wonderful.

Wednesday 16 December 2015
December Record
Wednesday was another dull and miserable day although at one point the sun did try to break through the clouds. In the last week my weather station recorded just 6 minutes of sunshine.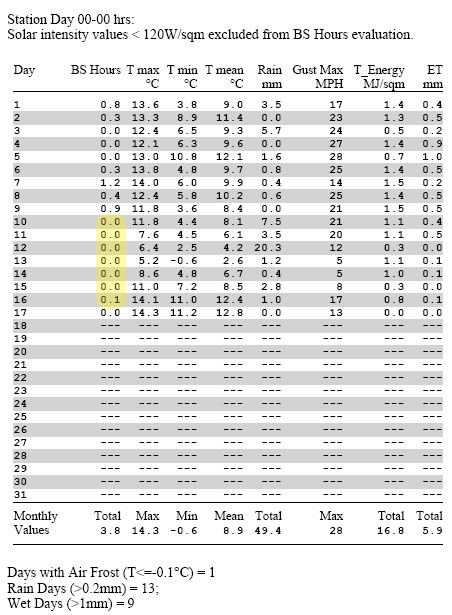 The early hours of Thursday morning set a new high temperature record for December with my weather station recording 14.3°C (57.7°F) at 00:20 in the morning. Not exactly the time you expect to be breaking a high temperature record!

The chances are that this will be broken over the next couple of days. Pity we can't swap a few degrees for a little bit of sunshine. Can it be true that the weather's going to remain very much the same up until Christmas?
Thursday 17 December 2015
A Short Lived Record
As I thought that high temperature record set in the early hours of Thursday morning didn't last long and was broken at 13:35 with a new December high of 15.1°C or 59.2°F.

It was a pity we didn't have a bit of brightness to make it feel even better but it was another cloudy day with rain threatening but staying away. We ventured out for a bit of steam train photography in the afternoon.
This was The Christmas White Rose to York. It was running about two hours late so there wasn't going to be too much chance of doing much Christmas shopping once it arrived in York.
Friday 18 December 2015
Fantastic Sunrise
Friday was a brighter day than we've experienced recently. As the sun rose this morning, yes it did actually rise Friday morning, we had a lovely red sky. I decided to try a few photographs. The first was from an upstairs window. It gave the impression that we might be in for a lovely sunny day.
It was just a question of finding the best spot for a photograph. I tried one or two positions but think that one through the trees was the best I managed. Just in case you didn't see it on my face book page I have included it below.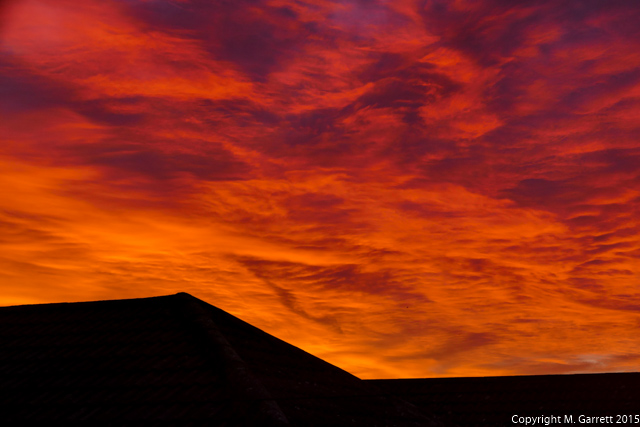 Once down stairs I decided to try a few shots from outside. It was surprisingly mild outside. There's not much difference between daytime and night time temperatures at the moment. Even our night time temperatures are milder than we might expect through the daytime in December.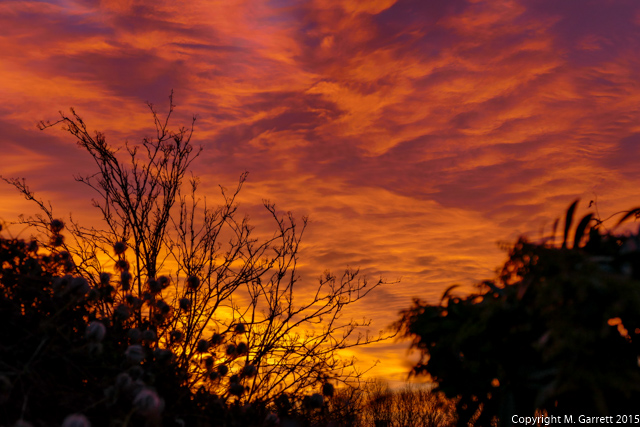 After a few minutes the sky returned to its more normal dull grey colour. Unfortunately, the rest of the day didn't live up to expectation of such a beautiful sunrise. We certainly had a brighter day although not a great deal of actual sunshine.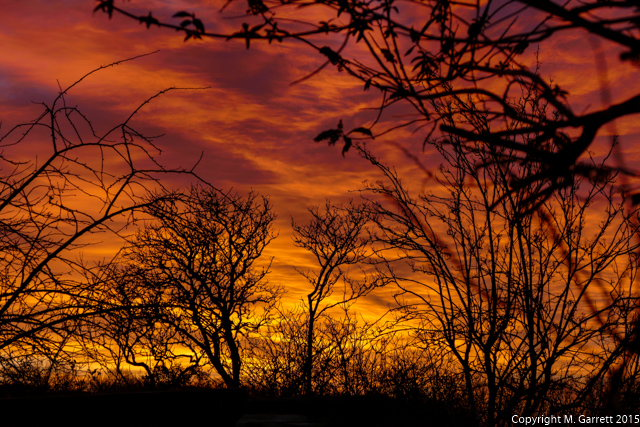 Saturday 19 December 2015
Warmest December Day
Saturday produced the highest December temperature I've recorded over the last six years. The thermometer reached 15.8°C (60.4°F) at 09.00 and I expected it might get even higher through the day but although it remained mild it didn't get any higher.

I've noticed that the TV news and social media are posting photos of daffodils and tulips. So not to be outdone I thought I'd post some too.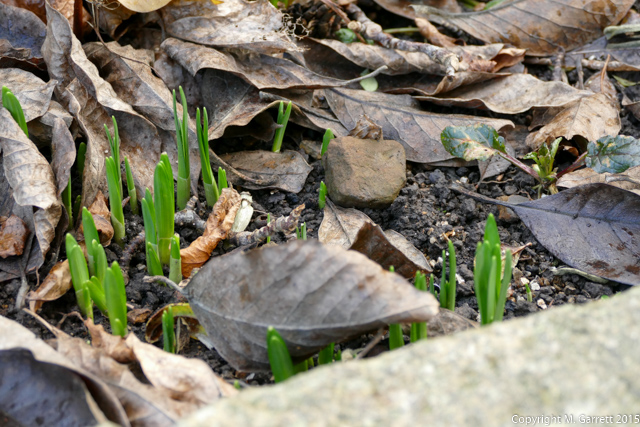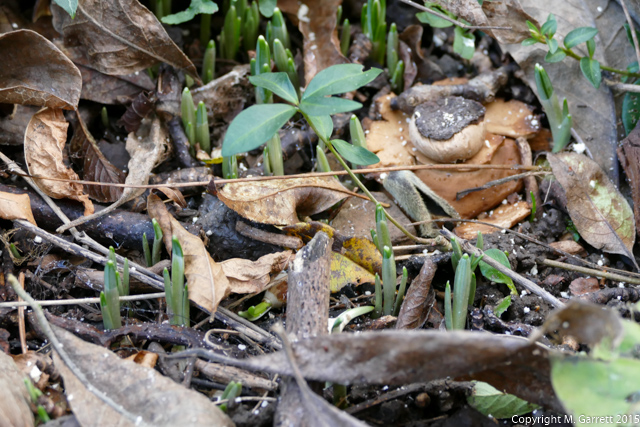 The top photos is daffodils and the bottom one's snowdrops. They've still a way to go before they're in flower.
Sunday & Monday 20/21 December 2015
A Visit to the Plot at Last
We had our first visit to the plot in about six weeks on Sunday. The weather was pretty good, very mild for December and sunny too at times. We managed to harvest a few vegetables which Sue covered in her blog post here. I'll just add my harvesting table below with a few additional comments.

Although the birds don't seem to have returned in anything like their usual numbers so far this winter I've now got a regular female blackbird who magically knows when I open the door to go out and replenish the food on the bird table. She keeps her distance but as soon as I move away from the bird table she hops on whilst all the other birds think I'm too close and stay away. It means she gets some time to herself and a chance to pick the best bits before any body else dares to land. Perhaps she'll get tamer as winter progresses.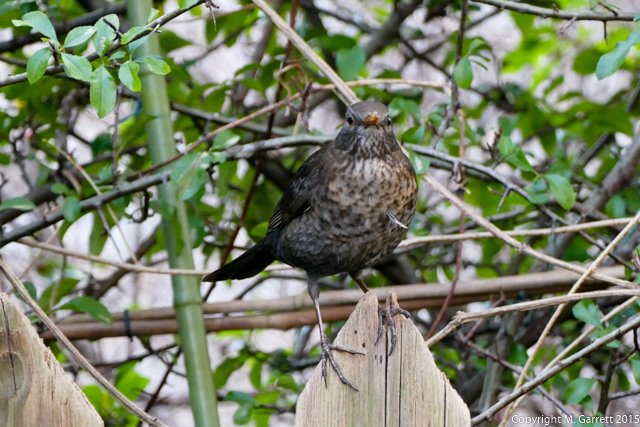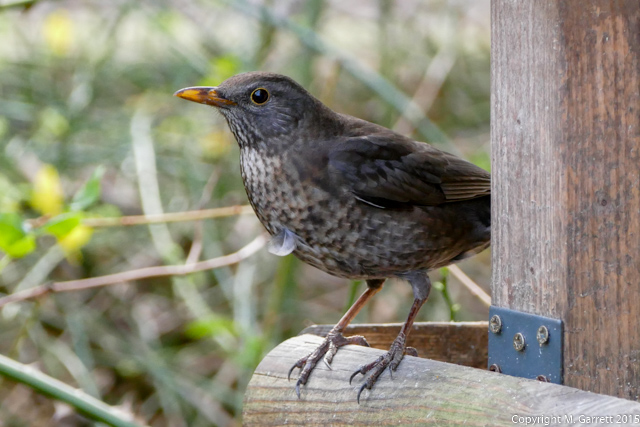 These are my best pictures so far. Even though I've had my camera over 12 months I'm still learning about new settings. I've always struggled to get my camera to focus on the centre of the screen. It focuses on something off centre and not at all where I want. It can be very frustrating when it won't focus on the subject in the centre of the viewfinder. I've now found out how to correct this but I still need to make adjustments to get a greater depth of field especially in dull weather. You will have to watch this space to see if I manage to solve this problem.