2012 Records 2011 Records 2010 Records 2009 Records





Friday & Saturday 01-02 February 2013
Kathleen Hodgkin Beats the Snowdrops
The gales at the end of January that continued into February finally abated late on Friday. Saturday wasn't too bad with some sunny spells but a little colder. It's forecast that the weather will become cold and wintry again from the middle of the week. It seems winter's not finished with us just yet.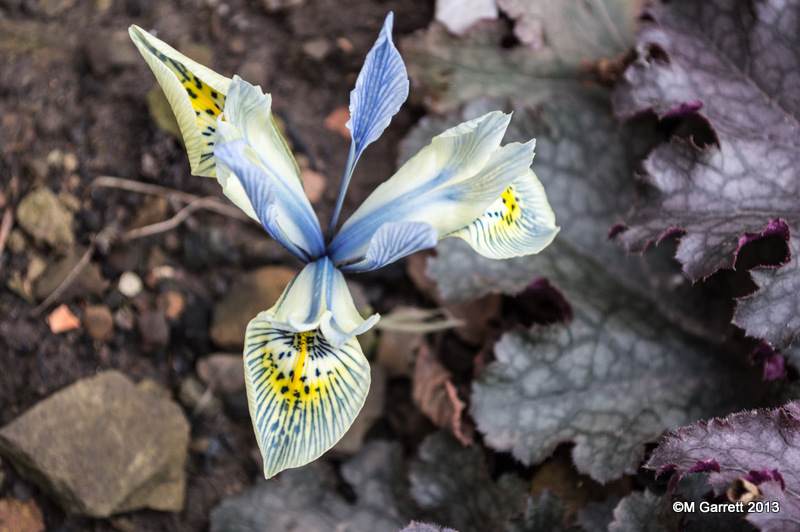 Putting on a spectacular display in the front garden is Kathleen Hodgson. Out before any of the snowdrops it's another sign that spring and some better gardening weather is on the way. That's my theory anyway!
Sunday & Monday 03-04 February 2013
Windy Weather Returns
The gale force winds have returned so the sunny spells were rather wasted as it felt cold in the wind. Once again on Monday the wind speed reached 30mph which is a rarity for us.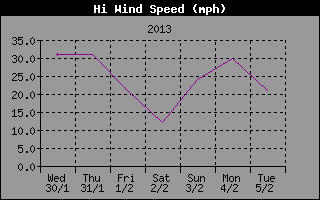 Tuesday morning has started with just the lightest dusting of snow and feeling bitterly cold in the strong wind. Glad I put the seed potatoes in the garage rather than the greenhouse.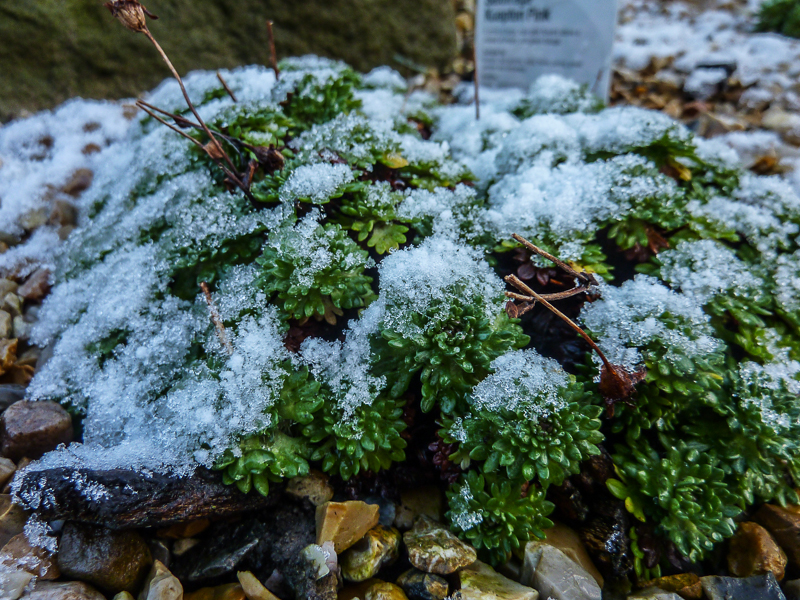 Tuesday 05 February 2013
Doubts Are Setting In
Tuesday was a poor day with strong winds and scattered snow, hail, sleet and rain showers throughout the day.
I was sorting out some potatoes for the kitchen from last year's harvest which are kept in the garage. We've still got plenty of potatoes left but as I started to get some out of the top most box I actually noticed a note written on the bottom most box.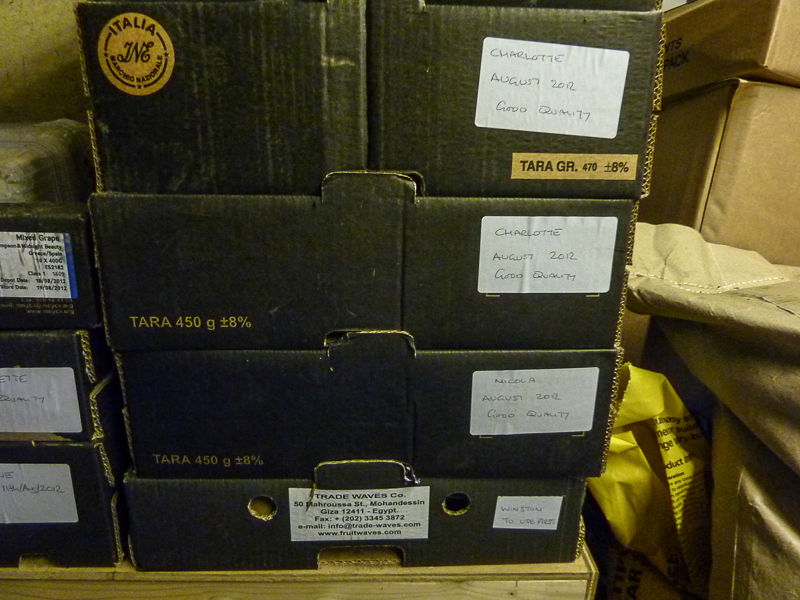 It's my own "Use By Date Warning" which I've completely forgotten about. I remember some of our Winston potatoes had small holes in them but as they were big specimens I decided there was plenty of usable potato to go at despite the holes. They would just need using up quickly as they wouldn't keep over winter. Well we're always told not to store damage fruit or vegetables.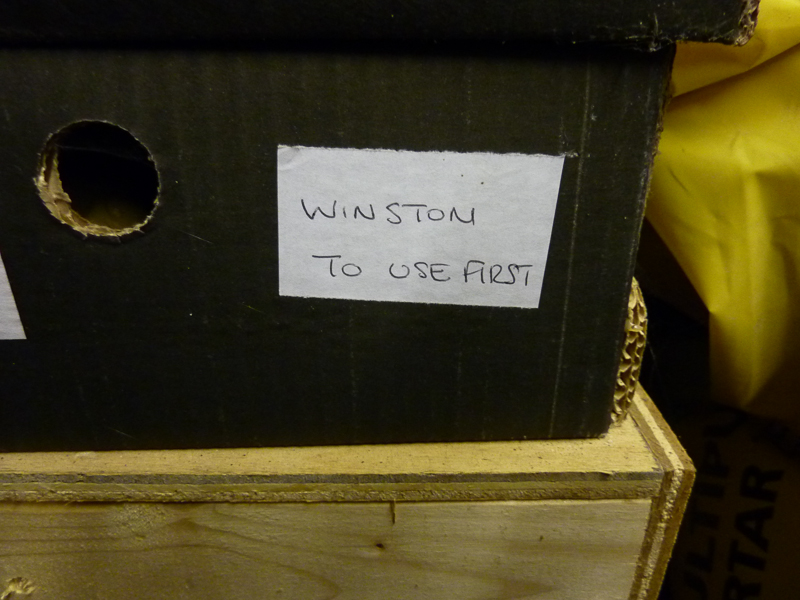 My note couldn't have been much plainer. I wondered what sort of mess would greet me if I investigated the condition of these damaged Winston's stored in this box since last August. I moved all the boxes above and to my surprise the potatoes were still in excellent condition.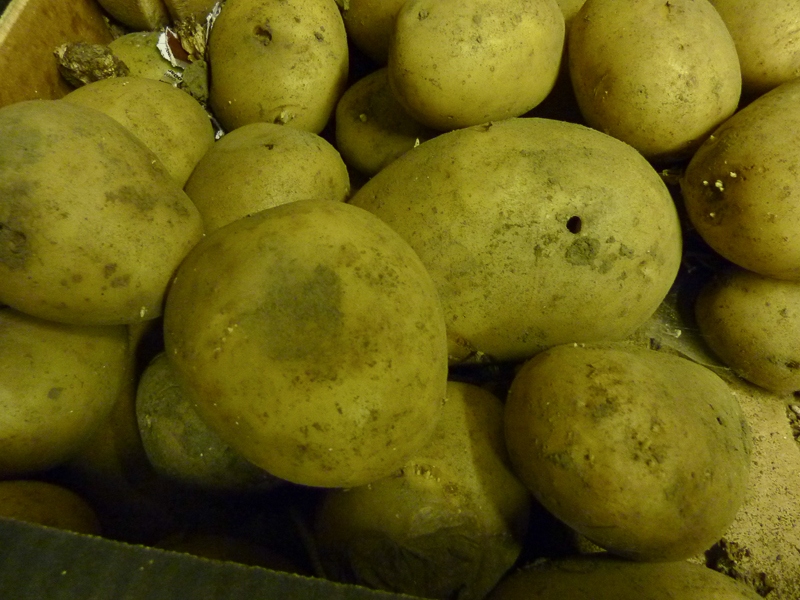 I'd taken a couple of pictures thinking it would be the making of a decent blog post. It was good to get inside out of the cold and damp. Camera hooked up and pictures downloaded. My first reaction was that the spuds had come out a bit of a funny colour but I didn't think that mattered too much. They were never going to win any prizes for quality.
Only then did I notice, never mine the colour the potatoes are starting to sprout. So I might have to re think leaving my newly arrived seed potatoes in the garage. I'm sure they'll be alright whilst the temperature remains just above freezing but perhaps once this spell of cold weather breaks I'll have to get them into the greenhouse to start chitting.
Wednesday & Thursday 06/07 February 2013
Keep Off My Sunflower Hearts
Not much to say about the weather. It's winter and it's cold and windy.
Around the end of February 2011 we noticed siskins on some of our bird feeders. They were only about for a few days before they disappeared completely. Well we just managed to spot a couple of male birds on the feeders again on Thursday which was certainly earlier in the year than we saw them last time. I wonder if that has any good or bad omens for the weather. There ought to be an old wives tale about when our siskins arrive.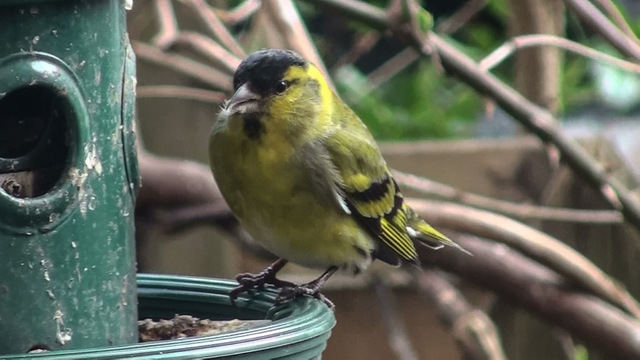 They're very striking birds but I only just had time to get the video camera into action before one of our regular goldfinches decided it wasn't going to have this newcomer eating its sunflower hearts. It took decisive action as you will see in the video below.
We didn't see the siskins again all day. It would be a real shame if this turned out to be their only visit.