2012 Records 2011 Records 2010 Records 2009 Records





Tuesday & Wednesday 21/ 22 May 2013
Digging & a Visit to Leighton Moss
Not a bad couple of days although we had more sunshine on Wednesday and the temperature both days was only into the mid teens centigrade.
On the plot on Tuesday we got a couple of beds cleared and cultivated.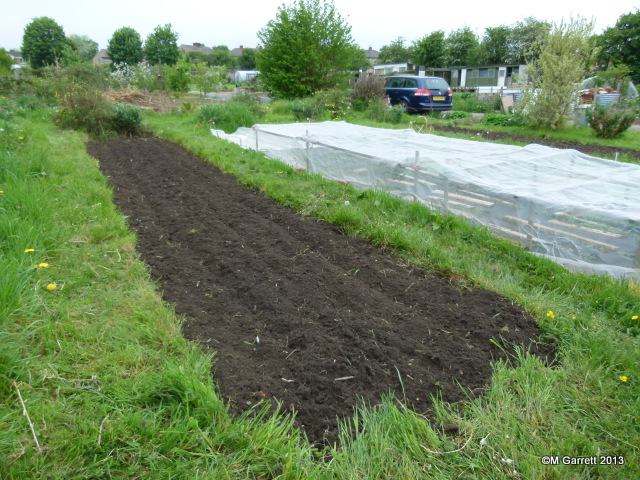 This bed will be planted up with more onions, shallots and peas patiently waiting in our cold frame at home.
I also managed to clear, cultivate and plant up with potatoes another bed. It will be interesting to see how these late planted potatoes compare with ones planted at a more traditional date. I'm expecting a good crop just a few weeks later. There's a mixture of varieties planted so I'm hoping I'll be able to tell my earlies from maincrop in this bed.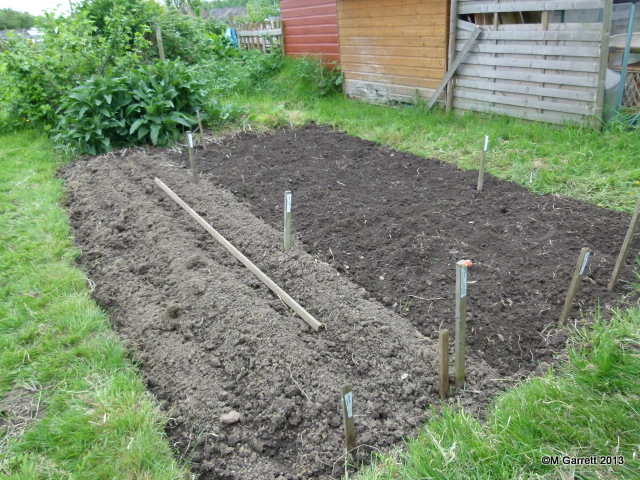 On Wednesday we had a day out spent mostly in Lancashire at Leighton Moss RSPB reserve. As usual most of the regular bird sightings went into hiding for our visit. I suspect some were well outside the range of our camera and video lenses.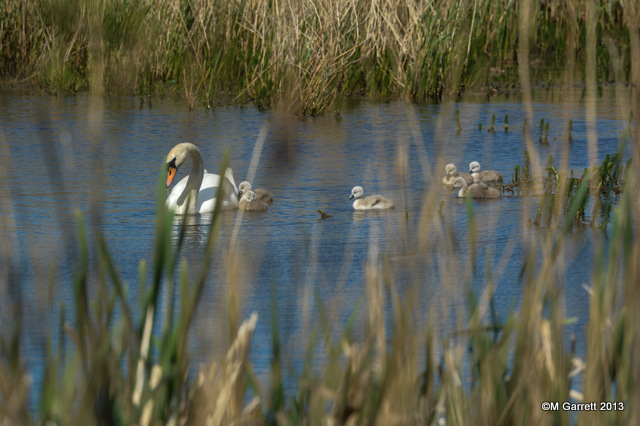 It didn't stop us having a very pleasant walk around the reserve stopping off at the various hides around the reserve.
Thursday 23 May 2013
Not Playing the Game
Gardening and allotmenting were on hold again today as the weather changed for the worst. Thursday produced the lowest average daily temperature of the month at only 7.1°C. Summer should be on its way but that seemed a long way off today.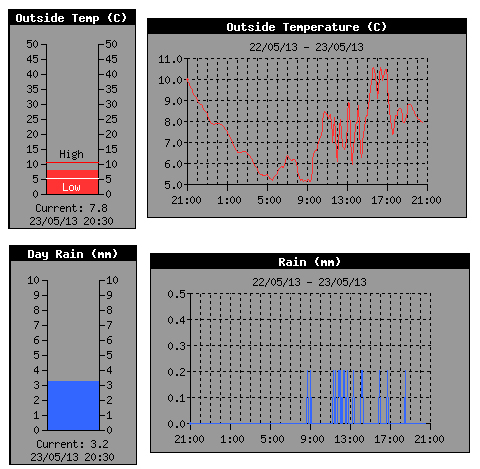 We had blustery showers of hail mixed with rain throughout the day and even a few very short spells of sunshine. All in all a pretty poor day for late May and a very different story from 23 May last year which went like this:-
In Search of Perfect Sunshine Trace
Wednesday produced another fantastic day with virtually unbroken sunshine and a new hottest day of the year 25.7°C (78.3°F) beating yesterday by 0.4°C.
The last couple of days have produced almost unbroken sunshine. Tuesday gave 10.2 hours of sunshine according to my weather station and the trace for the day looks like this.

Note: The reference to Tue 22 May is confusing but it is the start point of the chart which in this case is midnight on 22 May through to midnight on the 23 May.
Back in the real world of this spring we've had gale force winds over night and into Friday morning. The temperature hasn't improved much either only 7.4°C at 10:00 a.m. On a positive note the forecast for the Bank Holiday weekend isn't too bad. Roll on summer if this is spring.
Friday 24 May 2013
First Fledglings
Friday was another cold, wet and windy day. It was more a less a repeat of Thursday. I've seen talk of it being the coldest spring for about 30 years. It just doesn't seem like spring.
The bad weather didn't bother our goldfinches who brought their first fledglings of the year to out sunflower feeder. The youngsters were swaying about violently as the wind blew the rose branch they were perching on.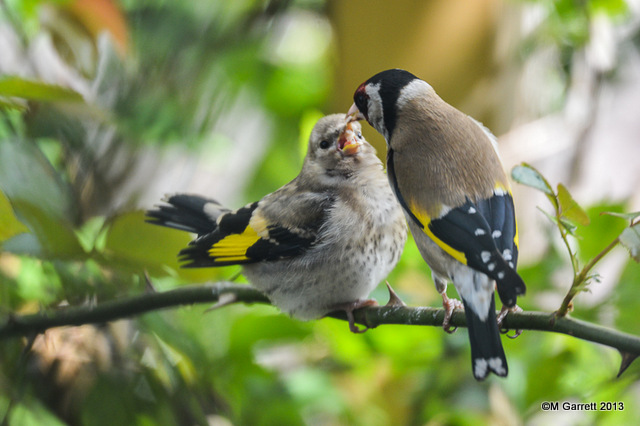 This youngster was getting his fill even when the branch was swaying about in the gale force wind.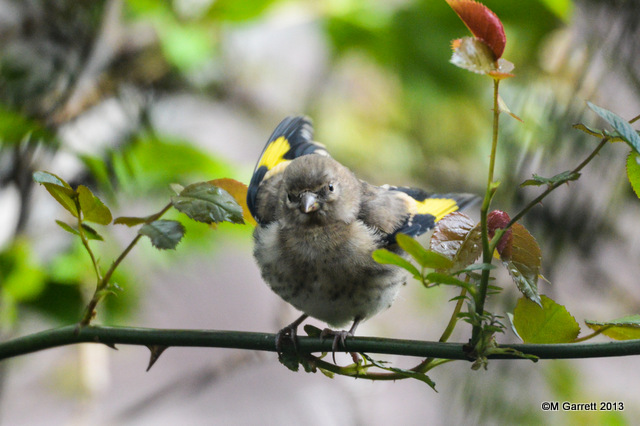 This young bird had to undertake a little bit of wing action to maintain its balance. I wonder who will be next to bring along their brood?
Saturday 25 May 2013
Aberystwyth and The Vale of Rheidol
Saturday was a lovely sunny day which was very fortunate for us as we had booked a day out at Aberystwyth and the Vale of Rheidol in Wales. We let the train take the strain as our specially chartered "Statesman" train picked us up in Leeds and transported us smoothly into mid Wales.
On the way from our train we managed to spot the ospreys of Springwatch fame at RSPB Ynys-hir but sadly no pictures. At Aberystwyth our narrow gauge steam train was waiting to take us up the Vale of Rheidol to Devil's Bridge.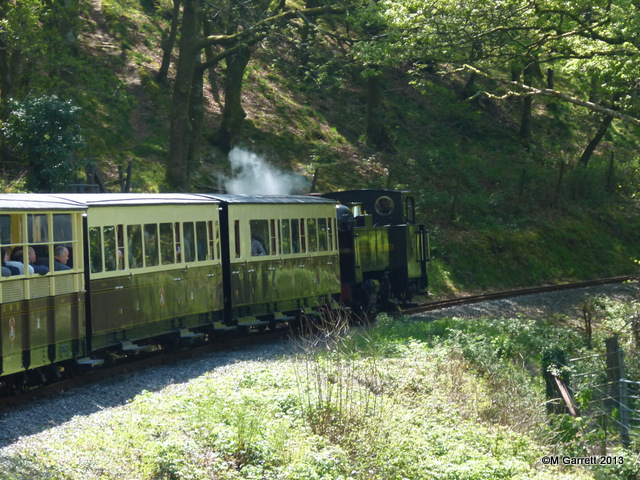 The views are absolutely stunning but the vastness is difficult to capture on camera. We even chose the cattle class carriages with open sides to get the best views and camera shots. It was cool and breezy on the train but still a beautiful little excursion.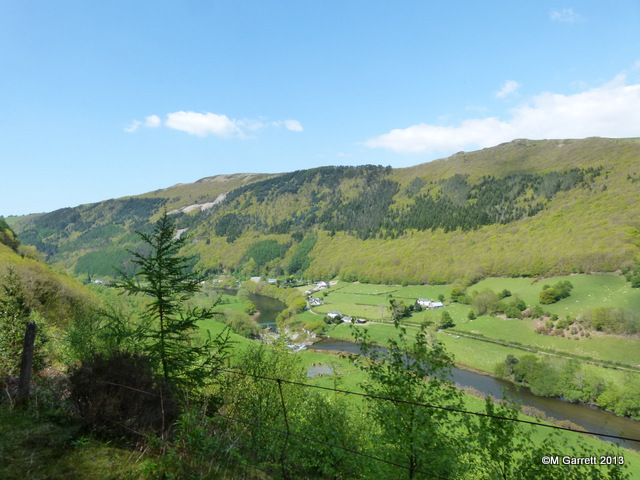 The steam train ride meant that we had no time left to explore the seaside town of Aberystwyth. It was a long day out with a great deal of travelling but we did gain an albeit too brief view of the stunning Welsh scenery.
Sunday 26 May 2013
Coconuts and Quinces
Sunday was sunny and warm with the temperature making it to a high of 20.5°C in the afternoon.
On the plot our quince "Meeches Prolific" is living up to its name at least if the flowers are anything to go by. It's difficult to photograph the tree in all its glory but the picture below shows the branches are absolutely covered in blossom.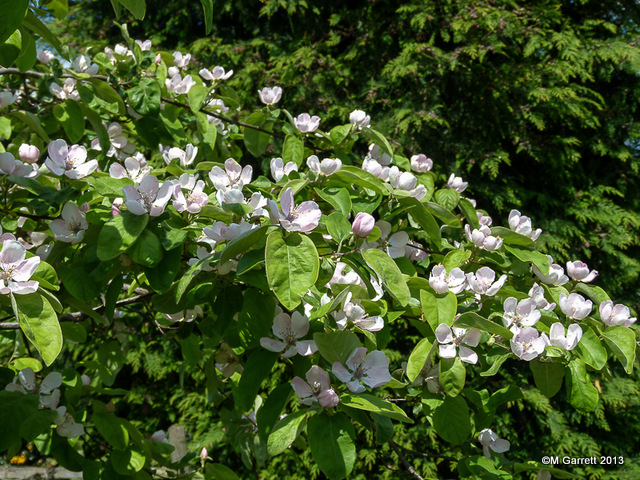 This is just a typical branch. It's obvious that the tree wouldn't be able to support such a weight of quinces should all these flowers set fruit. We'll have to wait and see what happens and decide then the appropriate course of action.
In the garden, by the pond, we have had a palm tree growing for many years. It began life years ago in a small pot and was moved into the greenhouse to over winter. The plant and pot eventually got so big that we had to take a risk and leave it to stand outside all winter. We needn't have worried as cold weather hasn't stopped it growing. Its now so big we couldn't move it very easily even if we wanted to.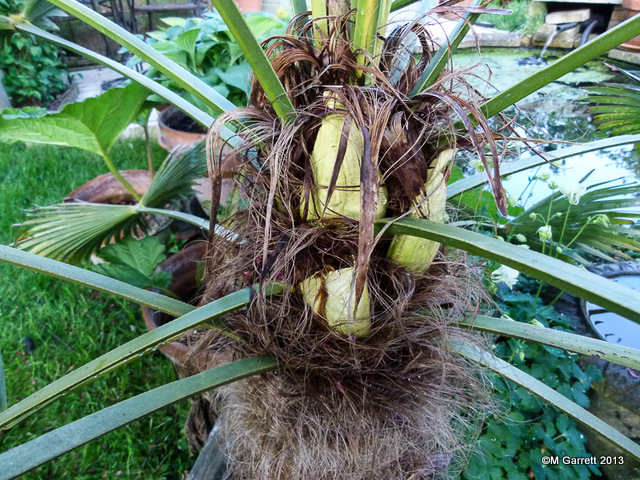 This year for the first time ever it looks like it's going to flower. It's developing enormous buds on the stem. I'm assuming these are flower buds as I've never seen a palm tree in bud. It's a pity it doesn't produce coconuts. That would be a first for Ossett.
Monday 27 May 2013
Cardoons
Another pleasant day although it did cloud over late in the afternoon.
On the plot our cardoons are looking really good. The old flower stalks from last year were removed and the bed was dug over ready to be planted up with sweet peas in a few days time.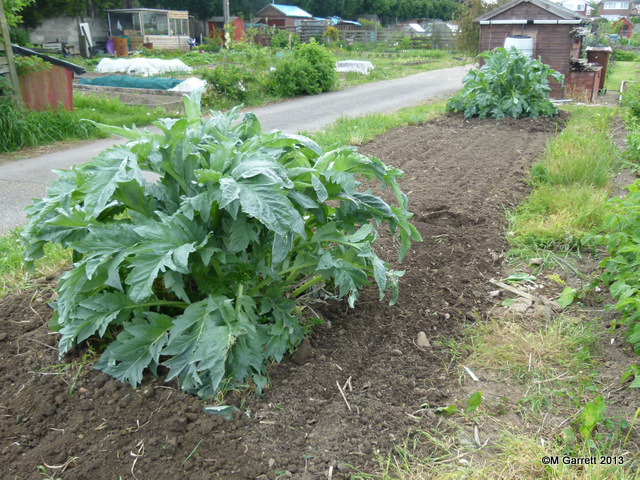 I need to get the paths strimmed and the edges of the bed tidied to finish off the job.
Sue was busy weeding around our carrots and parsnips which have germinated well. Even though we'd used weed control fabric some weeds had grown in the compost drills in which the carrots were sown.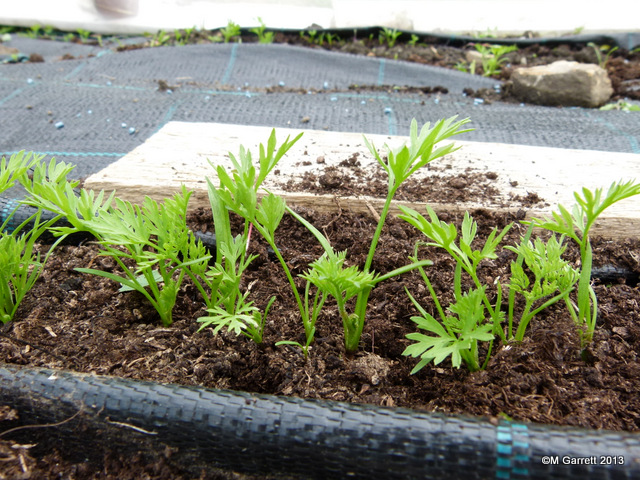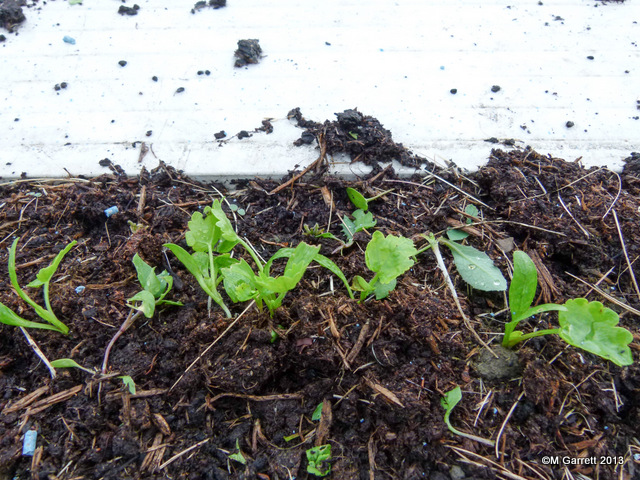 Now all the competition has been removed we're hoping that the carrots and parsnips will grow on with a minimum amount of attention. The best laid plans…….
Tuesday 28 May 2013
A Year On
Tuesday wasn't a very pleasant day with rain on and off all day. It was only light rain amounting to 3.6mm for the day.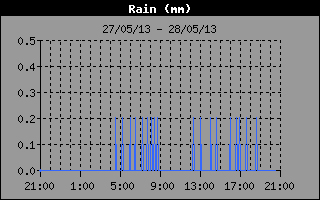 Last year 28 May 2012 was our hottest day of the year with the thermometer reaching 28°C a far cry from yesterday's high of just 13.9°C. The temperature comparisons are shown below.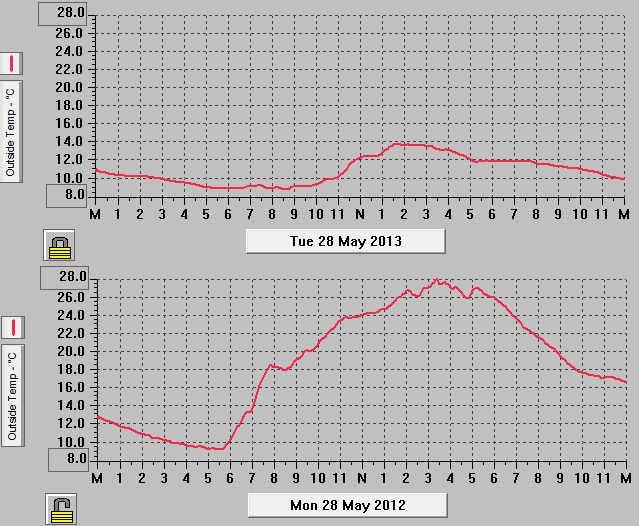 Funny isn't it because I thought last year was pretty bad but this year is even worse. It's only a couple of days before summer starts meteorologically speaking.
Wednesday 29 May 2013
Sparrowlings
Wednesday was a repeat of yesterday but with more rain. It's definitely not gardening weather.

Timescale Midnight Tuesday 28 May to Midnight Thursday 30 May at 10:00am on 30 May
The rain might have put gardening on hold but it hasn't stopped the sparrows bringing their fledglings into the garden. We had a whole flock feeding and drinking today.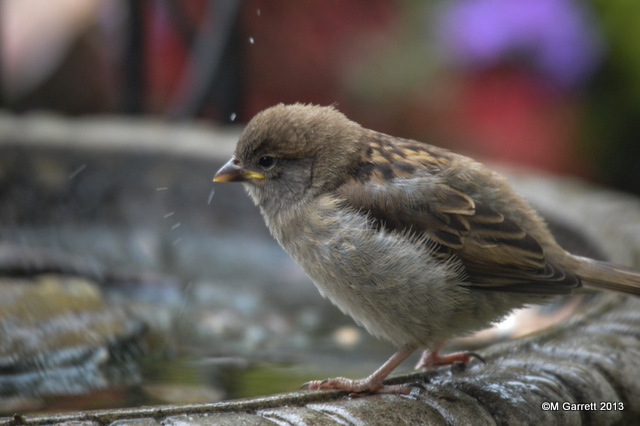 Always so inquisitive this one had already managed to find a drink although the bird bath was in need of a refill. Some looked rather more unsure about the great outside world.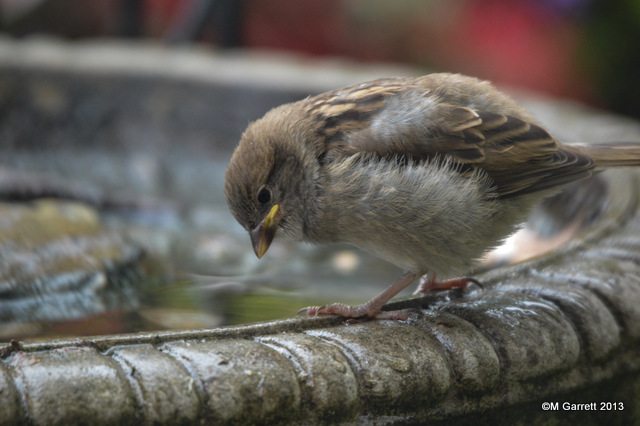 As the weather's still not very good the challenge today might be to capture some young starlings. Unless of course we have an unusual visitor into the garden.
Thursday 30 May 2013
Starlinglings Today
Thursday was an improving sort of a day with the rain of the last few days clearing away at last. It remained cool though with the temperature only reaching a high of 13.8°C.
There's talk about how cold our spring has been this year. Here are my unofficial figures with only one more day to go. The 3 month average for March, April and May won't change much with the addition of a single day.
| | |
| --- | --- |
| Year | Average Spring Temperature °C |
| 1917 | 7.13 |
| 2013 | 7.02 |
| 1951 | 7.00 |
| 1941 | 6.97 |
| 1962 | 6.93 |
By my reckoning that makes it the coldest spring since 1962. No wonder then that everything in the garden is late.
The starling fledglings arrived at the bird table today. As soon as they arrive their squawking can be heard as they demand feeding.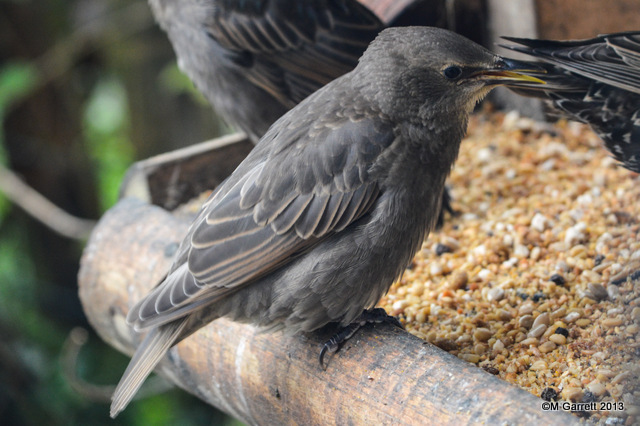 There wasn't enough space on our bird table for the whole brood and some waited rather impatiently in the magnolia tree for their turn.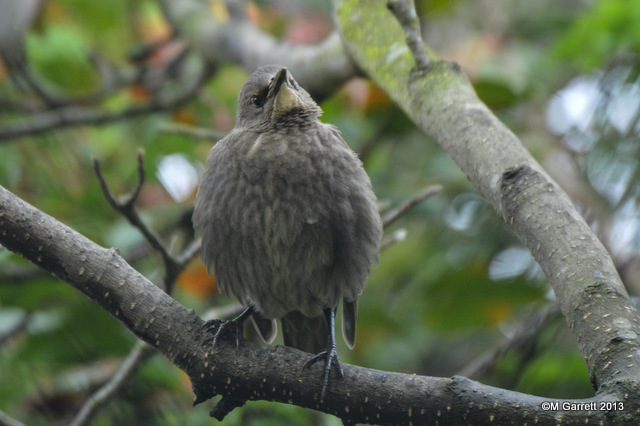 I've still to see any blackbird, robin or blue tit fledglings. I'm sure they've all got nests nearby so it should just be a matter of time.
Friday 31 May 2013
More of This Please
Friday was sunny and warm a lovely change from the last few days of cool, wet conditions.
Despite the cold weather a little part of the garden looked a little tropical as besides our palm deciding to flower for the first time ever our pot grown gunnera next to the palm is forming a flower too. I'm not sure how such a moisture loving plant is surviving in a pot but it is.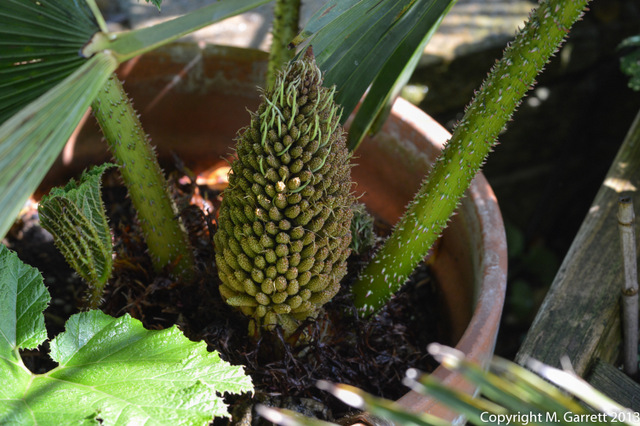 I'm hoping that we can get down the allotment this weekend and get some planting done as our cold-frame is full to bursting with young plants ready for the plot.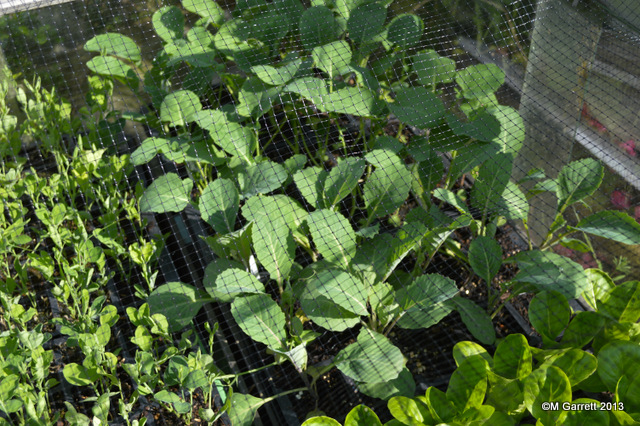 We've got all sorts of brassicas, broad beans, lettuces, and sweet peas all ready for planting out.