2012 Records 2011 Records 2010 Records 2009 Records





Friday & Saturday 08/09 February 2013
Rain and Snow
The weather has continued in its dull and cold mood for the last couple of days with temperatures below average for February.
On Saturday we had a visit up into the Yorkshire Dales. It was cold and murky making taking pictures a challenge. There was still some snow about on the tops, well really the middles as we couldn't see the tops for the low cloud.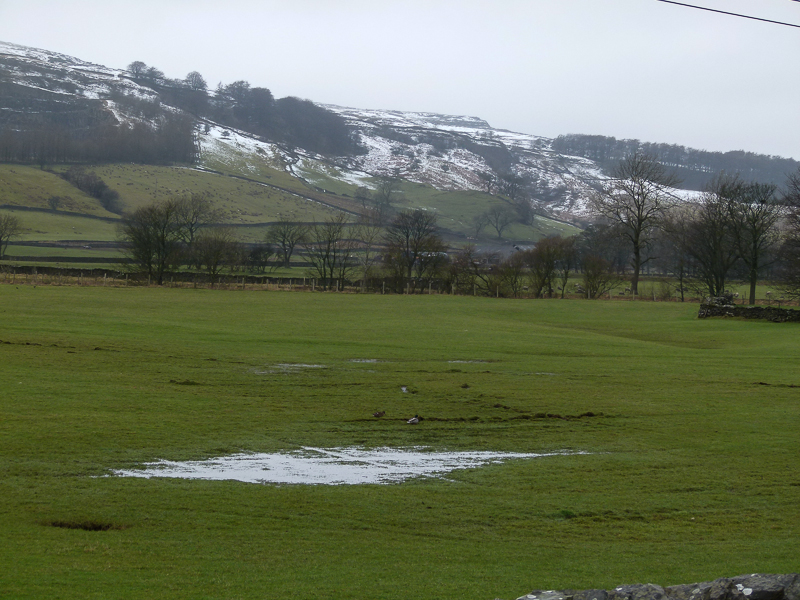 With the lower slopes still waterlogged it's going to be a difficult start for the farmers up there.
Sunday 10 February 2013
Didn't We Do Well
For us at least the forecast of lots of snow on Sunday didn't happen. We had plenty of rain, steady, rather than any heavy downpours amounting to 9.8mm. Late in the evening the rain did turn to wet snow and we did manage a covering. By Monday morning this had mostly disappeared but it still remains cold with temperatures just above freezing.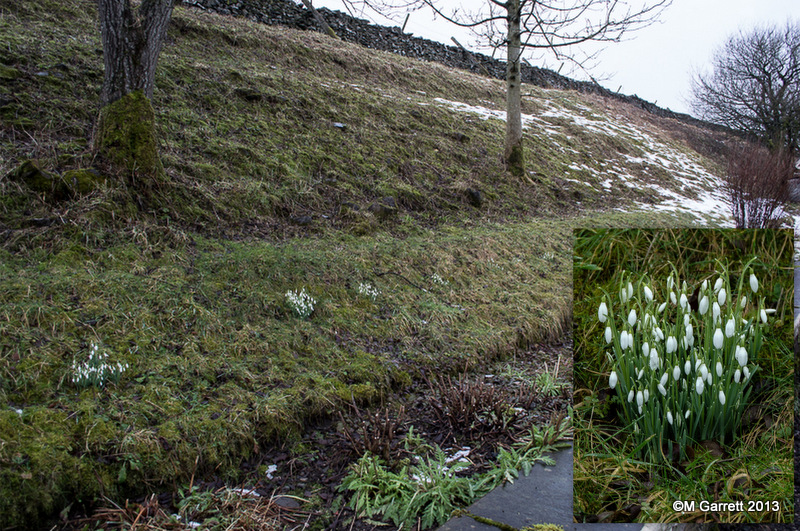 These snowdrops are almost out. They weren't photographed in our garden but up in the Yorkshire Dales at Horton in Ribblesdale on Saturday. Our garden snowdrops are a little bit behind these despite their more favoured location. I'm not sure snowdrops are any sign of early or late spring just a sign that spring is on the way.
Just for good measure we've had our gas turned off for the day as our supply network is upgraded. It's hoped that it will be back on for 16:00 but it's going to be pretty cold in the house by then. That will be 7 hours with no heating. The current outside temperature 2.5°C.
Monday 11 February 2013
Early Broad Beans
The last bits of the overnight snow disappeared slowly through the morning amounting to 1.4mm in the rain gauge. It was another cold damp cloudy day as forecast. At least there's the hope of some milder weather towards the end of the week.
Last year we tried autumn sown peas and they didn't work so this year to be different we decided to try broad beans instead. Rather than plant directly on the plot I decided to sow them in pots and look after them at home where they could be given a bit of winter protection if required.
They were sown on 15 August from a free packet of seeds. I've since decided that this might have been a little bit early but I felt I needed good strong plants to get though winter.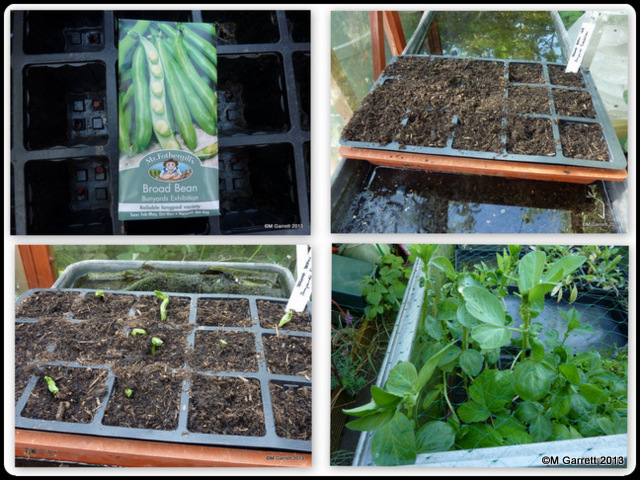 All the early signs were good. The beans, Bunyards Exhibition, soon germinated and grew away well as the plants in the bottom right corner of the picture above shows. This was 18 September and I left the plants in our cold frame with the intention of moving them into the greenhouse if really bad weather threatened. Of course the bad weather came and I didn't give the beans a second thought.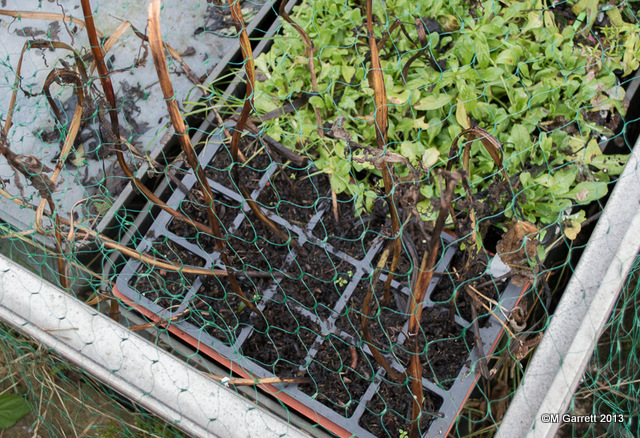 The beans are in a sorry state now after the cold weather. They're the brown stalks sticking out of the 15 cell module. I don't think I need leave them to see if they will have a second coming. They've had it and I'll just start an early crop off in the greenhouse as usual some time towards the end of the month. Maybe I'll have another go next year but perhaps it's not really worth the effort to get beans a week or so earlier than we normally do especially as we still have plenty of last year's crop in the freezer.
Tuesday 12 February 2013
Cold and Dull
Tuesday continued the cold and mostly dull theme that the weather is stuck in.
Wednesday looks a different matter altogether with snow arriving courtesy of a weather system bringing in rain and snow from the west.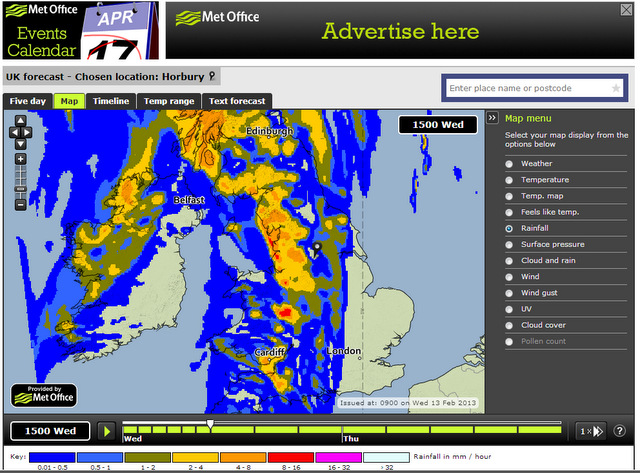 This is the forecast precipitation for the middle of Wednesday afternoon. Will it be rain or snow? The good news is that there is much milder air coming in so any snow should turn quickly to rain and bring the possibility of more normal February temperatures on Thursday.
Wednesday 13 February 2013
Woodpecker Log
The predicted snow arrived on Wednesday but thankfully not in the quantities predicted but enough to have caused temporary traffic chaos locally. It started to snow around lunchtime and continued snowing lightly until darkness fell when it turned to more drizzly rain. The temperature didn't manage to rise much above 1°C all day so the day's precipitation didn't register on my rain gauge. That should happen tomorrow when much milder weather is forecast.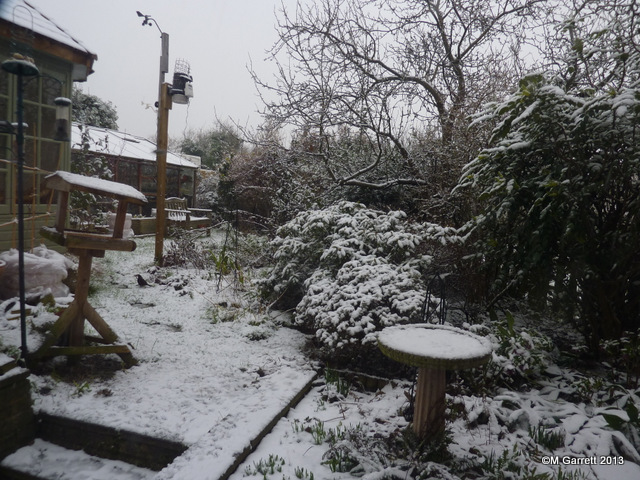 It was a good opportunity to try some more bird pictures in the afternoon as our regular's made most of their stock of food on the bird table and hanging feeders.
This week Sue refilled our empty half coconuts and woodpecker log with home made fat cake. We hoped that the birch log filled with pockets of food would attract our rather reluctant woodpecker, that we only see now and again, into the garden.
The log has been refilled several times now but we certainly haven't caught sight of our woodpecker. I did catch one of our numerous blackbirds having a crafty look from the back of the log today with what looks like fat on his beak. I suspect he's found a way to peck out the fat cake filled holes.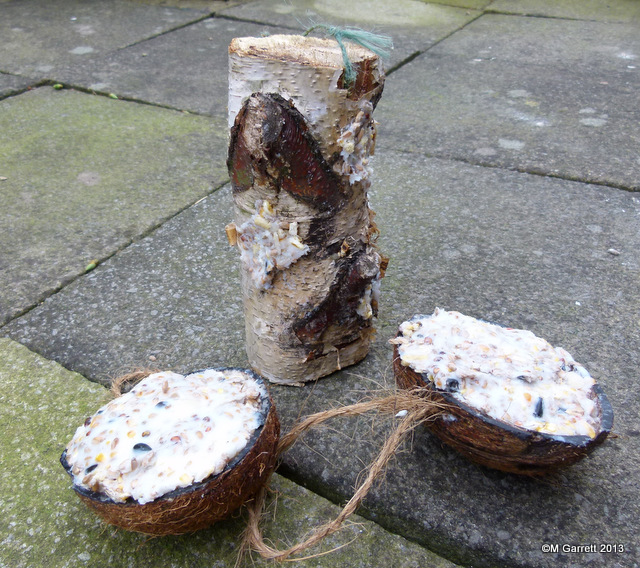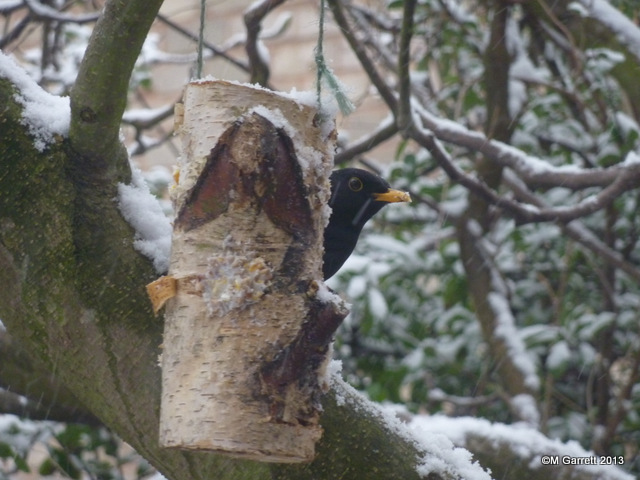 The coconut halves are favourites with the blackbirds and starlings. The blue tits, great tits and robin will happily eat from the coconut if they're given a chance by the dominant blackbirds and starlings.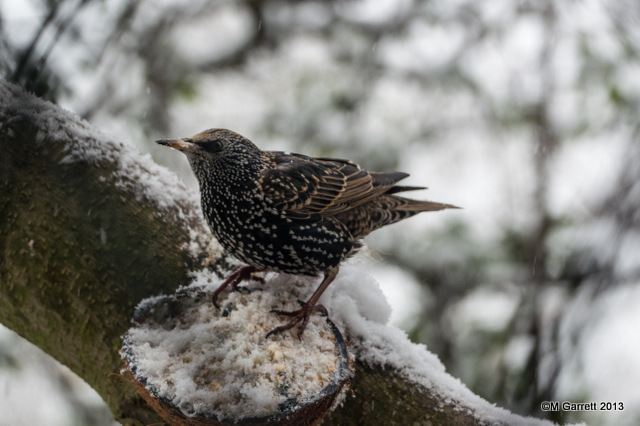 With a bit of luck the coconut will last them a couple of days before it needs a refill. If it's warmer tomorrow I'm sure the birds too will welcome a change in the weather.
Thursday 14 February 2013
Final Potatoes Arrive
Thursday was a massive improvement weather wise. Yesterday's snow melted overnight as the temperature lifted and we even had a few sunny spells through the day. According to the BBC some places had their warmest February day this year but that wasn't the case for us as we managed a just above average 8.4°C by 13:30.
It didn't manage to beat the 10.2°C on the 04 February which was rather bizarrely recorded at 03:00.
Our final seed potatoes arrived today from D T Brown. These final two varieties are Vales Emerald which we liked so much last year that we were determined to give it another go and Harmony. This is a new potato to us which we are hoping will provide us with some good size baking potatoes. It's a Scottish bred early maincrop variety.
Now a milder spell of weather has arrived I think it's time our seed potatoes came out of the garage and into the greenhouse to start chitting. It's also time that we planted some onion sets into modules to give them an early start. These will grow on in the greenhouse until space is required for more tender early crops probably some time in April.