2012 Records 2011 Records 2010 Records 2009 Records




Friday 15 November 2013
Nondescript
Friday was dull and cloudy but reasonably mild with the temperature making it to 9.9°C in the afternoon. We had a visit to the plot to do some more tidying up before the weather turns colder as it's forecast to do next week. We're just about on the southern extent of the snow showers at the moment and I'm hoping it stays that way. The forecast doesn't seem to be anything too extreme just what we might expect towards the end of November.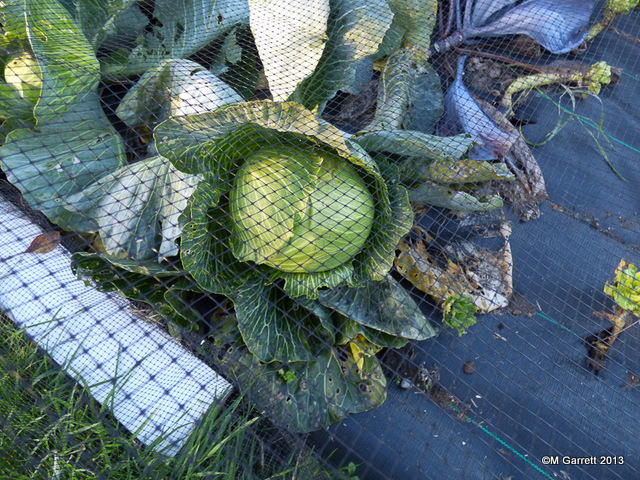 Sue took this picture of our rather giant Kilaton cabbages the other day. This is a club root resistant variety and if you look closely you can see the stems and minuscule heads produced by cabbages that aren't listed as club root resistant. The large expanse of visible weed control fabric is another testament to how badly the "other" types of cabbages performed.
I'll certainly have to keep a record of the beds that are badly affected by club root and avoid planting brassicas in them to try to reduce the chance of this happening again.
Saturday 16 November 2013
Well Behaved Carrots
Saturday was another dull but mild day. It was especially mild overnight with the temperature not falling below 8°C and rising to 11.6°C during the day.
On the plot we finished off the last bit of digging and tidying up of the refurbished beds on plot 28. The beds have been dug and weeded and are hopefully ready for planting next spring. We're left with a large pile of bits of old timber which will burnt once its dried out.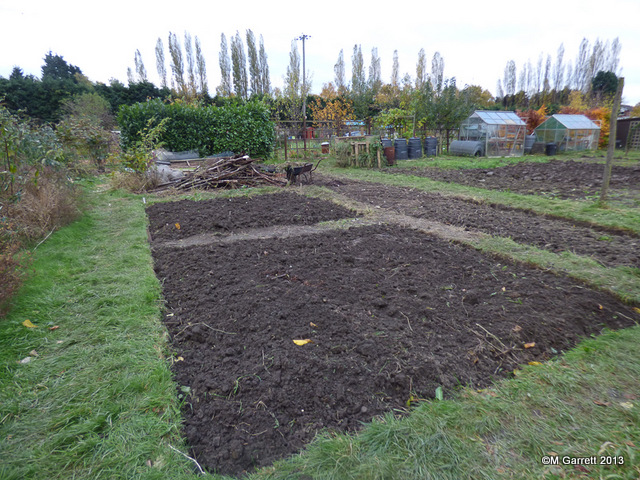 I also dug up some carrots whilst we were at the plot. This year we tried a new variety for us called Chantenay Royal from Kings Seeds.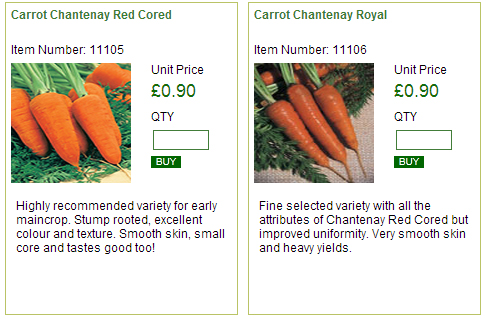 Well this carrot seems to live up to its catalogue description. As I was digging them up its uniformity was the bit that I noticed compared to our other varieties of carrots. As we never thin out our carrots after sowing we tend to get all shapes and sizes and rarely the perfectly shaped specimens seen in the seed catalogues.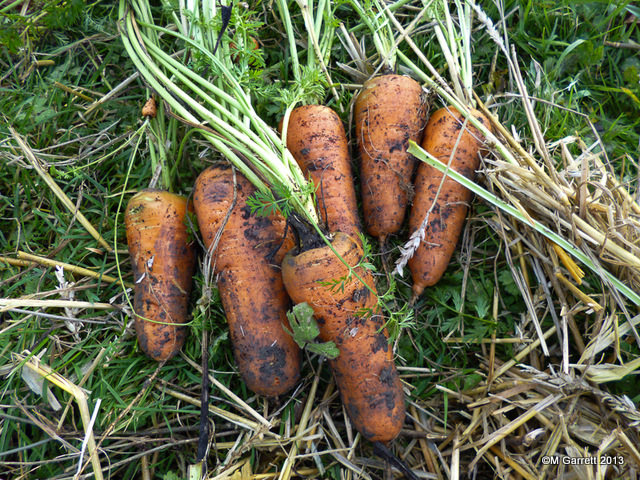 Chantenay Royal seems to have done better than most and produced a crop of large uniform carrots. It's passed the taste test with flying colours and we've even frozen a few roots, tested them and they too have tasted fine although not up to the quality of freshly dug carrots.
It will be interesting to see how its keeping qualities match up to our other carrots which will be protected with straw and left in the ground over winter.
Sunday 17 November 2013
Dull and Mild
Sundays weather continued in the same mode as the last couple of days, dry, cloudy, and mild.

Our more normal night time temperatures are those of Tuesday night into Wednesday morning and Thursday night into Friday morning with the temperature falling to just above freezing but over the last week we've had five nights that have been mild for the time of year.
All that is forecast to change this week cooler temperatures are predicted with overnight frosts.
For the last two days there's been little difference between our daytime highs and night-time lows with the temperature only varying by a couple of degrees.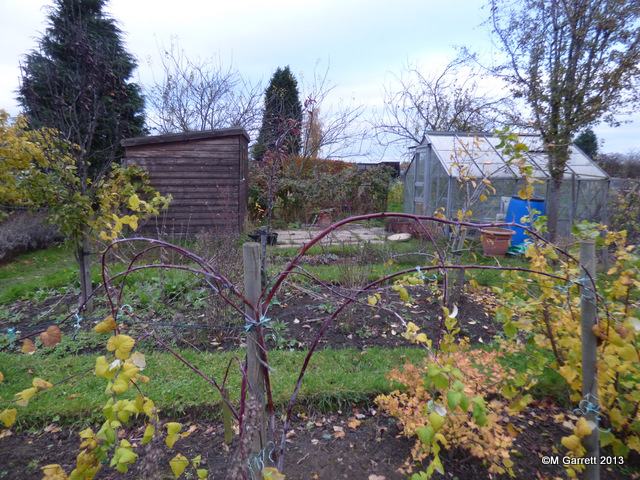 Monday 18 November 2013
A Change
Monday continued the mild and cloudy spell of weather but with a little light rain in the afternoon.
As widely forecast the weather changed overnight into Tuesday morning with the dull and mild conditions replaced by clear and colder conditions. Surprisingly after all the hype give to the fall in temperatures it wasn't the lowest temperature of the month as the thermometer tumbled to 0.9°C leaving 04 November the coldest at 0.1°C
Tuesday morning has started off cold and sunny a complete change from the dull mild weather of the last few days and will more than likely produce our coldest daytime temperature of autumn.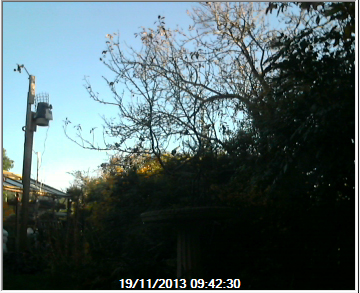 Tuesday 19 November 2013
RSPB Old Moor on a Cold Sunny Day
After the big lead up Tuesday did turn out to be our coldest day of the month with an average temperature of 2.2°C. With a night-time temperature of -0.8°C it's the first time our thermometer had fallen below zero this autumn.
We decided to make the most of the sunshine and visit RSPB Old Moor. The temperature was only just above freezing but we decided to wrap up warm and with a bit of luck we should get some pretty stunning bird shots on such a sunny day. Only problem was the birds didn't play ball and not one single bird came within reasonable camera range all afternoon.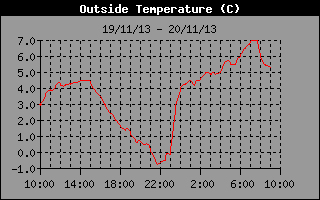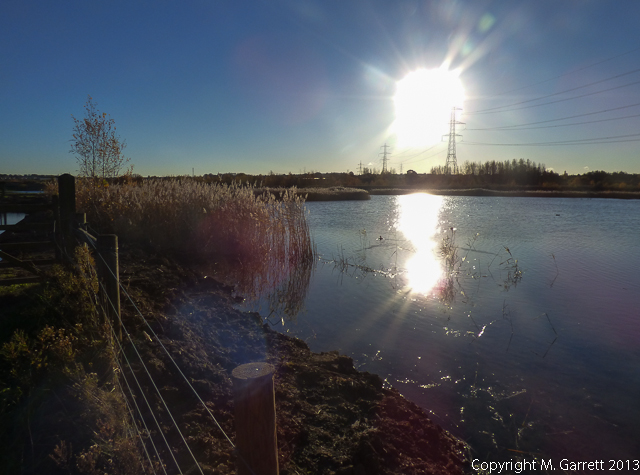 The clear blue sky made for some superb shots despite the lack of birds. Sue took to taking some scenic shots to make up for not having any bird pictures to capture. Even though we are so far into November some trees are holding on to their autumn colours amazingly well. This old oak tree still has plenty of leaves.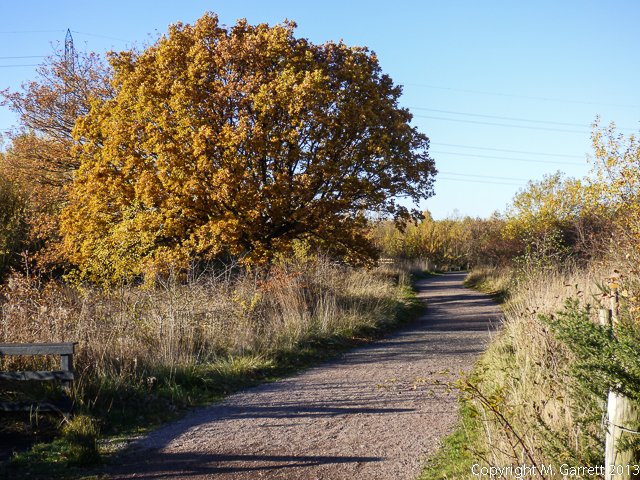 Although there was plenty of sunshine in the shady parts of the path the grass were still white over with frost in the middle of the afternoon.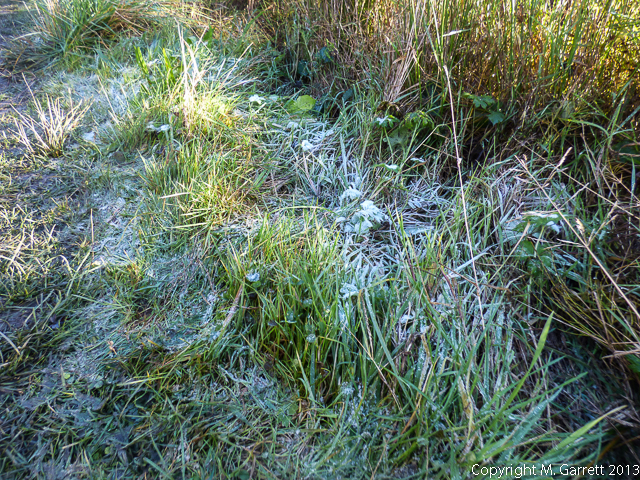 So for us the cold snap was just that a very brief day long spell of cold weather towards the end of November.
Wednesday 20 November 2013
Camera Musings
Wednesday wasn't a bad day after some overnight rain cleared away quickly in the morning leaving some decent sunny periods before it clouded over again by the middle of the afternoon. In the early evening it started to rain and despite the forecast for showers dying out it continued to rain through to around midnight. The rainfall amounted to 15.2mm a good job it wasn't snow.
During Tuesdays visit to RSPB Old Moor with no birds to photograph Sue and I tried out our cameras to see just how they compared. Firstly this is what I managed to photograph with my point and shoot Panasonic camera.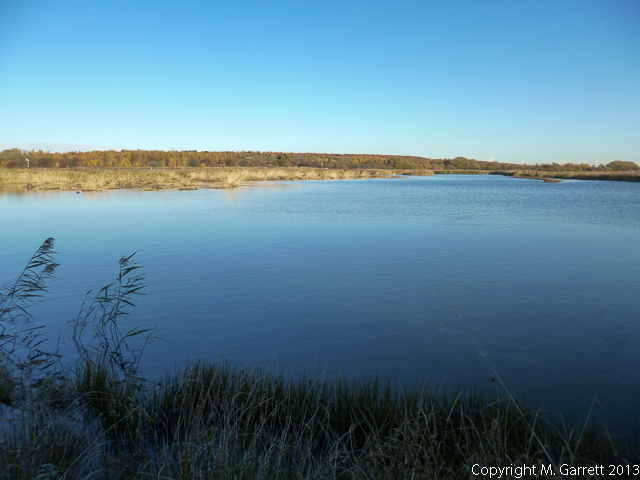 This is a simple shot with my camera and is pretty obviously just a general shot looking out from the hide over the reserve. You might not be able to spot that right in the middle of the picture on the far bank of the lake is a large nesting box. It might be point and shoot (Panasonic FS45) but it takes images with lots of Megapixels so it's possible to zoom into the image and see the nest box. The above image when taken by my camera was 4608 x 3456 pixels and used 6.12Mb. For blogging purposes it's been reduced to 800 x600 pixels and just 0.47Mb.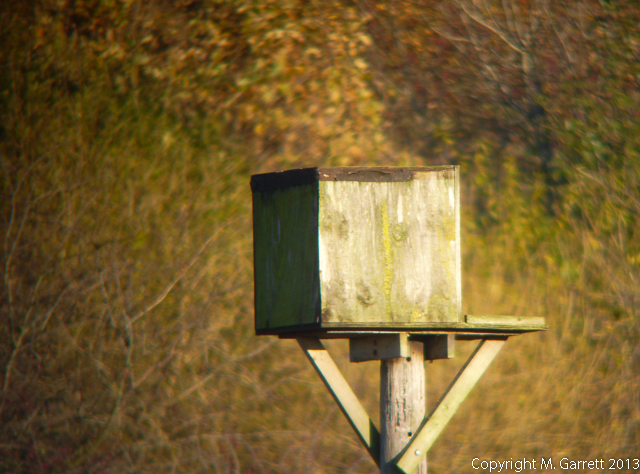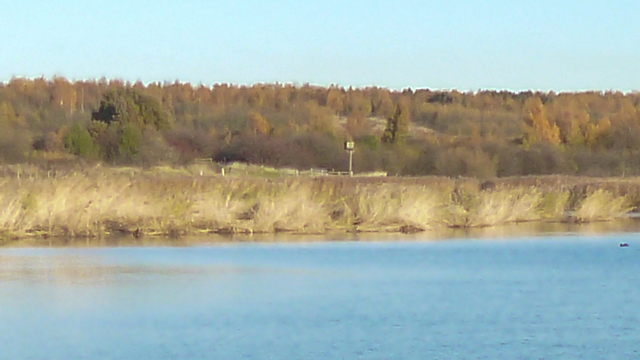 This is a view of the nest box obtained by enlarging and cropping the original 6.12Mb image. The nest box can be identified but enlarging any further results in a very blurred and pixilated image of the nest box.
Now if I use my telescope to do a little bit of digiscoping and take a picture from the telescope eyepiece with the same point and shoot camera I can get a much enlarged shot of the nesting box.
Of course it's much easier to digiscope with an inanimate object that doesn't fly away or run off as wildlife has a habit of doing. It does take a while to set everything up and focus both telescope and camera on the object you want to photograph. Still if there an any birds to take I can happily click away until my camera battery runs out. Most images will be deleted but you never know when you might be lucky and capture a really good image.
This is another shot from the hide this time taken with Sue's Panasonic FZ72 super zoom camera looking out over the reserve. We spotted some cormorants in the small lake in the middle of the picture. Sue captured the picture below but ventured into the extended zoom capability of the camera beyond its optical range of 1200mm based on 35mm camera technology.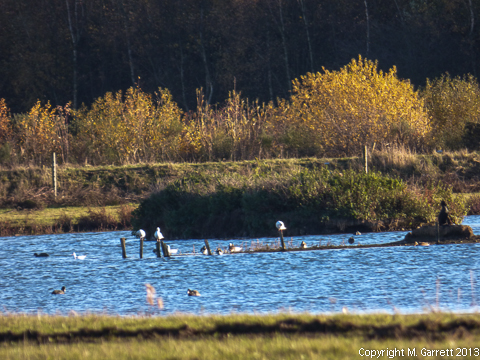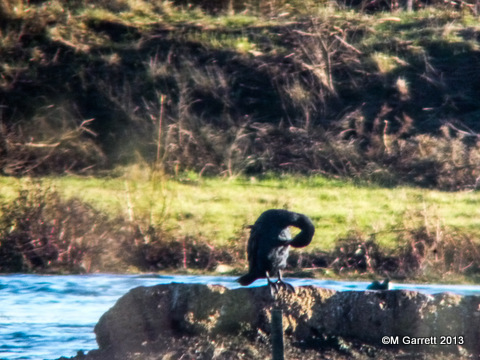 At this setting the photograph is taken with the equivalent of a 1325mm telephoto lens using 35mm camera zoom lens equivalent. It's difficult to hold the camera steady using such a powerful zoom lens but provided the image isn't enlarged too much then it's quality not too bad. We may have to try with a small tripod to see how much the quality is improved by keeping the camera steady whilst the picture is taken.
Again digiscoping produces a closer up image of the birds but again holding the camera steady to actually take the picture is almost impossible resulting in a slightly blurry image but at least it's possible to distinguish that some of the birds virtually out of sight were indeed cormorants.
It's the act of pressing the shutter that cause movement so I might try some video with the camera and then check the quality of images grabbed from the video.
Perhaps it would have been much better if we'd actually had some birds to photograph rather than having time to mess around with our cameras.