2012 Records 2011 Records 2010 Records 2009 Records





Friday 14 June 2013 to Sunday 16 June 2013
Last of the Potatoes Planted
Not much to say about the weather over the last three days. We did get our first rainfall of the month but it didn't amount to a great deal and stands at just 9.2mm for the month.

The yellow gives an indication of the sunshine amount for each day.
On the plot our last two rows of potatoes were finally planted. These were mostly Nicola along with just four tubers of Nadine. Our potatoes planted earlier are doing well. In one bed are a row of Swift and Vales Emerald both planted on 15 April 2013.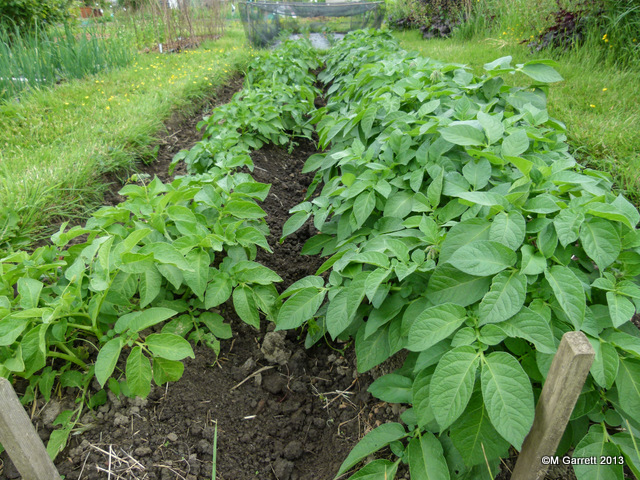 Vales Emerald is on the right and is growing quicker and stronger than Swift. These are our first early potatoes and Vales Emerald is just starting to form flower buds and appears to be well in front of Swift.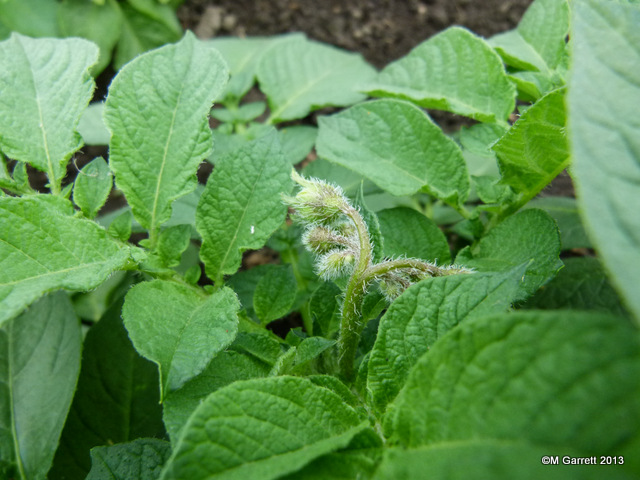 Our bed of main crop potatoes (second earlies) planted up on 20 April 2013 includes Charlotte, Nicola, Nadine and Winston are also doing well although they are in need of a little bit of weeding around the edge of the bed.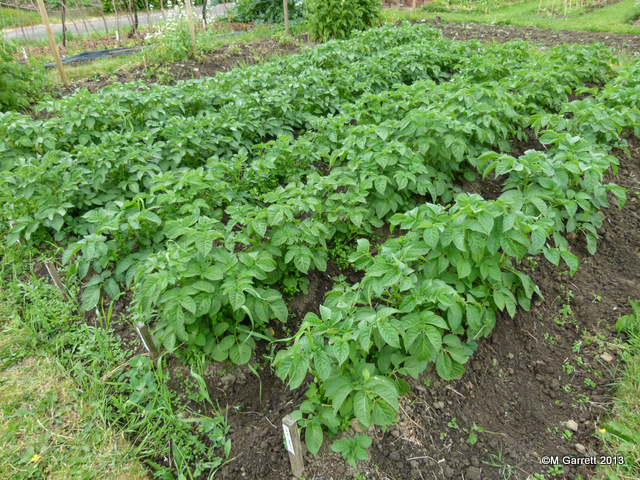 It will be interesting to see what sort of crop we achieve from the potatoes planted so late into the season. Our mint is growing well so as soon as the flowers go over on our Vales Emerald I will be investigating to test out the crop.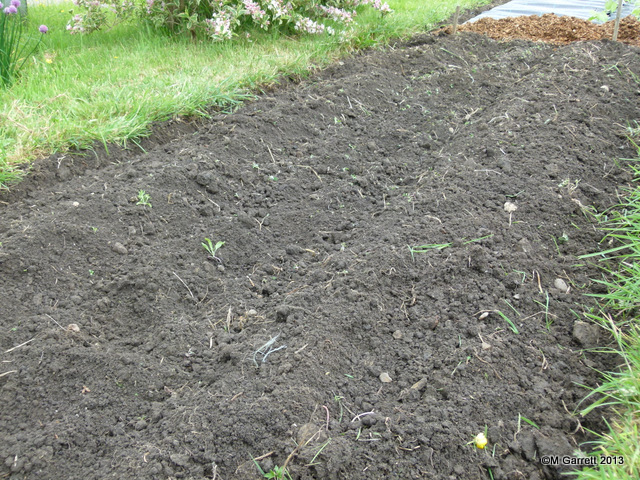 Monday 17 June 2013 to Tuesday 18 June 2013
Is the Wait Over?
The weather wasn't bad for Monday and Tuesday with more sunshine than forecast.
Things are moving on quickly on the plot now. Those potatoes' flower buds in my last post are now open and one of our other potato varieties, Marfona, is starting to form flower buds too.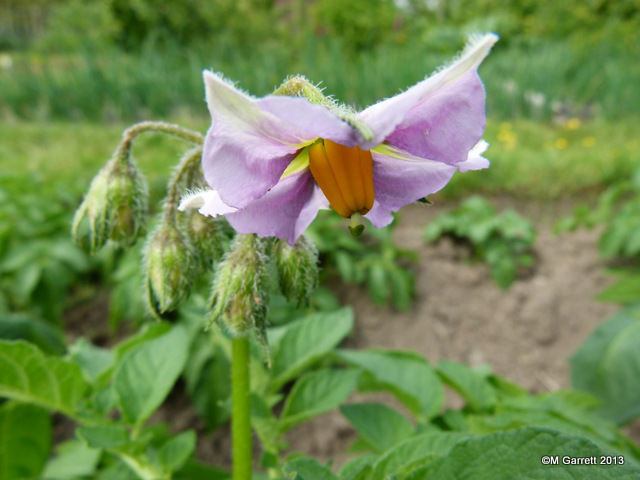 It's almost a month since we harvested any fruit or vegetables from the plot. We usually manage a better supply through winter. I suppose we could have harvested some rhubarb over the last few weeks but certainly we had no other crops to pick. The signs are that the wait for some produce will soon be over. On Tuesday we picked our first few strawberries of the season.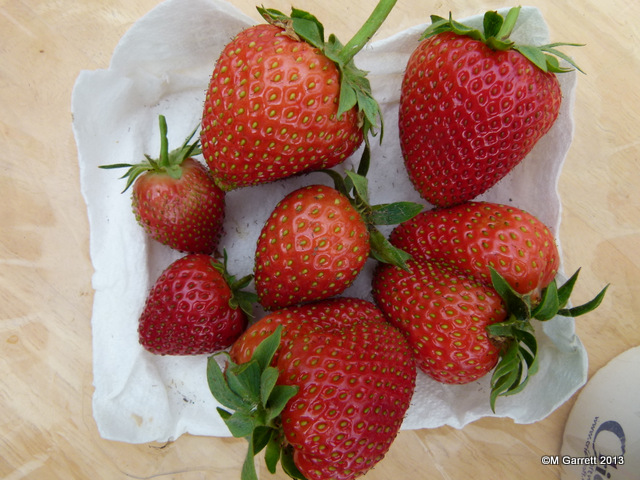 Not many as you can see but 141 gms or 5 oz of absolutely superb tasting strawberries. We're hoping that this is just the start of a good harvesting season.
Wednesday 19 June 2013 & Thursday 20 June 2013
Summer for a Day
As widely predicted by the weather forecasters Wednesday was our warmest day of the year but only by a smidgen. The previous warmest day was 06 May when the temperature managed 23.0°C and Wednesday managed 23.3°C.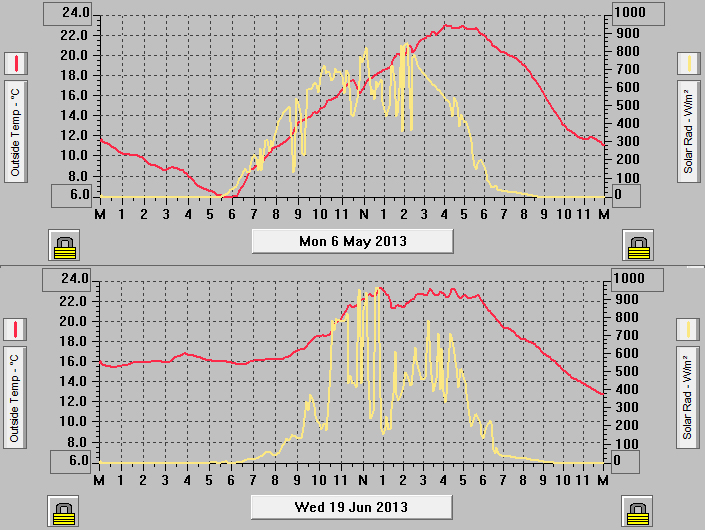 On 06 May we had a much brighter sunnier day with 10.4 hours of sunshine recorded and only half as much on Wednesday with 5.2 hours. The average daily temperatures are also very different as it was mild all day on Wednesday producing an average daily temperature of 18.2°C. Monday 06 May got off to a pretty chilly start and only managed a daily average of 14.6°C.
Summer only lasted the day though as Thursday was dull with some welcome rain starting early evening.
So far June's temperatures are about average and certainly much warmer than last year's cold and very wet June.

Friday 21 June 2013
Strawberry Timings
We managed it the right way round for a change on Friday as after a dull morning we decided to visit the plot in the afternoon. No sooner had we arrived when the clouds melted away and the sun came out and we had a lovely mild sunny afternoon.
We managed to pick some more strawberries, mostly Marshmarvel with some Flamenco and Alpines thrown in for good measure.
Last year we started picking strawberries on the 18 June which is just the same date as this year. However, in 2011 when we didn't have such a cold spring and poor early summer weather we picked our first strawberries on 20 May. It just goes to show how poor spring and early summer weather delays cropping.