2012 Records 2011 Records 2010 Records 2009 Records




Tuesday 15 January 2013
Freezing Cold and Snowy Bird Pictures
Tuesday night into Wednesday morning produced the lowest temperature of the winter so far with a bitterly cold low of -5.8°C at 04:37 on Wednesday morning. That's our coldest night since 23 February 2012 when the temperature fell to -5.9°C.
On Tuesday I decided to try out some bird pictures as we had lots of birds coming to the feeders in the cold weather.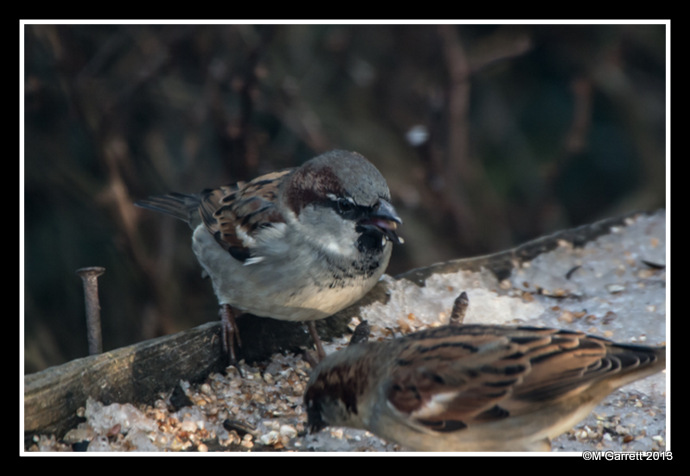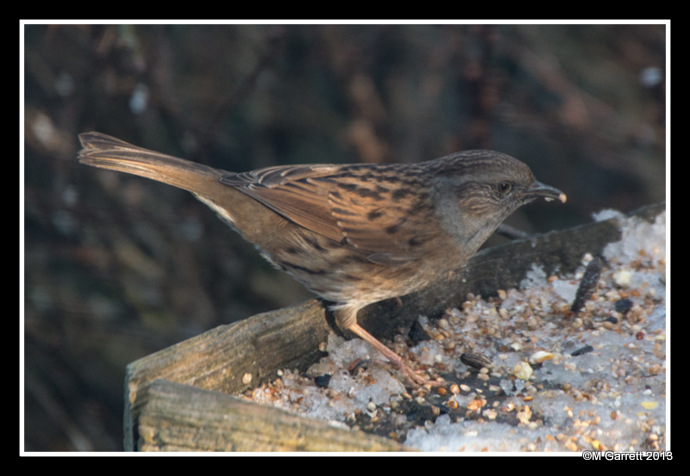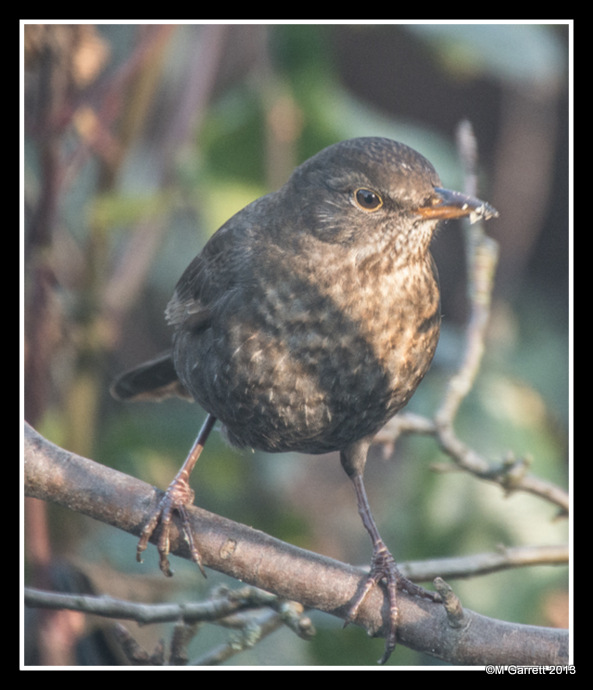 Wednesday 16 January 2013
Serious Cold Spell Sets In
The month may have got off to a mild start but there can be little doubt that we have no entered into a spell of seriously cold weather. It didn't get above freezing on Wednesday with a high temperature of -1.9°C and early in the morning a low of -5.8°C and an average daily temperature of -3.3°C.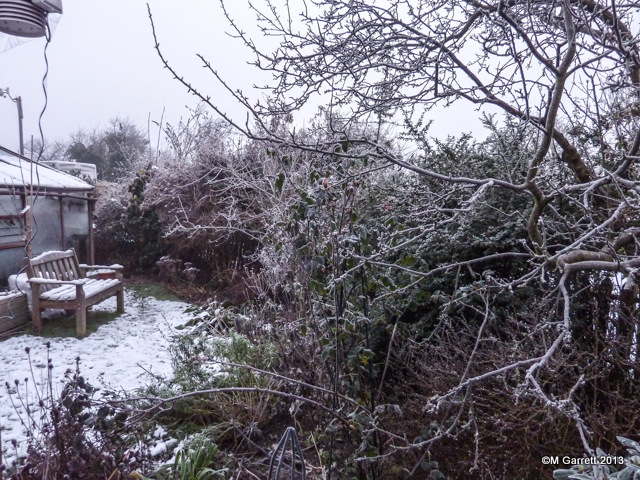 It turned out to be our coldest day since that record breaking cold December of 2010 when on 21 December 2010 we had a low of -10.1°C, a high of -3.5°C averaging out at -7.4°C for the day.
With snow forecast for Friday and over the weekend and the cold spell extending into next week it's going to be a testing time for plants and wildlife.
Thursday 17 January 2013
Below Zero
Thursday was another day of below freezing temperatures although it wasn't as cold as Wednesday with a low of only -4.1°C. It did warm up through the day with the thermometer hovering just below 0°C for most of the day. In the early evening we had a sprinkling of snow. The next three days are forecast to be snowy.
Whilst we were out we took the opportunity to capture some of the trees still covered in hoar frost.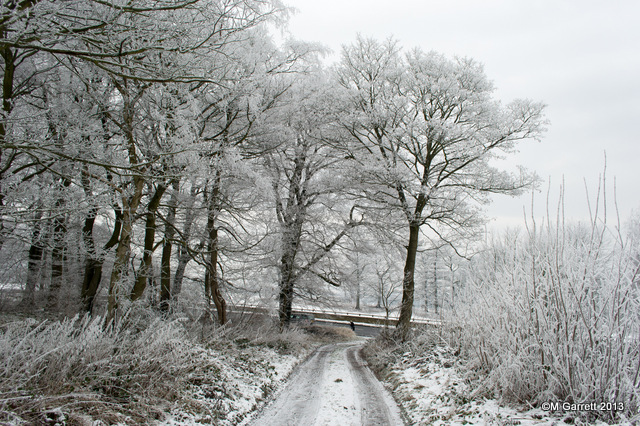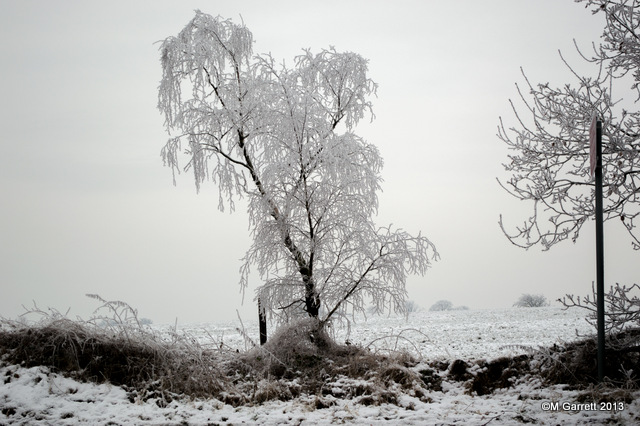 These were taken on a trip to the garden centre to buy some capillary matting and vermiculite. Not that we can do any gardening at the moment!
Friday 18 January 2013
Escaped Lightly
By the time Friday morning came our forecast was for light snow starting mid afternoon and continuing into the evening which turned out to be correct. Once again it was a cold day with the temperature hovering just below the 0°C mark all day.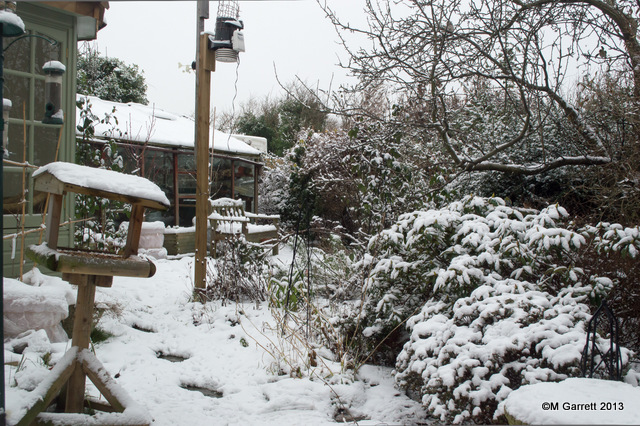 This was the scene first thing on Saturday morning maybe about 25mm (1") of snow. The temperature has managed to make it marginally above 0°C but there's no sign of the snow melting.
The forecast is for this cold spell to continue for another week before we get any milder weather.
Saturday 19 January 2013
The Lows Have It
Saturday continued the cold theme with just a little light dusting of fine snow which didn't really add to the amount we already had. It was a little bit milder than of late with the temperature just making it into positive territory.
After the very mild start to the month we could easily have seen a record breaking mild January but the recent cold snap has seen the average daily temperature fall rapidly and we've now dropped just below the expected average for the month.

We had a cold spell last year about the same time but it didn't last long with the last couple of weeks of January being around the average. It doesn't look like we will be so lucky this year as the forecast for the coming week doesn't look too promising and it looks like the cold spell will remain with us for most of next week.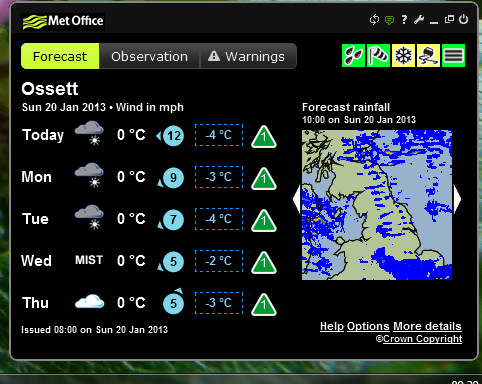 Sunday 20 January 2013
More Snow
Sunday was dull with the threat of snow in the sky. It was a bit milder and a little of the snow in the rain gauge did manage to thaw. Over night Sunday into Monday morning saw more snow arrive as you will have spotted from our almost live web cam pictures.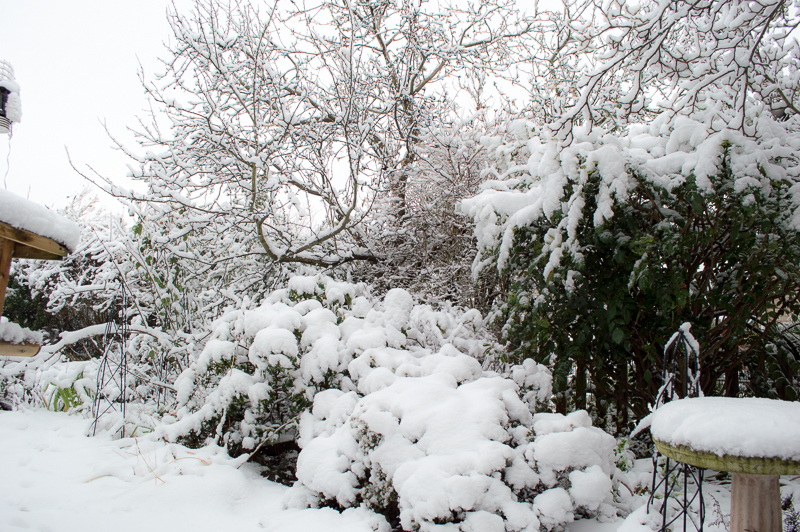 Our feathered friends soon put in an appearance once I'd cleared the bird table of snow and put some fresh seed out. Our crab apple tree was soon filled with birds waiting their turn for the feast.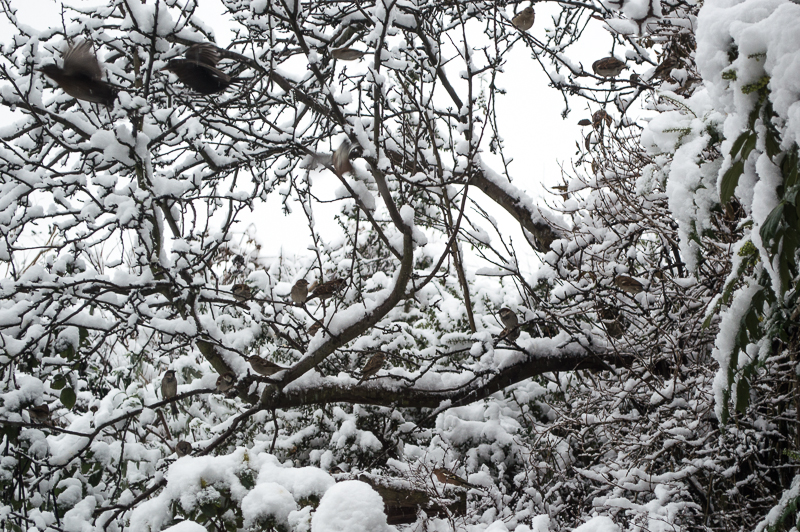 There seems to be a hint that some welcome milder weather might arrive by next weekend. I'm sure the wildlife will welcome a break in the cold spell too.
Monday 21 January 2013
Heaviest Since 2010
Our local news reported that Monday's snow was the heaviest fall since 2010. It prompted me to have a look back through our photographs to see if it appeared to be the case in Ossett. On the evidence of the pictures below it's correct but I reckon that fall in January 2010 was more than today's.