Unlike the social honey bees and bumble bees that live in communities, most species of bees live solitary lives. There are more than 200 species of solitary bees found in Britain. Some solitary bees nest in holes in the ground and others in hollow stems or holes in wood.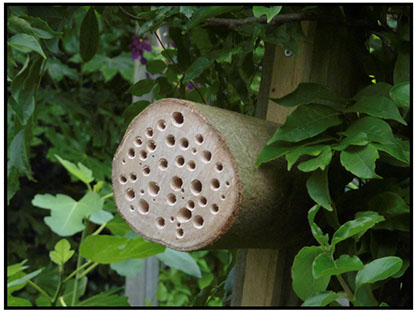 Once the female solitary bee has emerged from her pupa and mated with a male she is on her own. The female constructs a nursery consisting of a series of cells within an appropriate tunnel. In each cell she lays an egg and deposits some pollen and nectar for the larva to feed on. She then seals the cell and lays another egg to form a chain of cells. If the bee nests in wood the larva that hatch in the cells closest to the entrance will become male.
This means the males emerge first.
Some solitary bees will live in tunnels close to one another, some may even share an entrance. Often this behaviour is mistaken for co-operation but other than living in close proximity each bee operates independently of its neighbours.