This paste is known as Vindaloo paste in India that Pat has it for many years now. Pat only uses a little in her cooking as she does not like her food hot; for those who like it hot just add a little more until you find a level that suits your taste buds. Add more very gradually as the paste is very hot – you have been warned!
Ingredients
½ oz (15g) ground cayenne pepper
½ oz (15g) ground coriander
½ oz (15) ground turmeric
½ oz (15g) ground black pepper
½ oz (15g) ground hot mustard powder
½ oz (15g) salt
½ oz (15g) ground ginger
1oz (30g) ground cumin
½ teaspoon ground cinnamon
6 fluid oz (175ml) of white vinegar
5 fluid oz (150ml) of vegetable oil.
Method
Place all the spices and salt in a mixing bowl.
Stir in the vinegar.
Keep blending with the spoon until a paste is formed. eat the oil in a saucepan over medium high heat and add the paste.
Reduce the heat immediately to low and stir steadily and vigorously, scraping the bottom of the pan to make sure the spices do not stick.
DO NOT PUT YOUR FACE OVER THE PAN, AS THE SMELL WILL MAKE YOUR EYES WATER!
Stir constantly for about 8 minutes, the oil will show at the edges of the pan.
Turn of the heat and set aside to cool
When the mixture has cooled, spoon it all into a jar and cap tightly
Note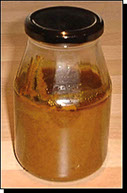 This paste will keep for ages in the fridge.
The jar does not need to be full.
Before adding to food stir the paste to blend in the oil.
When using the paste in your cooking you must start by adding a little at a time, as it is very hot.