Once the caterpillar has reached a suitable size it will crawl away and find a safe place in which to turn into a chrysalis.  The caterpillar will spin a silken thread from which it will hang and it will wriggle from its skin for the final time. This time the caterpillar will emerge as a chrysalis. The chrysalis of the Large and Small Whites are very similar in colour to their caterpillars.
The caterpillars however, don't have it all their own way; a large proportion will be hosting the enemy within!  A species of ichneumon wasp (sometimes called an ichneumon fly) lays its eggs inside the body of the caterpillars. The grubs hatch inside the caterpillar and effectively eat the caterpillar from the inside out. Initially the grubs avoid eating any vital organs that may result in the caterpillar's death. If the caterpillar died before the grubs had grown large enough to break out of their host then they would be imprisoned within the dead caterpillar. The grubs tend to reach full size just before the caterpillar pupates. The small white grubs emerge from the caterpillar's body and spin tiny yellow cocoons around themselves and then pupate themselves.
If you look very carefully at the above photo you will see some white grubs that have not yet spun cocoons.
​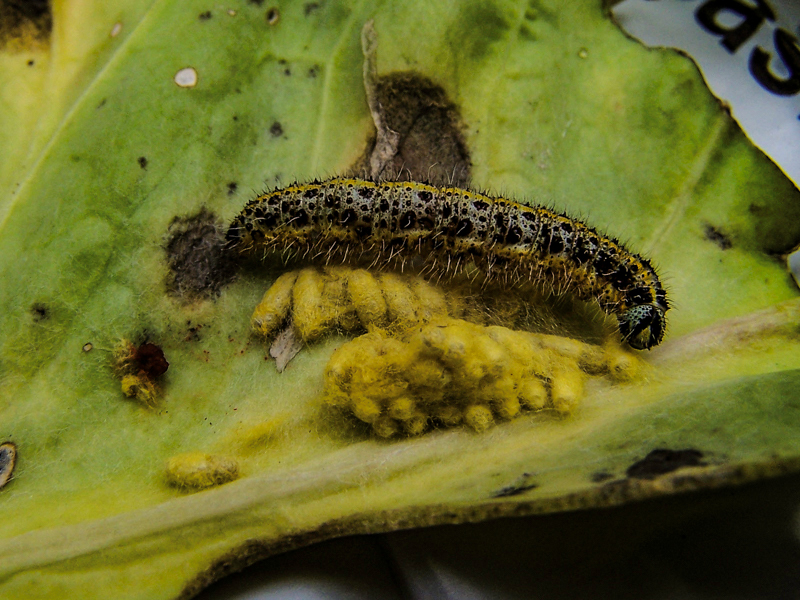 If the caterpillar avoids falling prey to the ichneumon wasp and manages to pupate it isn't completely out of the woods. It could fall victim to another parasitic wasp called a chalcid that lays its eggs inside the chrysalis!
Having survived all the hazards of growing up, the large and small white butterfly will only live for a few week.
Butterflies have many small eyes clustered together to produce a mosaic of images.
​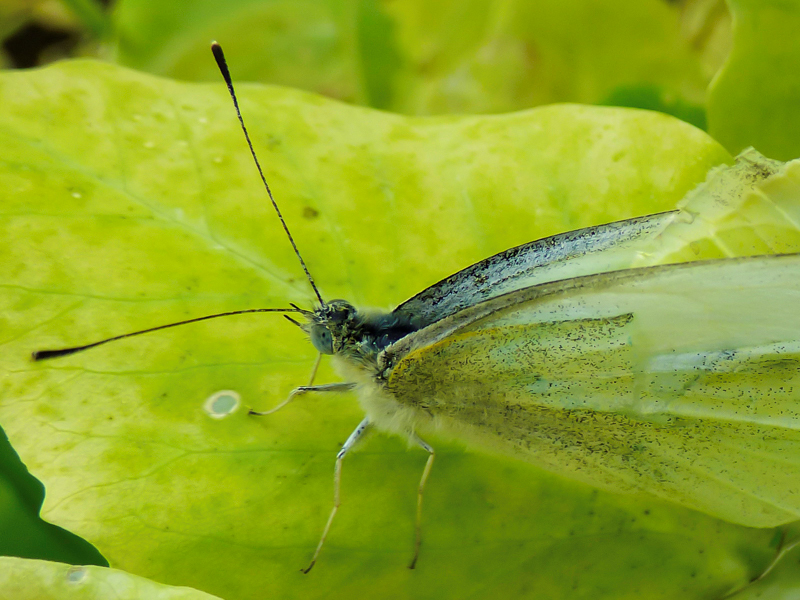 Butterfly visions can cover almost 360 degrees at once. It's hardly surprising that you are unable to sneak up on them and they can also quickly home in on young brassica plants.
​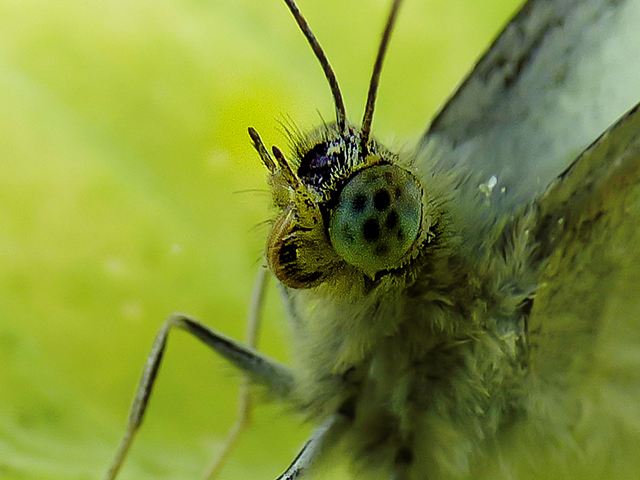 Butterflies have a pair of segmented antennae which unlike thise of a moth are clubbed at the end,
​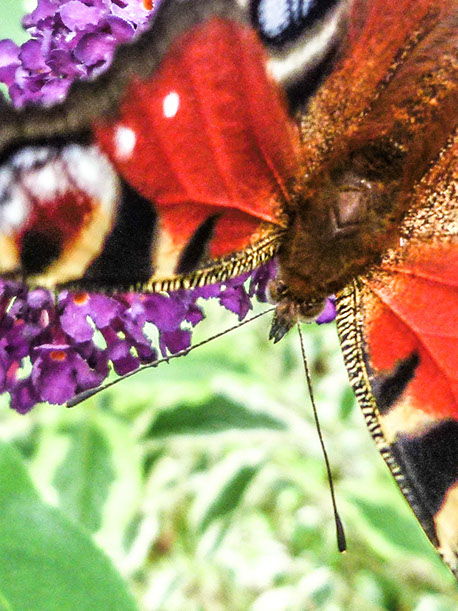 The underside of butterflies' wings is less colourful and helps the insect to be camouflage when the wings are closed above its body.
​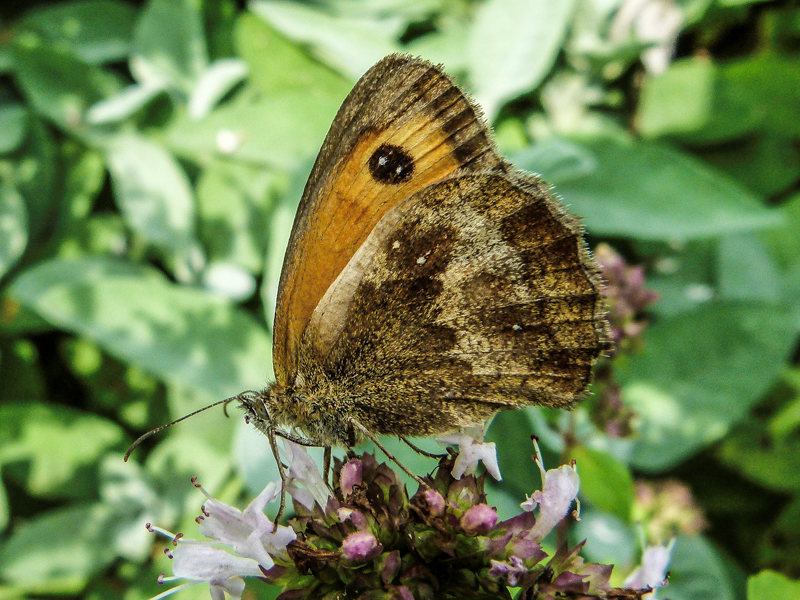 Despite this many butterflies can be identified by the undersides of their wings. The comma butterfly's name comes from the white comma like marking visible on the underside of the wing.
​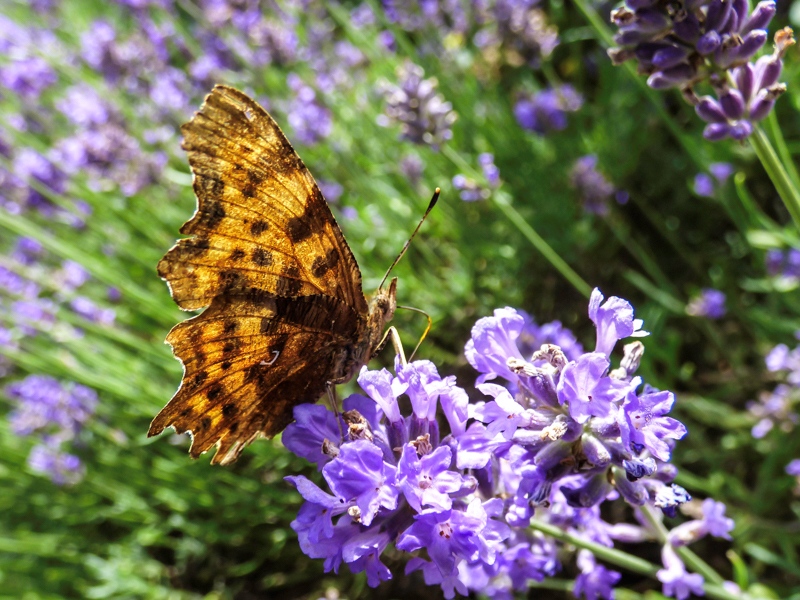 The comma butterfly above is sipping nectar from the lavender flower by dipping its proboscis into the flower. At a simple level this can be thought of as being similar to sucking liquid through a straw but it is more complex than that. When the butterfly is not feeding the proboscis is curled up as shown in this photo above.