​

​

Mark from Fleet in Hampshire reported that his tomatoes are showing the telltale signs of hormonal herbicide contamination.  His tomatoes are growing in composted stable manure. Mark writes:
" I bought 12 bags of  composted stable manure in March of this year, and used most of it in the big pots I am using for growing tomatoes and potatoes. I also dug some into my raised beds as a soil-improver.
The main symptom of contamination is distortion and malformation of plants stems and leaves, particularly at their growing points. The leaves are thin and spindly, often described as "fern-like", and are curled inwards".
Mark has contacted Dow AgroSciences who have promised to take the matter up directly with the supplier.
Mark has written about his experiences on his blog here.
Patrick from Cambridge got in touch to say ,
"In case you're still interested amidopyralid sodden muck is still available in Cambridge. Having rotavated two loads into my plot last winter, I'm now the proud owner of a plot full of crippled spuds and tomatoes.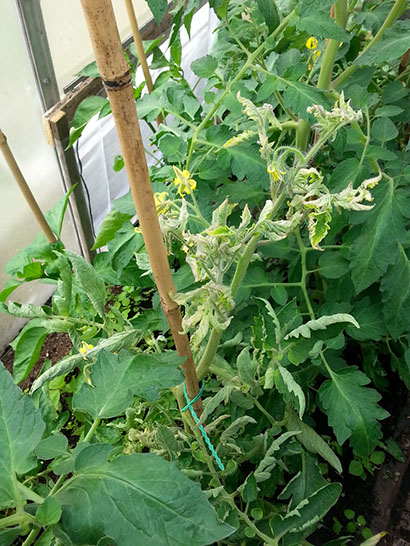 John from Sandwell wrote
Two tomatoes in my greenhouse have shown the effects of herbicide poisoning! Here's one of them.
They are in a place which was affected in 2009/10 but has had since then, first fresh compost, then spent growbag material (which didn't affect what was grown in them) and this year mushroom compost which has made some of the tomatoes roof-high. The crop is normal. It's just these two plants, on the sunny side, but well shaded, that show the signs. I have no answers except supposition about relic pockets of unabsorbed material still affecting plants.
June 2015
Neil from Edinburgh emailed to say:
Just thought you might be interested to hear that I have been the victim of contaminated manure this year.  The manure was collected from a local stables in April, and used as part of my compost mix for spuds in potato bags and barrels.  Also I used it in a hanging basket for tomatoes.  Broad beans planted near some onions where I dug some manure in are also showing the affects of poisoning, though the onions themselves seem unaffected.
All the affected crops have been pulled out, apart from one potato barrel, which I have left as a test case, to see if they recover.
Very annoying, I'm just glad I discovered it was contaminated before adding any more to my plot... two beds i have dug it into were meant for my courgettes, but I think i will grow them elsewhere.  I may try growing squashes in these beds as I'm not so bothered about them.
I have collected manure from these stables for the last 3 years and never had a problem until this year.
July 2015
Mark from Fleet in Hampshire has been affected for the second year running. His tomatoes are growing in a mix of stable manure and a different compost to last year, He sispects that the cause is more likely the compost. Mark's problems have persisted into 2016 as he describes on his blog here.
​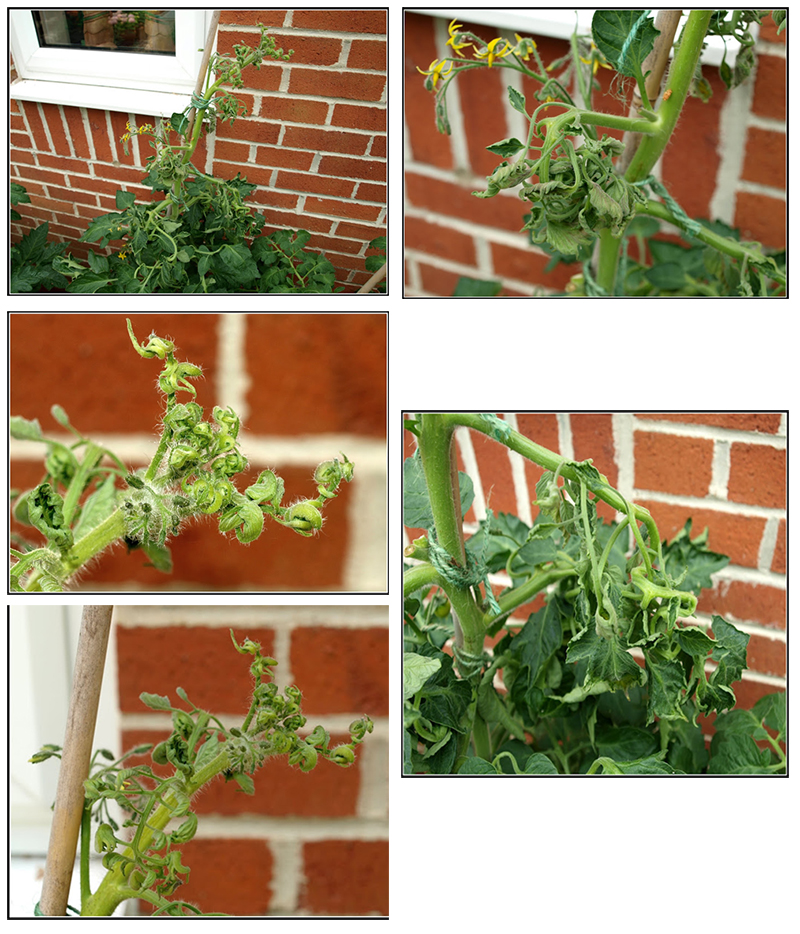 June 2016
Ann from Machynlleth sent this email
I can imagine that by now you must have had more than enough of this issue, but as you were so amazingly  helpful in 2011, I thought I'd at least let you know that we've been hit by this horrible poison yet again.
This time it has affected our community growing project: Edible Mach. We are part of the greater Incredible Edible Network and as part of our work this year we have created a Show Allotment in the hart of our town; Machynlleth. All went well until a couple of weeks ago when I spotted a familiar distortion of the growth on the broad beans. My hart sank as I realised it was Aminopyralid again. We bought in 8 tonnes of peat free compost and that is what we traced it back to. This compost gets made in part by what is put in the green waste stream, so it is probably Clopyralid, rather than it's evil big sister; Amino.
I'm hoping it will not get too bad, but worse case scenario would be that all our growing sites will be affected (12 of them, all over the town), as all had a top dressing of this compost. We are now gearing up for the fight with the supplier, who we paid £800 for this compost and who is trying hard to deny any responsibility. Would you be able to tell me if Trading Standards are any use in this kind of scenario?
We're hoping to give a lot of publicity to the issue once again, as we will have an official opening of the allotment with the press there and hopefully Incredible Edible will help too. There have been other incidences around the area as well this spring and for our market garden, this is the third time we've been hit in 6 years, despite all the precautions we now take, so clearly this problem is not going away. Maybe we need another pin in the map?
Charles Penn  - Wiltshire
I have read with interest your blog on herbicide contamination.  I too have experienced this problem, in farmyard manure.  I have spent much of the winter redeveloping my garden, including new vegetable beds and a large polytunnel.  As part of this I purchased a large load of manure from a local reputable supplier and incorporated this into about ¾ of the new plots. I was horrified (enraged!) when my bean crops failed and I also lost many potato plants.  I am left with a large area of contaminated ground, which will take some time to deal with.
I am now in discussion with Dow AgroSciences, am trying to get some sense out of the manure supplier, will be communicating with RHS, and maybe even my MP!
I attach the results of my "bean test" which confirms that the manure was the source of contamination.
​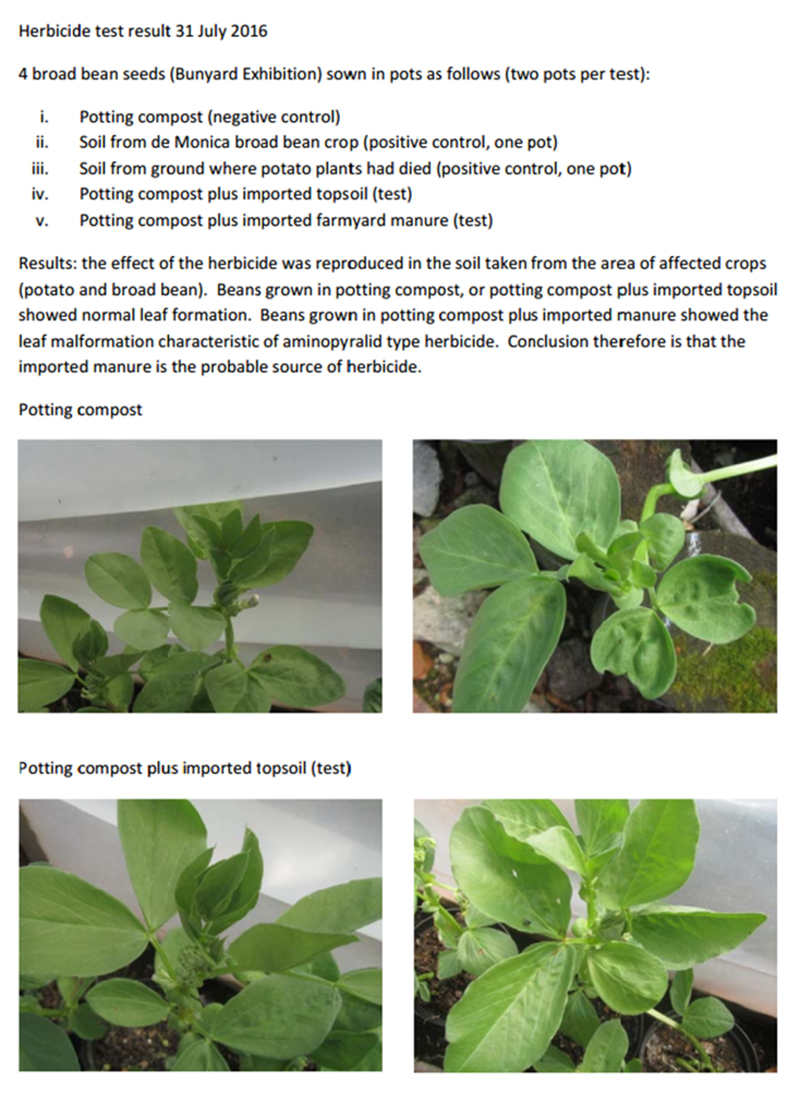 ​