Neil lives on edge of Cotswolds and emailed to say: We had contaminated manure 2 -4 years ago. I have one patch which I have grown broad beans in which was manured 3 years ago and the beans are still showing signs of residual curling. AP is supposed to break down with bacteria in the soil, but somehow in our soil this does not seem to happen.
My allotment neighbour last year used compost made from plants grown on contaminated manure. Since they were mostly cabbages they did not show much sign of problems. However the beans grown on the compost were very badly affected. He put the whole compost bin down the row of runner beans.
We had also had some problems with horse manure. The horses were bedded on home grown hay. The only possible source of contamination is bought in feed stuffs.
We have one girl with one contaminated runner bean plant in a row, and I know that no manure has been applied for more than two years.
My next door plot neighbour sourced some horse manure. The source was adamant she used no weedkiller so he was gutted when I showed him the results of bean growing tests. The beans were fine for a couple of weeks and then showed the tell tale leaf curling, after a month they were totally different from the controls.
John from Sandwell first reported that his allotment site was suffering the effects of using contaminated manure back in 2008. He recently sent photos of how crops in a greenhouse on his site are still showing symptoms of herbicide poisoning
​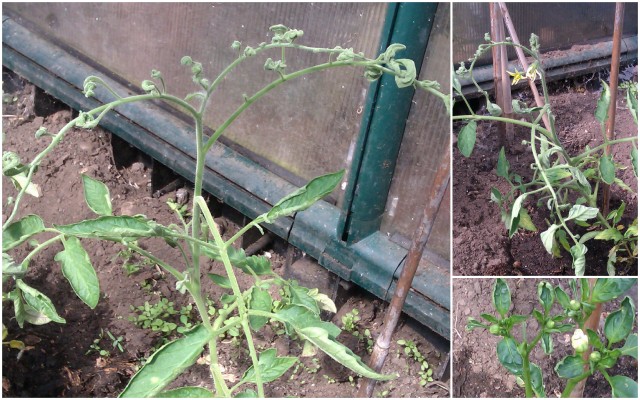 The photos were taken in a greenhouse on a plot used by school children. John says "We haven't been able to use it fully since it was manured in '08. We intend to dig it out deep this winter and replace the soil completely".