Details of what was sown/planted in May
For May 2017 weather summary
Details of our May harvest
Archive for previous years' diaries dating from 2007 can be accessed by clicking here
This diary is a summary of our garden activities. The links are to blog posts that often give more detail.
I have decided to keep the weekly format
​

Sowed carrots
Planted brassicas - calabrese, cabbage and cauliflowers
Planted raspberry Black Jewel
More tidying, weeding and bed preparation
Visit to Clumber Park
Visit to Hodsock Priory to see the bluebells.
Still a North Easterly and no Rain
Allotment on Hold for a Few Days
An Unplanned Visit to Clumber Park
Meeting Some of the Residents of Clumber Park
Return to Hodsock for the bluebells
​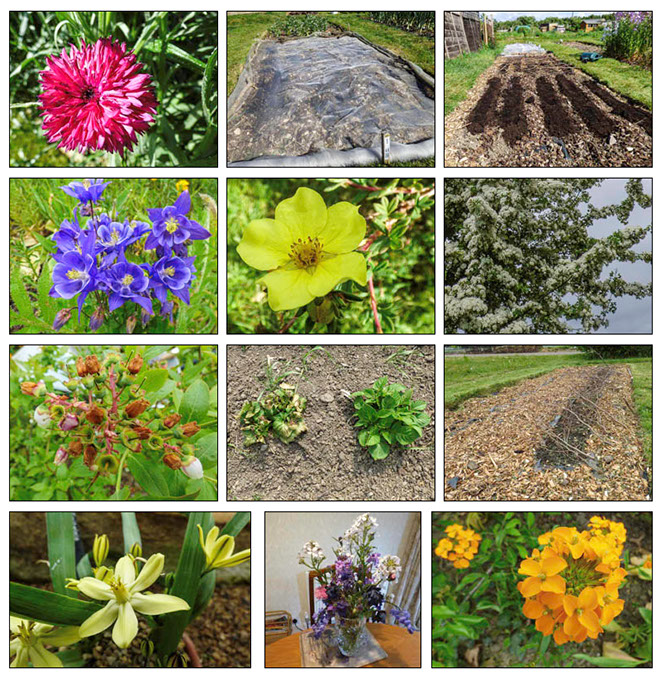 Lots of potatoes were frosted
Planted salad leaves
Planted out chrysanthemums
Sowed sugar snaps and mushy peas.
Picked first sweet rocket and cornflowers.
Visited Harlow Carr
Sowed annual flower bed
Sowed Robin Hood broad beans/ started to make sweet pea frame
Planted perennials in plt border
Cold Spell Ends but not the Dry Spell
​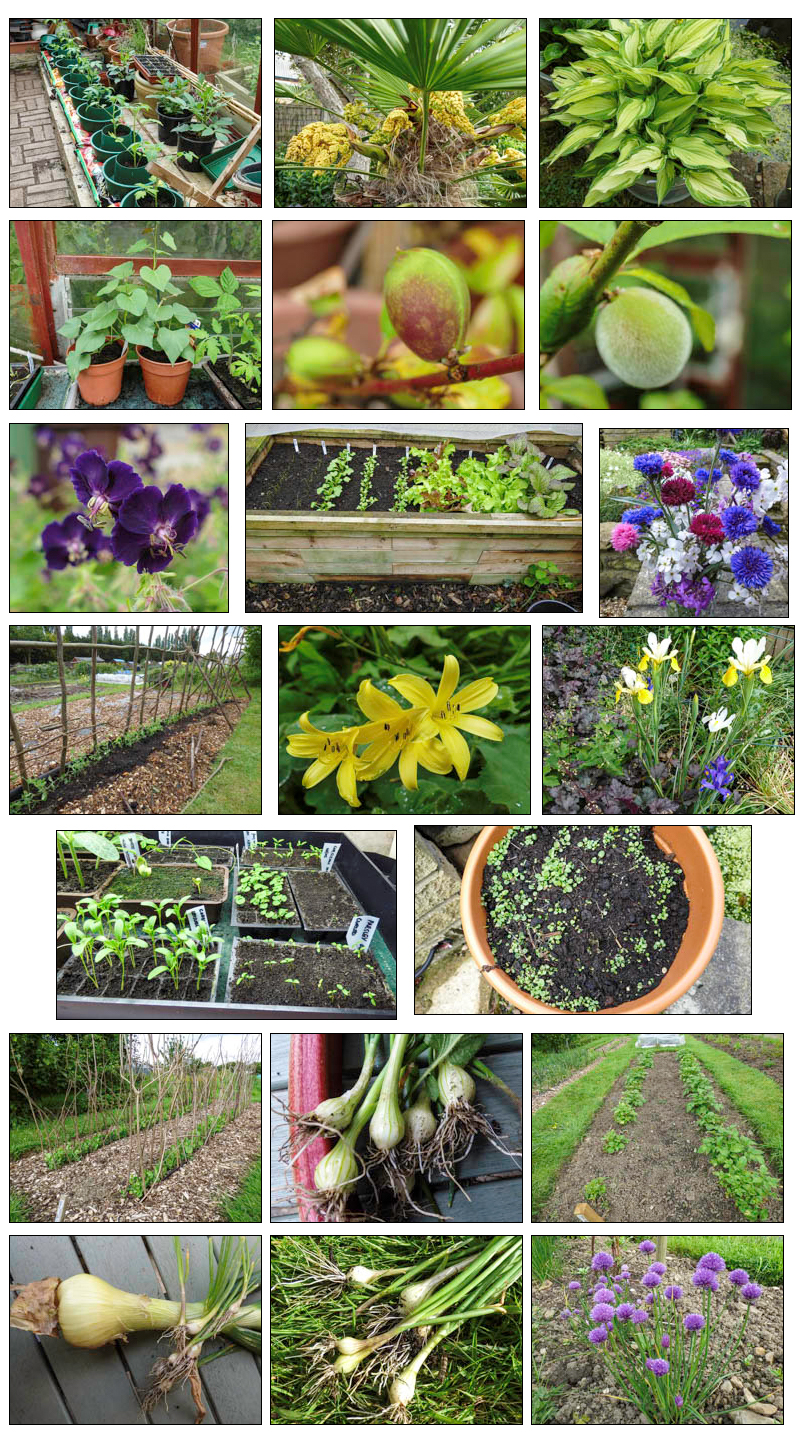 A wet week
Frosted potatoes are recovering and growing away.
Parsnips, carrots, annuals and peas are slow to germinate - some signs of parsnips and annuals
Planting first batch of sweet peas- erected frame for second batch
More tidying and tilling
Cornflowers sown last year are flowering
Harvesting salad leaves and herbs.
Found some spring onions that had overwintered
Pricked out seedlings
Planted tomatoes in garden greenhouse,
Fruit on peach, apricot and nectarine developing.
A wet day but not a lot of rain
​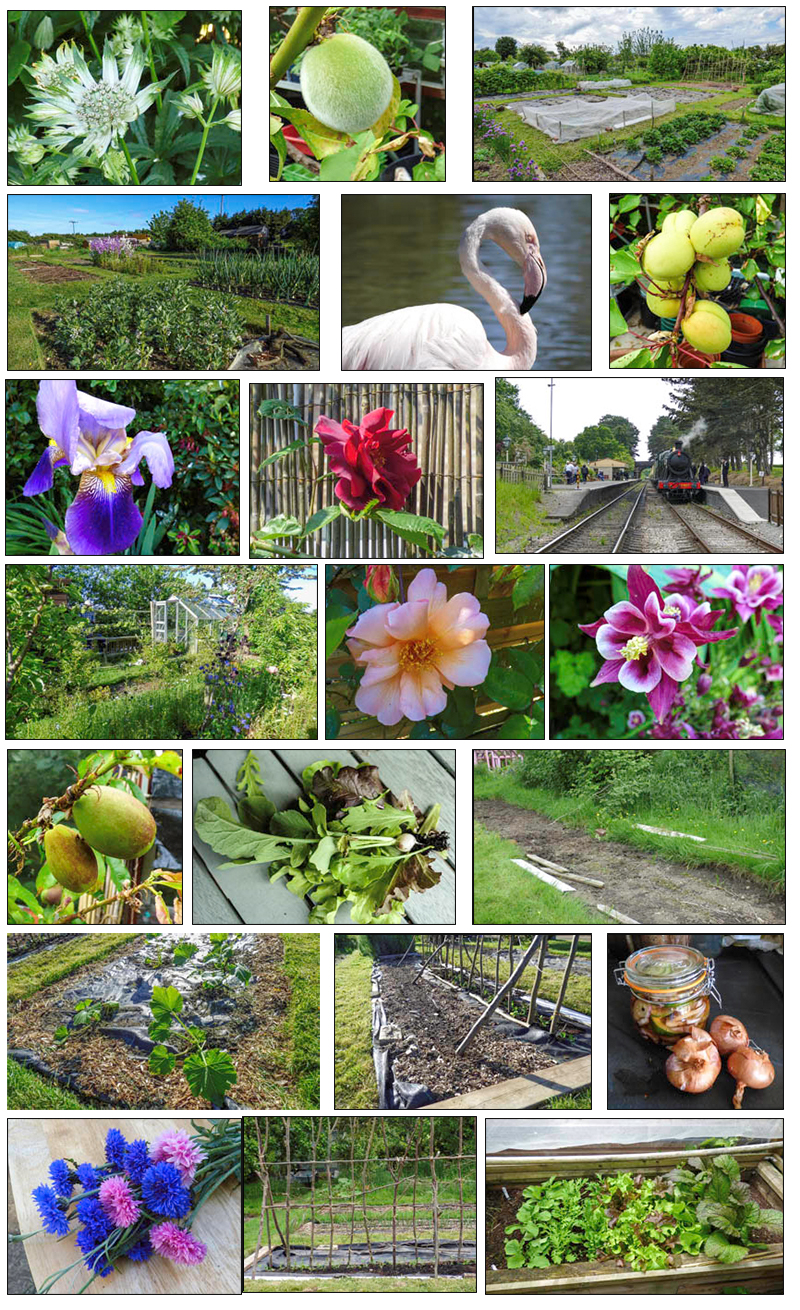 Still more preparation and tidying - trying to keep on top of bindweed shoots
Planted out sweet peas.
Planted first lot of brassicas and courgettes
Salad leaves are growing well
Roses are blooming
Visited Slimbridge and Gloucertershire and Warwickshire steam gala,
Fruit progressing well
Direct sown seeds still not showing
Palm is flowering
Trachycarpus Wagnerianus - Dwarf Chusan Palm
​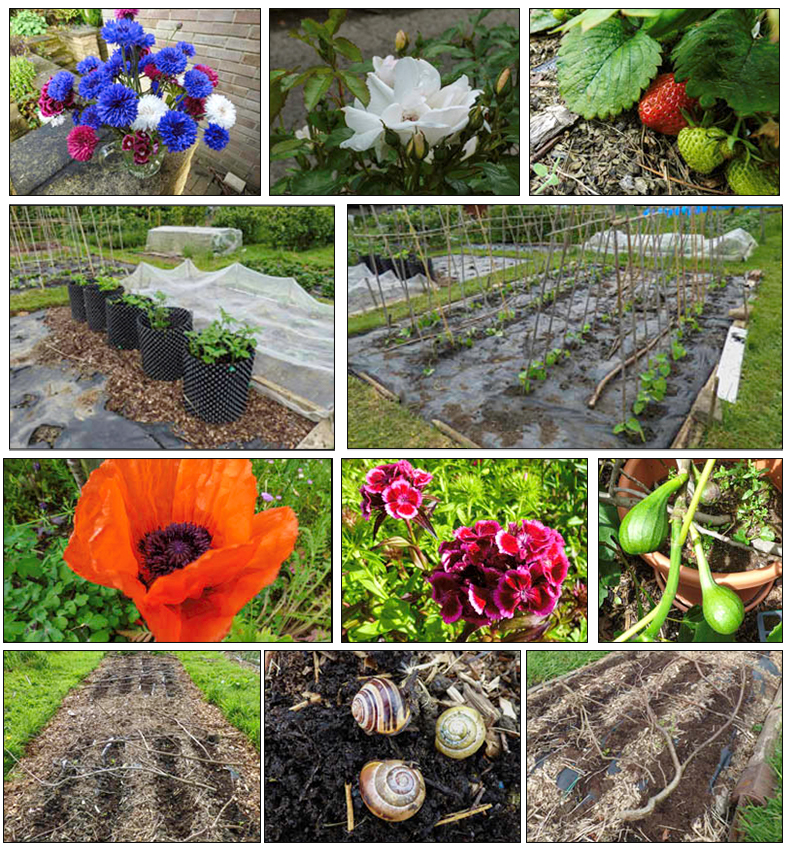 Sweet Williams are flowering
Strawberries are ripening
Resowed carrots and parsnips - snails have eaten all be a few of previous attempts at germination
Planted runner and climbing French beans
Cleared plot greenhouse ready for tomatoes/
Potatoes in tubs moved out
The fig is fruiting well.
May leaves us with a flurry of flowers