for
March 2016 diary entry
Details of what was sown/planted in March
For March 2017 weather summary
Details of our March harvest
Archive for previous years' diaries dating from 2007 can be accessed by clicking here
This diary is a summary of our garden activities. The links are to blog posts that often give more detail.
I have decided to keep the weekly format
​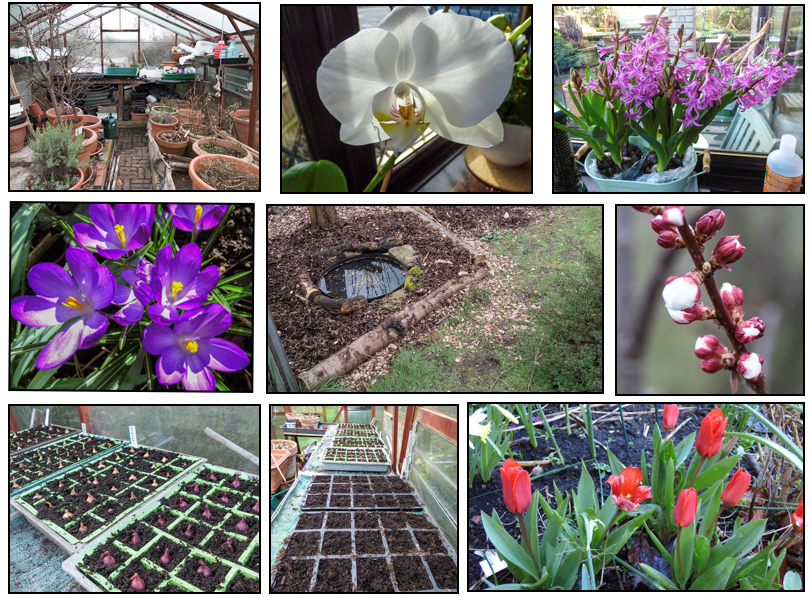 Tidied the greenhouse - planted onion and shallot sets and potatoes in bags and tubs
Sowed leek and broad bean seeds
Cut back dead from plants overwintering in the greenhouse
Peach, nectarine and apricot have flower buds
Weeding and tidying on the plot
Created a lid pond on the plot for the birds
Spring bulbs opening.
Camera shy - #mygardenrightnow
New for 2017 - part 8 (bird bath bed)
A New Wildlife Pond - with video
​
Visited Temple Newsam where the display of crocuses was impressive
Hand pollinating, apricot, nectarine and peach flowers in the garden greenhouse
The frogs are back
​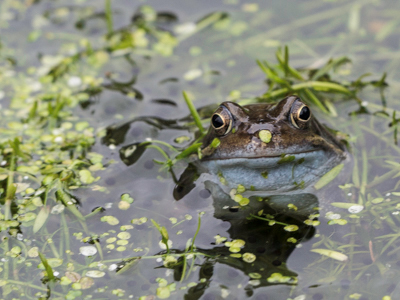 Planted more potatoes ion pots
Day out in East Lancashire
Made a bug hotel on the allotment
More tidying
Harvested cauliflowers and first rhubarb
Surprise, surprise with video
More potatoes in tubs with video
Bug Hotel or more accurately bug pyramid with video
​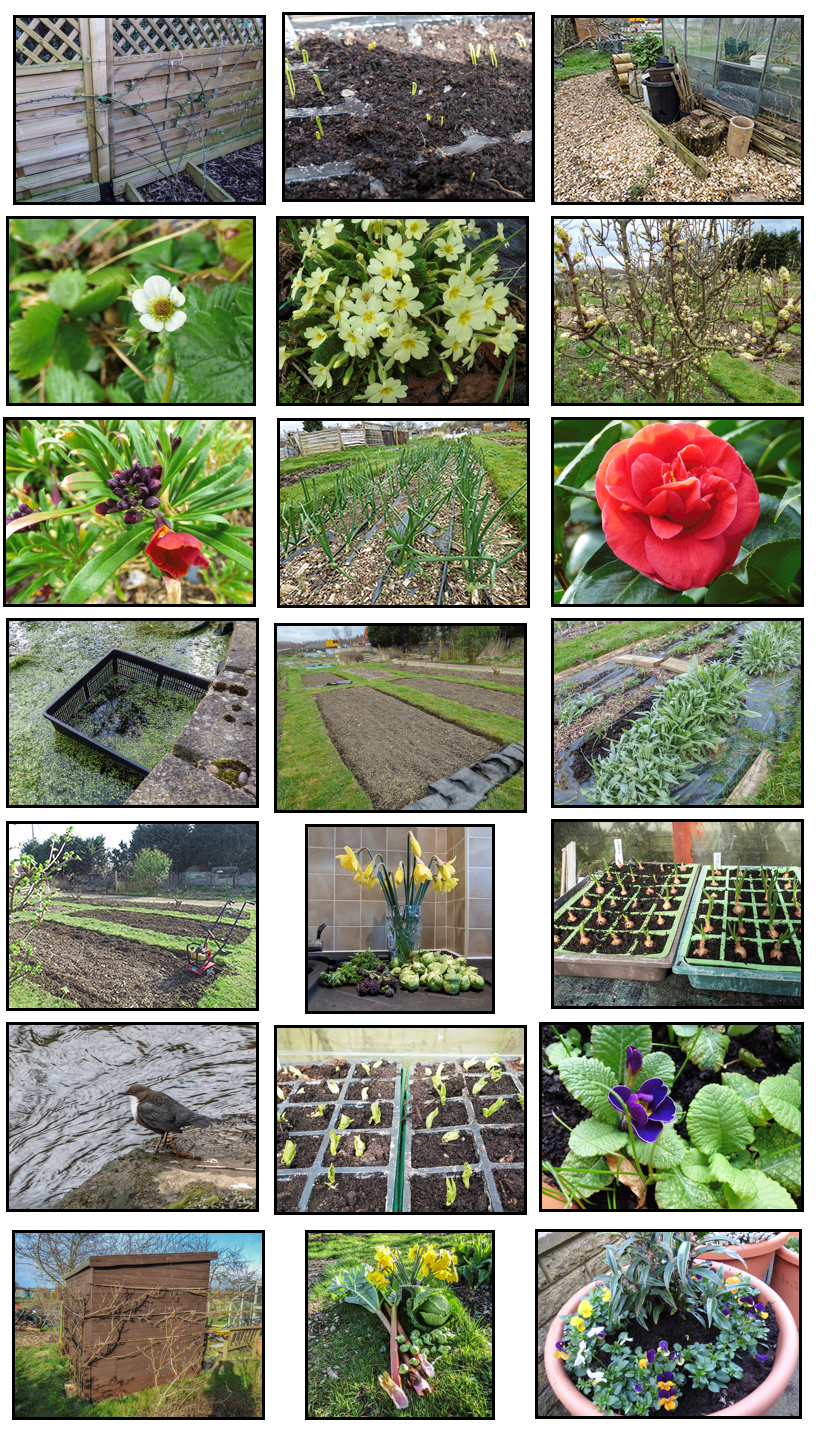 Lots more tilling and tidying on the plot - tidied round greenhouse
Treated shed with Cuprinol
Bought more violas for tub
Onions and shallots shooting
Broad beans and leeks germinated
Lettuce sown and germinating
First camellia flower
Cut first daffodils and a cabbage.
Harvested a few shoots of broccoli and kale leaves
Harvested last sprouts
Dug up last carrots which now have too much slug damage
First cut of grass on plot and in garden
Trimmed and tied in cold frame area climbing roses/
Cornflowers sown last autumn growing well and calendulas devastated by slugs
Flowers on wallflowers and alpine strawberries
Primroses flowering
Fruit trees and bushes budding.
Photographed first dipper
Hand pollinating apricot, peach and nectarine
March on the plot and one of our wildlife projects
​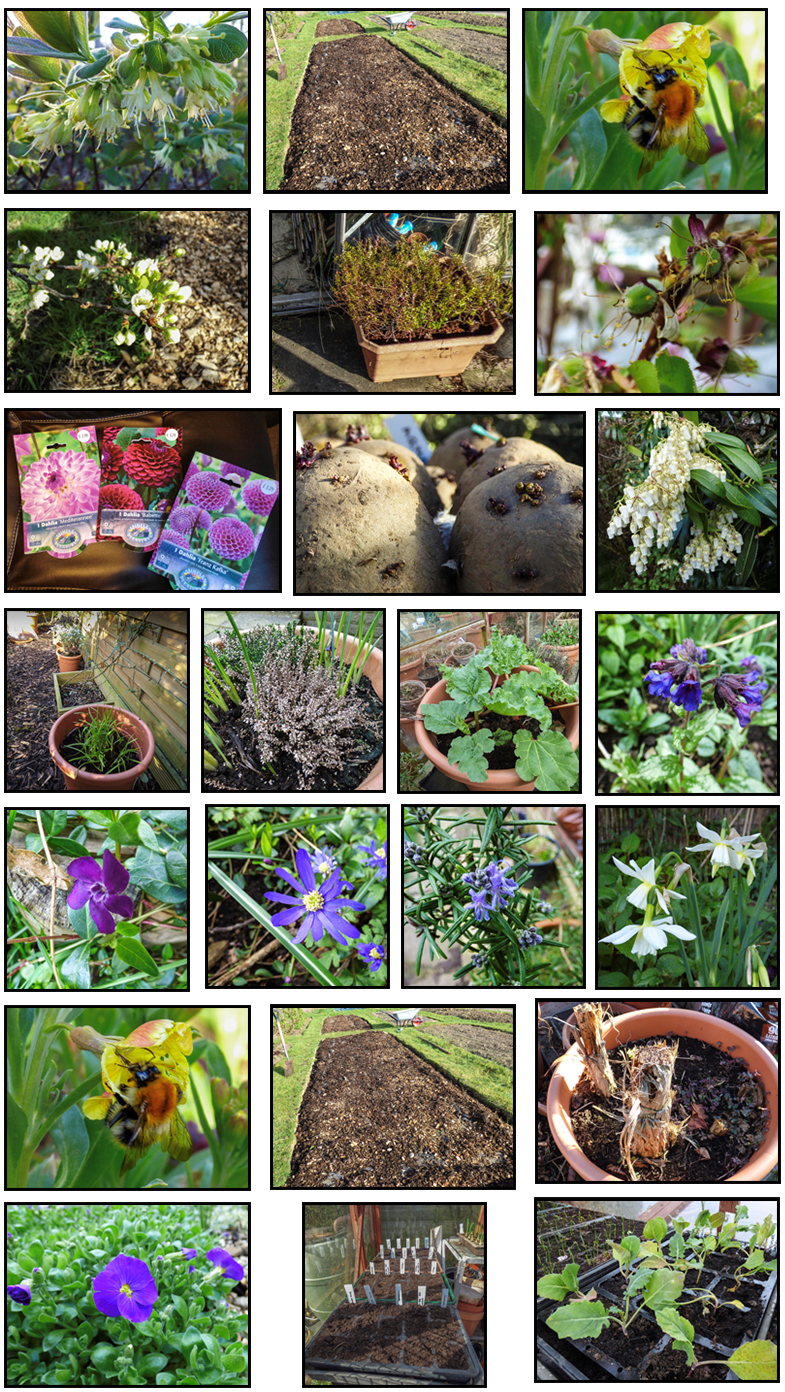 Bought some dahlias for the perennial bed on the allotment
Lots of flowers and shrubs beginning to flower in the garden
Plum and honeyberries are flowering on the plot
More bed preparation on the plot
Sowed sweet peas.
Tidied pots of herbs in the garden
Trimmed the heathers that had finished flowering.
Some apricots appear to have set
Banana cut back but already starting to regrow.
Slugs eating germinating lettuce
The early brassica plug plants have arrived and been potted on
Garden greenhouse update - a summary
​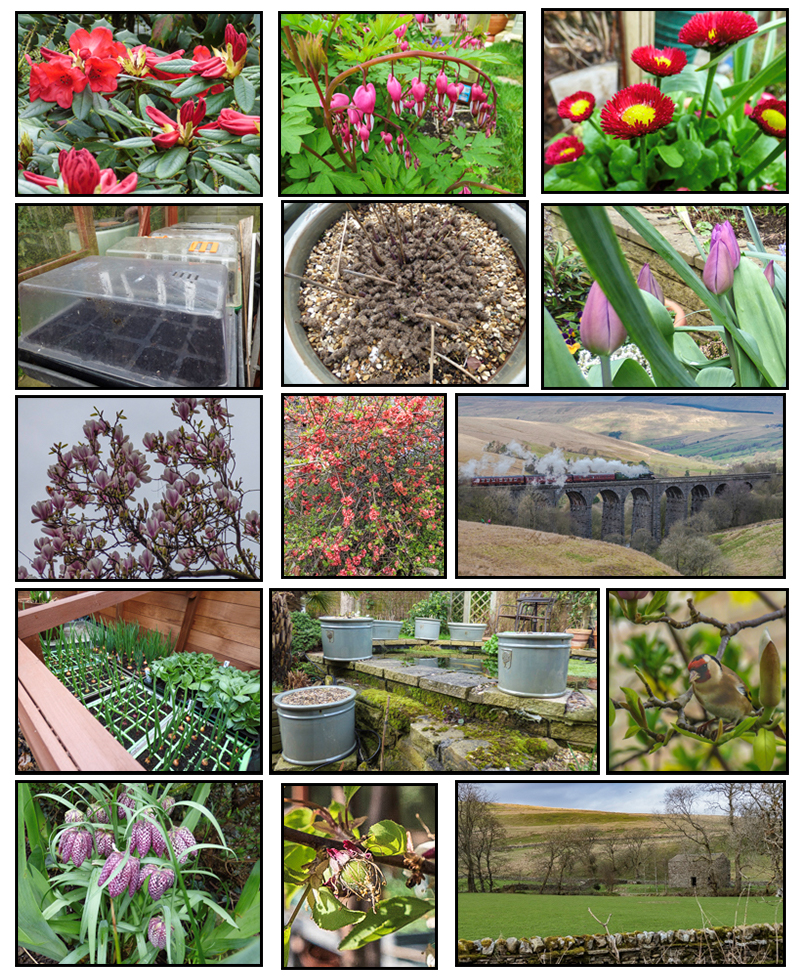 Some sweet pea seeds eaten by mice - covered remaining seeds with plastic covers and sent for more seeds
Goldfinches are back
Moved shallots, onions and broad beans into the cold frame
We think some apricots have set
Repotted hostas and protected with Slug Gone
Day out in Yorkshire Dales
The Flying Scotsman reopens the Settle to Carlisle Railway