for
April 2016 diary entry
Details of what was sown/planted in April
For April 2017 weather summary
Details of our April harvest
Archive for previous years' diaries dating from 2007 can be accessed by clicking here
This diary is a summary of our garden activities. The links are to blog posts that often give more detail.
I have decided to keep the weekly format
​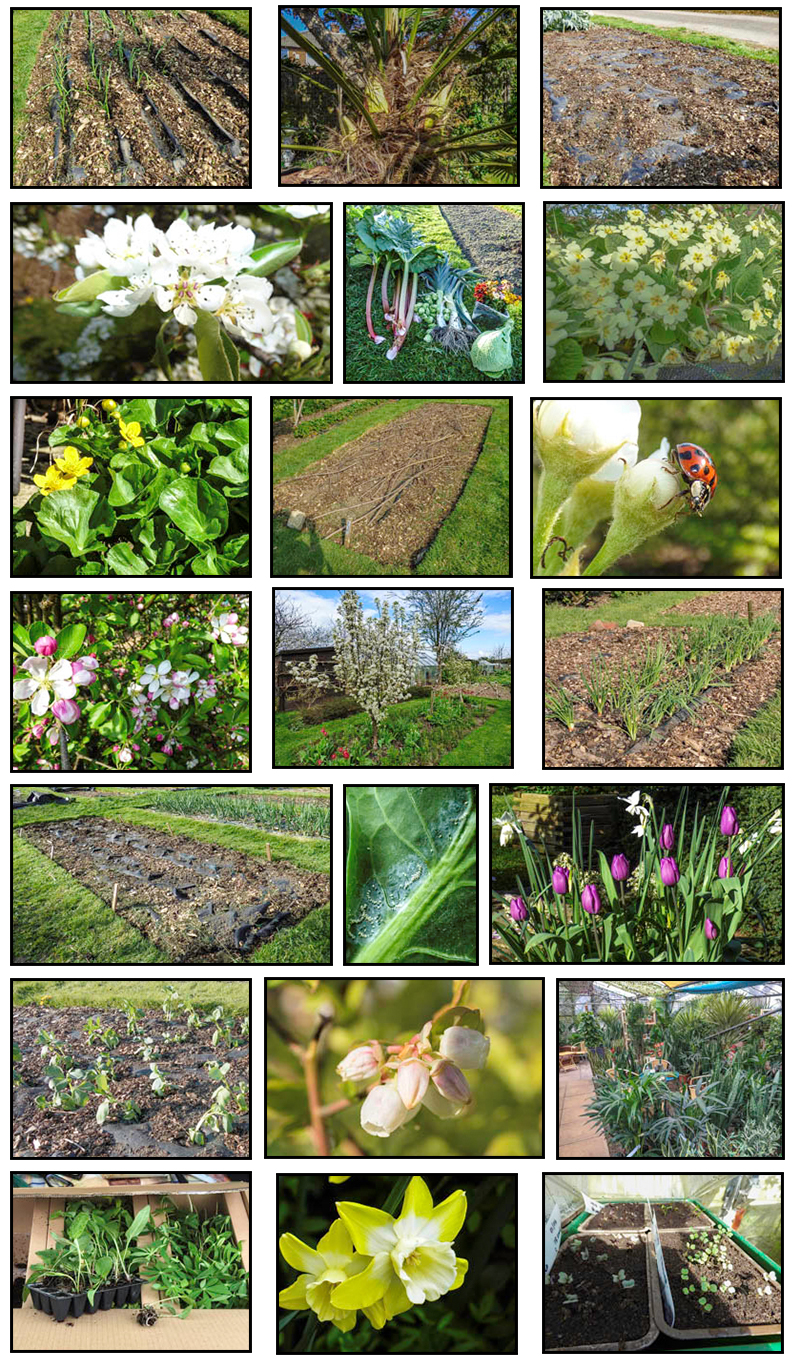 Plum and greengage blossom came out and is almost over. Pears are loaded with blossom. Cherries too are flowering and the apple blossom is just opening.
Fruit bushes are flowering including the earliest blueberry.
The trachycarpus is in bud
Brassicas and sweet peas are germinating
Perennial collections arrived from Suttons and plugs have been planted in pots
On the plot planted potatoes and sowed peas.
Planted out broad beans, onions and shallots grown in modules.
More bed preparation
Tied in tall raspberry canes
Marsh marigold is beginning to flower
Lots of ladybirds mating on the pear trees.
Tulips flowering and last of daffodils,.
Arranged hazel twigs as supports for quickly growing perennials
First earlies and tester potatoes planted
Video - Planting broad beans and shallots
​
For one reason or another not much gardening this week.
Lots of seeds have been sown and some have germinated quickly
Tidied and potted up streptocarpus
Some sweet peas have been sown to replace mouse eaten ones
A full list of sowing and planting can be viewed here
The Indoor Grow Light has been brought into action
Had an afternoon at newly opened RSPB St Aidans.
The Salad Garden by Joy Larkcom - a book review
​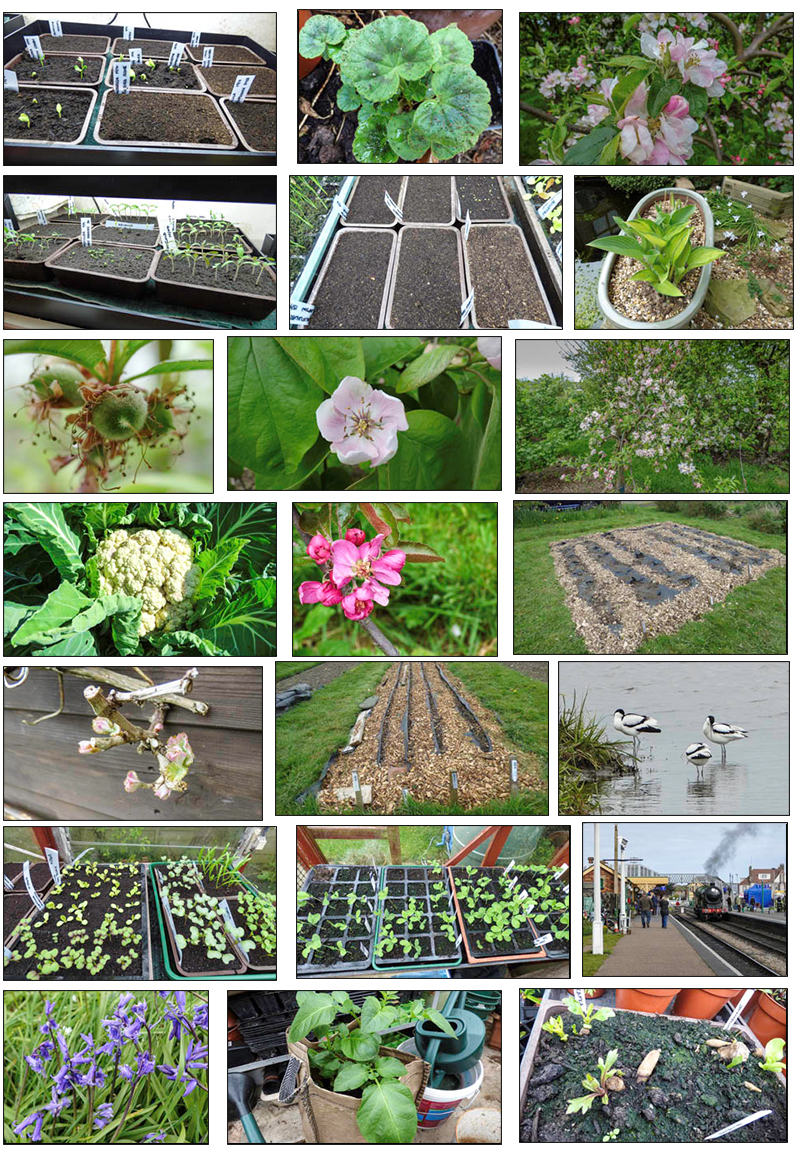 Lots of seed sowing - the full list is here
Lots of seedlings ready ti be pricked out.
The apple blossom is looking lovely
Quince is flowering
Planted more potatoes- the first lot is pushing through.
Potatoes on pots and bags are at various stages - some have had more compost added.
Dahlia tubers are shooting
Planted more onion sets.
More tidying and bed preparation on the plot
Grapevine in greenhouse in leaf and the ones outside have buds just breaking.
Had two days in Norfolk - bluebells flowering.
Jumped the first hurdle - stone fruit
What's this in my tomato seedlings?
The root of the problem - club root
​
One or two hailstorms
Strawberry flowers and potato shoots seemed to survive the low temperatures
Pricked out some seedlings including brassicas, tomatoes, and courgettes
Moved perennials to cold frame
Sowed seed and planted lettuces in raised salad bed.
Nipped out sweet peas.
Sowed parsnips
Completed tidying of autumn raspberry bed.
Sweet rocket and self sown cerinthe flowering.
Harvested cauliflower.
Popped root of watercress in the pond
Pebble garden coming into flower
First rosebuds forming.
Clivia is flowering
Matriarchal society aphid style
It's Taken a Long Time to get to this Point