We bought a couple of sparrow terraces, (sparrows like to nest closely together), in an attempt to provide nesting sites but these have only ever been occupied by blue and great tits. The problem may be that the boxes are not high enough. It's suggested that they are positioned under the eaves. This wouldn't be too much of a problem if once they were in position we could just leave them but the boxes need clearing out at the end of the nesting season and really placing the boxes so high would be impractical.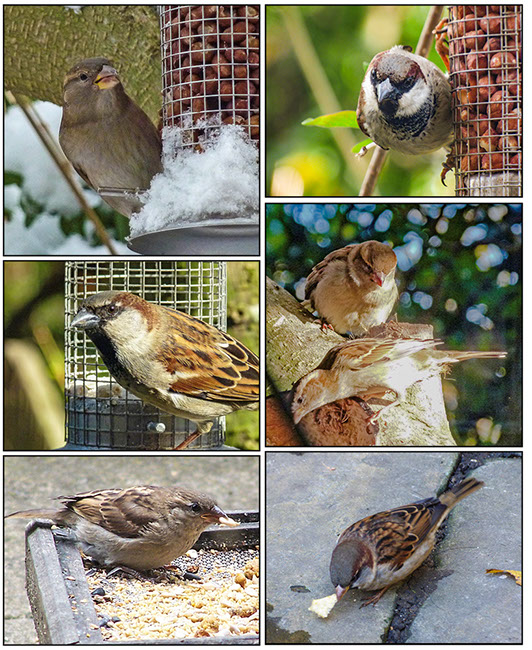 We used to take the flocks of sparrows that visited our garden for granted and didn't really give them a second look but when they seemed to disappear we missed them. Thankfully they now seem to be returning – the downside being our feeders and bird tables empty much quicker but it's a price worth paying if they managed to make a recovery.
Sparrows will eat just about anything that you put out on the bird table. During spring they may also be tempted to peck at yellow flowers, seeming to be especially partial to yellow crocuses.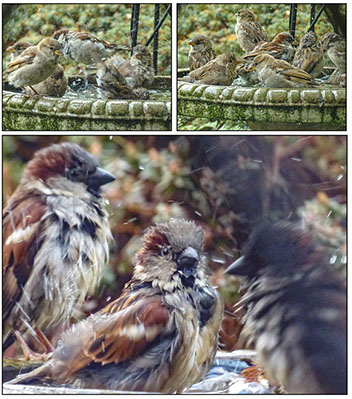 As well as raiding our crocuses sparrows can also cause havoc to seed beds as they love to create dust baths – small bird sized hollows – in any fine dry soil. The also will congregate in bird baths to drink or bathe.
Many people think of sparrows as dull little brown birds but if you take the time to look more closely you may change your mind. The photos below shows a male sparrow with the sun highlighting the chestnut colours on his back.
​
The male has a dark grey cap and white cheeks. The black bib on his chest indicates his status in the group with the most dominant males having the largest bibs. His underparts are light grey.
​

The chest and underparts of the female is a light fawn. She lacks the cap, cheek and bib markings but has light streaks starting behind her eyes and continuing towards the back of her head. Her back is paler with lighter coloured bars on her wings.
​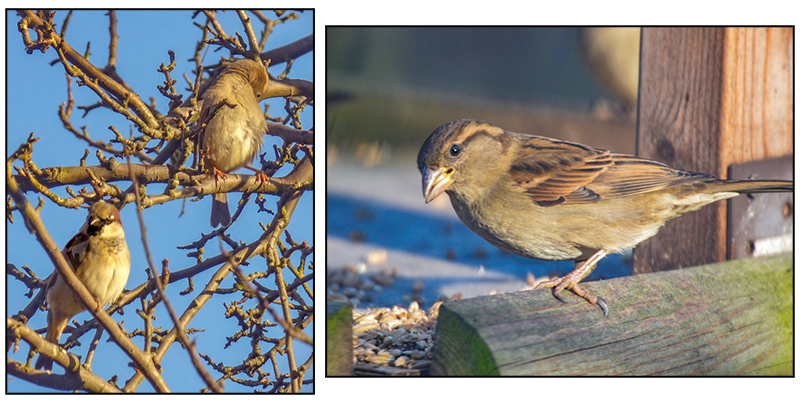 Young birds are very much like the females. The bird on the bottom right of the group of photos below as a young male that is just beginning ti acquire his adult plumage.
​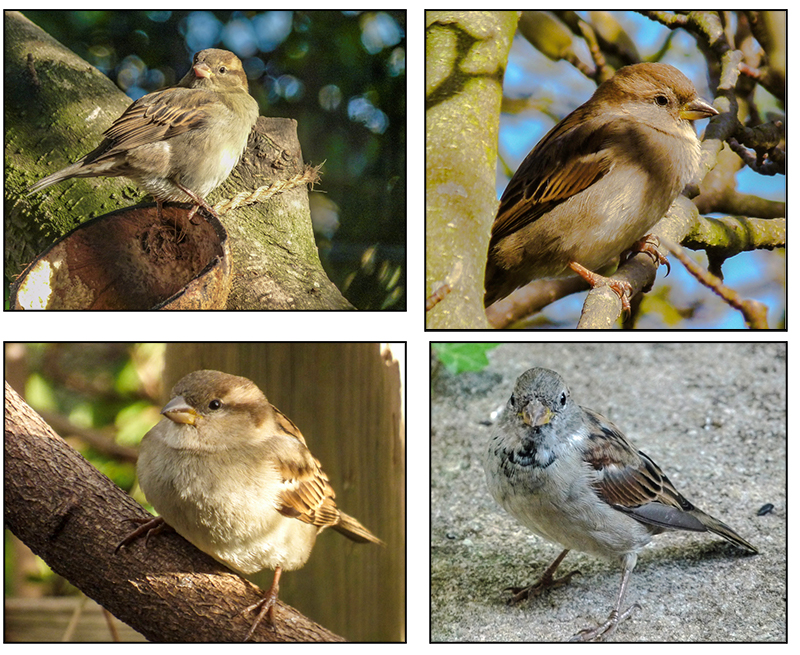 House sparrow pairs stay together for life. Breeding can take place at any time of the year. The female may lay three clutches of between two and five eggs in a year. The female can lay another clutch of eggs very quickly after a previous brood has fledged as the male bird will care for the young for about two weeks after fledging until they become independent