An allotment site is an area of land which is divided into plots which are then rented by gardeners in order to grow fruit vegetables and flowers for their personal use. The size and shape of the plot can vary considerably and in some instances gardeners may rent half plots.
Allotment sites are usually owned by local councils although some are also owned by charitable organisations, parish councils, commercial landowners or religious bodies. It is also possible that groups of individuals may set up an allotment site and in some cases companies may set up a site for use by their employees. Some sites although owned by the local authority are managed by a group of plot holders – these are called self-managed sites.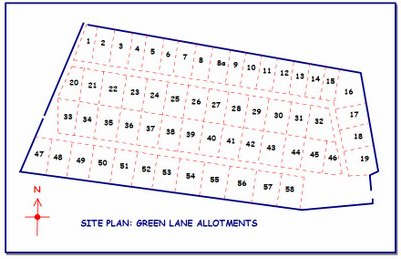 Amenities available also vary with some sites providing sheds and greenhouses and other providing only the land. In some cases this will be uncultivated and in need of clearance by the plot holder.
Rentals also vary considerably with some authorities only charging a nominal fee and others considerably more.
Some sites operate an on site shop for horticultural supplies or can arrange bulk orders of seed.
On renting an allotment site you will be required to sign a tenancy agreement which lists the requirements regarding the use of your plot. Many of these are legal requirements. You may also receive a set of rules specific to the site. Bear in mind that some allotments sites will not allow you to grow fruit trees or bushes or plants that are long lived. Some sites ban tenants from keeping any livestock and others only allow some types of livestock. It is also important to check the status of a site as some do not have a protected permanent status.
Click here for Allotments: a plot holders guide which gives more information
Click here for Guide to renting an allotment on the Directgov website
How do I get an allotment
Contact your local council to find out where your nearest allotment sites are. You will probably need to contact Leisure Services. Your local council will usually own allotment land and will either allocate you a plot or add your name to the waiting list if there is one.
If there are no council allotments in your area, your council may be able to put you in touch with private sites.
If you think a whole allotment is too much (approximately 250 square metres) then ask if you can rent a half plot or share the plot with a friend. You should also check that the site you are offered is suitable for your needs - for instance if you wish to keep bees - is this allowed.
If there is no appropriate vacant plot you may be placed on a waiting list. You may have the opportunity to join more than one waiting list so have alternatives to the site that you are particularly interested in. If this happens don't just sit back and wait - keep in touch with the appropriate official to ensure that you show a keen interest and also check our alternatives such as Landshare or any other similar organisations in your area.
Are allotments unique to the UK?
Allotments are not only a feature of the UK. Allotments or similar types of gardening areas can be found in many other countries too.
Allotments are common in Scandinavian countries. In Denmark most allotments contain a pavilion type of building and, although rare, some people actually live on their allotments during summer. In Finland allotment gardens are very sought after and prices are quite high. Some Finnish allotments contain a summer cottage type of building.
Other European countries such as France, Germany, the Netherlands, Portugal and Czechoslovakia also have allotments. On some allotments in the Netherlands the erection of small garden houses is allowed and in some cases gardeners are allowed to live there during the summer. There are also allotments in some parts of the USA.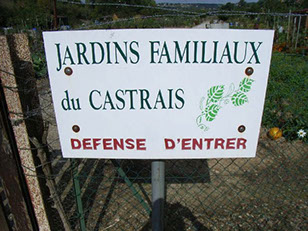 The first allotment garden of the Philippines was established in 2003
Many village houses are currently being sold in Russia to be used as allotments or dacha. In the 1980s nearly every affluent family in the country had a dacha or spent weekends and holidays in friends' dachas. For millions of Russian families they offered an inexpensive summer retreat.
An allotment site in Castres - France is featured here
Are you a non-UK based allotmenteer?
If you have an allotment garden or know of one in country outside of the UK it would be really interesting if you could share some information and photographs with us. Odette has shared information about an allotment site is Castres, France.
Click here to see the photographs that she sent in.
​