Potatoes set out for Chitting on 09 February 2016
Amour
This is a show bench favourite producing good yields of pure white skinned round to oval tubers with shallow red/ pink eyes and a creamy flesh.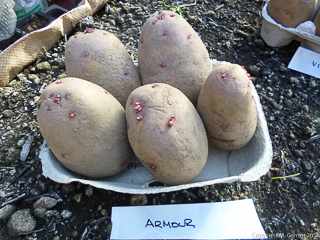 The waxy flesh of this early main crop potato make it ideal for general-purpose use in the kitchen. It has good resistance to golden eelworm.
Blue Belle
Blue Belle is becoming a popular early main crop potato.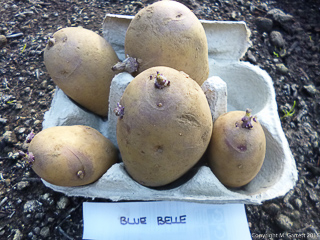 It's a versatile and attractive looking variety producing good crops suitable for a wide range of kitchen uses.
Orla
This first early potato has good foliage and tuber resistance to blight.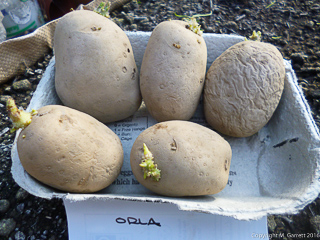 It produces creamy skinned, pale yellow fleshed, oval to round potatoes. It can also be used as a second early or early main crop variety.
Setanta
This potato has a high dry matter content making it perfect for roasting, baking and chipping.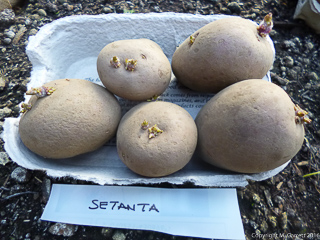 It is a main crop variety. It produces good yields of shallow eyed, oval, red skinned tubers with yellow flesh. It has a reputation for being drought tolerant and free of pests and diseases. I can but hope!
Valor
This late main crop variety is white skinned and has a creamy flesh.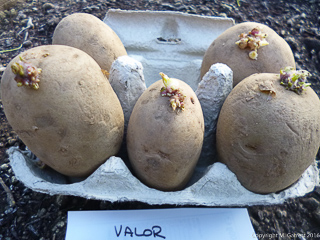 It has eelworm and blight resistance. It produces good yields of potatoes which can be used for all culinary purposes.
Vivaldi
This variety sounds too good to be true. It produces a high yielding crop of potatoes that are lower in carbohydrates and calories than other varieties.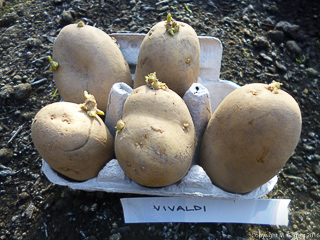 As a baked potato they are considered to be good enough to eat without any butter. They have a light yellow skin and flesh with a unique velvety texture.
Remaining Potatoes set out for Chitting on 10 February 2016
Casablanca (first early)
We've grown this variety for a couple of years now as a first early and we've been pleased with the quality and taste. It's the only potato we intend to grow as a first early this year.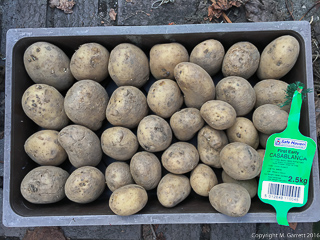 It produces a tasty crop of attractive, smooth white tubers that are perfect for boiling, with the larger tubers making excellent chips. With good resistance to common scab, blackleg and golden eelworm.
Kestrel (second Early)
Another new variety to us this year which is said to be a gardeners' favourite second early variety, producing tubers of consistent size and shape, with attractive, smooth skins and violet eyes.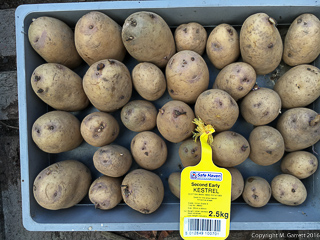 Potato 'Kestrel' shows good slug resistance, Golden eelworm and partial white eelworm resistance.
Nadine (second Early)
We've grown this potato for many years now and I can't remember it letting us down.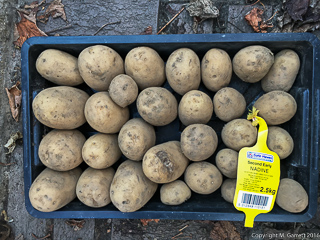 Potato 'Nadine' produces exceptionally smooth skinned, rounded tubers with shallow eyes. The creamy flesh has a firm, moist, waxy texture and does not discolour on cooking, making this a useful general purpose potato. This second early variety has double eelworm resistance and high common scab tolerance.
Vales Soverign (Maincrop)
A new variety for us this year. It's an early maincrop with good resistance to scab, blackleg and blight.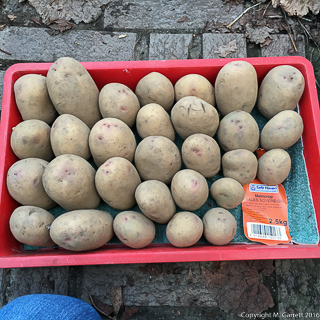 Apparently tests show it needs less water/fertiliser than other potatoes. It should be a good all round potato to boil, steam, mash, sauté, bake or roast.
Winston (first Early)
Another potato we've grown many times over the last few years. It normally seems to attract more than its fair share of slugs but it produces exceptionally large potatoes when left in the ground until the tops die down.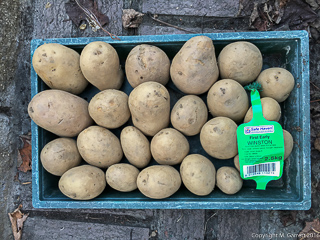 We find enough undamaged potatoes to make growing it worthwhile.  Potato 'Winston' produces good yields of large tubers with even shape and size that are ideal for scooping first prize at the show bench. The creamy, moist flesh of this first early variety has an excellent flavour and does not discolour on cooking. An RHS AGM variety with good resistance to eelworm.